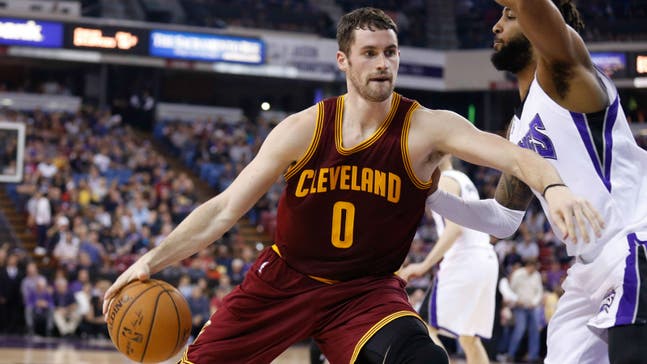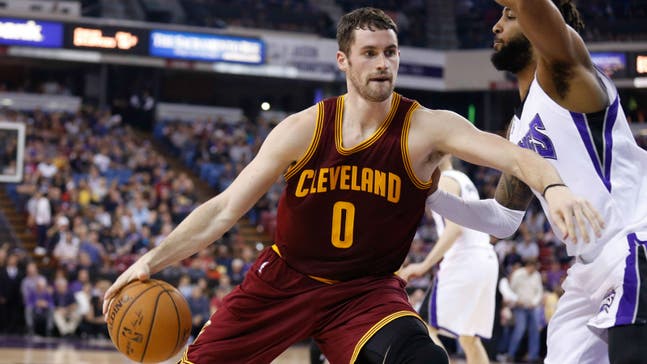 Timberwolves vs. Cavaliers preview
Updated
Mar. 4, 2020 11:31 p.m. ET

In six seasons in Minnesota, Kevin Love witnessed how warmly the fans greeted former Timberwolves star Kevin Garnett each time he came back to town.
On the eve of Love's first game back at Target Center since he was traded to Cleveland last summer, the second-best player in franchise history isn't expecting the same kind of reception.
"Truthfully? Boooo," Love said Friday when asked by Cleveland reporters about what kind of environment he expected on Saturday night in Minnesota. "Probably more of that than a mix of cheers."
Those boos may have more venom given the Cavaliers are playing their best basketball of the season with a current nine-game win streak that exceeds the NBA-worst Wolves' win total for the season (8).
"Nobody wants to be last," Nikola Pekovic said after Minnesota's 103-94 loss to Philadelphia on Friday. "Everybody wants to win games. I think that's why you play sports because you want to win. You can work in an office and have a regular job and go finish your paperwork and go home. You don't have to win anything. We like to compete. We're born competitors. I still believe in this team and have lots of pride to show."
Love came to Minnesota in a draft-night trade in 2008, and eventually supplanted Garnett as the face of the franchise. With a strong work ethic, he turned himself into a three-time All-Star and an Olympic gold medalist. He interacted with fans who had jumped off the bandwagon when Garnett was traded.
But unlike Garnett, who took the Timberwolves to the playoffs eight times and was named MVP in 2004 while leading them to the Western Conference finals, Love never made it to the postseason.
Management consistently failed to surround Love with enough talent to compete in the powerful West. Blunders were committed in the draft (Jonny Flynn over Steph Curry in 2009, Wes Johnson over DeMarcus Cousins in 2010), in trades and free agency (Michael Beasley, Darko Milicic, J.J. Barea) and with coaches (Randy Wittman, Kurt Rambis) and general managers (David Kahn).
All of those failures, coupled with injuries to Ricky Rubio and Love, contributed to 323 losses in Love's six seasons with the Wolves.
"I think it could've gone better with what we had if we had been a little bit luckier (with injuries)," Wolves owner Glen Taylor said. "There's a lot of things. Maybe if we drafted better and did some things, but we did what we did. It isn't Kevin's fault. Maybe we shouldn't have made some decisions we made. I don't know what to say about that. I wish we would've done better."
While Love deserves credit for transforming himself from a doughy UCLA freshman to a sculpted offensive force in the NBA, he also carries some responsibility for the Wolves' failures.
The relationship soured in 2012, when Kahn refused to give Love a five-year maximum contract extension. Love signed a four-year deal with an opt-out after three seasons and didn't hide his disappointment.
He carried the grudge for the next 2 1/2 seasons, turning from a funny, engaging public personality into a sullen figure on the court and in the locker room. Love requested a trade at the end of last season and a tour of Boston early in the summer didn't sit well with fans back in Minnesota.
"Minnesota people are pretty loyal. You turn on Minnesota, they don't forgive you," president and coach Flip Saunders said in December. "So I think people probably appreciated him while he was here. But you leave under the terms that he did, just the way Minnesota people are, they're not pretty forgiving along those lines."
The Cavaliers (28-20) sent No. 1 overall draft pick Andrew Wiggins and Anthony Bennett to Minnesota in a three-team deal that also netted the Wolves Thaddeus Young to get Love. The Wolves (8-38) again are plagued by injuries, but Wiggins' development has them hopeful they have found a dynamic, two-way player to team with Rubio.
"We needed a player that we get to the end of the game and we give him the ball and the other team says, 'Holy cow, he's going to be hard to stop because we don't know what he's going to do,'" Taylor said. "We just haven't had that guy. Kevin Love . . . he couldn't do that by himself and the other team could guard it pretty well at the end of the game because they knew what he was going to do."
Love has gone through expected adjustments in his first year on a team with championship aspirations. He is the third option behind LeBron James and Kyrie Irving and failed to make the All-Star team as his numbers have taken a sizable dip.
But he primed himself for this game well, totaling 23 points and 10 rebounds as Cleveland beat Sacramento 101-90 on Friday night and is enjoying its longest win streak since a 13-game run from Jan. 16-Feb. 11, 2010.
"I'm sure once I get there, it will be a little different feeling for me," Love said. "Obviously playing on the visitor's side, going into the visitor's locker room, going to the different bench. But I haven't really given it too much thought, and luckily we're on a winning streak right now, so that's really what's first and foremost."
James returned after a one-game absence due to a sprained right wrist and had 19 points in 33 minutes and admitted his wrist isn't 100 percent yet.
Friday's loss denied Minnesota back-to-back wins for the first time this season. Kevin Martin scored 19 points and Wiggins added 15 for the Wolves, who are 4-18 at home.
---