Tigers offense fails again in 1-0 loss to Yankees
Published
Aug. 7, 2014 4:14 p.m. ET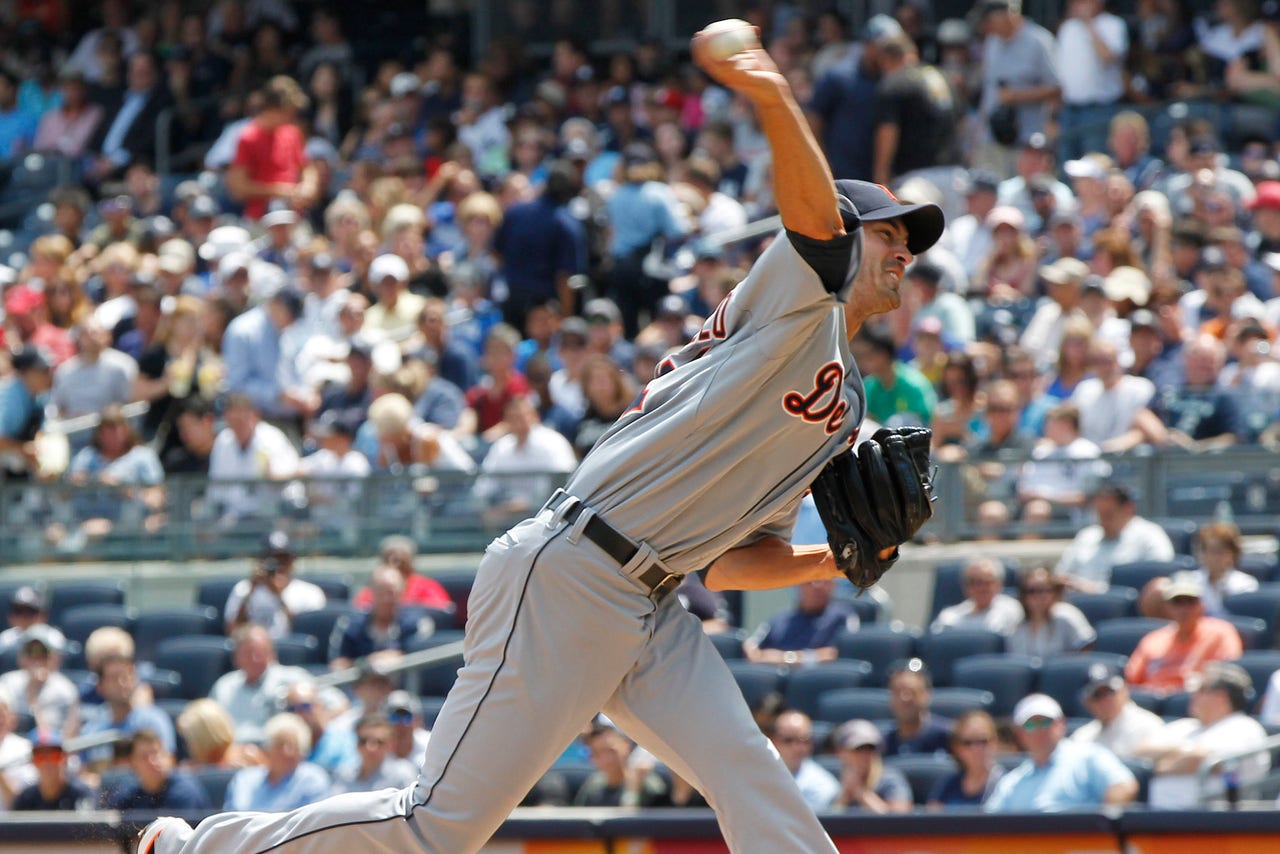 NEW YORK (AP) -- Brad Ausmus wanted to give Miguel Cabrera the day off. Plans changed in the ninth inning when the Tigers put only their third runner in scoring position.
The two-time AL MVP, though, had the same trouble as his teammates did against New York pitching Thursday, grounding into a double play against closer David Robertson, and Detroit lost to the Yankees 1-0.
"The truth is with two guys on, our best hitter has the day off and that's the spot to use him," the Tigers manager said. "Not that it's likely, but if J.D. (Martinez) hits into a triple play, all of a sudden we've left our best hitter on the bench."
For the third time in the four-game series, the Tigers' heralded rotation led by the last three AL Cy Young Award winners were outpitched by New York's patched together staff.
This time, rookie Shane Greene outdueled Rick Porcello.
Greene (3-1) allowed Ian Kinsler's single to start the ninth -- the Tigers' fifth hit -- and Robertson relieved.
Victor Martinez walked and Asmus called upon Cabrera. After stepping in and out of the batter's box several times, Cabrera sent a bouncer over Robertson and second baseman Brendan Ryan stepped on second to start the double play. Don Kelly then softly lined out to give the Yankees their fifth win in six games.
Robertson earned his 31st save.
"Offensively we just didn't do anything," Victor Martinez said. "They pitched great and offensively we didn't put anything together."
Stephen Drew's RBI ground-rule double in the fourth was the only extra-base hit in a game dominated by Greene and his fellow 25-year-old starter.
The Yankees took two of three in games started by the Tigers' Cy Young winners. Overall, New York's starters yielded three earned runs in 27 1-3 innings to the Tigers' eight runs in 29 2-3 innings. Max Scherzer, David Price and Justin Verlander -- the last three AL Cy Young Award winners -- started the previous three games.
"Just as easy as we won three out of four, we could've lost three out of four," Yankees manager Joe Girardi said.
Porcello (13-6) gave up nine hits in seven innings and struck out five. The Yankees loaded the bases in the seventh but the New Jersey-born Porcello got Martin Prado to ground his 110th pitch to shortstop Andrew Romine.
Greene walked three and struck out five while pitching into the ninth inning for the first time in his career.
Greene didn't permit a runner past second until Ezequiel Carrera advanced to third on Kinsler's single in the sixth. The right-hander got out of it with his second double play.
TRAINER'S ROOM
Tigers: Right fielder Torii Hunter's left hand was still swollen and he was unable to play for a second straight game. He was hit by a pitch Tuesday night.
Yankees: First baseman Mark Teixeira didn't play, a day after getting stitches in his left pinkie after he was spiked while sliding home Wednesday night. Girardi said Teixeira is day to day. ... Ace Masahiro Tanaka played catch again. "He's got to get built up to 120 feet," Girardi said of the step needed for Tanaka to throw a bullpen. "I think he was 60-90 today."
UP NEXT
Tigers: Anibal Sanchez (8-5) will start when Detroit opens a three-game series at Toronto on Friday. The Blue Jays swept a three-game series at Detroit in June.
Yankees: Host Cleveland for three games starting Friday. RHP Esmil Rogers (1-0, 5.84), who has pitched well in two games for the Yankees since he was claimed off waivers from Toronto, starts for New York.
SITTING STARS
The Tigers and Yankees gave some of their biggest names a rest in the day game after the teams played the night before. Derek Jeter and Brian McCann were out of the starting lineup for New York. Cabrera and Eugenio Suarez were out for Detroit. Cabrera didn't start for just the second time this season. He was 1 for 10 in the four-game series.
JUST VISITING
Former manager Jim Leyland sat in the front row next to the Detroit dugout. Leyland led the Tigers to three straight AL Central titles before retiring last offseason.
---