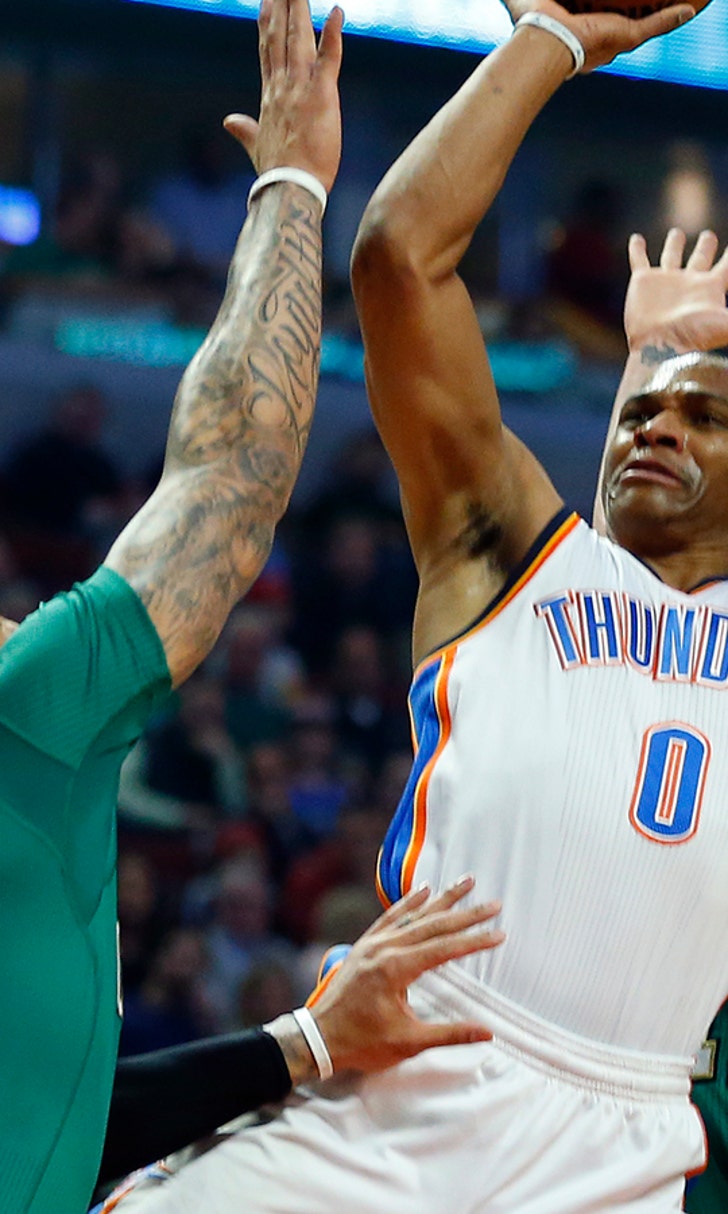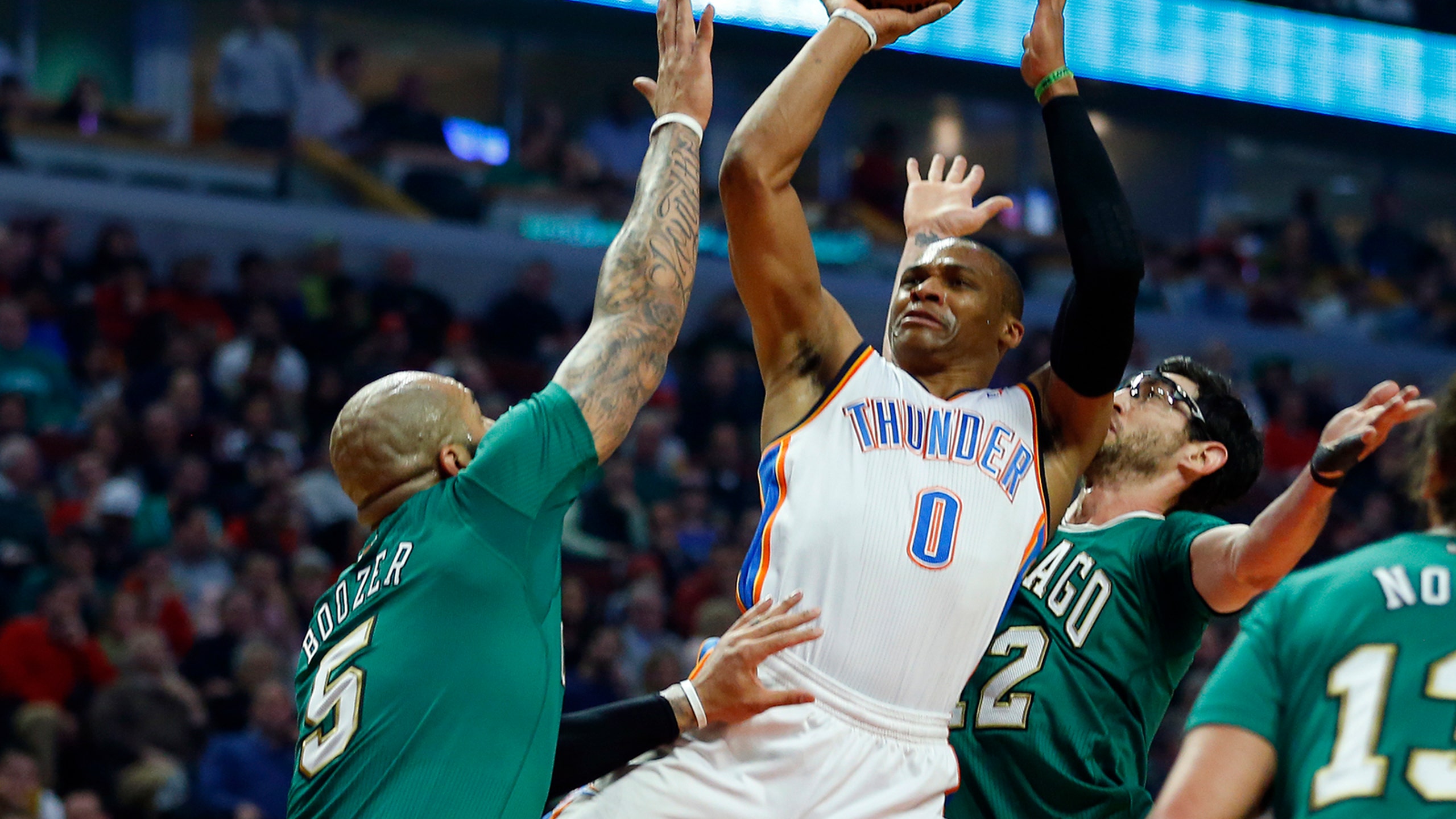 Thunder welcome Russell Westbrook back with win over Bulls
BY foxsports • March 17, 2014
The fact the Oklahoma City Thunder are better with Russell Westbrook is pretty obvious.
Losing to Dallas at home Sunday and then winning in Chicago Monday is concrete proof.
But the fact the Thunder have now made it quite clear there are some regular-season games that are more meaningful than others is notable.
Certainly Westbrook's knee injury and subsequent surgeries in the past 11 months have changed the outlook of the Thunder, but something coach Scott Brooks has always maintained is this team plays every game – all 82 of them - to win.
Oklahoma City sat Westbrook on Sunday, with Brooks saying it was part of the plan when the team plays back-to-back games to rest him in one of the games. And the team clearly felt Kevin Durant, without Westbrook, could beat Dallas, but Durant might need some help in Chicago.
Well, half of that turned out to be right. Dallas sent the Thunder to their worst home loss since 2009 and then OKC got 35 points from Durant and 17 points, nine rebounds and nine assists from Westbrook in a 97-85 win against the Bulls where the Thunder defense showed up and helped the team go on a 16-1 run in the fourth quarter.
All of this is done in the name of making sure Westbrook is healthy and fresh for the playoffs, but the fallout from resting Westbrook is real. The Thunder have already lost 6.5 games in the standings since the All-Star break. Once ahead by five games in the standings, OKC has dropped into second and is dangerously close to falling into third.
A full-strength Thunder team, regardless of seeding might be good enough to make it back to win the Western Conference and make it back to the Finals, but wouldn't efforting the top spot in the West be a worthy cause? Especially if Westbrook is as healthy as Brooks said Westbrook is.
Nothing is more obvious than Westbrook's deep, deep impact on this team. Resting him is fine, but the result is a team that has Durant to score, but a lack direction and focus beyond. Take Westbrook out of the lineup and it takes adjustments, lineup shuffling and a lot of moving parts. Meanwhile, familiarity  suffers and flow turns into stagnant, a situation which takes time to snap out of. 
The Thunder will have a hard enough time re-introducing the injured Thabo Sefolosha and Kendrick Perkins back into the lineup at the end of the regular season, why add the variable of playing and then sitting Westbrook?
Westbrook looked healthy Monday. Of course, he looked healthy on Christmas Day when he went for a triple-double against the Knicks before going through a knee surgery two days later. If Westbrook isn't 100 percent healthy then why put him out there at all? 
"It felt great," Westbrook said. "We won. That's our main objective." 
OKC has another back-to-back Thursday in Cleveland and then Friday at Toronto. The Thunder then have another back-to-back next Monday at home against Denver and March 25 at Dallas. 
If Westbrook is fine, like Brooks says he is, Brooks shouldn't play favorites and try to figure out which game means more. Instead of playing favorites, play Westbrook instead.
The team will be better off.
Follow Andrew Gilman on Twitter: @andrewgilmanOK
---