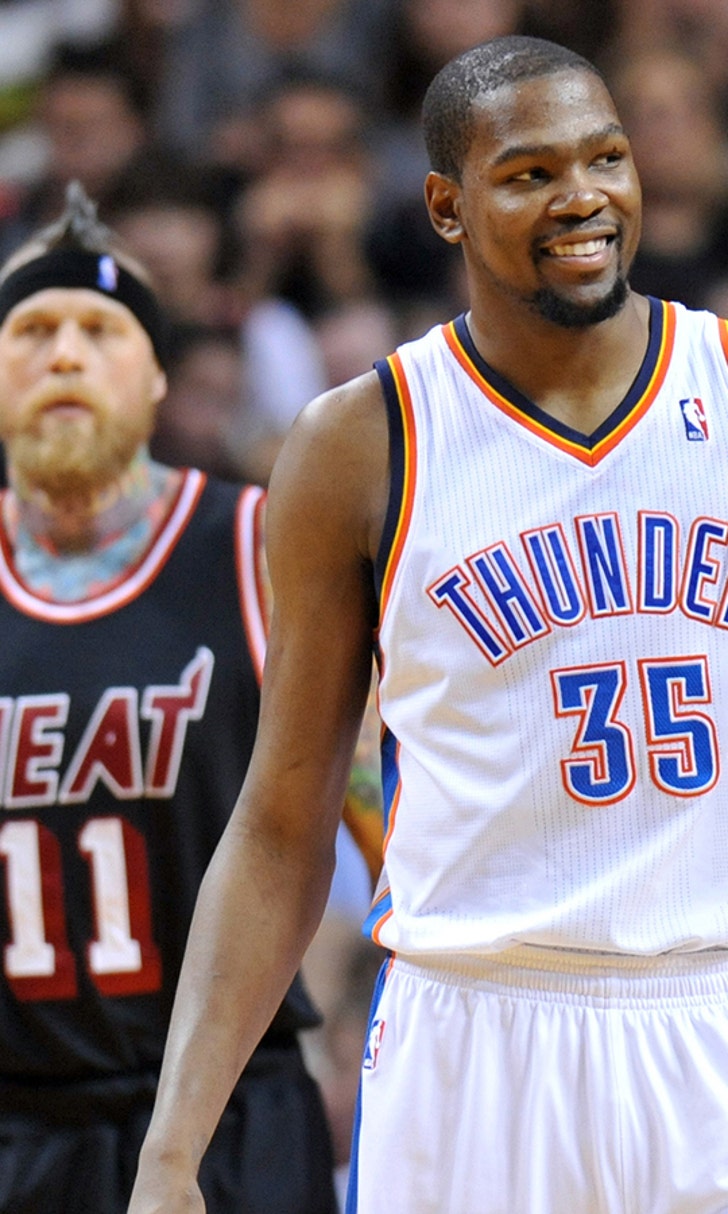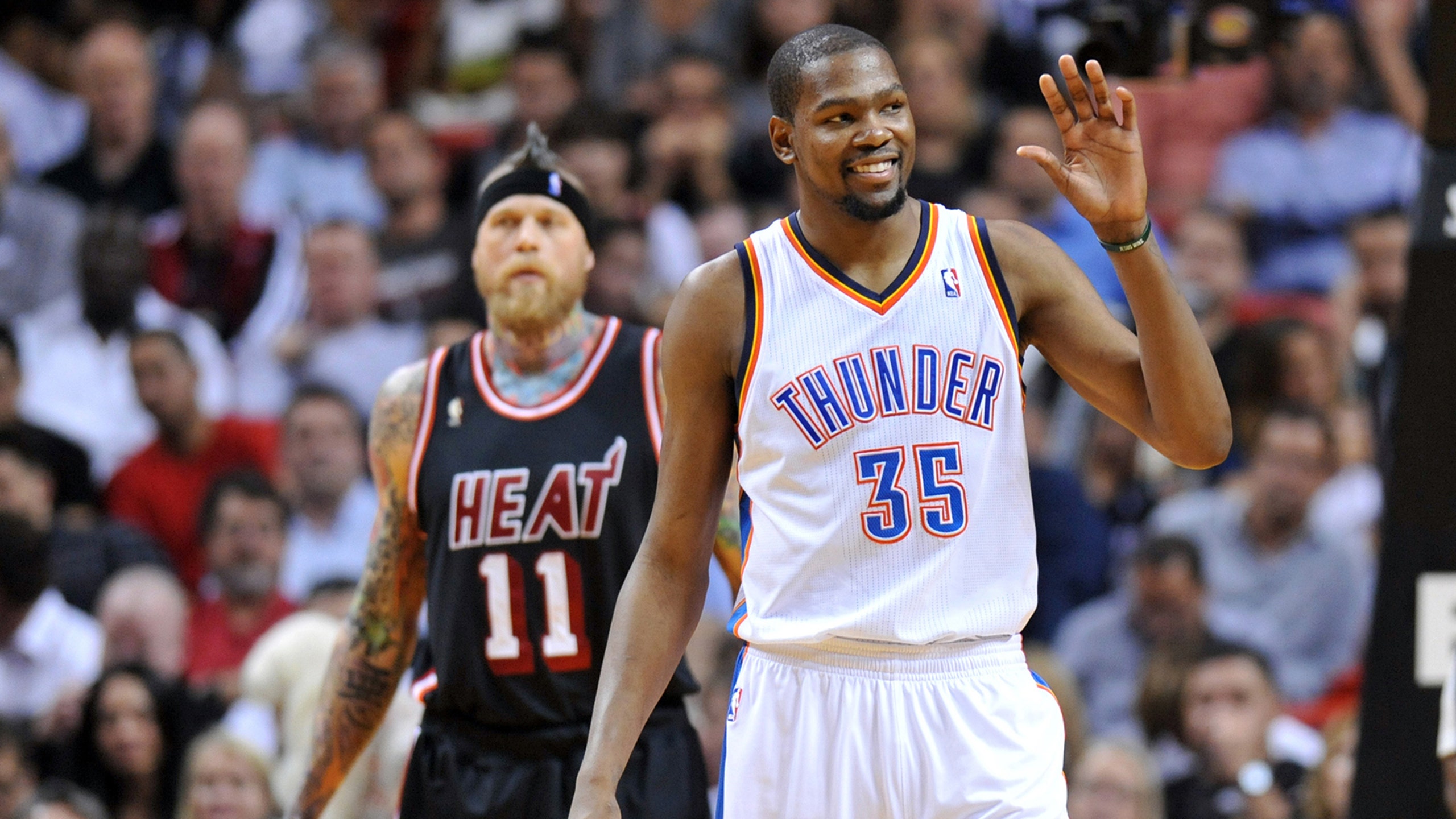 Thunder look to stay hot on East Coast trip
BY foxsports • January 31, 2014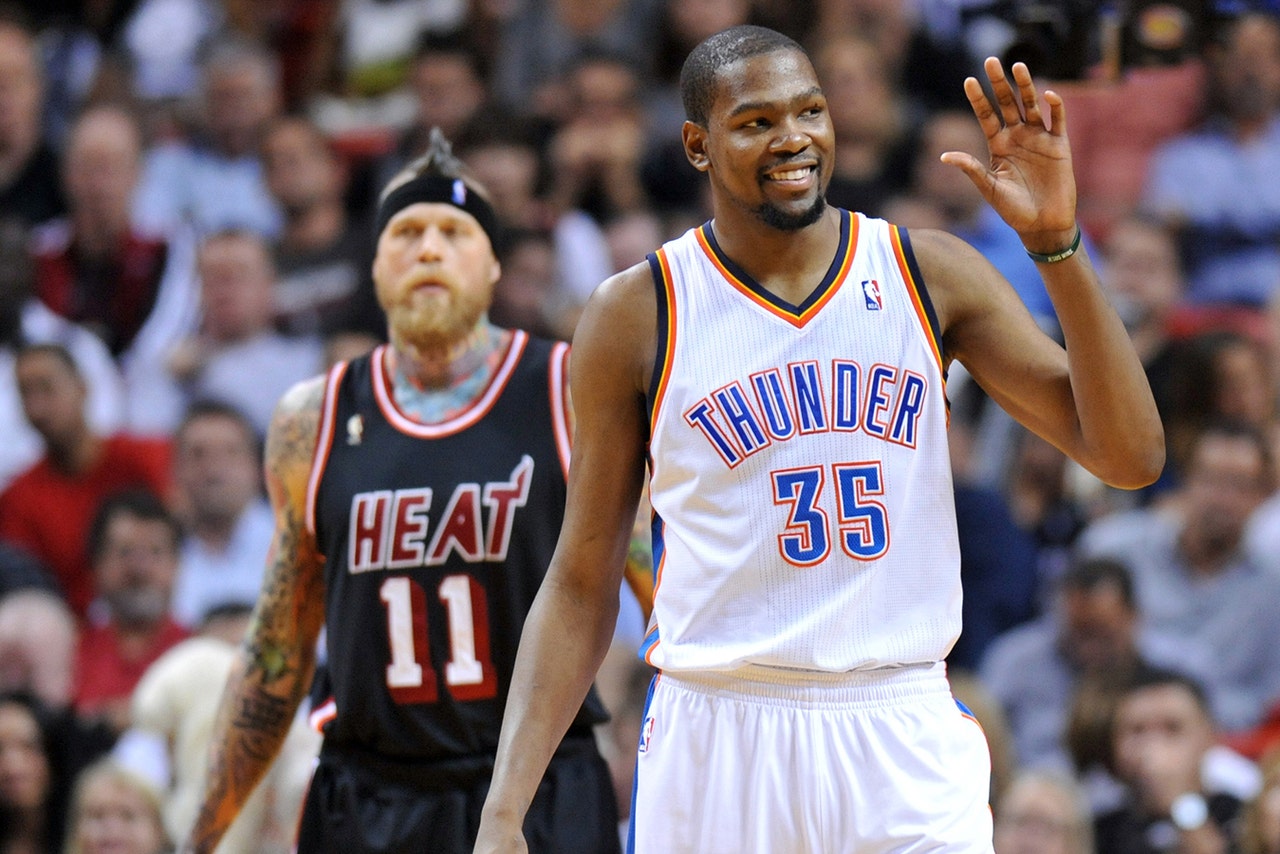 The Thunder lost at home to Brooklyn on Jan. 2 and needed a last-second miss by Washington in overtime back in November to escape the Wizards.
And both of those games were in Oklahoma City.
Now OKC is back on the road, facing another back-to-back at Brooklyn Friday and then at Washington Saturday.
Here are a few things to think about, look for and anticipate as the Thunder stay on the East Coast for a pair of games:
1. How tired?
Hard to believe, but their best basketball of the season has come at the busiest time of their season. The Thunder have won eight games in the past 14 days and now will be playing their ninth and 10th back-to-back over the next two nights. This will be the fourth back-to-back in this run that started with a win on Jan. 16 at Houston.
And not only have they been busy, but the games have come against some of the top teams in the league.
At some point this catches up with the Thunder, right? Maybe with Kevin Durant, too? Possibly, but count on a max-effort tonight in Brooklyn as OKC certainly will remember their Jan. 2 meltdown at home against the Nets where it gave up an 18-point lead.
And while it's obvious the Nets aren't exactly the Heat, the Nets have been a lot better of late, going 10-2 since that win against Oklahoma City on Jan. 2. The game will be nationally televised by ESPN, so there are all sorts of incentives for the Thunder to be sharp, including the fact they will be going for a 10th straight win.
2. A "Super" opportunity for Durant
So, Durant has gone over 30 points 11 games in a row, including a 33-point showing in Miami against the Heat on Wednesday.
But he has a chance to be on an even bigger stage tonight in Brooklyn. With the Super Bowl happening in nearby New Jersey on Sunday, expect there to be a number of celebs on-hand tonight, especially since the Knicks won't be playing.
Beyonce and Jay-Z have been to Oklahoma City to see Durant, but he wasn't on the kind of streak he's on now, averaging more than 37 points per game in January and getting a lot of MVP momentum. They won't be the only stars who want to see what Durant's all about.
Durant has always been a team-first guy. He talks about it often and he shows it on the court, but this run has been extraordinary for a number of reasons – the main one being the fact that Russell Westbrook is out. He's shot 54 percent in January and 58.8 percent in the last nine games while averaging 6.2 rebounds and 6.1 assists per game, too. The Thunder was scuffling after Westbrook went out with a knee surgery the day after Christmas. Durant has been at his best since.
Tonight has a New York City, bright lights kind of feel. A game where the attention will be on Durant and his individual accomplishments. It also has the kind of feel where he could try for -- and get -- 50-plus points.
Durant had 24 against the Nets on Jan. 2. Count on him going for more than that tonight.
3. Who's next, Reggie Jackson?
Derek Fisher banked in a pair of 3-pointers against Miami. Perry Jones played a career-high 35 minutes. Jeremy Lamb had 18 points on 10 shots and Serge Ibaka had 22 points and eight rebounds.
Hard to expect the Thunder complementary pieces to chip in like they did against Miami when the team shot 51 percent and also made 16-of-27 3-pointers, but it's not too much to expect Reggie Jackson to come to life.
Jackson was just two-of-seven against Miami and hasn't shot better than 41 percent in the last four games. Jackson was sensational (12-of-17, 27 points) against San Antonio but had three games before that where he didn't shoot 50 percent.
No player has the pressure Jackson does as he fills in for Westbrook. The point guard position, deferring to Durant, etc. Jackson has been at his best off the bench, creating his own shot. The dynamic has shifted since he became the full-time starter the game after Christmas. He's been asked to do more and because of it his performance has dipped. In January, Jackson has shot 42.6 percent after shooting 44.5 percent in December, however, Jackson was 16-of-44 in the last three game of December without Westbrook.
Coach Scott Brooks moved pieces around perfectly, going with the smaller lineup and benching Kendrick Perkins for the final 43 minutes Wednesday night against Miami.
Brooks won't do anything with Jackson in the starting lineup, but with the emergence of Lamb and, possibly Jones, maybe it helps Jackson -- at least mentally -- to know he doesn't have to do too much.
Follow Andrew Gilman on Twitter: @andrewgilmanOK
---