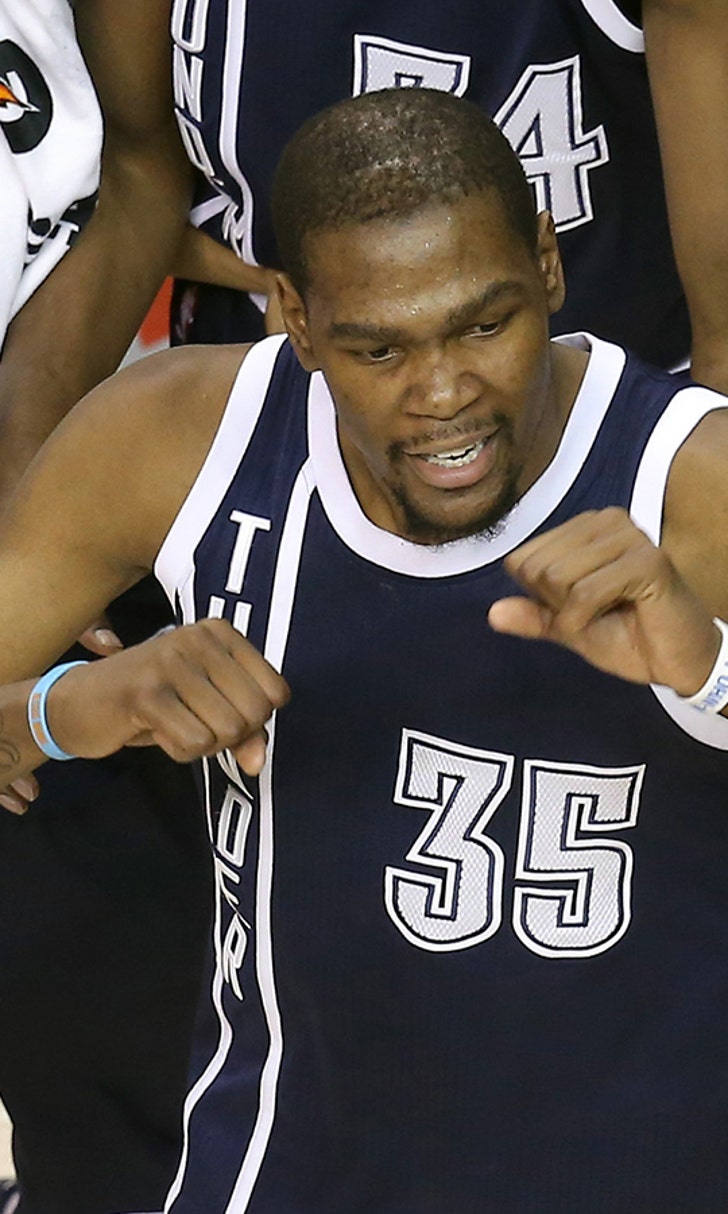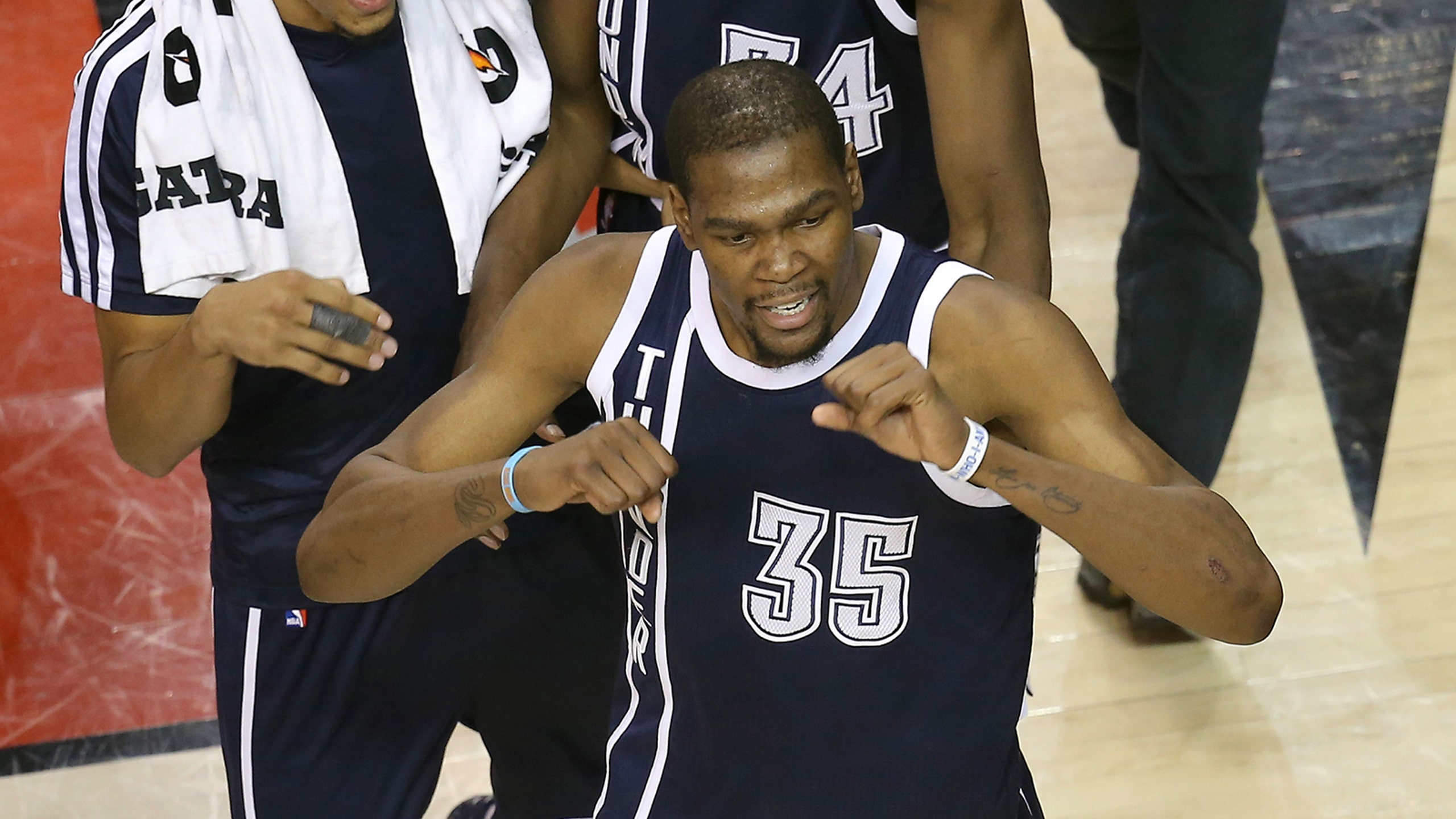 Thunder beat Raptors in 2 OTs but lose Westbrook
BY foxsports • March 21, 2014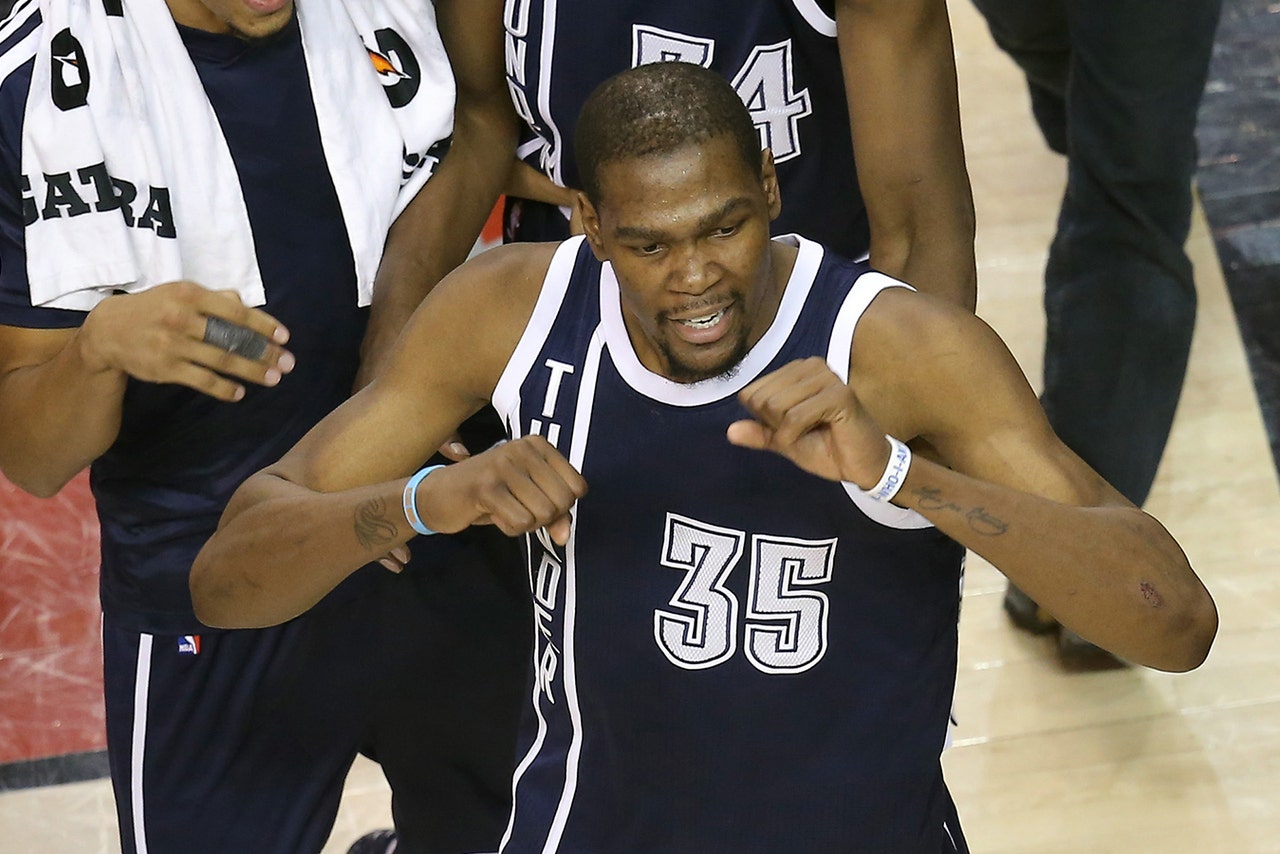 Kevin Durant scored 51 points and made the game-winning 3-pointer with 1.7 seconds to play in double overtime.
It's going to be hard for Durant to top the kind of performance he had Friday night in Toronto.
But he's going to need to.
As good as Durant was against the Raptors, and it was MVP-March Madness-Did-You-Just-See-That kind of good in the 119-118 victory, the rest of the season looks like it will come down to how much, how often and how great Durant can be.
That's because Russell Westbrook was hurt. Again. This time he bumped knees with Toronto's Kyle Lowry in the third quarter. Westbrook limped off the court and needed help getting to the lockerroom. It was the right knee, the same one he has had surgery on three times since last April.
Westbrook did not return Friday night. The injury was officially listed as a right knee sprain. Coach Scott Brooks said Westbrook would be evaluated again on Saturday.
"He said he was good," Brooks said on the Thunder broadcast. "We'll see how he's doing tomorrow."
And we'll see how the Thunder will do in the future. Remember, it was just a season ago where Durant didn't get enough help and didn't have quite enough energy in the playoffs and the Thunder were bumped out in the second round. As much as Serge Ibaka has improved and as good as Reggie Jackson has been at times (25 points, 10-for-10 on free throws Friday), the wins will be determined by what Durant does. Westbrook can be counted on, but past the two, consistency is an issue.
Certainly there's no need to jump to conclusions about Westbrook, but at one point, this season, he missed 27 games in a row with the knee injury after a surgery on Dec. 28. Meanwhile, the team has said Westbrook was healthy, but yet Westbrook has missed two games in the last week resting so he wouldn't have to play in back-to-back games.
"After Russell went down we were a little messed up in the head," Durant said on the Thunder broadcast. "But we stuck together."
Now a large part of the Thunder's success will be if Durant can stick out. Already in the midst of an MVP season, Durant carried the Thunder once again on Friday, making 7-of-12 3-pointers and helping the team rally from an eight-point deficit with less than a minute to go in the second overtime. Durant was 15-of-32 overall and had 12 rebounds and seven assists. But he played 52 minutes. That's a lot of minutes and a lot of pressure.
"The way our team is made up and the way they fight for each other, it's never over," Brooks said. "It takes everybody."
But it's going to take a lot more of Durant. He's done repeatedly this season, carrying the Thunder with an amazing month-long run, starting in January, where he scored 30 or more points 12 games in a row, all of it without Westbrook and not knowing when Westbrook would return.
Durant hasn't slowed, either. He's scored 25 points or more in 34 games in a row, but the question is will he be just as good when it counts the most? 
Especially if he doesn't have the help he needed a year ago.
Follow Andrew Gilman on Twitter: @andrewgilmanOK
---