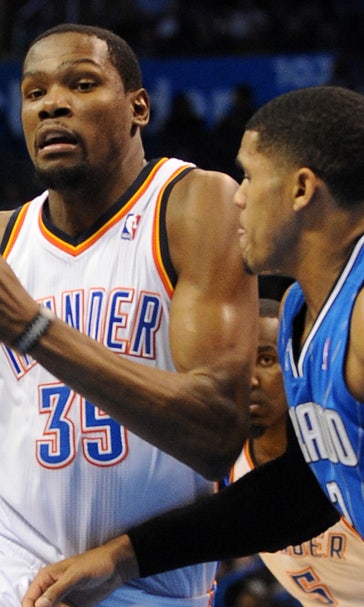 Thunder at Magic game preview
February 6, 2014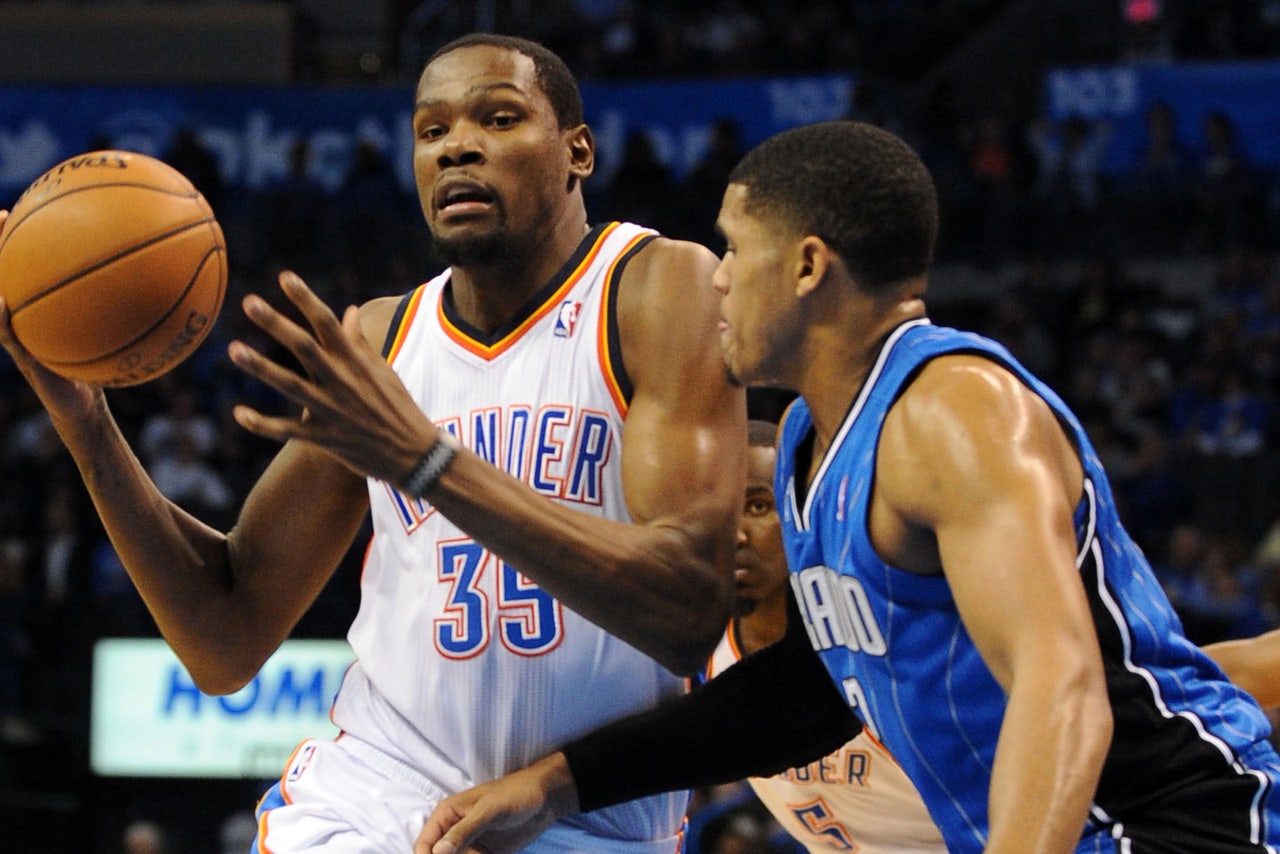 Gmae time: 7 p.m.
TV: FOX Sports Florida
The Orlando Magic have a chance at their first four-game home win streak in two seasons.
Standing in their way is Kevin Durant and the Oklahoma City Thunder.
The league's top scorer has helped the Thunder win 12 of their last 13 games heading into Friday night's matchup.
Oklahoma City (40-11) has won five straight in this series but there is reason to believe this contest between the league's second-best team and the second-worst won't be a mismatch.
One reason is that Orlando (14-37) can notch its first four-game home win streak since March 3-16, 2012.
Another is that while Durant has averaged 29.4 points during the run against the Magic, Russell Westbrook has averaged 21.0 points, 7.4 assists and 6.6 rebounds. Westbrook, though, remains out after knee surgery.
Durant is averaging 34.6 points in the 22 games he has played since Westbrook went down Dec. 25.
"He's a natural scorer," said Orlando coach Jacque Vaughn about Durant. "I won't compare him to anybody but he's a natural scorer, he has the ability to put points up and do it, it seems like effortlessly."
The Magic also are confident because four of their last five defeats in this series have been by single digits, including a 101-98 road loss Dec. 15 in which they nearly rallied from a 16-point deficit in the last six minutes.
Durant had 28 points while being guarded at times by Tobias Harris, Maurice Harkless and Arron Afflalo. Vaughn said he will use a similar approach Friday.
Harkless was held to seven points in the last meeting but totaled 37 and 10 steals in two last March as a rookie. He's looking forward to the challenge.
"I think he's the best scorer in the league, especially at the rate he's been playing now, he's been so efficient," Harkless said. "We're not going to stop him, like completely shut him down. We've just got to make it tough on him, try to make other people on the team beat us."
Durant averages 5.6 drives to the basket and has totaled 289 points on them for the league's third-highest amount.
That's also been a preferred method of attack for Orlando rookie Victor Oladipo, who averages 5.8 drives and has totaled 239 points on them although his shooting percentage is far lower than Durant's in those situations (43.4 to 57.7).
Oladipo scored seven points on seven drives in the last meeting while the Magic did a good job of limiting Durant to two on his four drives.
Thunder center Serge Ibaka is only averaging 7.8 points and 6.0 rebounds in six starts against Orlando, but figures to pose a bigger threat this time. He's averaging 18.2 points and 8.3 rebounds while shooting 61.4 percent in the last 13 games.
Oklahoma City leads the NBA in rebound differential at plus-5.2 while Orlando is one of the league's worst teams at minus-2.9. The rebounds finished 45-45 in the last meeting.
Each club won Wednesday at home. Orlando beat Detroit 112-98 behind Oladipo's 20 points while Durant had 26 points, nine rebounds and seven assists in a 106-97 win over Minnesota.
"We just focus on doing our job every night and living with the results and they've been pretty good for a while now," Thunder coach Scott Brooks said.
---