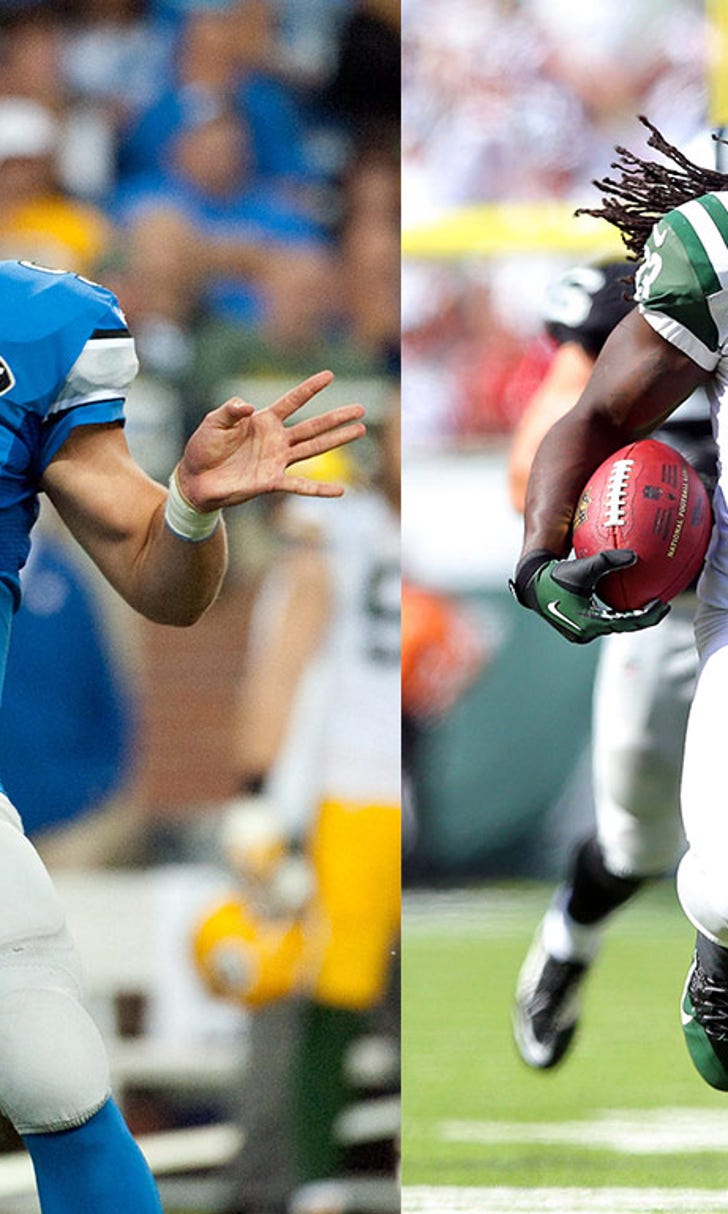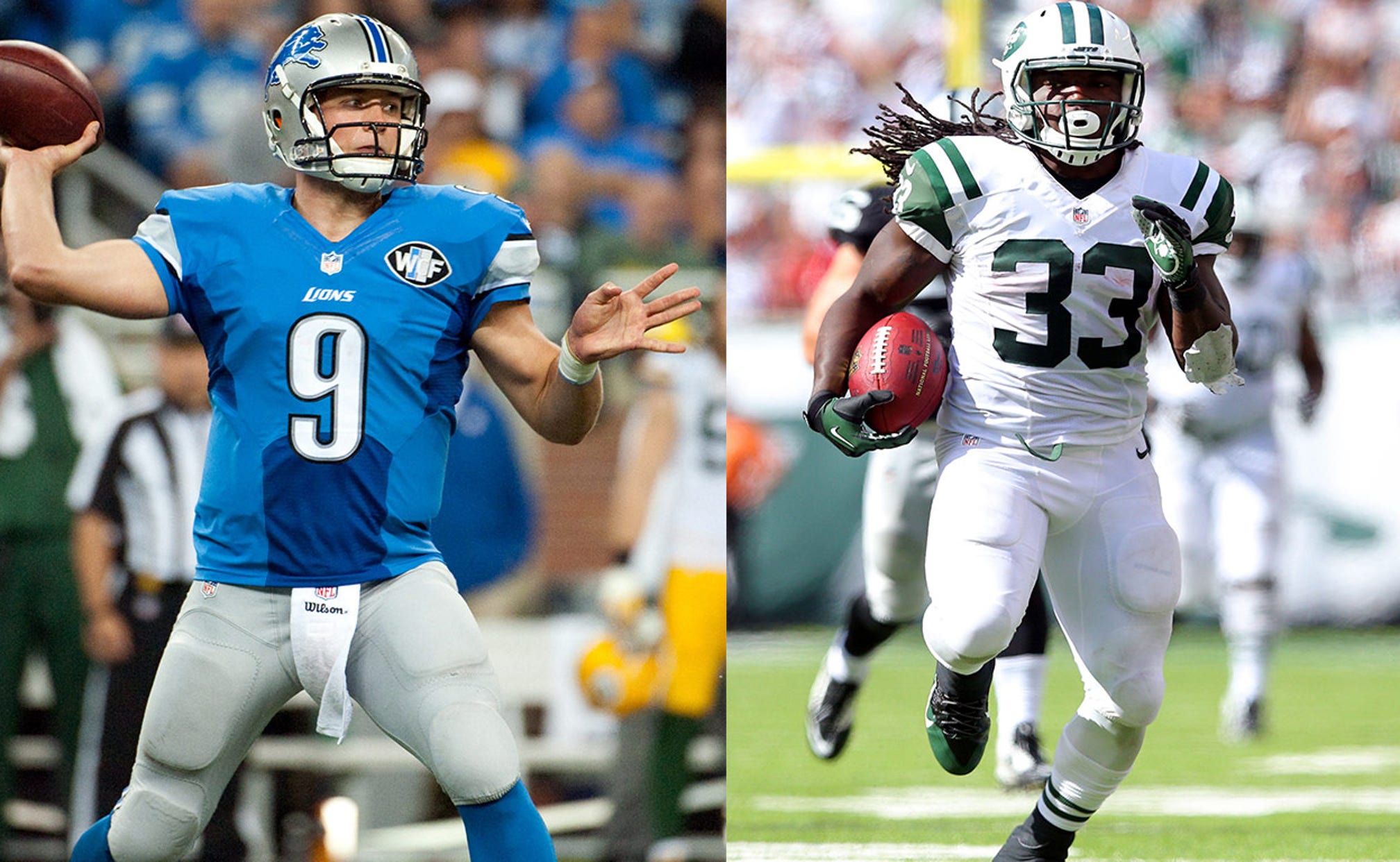 Three storylines to follow in Lions-Jets
BY foxsports • September 26, 2014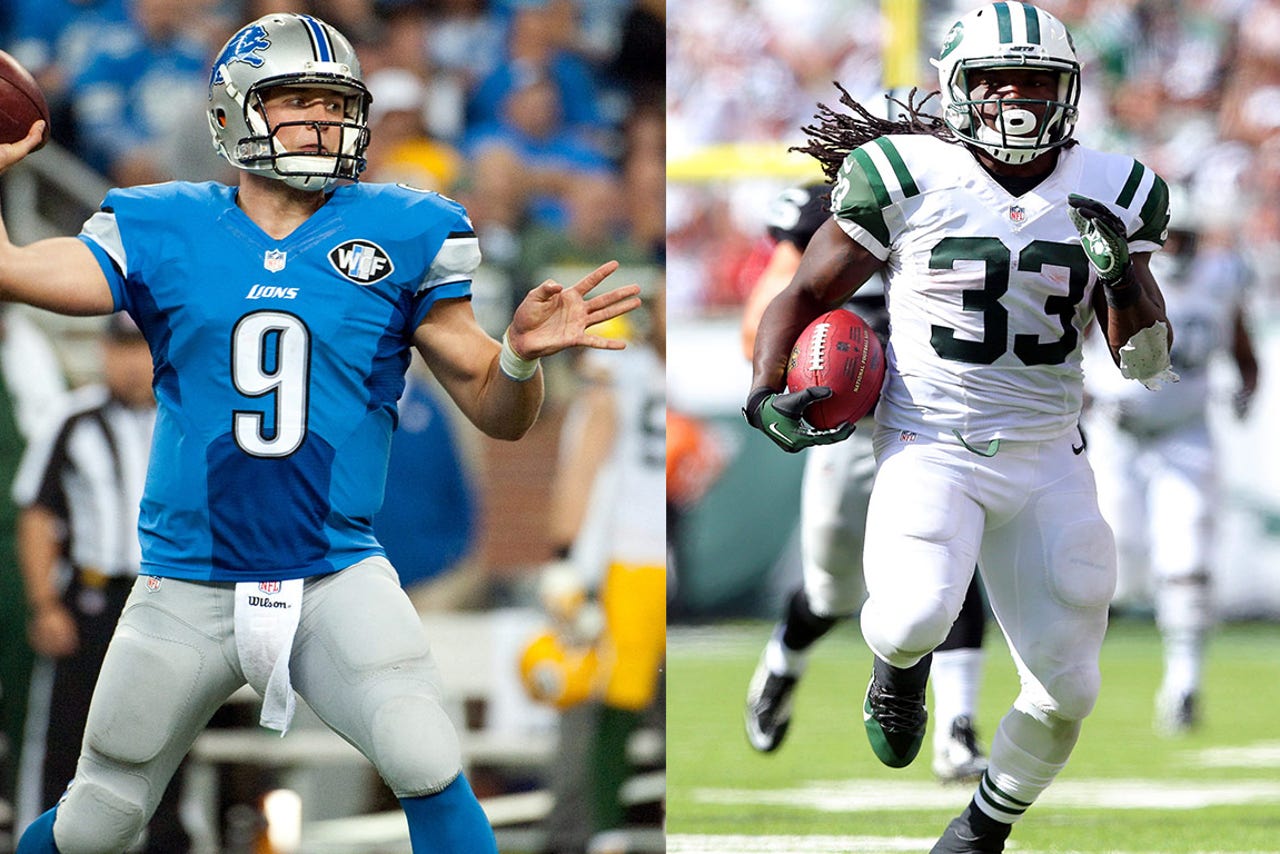 The Detroit Lions can finish the first quarter of the season at 3-1, in first place in their division, with a victory over the New York Jets Sunday at MetLife Stadium in East Rutherford, N.J.
The Lions will be the third straight NFC North opponent for the Jets, who are coming off losses to Chicago and Green Bay.
Here are three storylines to follow plus a prediction:
--- Lions quarterback Matthew Stafford used the term "complementary football" to describe the team's early stretch.
"Very rarely do you go out and play a perfect game on offense, a perfect game on defense and a perfect game on special teams," Stafford said. "There's going to be times where a certain unit has a tough matchup that week or whatever it is, down a few players, but just being able to find ways to help each other out and win games."
So far, it's been the defense mostly carrying a slow-starting offense, but at some point this is likely to switch over and the offense will need to pick up the slack for the defense.
That's typically the winning formula for true contenders.
Too often with the Lions over the years, when the offense has scored a lot, the defense would get shredded, or just when the defense finally came around to hold up its end, the offense would bog down.
Just enough, in either case, to lose more often than not.
Maybe this time it's different.
The Lions clearly have made a strong early impression. A victory over Green Bay, believe it or not, has made them the favorite -- albeit a slight one -- to win the division, according to Bovada.LV, an online sportsbook.
Detroit is 8-5, Green Bay 9-5 and Chicago 2-1 to take the NFC North in what could turn into an intriguing three-team race to the finish.
The Lions, meanwhile, also dropped in the last week from 40-1 to 22-1 to win the Super Bowl, and they're at 12-1 to win the NFC, based on Bovada's odds.
Somebody likes them.
Farfetched?
Maybe not if the offense and defense, as Stafford suggested, can complement each other, unlike in the past when they would often do just the opposite.
--- It was somewhat predictable given the number of options the Lions have offensively, but it's apparent that each and every week there are going to be questions about why (fill in the blank) didn't get more touches that game.
After the opener against the New York Giants, there was talk about the inability to get the ball to their secondary receivers while relying almost exclusively on Calvin Johnson, Golden Tate and Reggie Bush in the pass game.
A week later, it turned to not getting the ball enough to Bush, who had only six carries for 26 yards and two receptions for six yards against Carolina.
Last Sunday, the focus shifted to not targeting the tight ends against Green Bay. Joseph Fauria had one catch for three yards while neither Brandon Pettigrew nor Eric Ebron had a touch.
"We've got a lot of good skill players, so there's always someone a little grumpy after the game, but the more we can spread it around, the better," offensive coordinator Joe Lombardi said.
For Lombardi, it's all about setting up a game plan each week to try to exploit a favorable matchup against that particular personnel. For Stafford, it's about recognizing what the defense is taking away and finding the man that's open because of it.
The Jets' defense ranks No. 1 against the run, allowing just 55 yards a game, so don't look for Bush or Joique Bell to get much done on the ground this week.
The Lions will have to rely heavily on Johnson and Tate in the pass game, but don't be surprised if Ebron has somewhat of a coming-out party to get the tight ends back involved.
--- Here's an oddity: The Jets rank No. 8 in total offense (376 yards per game) but just tied for 19th in scoring (20.7 points per game). They're also No. 2 in total defense (268.3 yards), but tied for 20th in points allowed (24 a game).
The primary reasons they haven't been more successful, taking a 1-2 record into this game, is that they've been so poor in the red zone and in turnover margin.
In fact, the Jets scored only one touchdown in six red-zone opportunities last Monday in a 27-19 loss to Chicago.
Offensive coordinator Marty Mornhinweg, a former Lions' coach, is getting criticized for his play-calling, and quarterback Geno Smith for his decision-making.
If the Jets can ever put it all together, they could be dangerous with an interesting combination at running back of Chris Ivory and Chris Johnson.
It will be a challenge for a Detroit defense without middle linebacker Stephen Tulloch (knee injury). Tahir Whitehead, who didn't play a defensive snap in his first two years in the league, moves in from his outside linebacker spot to take over for Tulloch.
"They like to run the ball, that's what they pride themselves on," Lions safety Glover Quin said of the Jets. "We're going to have to bring our big-boy pads."
Quin, pointing out the extreme difference in the running styles, called Johnson "a speed guy, home-run hitter, can take it 100 yards," and said that Ivory "is hard-nosed, downhill, looking to run you over."
"They put him (Ivory) in a few plays and wear you down then Chris Johnson comes in and runs away from you, then he (Ivory) comes back in, they wear you down some more, and Chris Johnson comes back in and tries to run away from you," Quin said.
The Lions' offense also will have to deal with the ever-changing looks of a physical defense, the trademark of Jets coach Rex Ryan.
"It seems like every play, there's a new defense up there," Lombardi said. "A new front, a new pressure or a new coverage. It's a complicated defense."
The Jets actually have a potentially decent team, but they have to stop beating themselves for it to show.
PICK: N.Y. Jets +2
(Dye's season prediction record: 3-0)
---