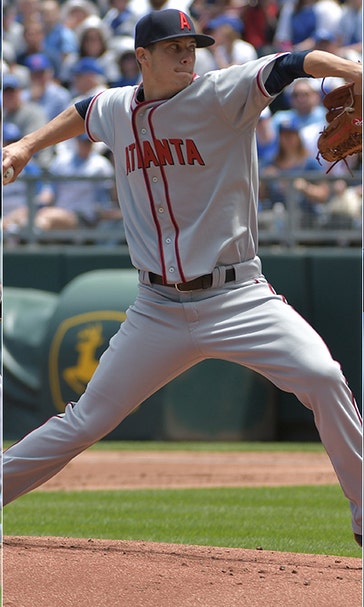 Three Cuts: Braves' pitching riches on display; Inciarte's magical ways
May 15, 2016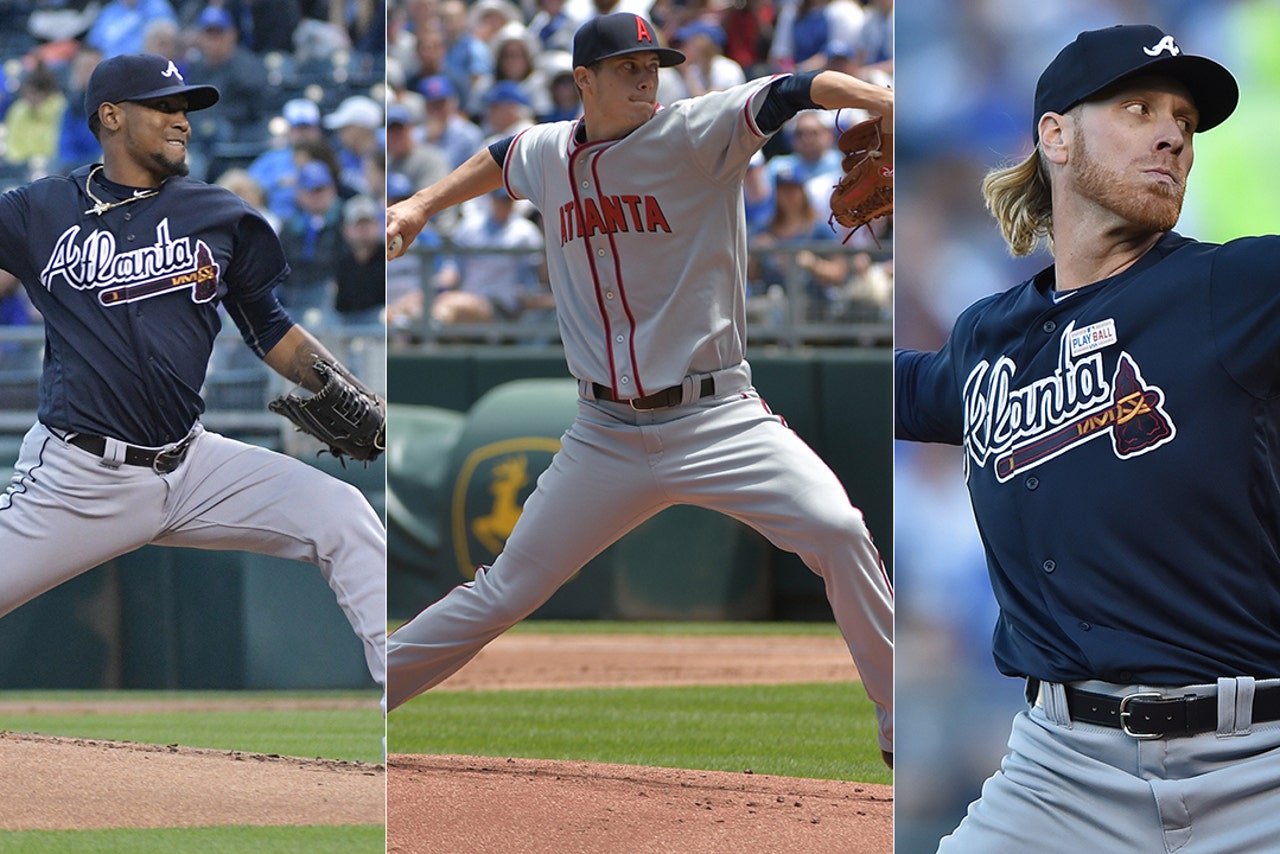 Taking three cuts after a week in which Ender Inciarte showed he might be a graduate of Hogwarts, young pitching delivered and in one night and Mallex Smith put his considerable talents on display.
Matt Wisler walked off the mound Sunday in Kansas City and gave a salute to Jeff Francoeur and Erick Aybar for teaming up to get the Royals' Alcides Escobar at second base in the eighth inning.
In reality, the other eight Braves should have been the ones saluting the 23-year-old right-hander. He went 7 1/3, allowing eight hits and two earned runs with seven strikeouts ... and zero walks.
There's so many ways to slice up the starting pitching in the three-game series in Kauffman Stadium.
To look at it from an overall perspective, the trio of Julio Teheran (Friday's starter), Mike Foltynewicz (Saturday) and Wisler teamed to throw 22 1/3 innings, giving up 19 hits with just three earned runs, struck out 16 and walked three.
That's a combined 1.21 ERA vs. the defending World Series champions, and albeit a team that is among the bottom third in scoring, is above average in team batting at .254 heading into Sunday.
"That's really encouraging and I hope that continues," manager Fredi Gonzalez said after Sunday's loss to the Royals in 13 innings.
For Wisler, it was a third straight quality start since giving up five runs on five hits on April 26 to the Red Sox. In those outings, the right-hander has allowed five runs over 23 1/3 innings and walked a combined four batters, and that's included now Kansas City and last year's National League pennant winners the Mets (zero ER in eighth innings on May 3).
Offensively, the Braves are still challenged. The managed to manufacture two runs in K.C. on Sunday with four straight batters reaching (singles by Ender Inciarte, Mallex Smith and Erick Aybar and a Chase d'Arnaud walk), and had five runs on Saturday, but unsurprisingly, starting pitching continues to be the surest bet with Fredi Gonzalez's crew.
The showing against the Royals, though, may have been the most emphatic statement yet.
He, as far as we here at Three Cuts are aware, has yet to be sorted into either Gryffindor, Hufflepuff, Ravenclaw or Slytherin, but the Braves outfielder is displaying all the skills of a man well trained in the magical arts.
How else to explain the joyous double-play deke he whipped out on Tuesday against the Phillies? In case you missed it, Inciarte came on for a routine catch of a Freddy Galvis popup, and threw his hands up to signal that he'd lost the ball in the lights. But -- sneaky, sneaky -- Inciarte got Carlos Ruiz, who was at first base, to move closer to second and Inciarte made the catch and fired to first to get Ruiz.
"He almost got me there for a second; I didn't know what to do," Braves right fielder Nick Markakis told reporters after the game. "At the very last second I kind of caught on. That was a great play. You don't see it very often, and he did it pretty well. He had a lot of people fooled, including the baserunner. Good play."
But Inciarte isn't defined by tricks alone. He of the second-most defensive runs saved in 2015 showed that Sunday vs. the Royals, making a sliding catch into foul territory along the third base side on a Dyson pop up in the second inning. Then, in the sixth, Inciarte threw out Kansas City's Eric Hosmer with a laser home.
The Braves have enjoyed a five-year run of having a Gold Glove finalist, and while rookie Mallex Smith (more on him to come) is the team's leader with eight DRS and is progressing defensively, Inciarte -- who has three of his own -- may still be this team's best bet at making it six in a row.
If we're taking snap shots and pointing to them as signs of just how good the Braves' rotation could be, then it's only fair that we do the same with arguably the most exciting player on the roster.
In the 5-0 win on Saturday against the Royals, Mallex Smith had two sensational moments on back-to-back plays. He ended the fifth inning by making a tumbling catch on a Paulo Orlando drive that denied Kansas City the lead. He also led off the next half inning by delivering a double to lead a three-run rally.
In that game he went 3 for 4 with a double and a triple -- the Braves' first of the season -- and since that four-game stint at leadoff to start his MLB career (in which he had one hit in 16 at-bats) is hitting .270 and has nine extra-base hits and five steals.
Smith's magnetic personality and his enthusiasm are going to make him a draw, and ultimately he has to find more consistent success against left-handed pitching (.182 average). It's no secret that Inciarte's injury opened the door for Smith's arrival and Hector Olivera's legal troubles helped keep him here, but he's clearly rewarding Gonzalez for having faith in him.
Follow Cory McCartney on Twitter @coryjmccartney and Facebook. His book, 'Tales from the Atlanta Braves Dugout: A Collection of the Greatest Braves Stories Ever Told,' is out now, and 'The Heisman Trophy: The Story of an American Icon and Its Winners' will be released Nov. 1, 2016.
---
---