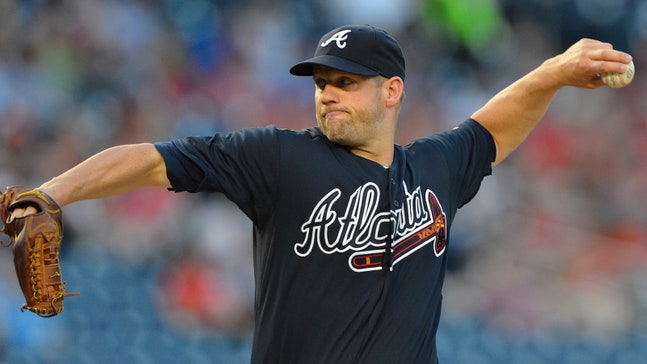 Three Cuts: Braves' bullpen falters as Nationals play bombs away
Published
May. 8, 2015 11:15 p.m. EDT

The Braves jumped to an early 2-0 lead over the Nationals in part due to two Freddie Freeman doubles, and held that lead until the sixth inning. Washington added two runs in the sixth to go up by one, scored another in the seventh and then the bats erupted for the home team as they put a five-spot on Atlanta's bullpen to blow the game open.
The Nationals won 9-2 on Friday and have scored 39 runs on 46 hits in four games against the Braves this season.
Here are three observations from Atlanta's loss to Washington Friday on the road:
Eric Stults gave up two home-run blasts and allowed three earned runs to cross the plate against the Nationals. His ERA actually dropped to 4.84 after pitching six innings.
Just looking at those numbers, Stults seemed to have had a fair to average night on the mound. But that's not the whole story.
Stults was dealing for five innings as he kept the Nats to one run on five hit while he struck out six batters. He got into trouble in the second inning and struck out two batters while Washington had two men on.
In the fourth, Stults allowed hits to the first three batters (including a homer to Jayson Werth) but got out of the inning with only one run on the board.
Basically, Stults made two mistakes in his six innings of work. The second-inning blast to Werth and the sixth inning shot by Bryce Harper. Both of those mistakes were when Stults elevated pitches in the strike zone.
When Stults was pitching down in the zone, he was piling up strikeouts and inducing ground balls. When he was up, he got hurt. That's been his story all season.
Stults has given up 19 earned runs this season and has allowed seven homers. He now leads the Braves in home runs allowed, but more important, 10 of the earned runs scored on him have been the result of longballs.
If Stults can keep the ball down in the zone, his home run rate will likely drop, and his ERA will benefit. There are truly signs that Stults could be effective with that pitch placement adjustment.
Three Atlanta relievers -- Brandon Cunniff, Williams Perez and Trevor Cahill -- combined to allow six earned runs on Friday as the Braves' bullpen was battered by Nats' bats.
Much of the damage came by way of the longball. Cunniff allowed a seventh-inning blast to Espinosa, Perez was teed off on by Harper in the eight and Cahill fell prey to Espinosa later that same inning.
Braves relievers gave up four hits, three of which were home runs. And the unit only threw two innings.
Perez made his major-league debut in the game and left with a 108.00 ERA after allowing four runs in 1/3 of an inning. He was the sixth member of the Braves' bullpen to make his big-league debut this season, and the year is only 29 games old.
Braves manager Fredi Gonzalez state on Saturday that he was going to open a direct line to the Gwinnett Braves and start cycling relievers back and forth between Triple-A and Atlanta. The final spot in Atlanta's bullpen will be in a constant state of flux for the near future.
That is, theoretically, until Gonzalez finds the right combination.
Overuse, and youth, are starting to become problems for Atlanta's relief staff.
Cody Martin, a 25-year-old rookie, started the season with a 1.00 RA in his first seven appearances and only allowed six hits over that span. In his seven outings since he's got a 3.52 ERA and has allowed seven hits in 7 2/3 innings.
The 26-year-old Cunniff didn't allow a hit or an earned run in his first five appearances. In six games since he been tagged for three runs.
Luis Avilan only allowed one hit and zero runs in his first seven appearances. Since ... five runs in eight games and a 6.75 ERA.
Sugar Ray Marimon (26) and Andrew McKirahan (25) were both young pitchers, and Perez, who would probably like a do-over on his debut Friday, will turn 24 later this month.
Until the starters begin routinely pitching longer into games, this bullpen will be overused. But the youth is likely not going to be a problem fixed this season.
Freeman laced two doubles in his first two at-bats, and is hitting better than any other Braves batter at the moment. Being on a hot streak helps.
But Freeman also has a rich history of playing well against Washington and on the road in Nationals Park.
After Friday's 2 for 4 performance, Freeman is 96 for 283 (.339) lifetime versus the Nationals with 22 doubles, one triple and nine home runs. He's tallied 44 RBI.
When he gets to play in the opposition's den, he's almost as mighty.
In 38 games in Nationals Park, Freeman has hit two home runs, driven in 17, and averaged .329 (46 for 140).
---