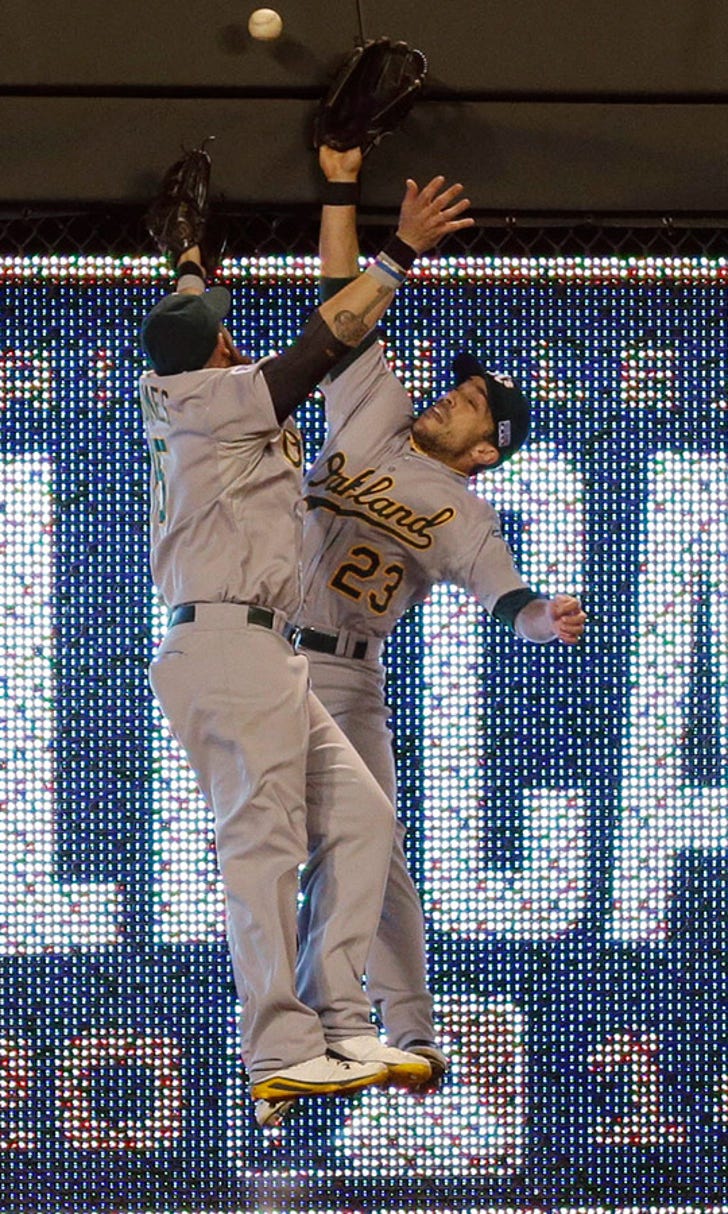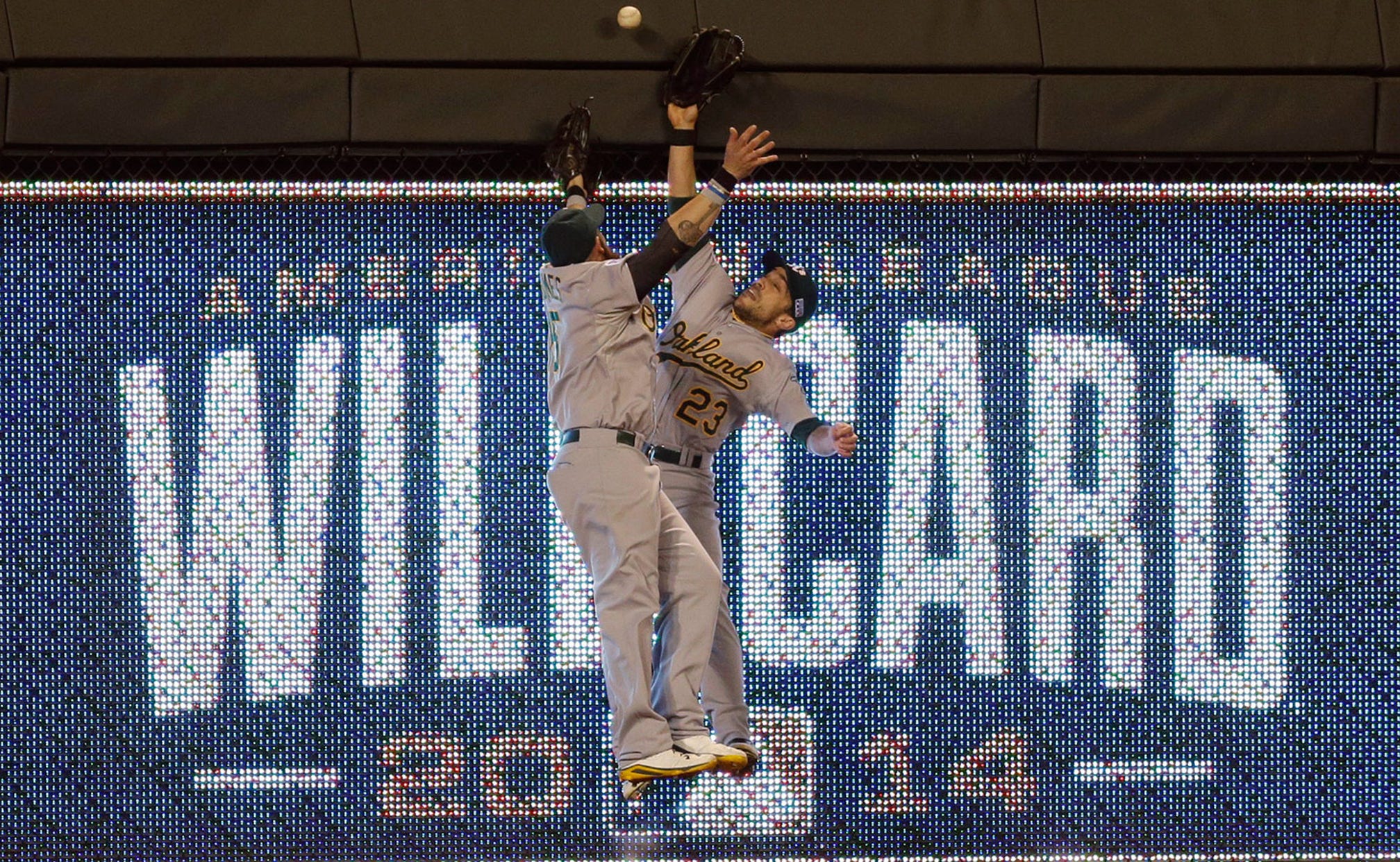 This just wasn't Bob Melvin's night
BY foxsports • October 1, 2014
What happened Tuesday night in Kansas City was so improbable, so full of twists and turns and sacrificial bunts that any single essay must necessarily leave out more than half the moments that seemed, at the time, worth an essay of their very own.
A few hours before the game actually ended, the big story was going to be Ned Yost and Yordano Ventura. A bit later, it was going to be Bob Melvin and Jon Lester. And at the end, nearly five hours after James Shields had thrown the first pitch, the story wound up being Eric Hosmer and Salvador Perez; the former an unlikely cleanup hitter who went 3 for 4 with a game-changing triple, the latter having gone 0 for 5 before ripping a liner past Josh Donaldson to plate rookie Christian Colon with the winning run.
Somewhere in all this, Brandon Moss hit two home runs after hitting only two homers in all of August and September; Ventura gave up one of those home runs, after giving up just one homer in his last 10 regular-season starts; the Royals set a record with those four steals in one postseason inning; the Royals totaled seven steals in the game, equaling the all-time postseason record; Adam Dunn, the active leader in games played without a postseason appearance, once again didn't appear; the A's lost two of their starters to injuries. Oh, and just after all this, Pedro Martinez went on at great length about the lousy job turned in by the manager of … the winning team. Which isn't something you see every day. Or maybe ever.
Before taking another step, let's get two things straight. First, the Royals needed some good fortune to win this one, with two bloop hits and a swinging bunt contributing to various rallies. The A's losing their strong-armed catcher probably hurt some, too. And second,
Take a moment, if you like, and reflect on the narrative. I get it. But I've also got a job to do. So, just getting the easy details out of the way ...
In retrospect, of course Pedro seems right: If you're going to pull Shields and replace him with Yordano Ventura, who'd thrown 73 pitches just two days earlier, you don't do it with two A's aboard and nobody out. If you don't think Shields has much left in the tank – even though it's just the sixth inning and he's thrown only 80 pitches – then you let your rookie starting pitcher take over at the start of the inning, with nobody on base. Because that's what he used to doing. Or maybe you don't use him at all, and instead use one of the many pitchers in your bullpen who have been so effective in recent weeks, as relievers.
In retrospect, Melvin stuck with Jon Lester for too long. Heading into the bottom of the eighth, the A's were ahead 7-3. Lester had thrown 97 pitches. Which isn't a huge number. But the bottom of the eighth meant the top of the Royals' lineup, which had then seen Lester three times already. Basic rule of thumb is that nearly every starting pitcher is less effective, a fourth time through the order, than the average relief corps. Given a four-run lead in the eighth ... well, you're going to win roughly 95 percent of those games ... except the A's had a better-than-average bullpen this season, and the Royals' hitting was worse than average. So we'll make it 97 percent. At this point, you play it safe. And in 2014, playing it safe means going to the bullpen.
Melvin didn't play it safe. He stuck with Lester, who gave up a couple of well-struck ground-ball singles to right-handed hitters, then walked a left-handed hitter. Now Melvin went to his bullpen, but a run had scored already and two more would come in later. Which made it 7-6.
In the ninth, Melvin went to his closer, who gave up a leadoff bloop single. One stolen base, one sacrifice bunt, and one sacrifice fly later, the game was tied.
That was the ninth. In the 12th, the A's scratched out a run. They might have scored another; with a runner aboard and two outs, Melvin let Nick Punto bat for himself, with Dunn still on the bench. Had Dunn batted, Andy Parrino presumably would have taken over at second base. Which doesn't seem like the worst thing in the world. Especially considering the possibility that Dunn, with one mighty swing, could have turned an 8-7 lead into a 10-7 lead. Instead, Punto popped out and off we went to the last of the 12th.
Which is where I would like to make my case that Melvin, having already waited too long to remove one pitcher, now waited too long to remove another.
The A's were three outs away from winning, and perhaps forgetting the disaster of the previous seven weeks. Dan Otero had pitched the 11th, and pitched well. But Melvin still had four pitchers left in his bullpen: lefties Fernando Abad and Drew Pomeranz, and righties Ryan Cook and Jason Hammel. Pomeranz and Hammel usually are starting pitchers; Pomeranz had pitched just twice in September.
Meanwhile, Yost's bench consisted of just Raul Ibañez and backup catcher Eric Kratz. Due up: right-handed-hitting Lorenzo Cain, lefty-hitting Eric Hosmer, righty-hitting utility infielder Christian Colon, and – if things went that far – lefty-hitting Alex Gordon, the Royals' best hitter.
Otero, a righty with an exceptionally low strikeout rate, remained in the game.
He retired Cain. Two outs to go.
Hosmer, who struggles against left-handed pitchers, drove a 2-2 pitch off the wall in left-center and chugged into third base with a triple.
Why Melvin hadn't brought in Abad to face Hosmer, I don't know.
Colon bounced one off the plate for a 40-foot single, Hosmer scoring to make the score 8-8.
Why Melvin, needing a strikeout, didn't bring in Cook and his high strikeout rate to face Colon, I don't know.
But now Melvin called upon Abad, who did retire Gordon.

And now Melvin called upon Hammel, who didn't retire Perez.
There might be things we don't know, are probably things we don't know. Cook made only seven appearances in September, and maybe just wasn't ready to pitch in a tight spot. But it seems to me that if you trust Abad to retire Gordon, you should trust him to retire Hosmer. If that happens, you're one out away and nobody's on base and you can probably figure out the rest of it.
They say that victory has a thousand fathers, but defeat is an orphan. Except in baseball. In baseball, we always choose a father. Hello there, Papa Melvin.
---