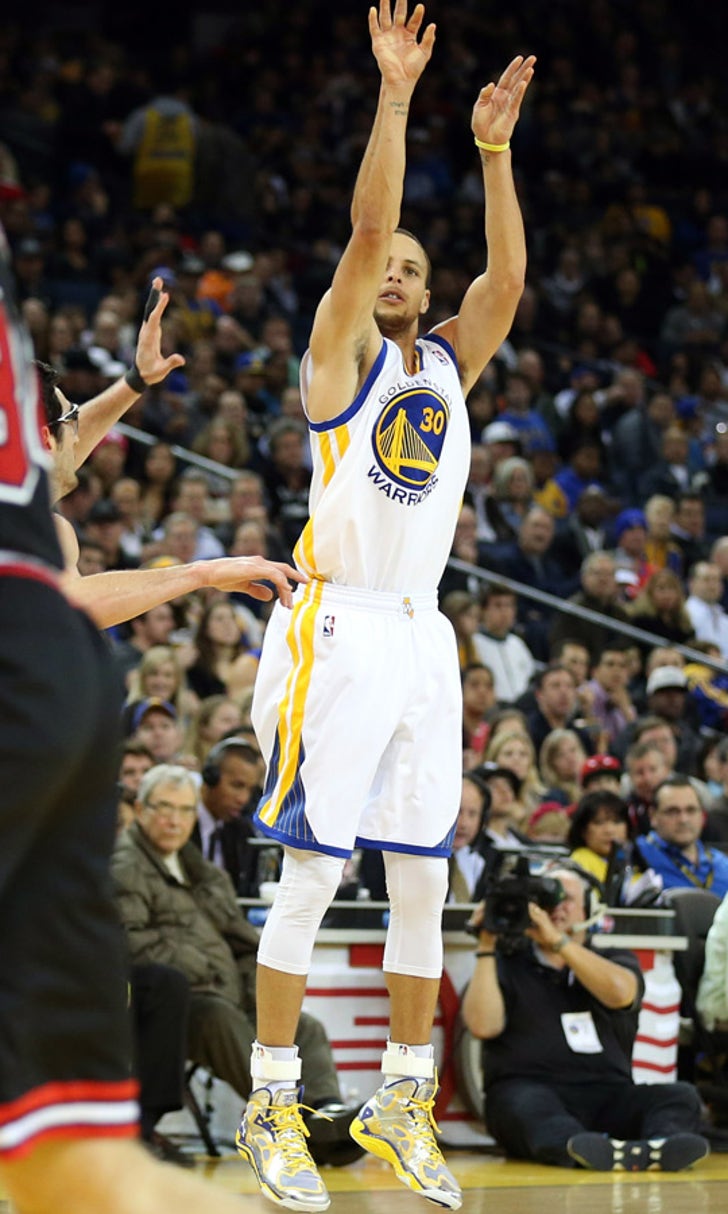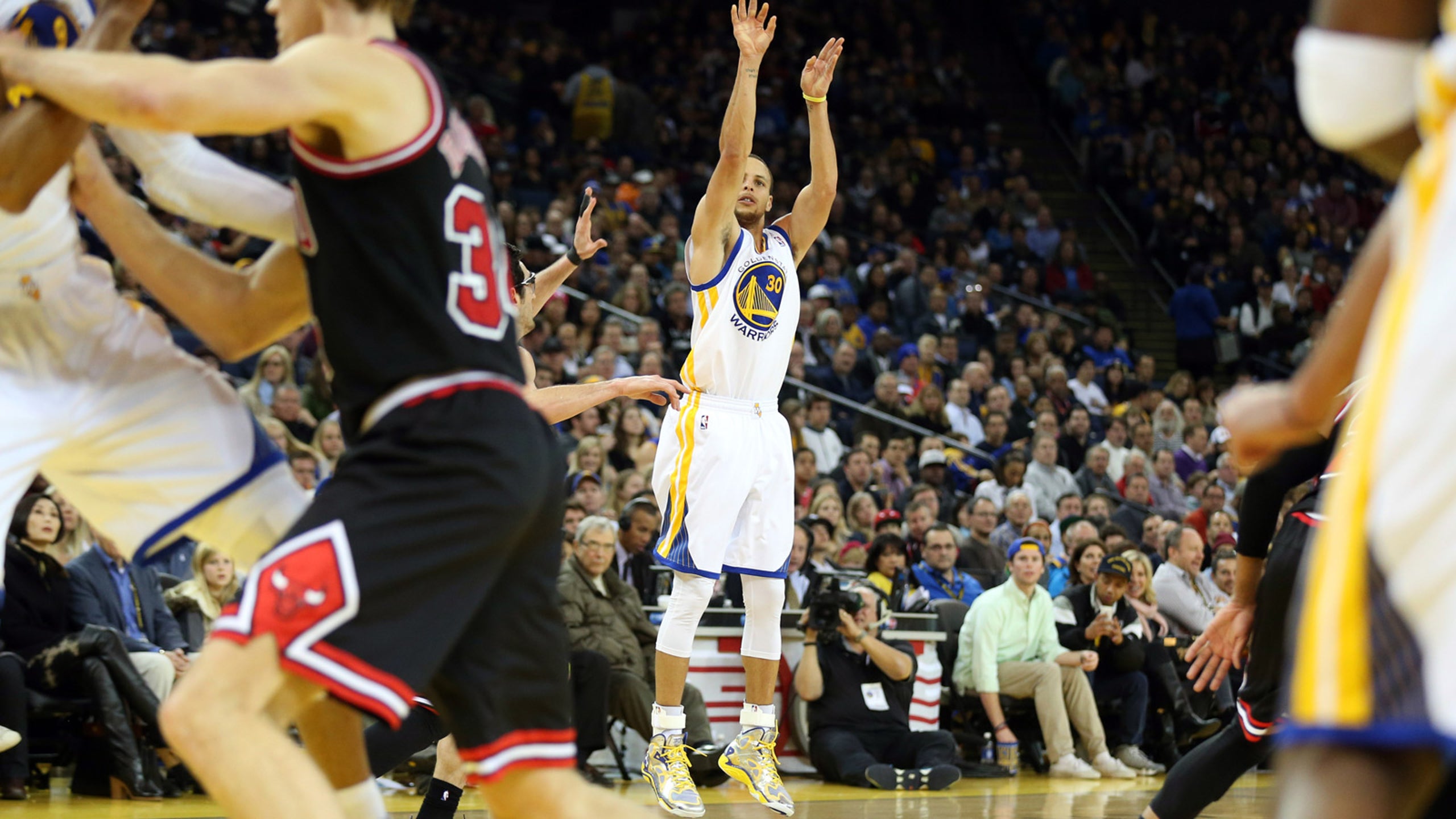 The Starting Five: From way outside
BY foxsports • February 27, 2014
While we're waiting for J.R. Smith to mess with our basketball-playing accessories, let's get into this week's edition of The Starting Five.
With our fascination with Steph Curry's shooting range in full bloom, would you prefer watching him tee it up from 4-point range?
Wait, how's that? Well, while fielding questions on various topics, a couple of NBA execs (Rod Thorn and Kiki Vandeweghe) were asked about the installment of a 4-point line. Although this rule change reportedly hadn't been discussed by competition-committee types, it does make the mind race.
The mind of some scientific sharpie will tell us how difficult it would be for NBA players of varying sizes to generate enough distance to reach the rim from wherever the 4-point line is while achieving a sufficient parabola to increase accuracy odds. The analytics minds would figure out what relatively low level of conversions would make firing the 4 a more viable option than the 3 or the dreaded mid-range 2.
By the way, rules-change chatter also included widening the court, which might (depending on the distance) enable analytics to extol the virtues of the corner 4. Widening the court would be great ... except that all arenas might be required to accommodate the new line by eliminating a few rows of ridiculously priced seats.
But should the 4 really happen? It certainly has the capacity of upgraded drama, not to mention further wrecking of the sleep patterns of NBA coaches.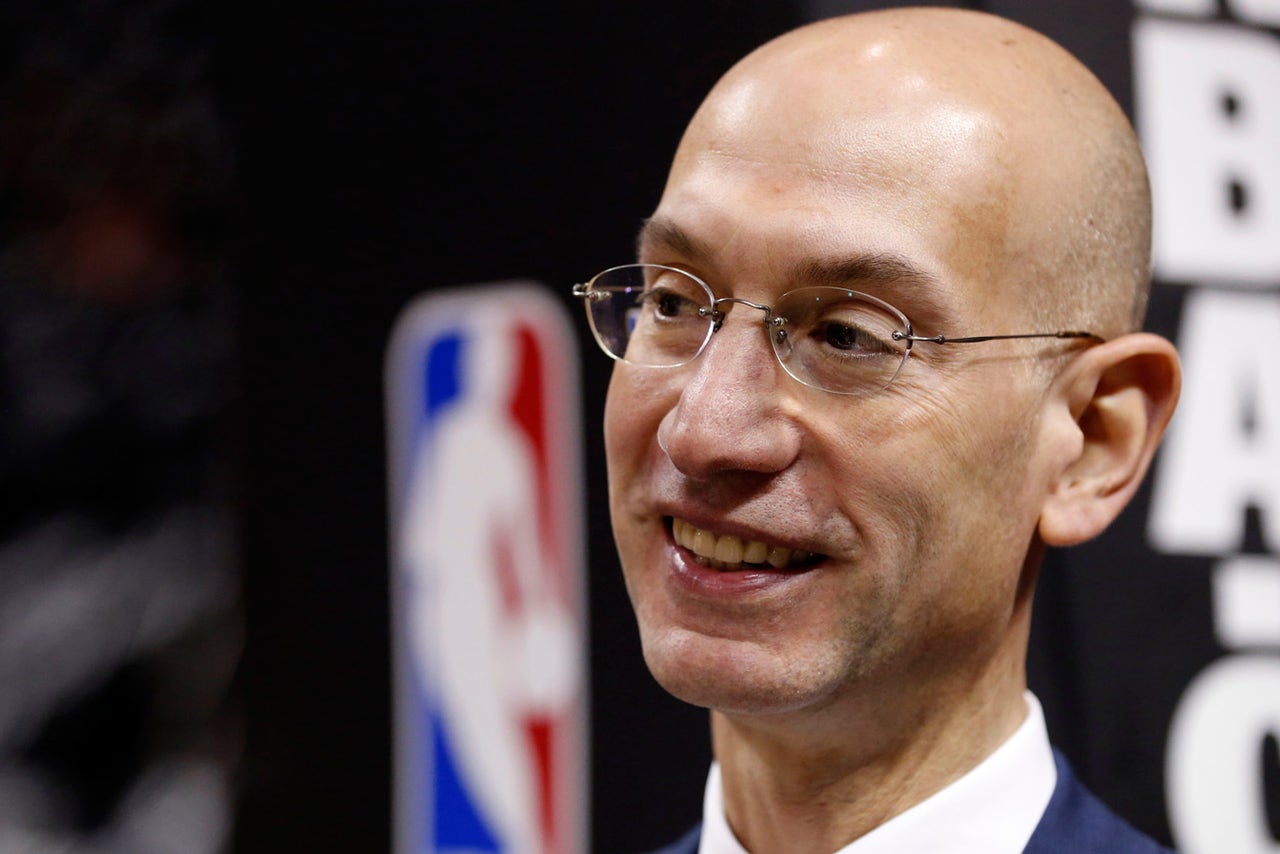 Relax, we're not throwing in an advertisement for hard-to-find U.S. coins.
The Silver referenced here is new NBA top dog Adam, who has kicked off his commissionership by having the league office send acknowledgements of refereeing errors to NBA teams.
As many coaches suggest, absorbing a bad call might seem a bit less traumatic when the ref admits he or she made a mistake. It's a nice theory, anyway, and serves to help coaches believe they're not quite as crazed as their assistants often suggest they are.
But Silver's "nothing to hide" tactic of accountability is about as soothing as having a burglar leave an itemized note of purloined personal inventory. The coaches already are pretty aware of just which calls were blown. Then again, throwing NBA referees (who already have a pretty, ahem, stern internal checks-and-balances routine) under the bus isn't a bad idea considering the level of video evidence readily available to, well, everyone.
The lurch toward transparency has pleased Dallas Mavericks owner Mark Cuban, who said of Silver: "I think he's taken some great steps in officiating. There's been more changes in 15 days, or whatever it's been, than I saw in 14 years."
We salute Cuban for attempting to hold the league's feet to the fire over the last 14 years.
And the NBA, in trying to do better, should be rewarded by seeing a new level of restraint from Cuban during upcoming Mavs games ... right?
Until we find out what happens with Indiana Pacers castaway Danny Granger, the favorite here is Glen Davis.
Davis, a key reserve in his days as a Boston Celtics four-man, has reunited with coach Doc Rivers. Rivers, now sharing directional duties for the Los Angeles Clippers with Chris Paul, certainly needs a boost from Davis.
We'll start with the obvious: This season's relative maturation of Blake Griffin has created a void in the shape of Big Baby along the Clippers' front line. Aside from the dovetailing of attitudes and nicknames, the Clips didn't exactly have exquisite depth beyond Griffin and center DeAndre Jordan.
Davis, who didn't qualify as a long-term option with the rebuilding Orlando Magic, has playoff experience and the ability to face the basket and score. Pre-existing option Ryan Hollins tries to act like a bully at times but has very little to offer with the ball in his hands, while recently acquired Hedo Turkoglu has the scoring chops but, as an out-of-position post defender, puts the "rug" in rugged.
Davis gives the Clippers someone with enough agility to work at power forward and sufficient girth to hold the fort against shorter centers.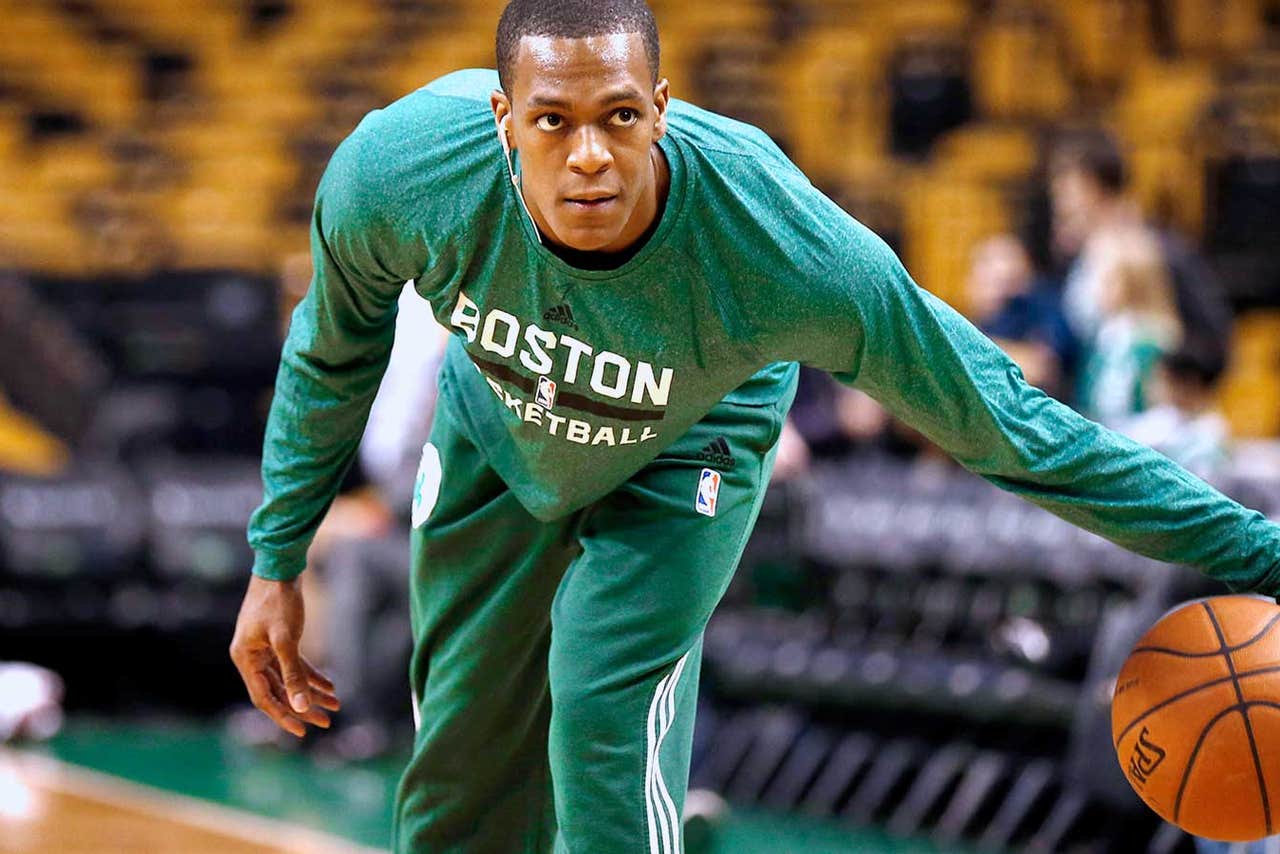 That thing Boston Celtics point guard Rajon Rondo did was not travel with his teammates on a flight from Los Angeles to Sacramento.
Rondo, who already was scheduled to sit out the second game of this back-to-back shift, remained in L.A. for his birthday celebration. This suggests the now-28-year-old was told his Sac-town options were limited to Chuck E. Cheese.
Anyway, Rondo is working his way back toward his past level of superior movement after returning from an ACL tear, but he didn't have permission from the team to remain in Los Angeles, so it was reported that Rondo would be subject to a meeting with Celtics boss Danny Ainge.
Does this seem like a big deal? Not really. Maybe all he had to do was ask; the guy wasn't going to play regardless. According to reporters, he probably won't be sanctioned.
And the Celtics are lousy, so why should a point guard with a championship ring spend any extra time hanging around less-established teammates? It's only a bunch of young guys attempting to learn what it takes to be champions; why should the only guy with that pedigree bother to set an example?
Even during the good times in Boston, Rondo wasn't exactly warm and fuzzy with his teammates. He must not have learned anything about accountability from KG back then, right?
But wait: The Celtics now employ former Miami Heat ringer Joel Anthony. Rondo? It's all good.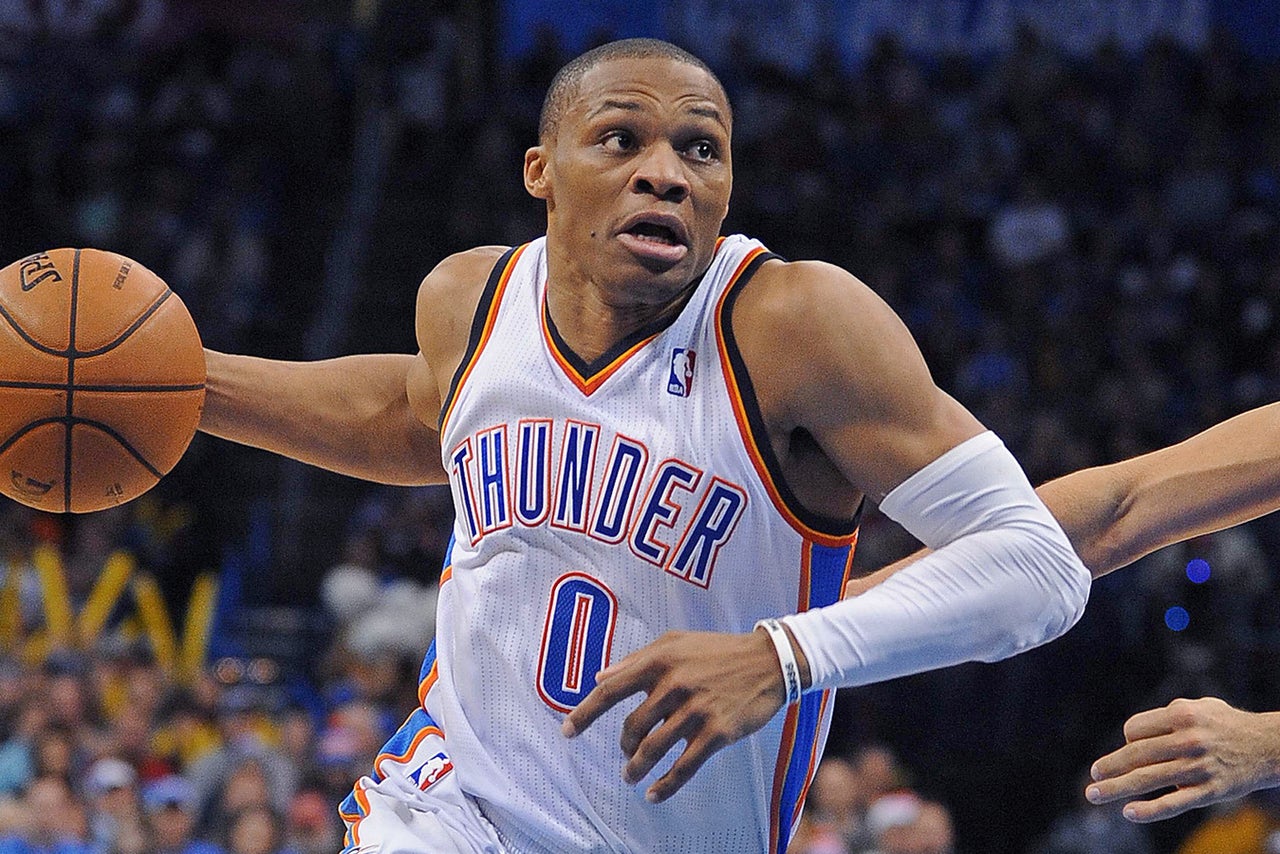 Since Russell Westbrook's return to the Oklahoma City lineup, the Western Conference's top team is 0-3.
Kevin Durant, whose work without Westbrook had inspired suggestions that he would eclipse LeBron James in the MVP war, had become a beast. Now, he has to share touches with a guy who can get any shot at any time and often takes it.
OKC was winning, and its young players (particularly guards Reggie Jackson and Jeremy Lamb) were improving. Now, their minutes are reduced.
Clearly, the second coming back of the All-Star point guard has been accompanied by a downshift in the offensive flow. So he's a menace to OKC's success, right?
Well, this is the NBA, where momentum changes with even more frequency than the signature sneakers of its superstars. What looks like dysfunction now could/should easily morph into something we're all more used to watching from the Thunder.
Westbrook's minutes are limited, and rotations are different due to personnel adjustments. These things take a little time to smooth out.
Remember, OKC was 21-4 before Westbrook left the lineup, and Durant managed to squeeze off 30 shots in the second game after his return.
Really, the blame for OKC's three-game losing streak should be aimed at its defense.   
---