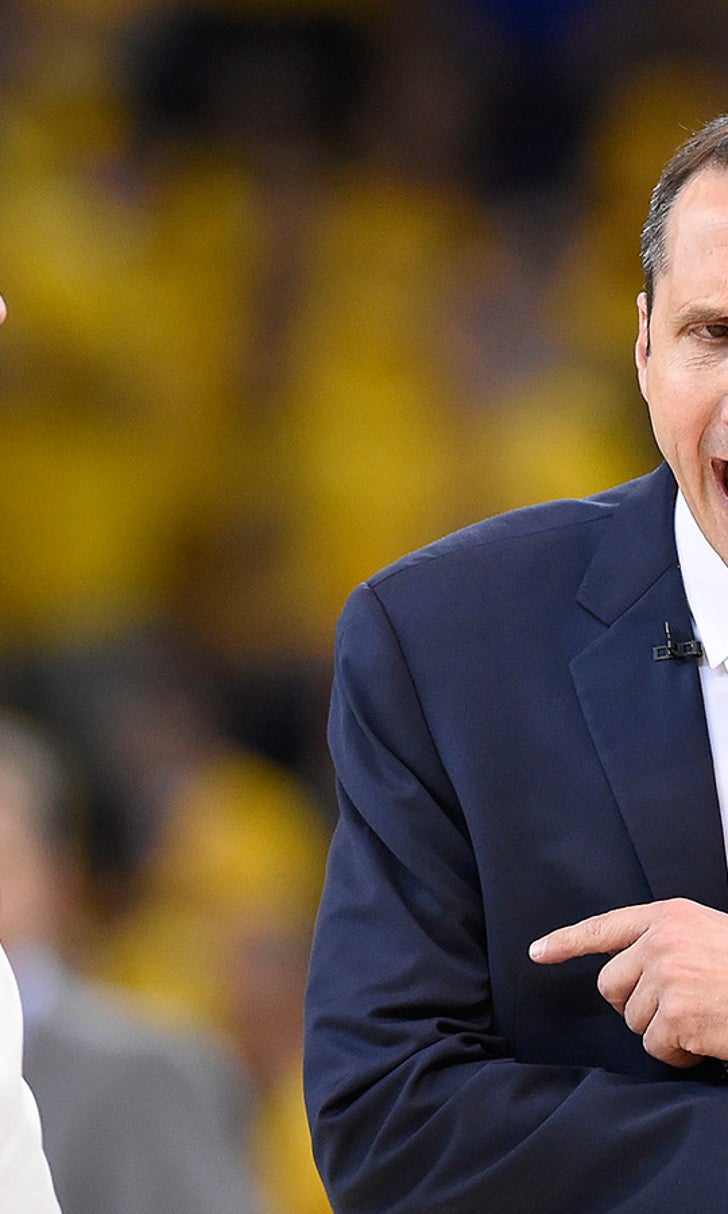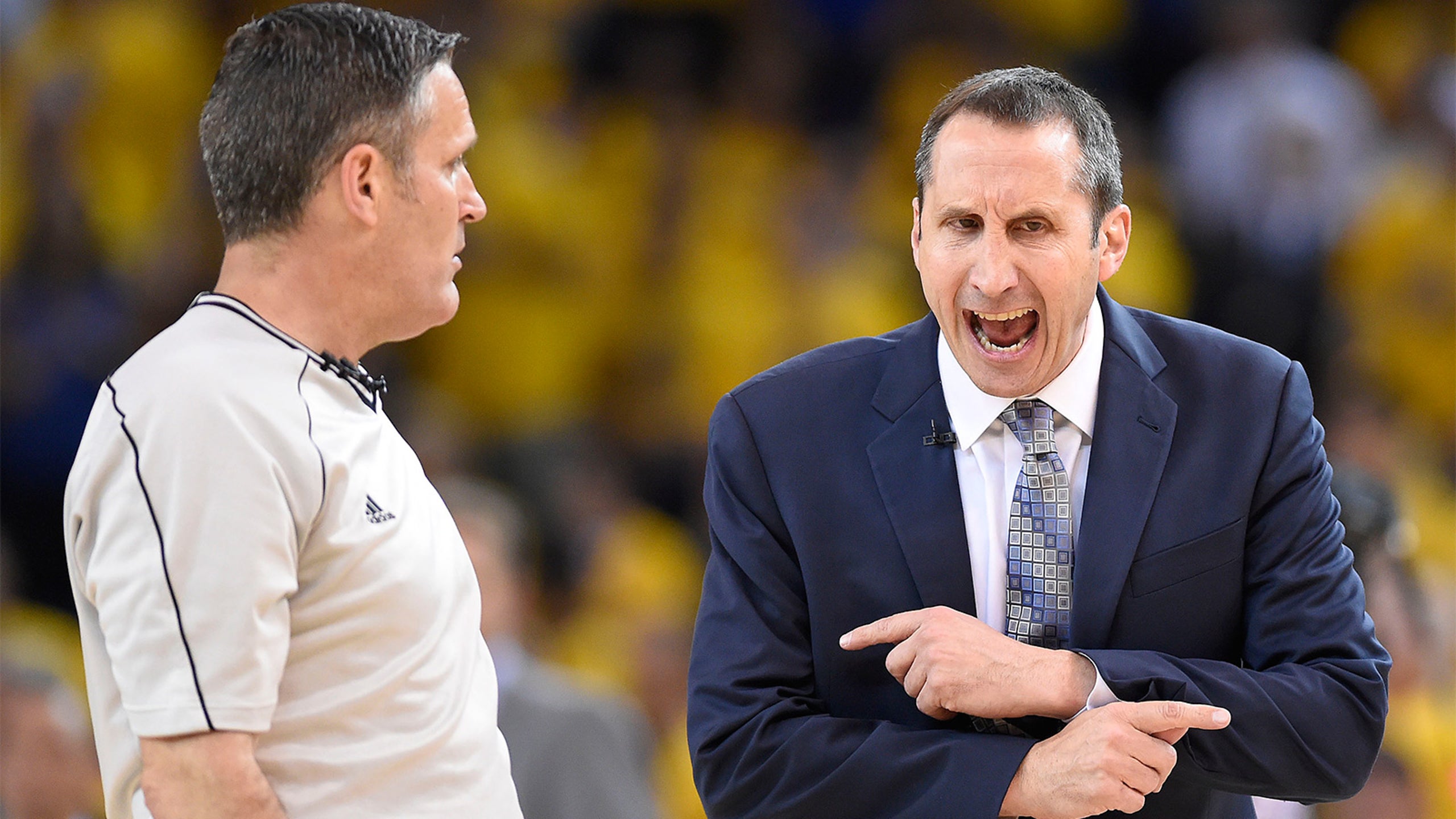 The Starting Five: Cavs, Warriors sweating the small stuff
BY foxsports • June 16, 2015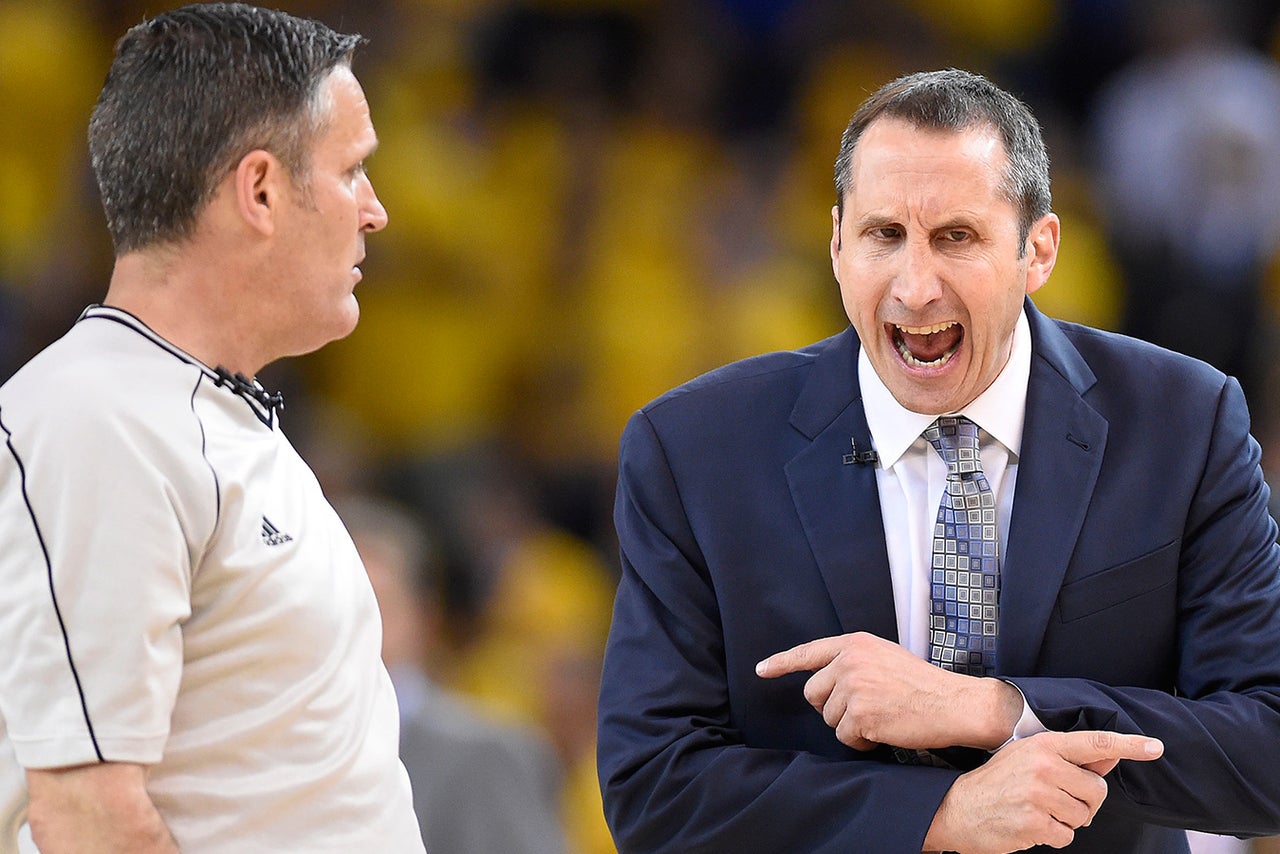 While the Finals series is livin' small, let's take a look at some of the league's bigger issues.
In addition to inviting criticism for limiting 7-foot-1 Timofey Mozgov (who scored 28 points in Game 4) to nine minutes in Game 5, Cleveland Cavaliers coach David Blatt is being roasted for his team's lack of offensive movement.
Even when the Cavaliers went small Sunday night, they continued a relatively stationary deployment while LeBron James backed his way into playmaking position.
Interestingly, many NBA witnesses seem to forget Blatt arrived after many successful seasons coaching aboard with a European-styled offensive system that included considerable off-ball screens and interchanges.
That quickly changed after a slow beginning in Cleveland, where LeBron is given tactical credit for pretty much everything that goes right. And while the Cavaliers did start winning with the offensive scheme change, that rise did have a lot to do with James returning from a "chill mode" that included his two-week absence.
So even if Blatt -- working without Kyrie Irving and Kevin Love -- preferred running weak-side action opposite LeBron's one-on-one stylings, James (if the critics are to be believed) still would do what he thinks is best.
Rather than lining up and staying put on the weak side -- like many NBA teams -- in an effort to expose illegal defense, the Golden State Warriors choose movement patterns on both sides of the floor.
A long history with that style of offense probably had a lot to do with Kerr attempting to hire Blatt as an assistant coach last summer.
Perhaps, with Alvin Gentry moving on, Kerr will have a shot at hiring Blatt again.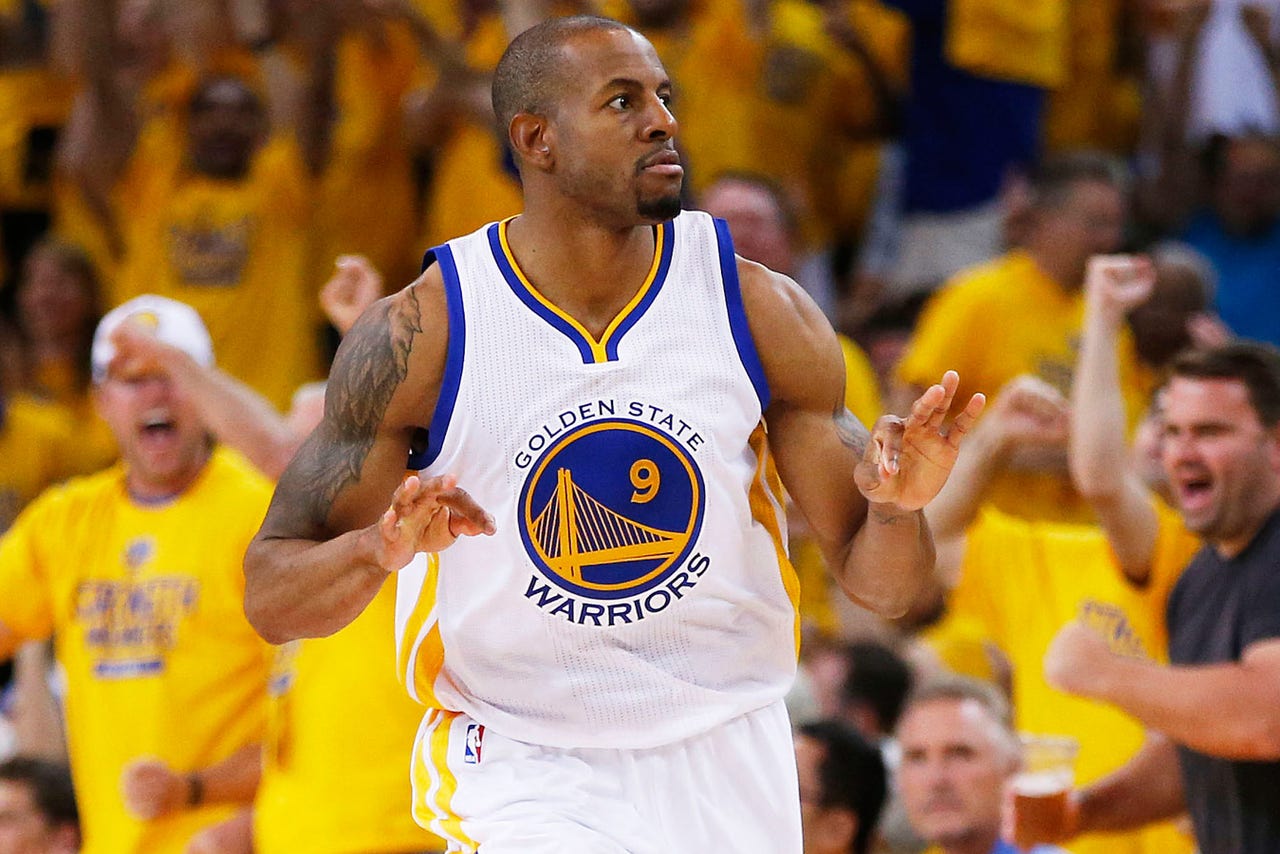 Andre Iguodala is shooting 41.8 percent from the free-throw line during the postseason.
Although Andre Iguodala has generated support for his Finals MVP candidacy, his inability to make free throws provided some intrigue near the end of Game 5.
As the target of some intentional hacking, Iguodala -- whose defense on James is about as solid as the Warriors can hope for -- finished the evening 2 of 11 from the free-throw line.
Now that his inclusion in the starting lineup is considered the tactical turning point of the Finals, Andre could be strategically hacked to begin Game 6. Iguodala, who made 59.6 percent of his attempts during the regular season, has fallen to 41.8 in the postseason.
The Cavaliers will have a playing-time decision to make on Timofey Mozgov, whose 28-points, 10-rebound eruption in Game 4 occurred in a 20-point loss. With Mozgov getting limited burn the following game, Cleveland was very much in contention until the latter stages of Game 5.
With Golden State playing five relatively interchangeable defenders, the Warriors can switch everything, limiting the effectiveness of Mozgov's pick-and-roll dives to the rim on offense. And we all know how much difficulty he has staying in front of any of the small-ball Warriors on defense. 
With an injury to Kyrie Irving and the Cavaliers personnel decision-maker having left the roster a bit light on talented perimeter players, Coach David Blatt must make a sizeable strategic call for Game 6.
Meanwhile, Golden State's galloping commitment toward mobility and position-blurring basketball could alter the thought process in next week's draft.
For example, would the Los Angeles Lakers -- working with mostly Jordan Hill and Ed Davis at center last season -- take their second pick and select Ohio State guard D'Angelo Russell over, oh, Jahlil Okafor?
But this lurch toward employing players with multiple perimeter skills isn't limited to prospects capable of filling the point-guard designation.
The Warriors' reliance upon similar-sized wing players -- guys in that 6-foot-6 to 6-8 range -- could make the middle of the first round even more difficult hard to peg. Such thinking could do wonders for Duke freshman Justice Winslow, a versatile lefty who has the potential to defend at least three positions.
At the moment, half of the projected top-16 picks on Draftexpress.com's mock list check in at 6-foot-10 or taller. If the Cavs go back to tall ball in Game 6 and are able to turn the Finals around, things may remain status quo.
Never underestimate the power of copycat thinking.
With the 2015 NBA Draft entering its subterfuge stage, there are several bits of gossip littering the reporting landscape.
Most of the chatter -- rendered plausible by varied opinions of the prospects involved -- is bestowed upon those teams holding the top four picks.
Based on his ability to make jumpers and drive to the bucket for dunks against air during a workout at Impact Basketball in Las Vegas, Kristaps Porzingis reportedly could jump into the top three. The Philadelphia 76ers are said to be considering "The Zinger" at three. The Los Angeles Lakers, who pick second, also have Porzingis under higher consideration.
Minnesota, which has the first pick, is said to be increasingly enamored with Karl-Anthony Towns, seemingly downgrading low-post cruncher Jahlil Okafor, who was thought to be a favorite of team decision-maker Flip Saunders.
That would leave Okafor for the center-starved Lakers, who could instead have gifted Ohio State guard D'Angelo Russell in their crosshairs.
The Knicks, sitting at No. 4, seem -- at one time or another -- interested in everyone, but now might be expected to shop the pick if Towns, Okafor and Russell are all off the board.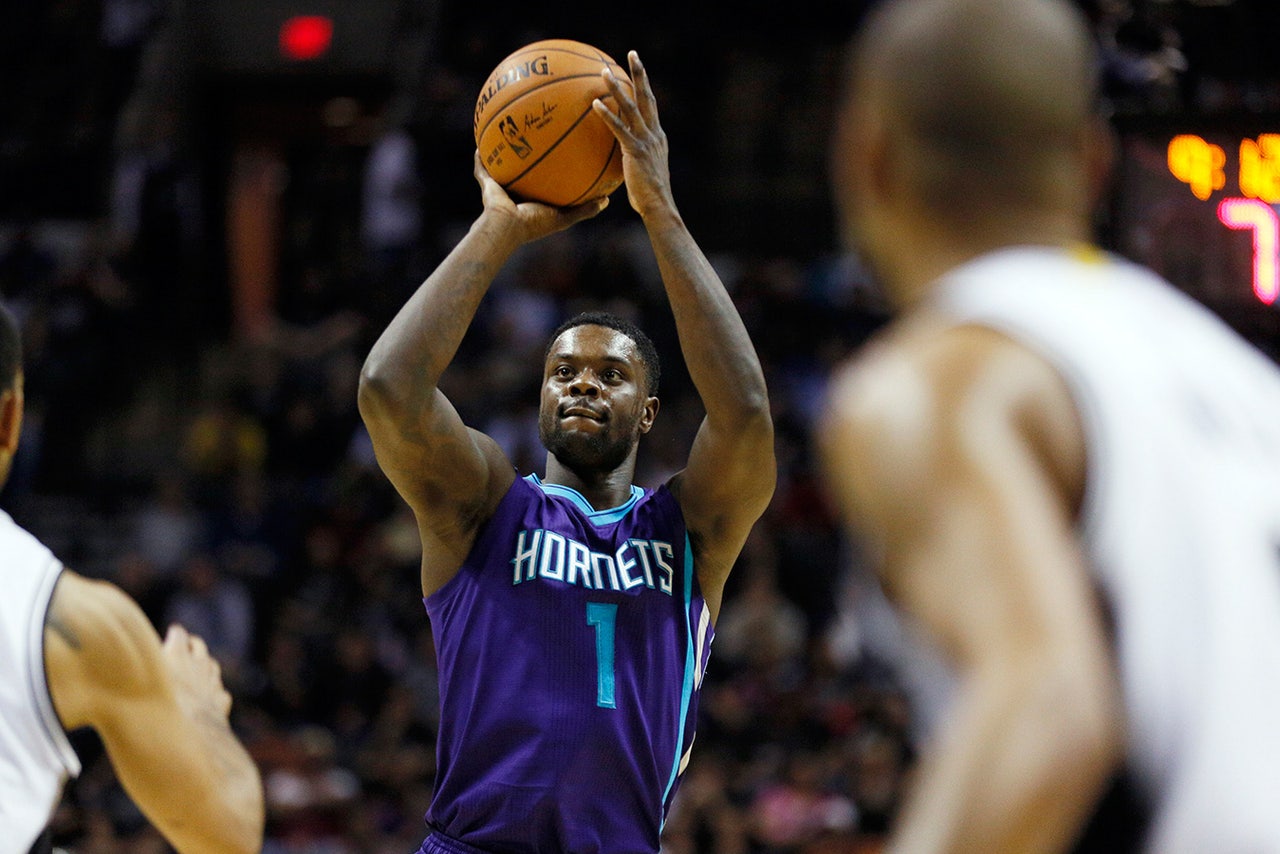 The Clippers appear to be banking on Lance Stephenson upgrading his 17-percent 3-point shooting percentage from his lone season with the Hornets.
The Clippers certainly hope that acquiring Lance Stephenson from the Charlotte Hornets doesn't lead to any in-house crisis. With a veteran club, the Clips must feel confident in their ability to keep Stephenson rowing in the same direction.
Having given up Matt Barnes and Spencer Hawes to the Hornets in this transaction, the Clippers would seem to be envisioning Stephenson to fill what has been a small forward work space.
L.A., which finished the regular season as the third-best 3-point shooting team by percentage (and fifth in attempts), will be receiving a player who made only 17 percent on his 3s last season.
But Stephenson did bag 35 percent of his attempts behind the arc during his last run with the Indiana Pacers. He gave Indy 13.8 points and 6 rebounds per game during a free-agency drive that -- because of a reportedly shaky level of trust from his teammates -- didn't exactly set the market on fire.
Perhaps his interesting presence will be what the Clippers need.
But eyeballing Stephenson as the missing piece to a playoff puzzle seems, well, puzzling.
---