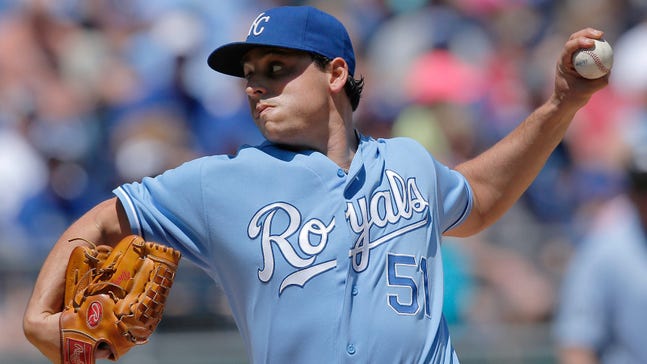 The cool one: Royals' Vargas is a tough one to rattle
Published
May. 9, 2014 10:00 a.m. ET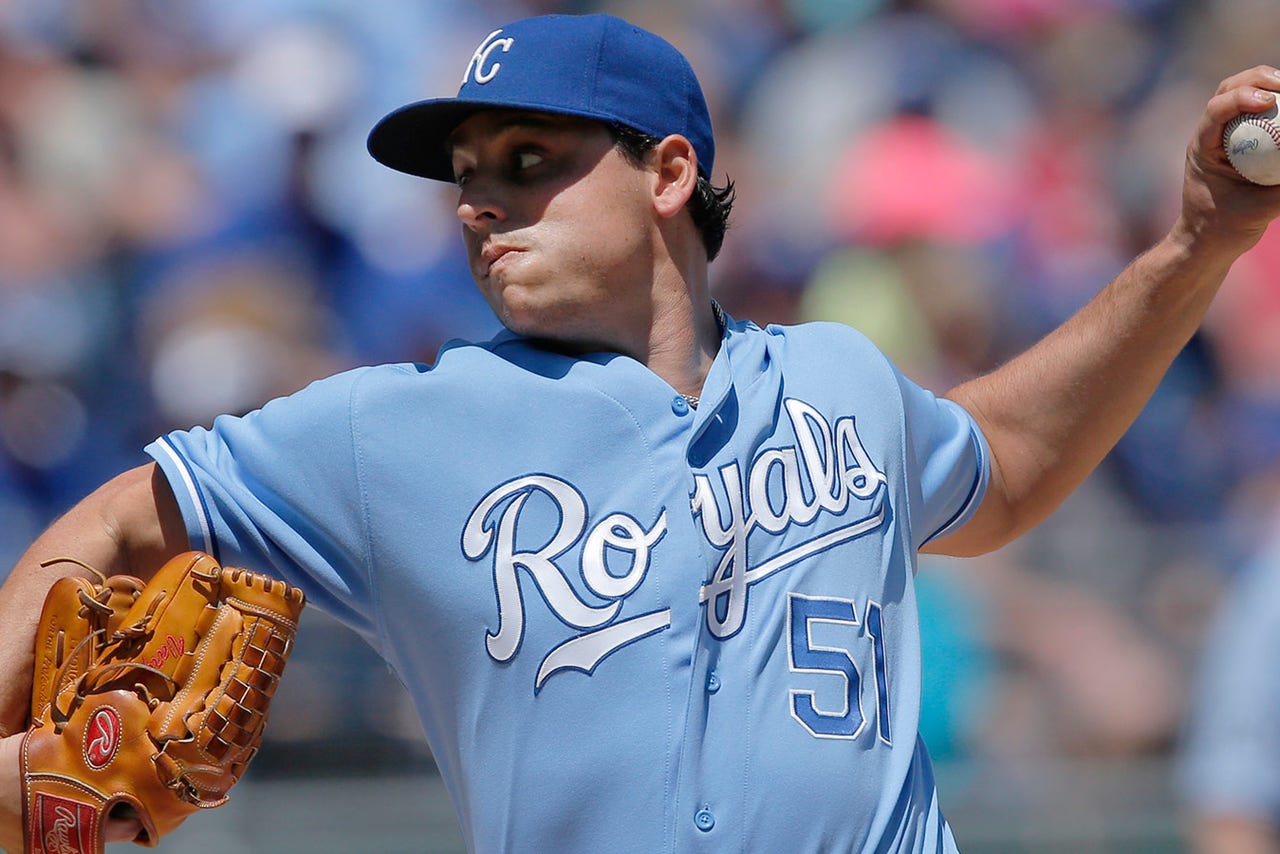 KANSAS CITY, Mo. -- If you closed your eyes and walked around the Royals' clubhouse, you could pretty much identify just about everyone inside simply by listening.
You'd hear Sal Perez's thunderous laugh. You'd hear Jarrod Dyson needling a teammate. You'd hear James Shields barking over the loud music (and wanting the music to be even louder).
But you'd likely never be able to identify left-hander Jason Vargas.
Vargas is that quiet.
"That's just who he is," teammate Bruce Chen says. "He kind of stays to himself. He's kind of like that on the field, too.
"It's not like you hear him shouting a lot."
Vargas explains that his soft-spoken demeanor is simply part of his personality. He has always been that way, he says.
Watch the Royals Live pregame and postgame shows before and after every Kansas City Royals game on FOX Sports Kansas City.
"I'm just not a guy who gets real loud and has a lot of antics," he says. "It's the way I was brought up. It doesn't mean I don't get mad at myself or fired up like everyone else, but I guess I just don't show it like some people."
Chen says Vargas actually even tells jokes on occasion.
"But it's more like a quick joke and then a quick 'heh-heh' laugh and that's it," Chen says, smiling. "He's more of a one-liner guy. He just never gets too crazy."
That kind of calm approach to life has served Vargas well on the mound, too. He seems almost impossible to rattle.
"Whether he gives up a homer or gets a big strikeout," manager Ned Yost says, "his emotions pretty much stay the same. A lot of good pitchers are like that."
Vargas, in fact, can't remember the last time he demonstrated anger on the mound.
"You mean like throw a tantrum?" he asks. "No, that's not me. That's never been me.
"Even when I was a kid growing up, I never got mad and stomped around on the mound if something bad happened. What's the point?"
In the big leagues, controlling one's emotions definitely is beneficial, he says.
"It's really a long season and you can't have a lot of emotional ups and downs or you'll wear yourself out," he says. "I guess I'm lucky that I don't really have to work at not getting angry or controlling my emotions. It kind of comes natural."
What seems to also come natural is Vargas' pitching motion -- a smooth, flowing and coordinated turn of the shoulders, release and follow-through.
It's a motion that Vargas, 31, really didn't perfect until the offseason prior to 2010.
Vargas had been drafted by the Florida Marlins out of Long Beach State, but though he showed flashes, he never really found his groove with Marlins.
"I think I just got a taste of success with them," Vargas says, "but I still didn't really understand what it took to be successful."
Vargas was traded to the Mets in 2007, but struggled for two seasons there before being traded to Seattle.
After one more uneventful year with the Mariners (3-6, 4.91 ERA), Vargas went home to California after the 2009 season and hooked up with his former pitching coach at Long Beach State, Troy Buckley.
That offseason, Buckley and Vargas worked tirelessly on finding a delivery that would suit Vargas and be simple enough to repeat every time. They succeeded.
"There were just a few mechanical adjustments we made, small things, and then I was able to find something I knew I could do over and over again," he says. "Then after that, it was just a matter of working at it as much as I could. It started to give me confidence."
Vargas' velocity didn't increase with the new delivery. In fact, it might have even decreased a tiny bit from the uppers 80s he used to throw. His fastball now stays pretty much in the 85-87-mph range.
"I probably threw in the 90s when I was college," he says. "But there comes a time when you realize you don't have to try to throw 90 or 95 to get hitters out.
"A lot of guys are successful with fastballs in the 80s. It's more about changing speeds, hitting your locations and trying to miss the barrel of the bat."
In that regard, Vargas is a lot like Chen, who relies on location and changing speeds.
"Jason is really good at it," Chen says. "He never pitches outside himself. He knows what he can do and he doesn't try to overthrow."
Hitters often grumble after a night of trying to hit Vargas -- Royals players did last year when he went 2-0 against Kansas City with a 2.51 ERA.
"He may not throw 95 but he can frustrate you," designated hitter Billy Butler says. "There are guys like that. You think you can hit them because they don't have the big fastball but the next thing you know you're 0 for 4 wondering how it happened."
Vargas also certainly doesn't look that intimidating on the mound, either. He is listed at 6 feet, 215 pounds, and he sports a bit of a paunch. A chiseled specimen, he is not.
"But he's a lot more athletic than you think," Chen says. "He has an athletic motion and he can really field his position. I know he was a cleanup hitter in college, too, so he has some athleticism."
True, as a junior at Long Beach, Vargas hit .354 with 14 doubles and five homers.
But Vargas shrugs at the notion he was a stud at the plate.
"Not exactly awesome power numbers," he says. "But I can hit a little."
And that's the thing about Vargas: It's tough to get him to talk about his accomplishments.
The Royals signed him to a four-year, $32 million deal because they knew he could be a mainstay in the rotation. He averaged over 200 innings each season over his final three years with Seattle.
And Vargas would have gotten to 200 innings last season -- his first and only one with the Angels -- had a blood clot not kept him out for nearly two months.
"We think he's going to be a solid addition to our team over the next few years," general manager Dayton Moore says. "He's got a lot of ability."
You just won't hear that from Vargas himself.
You can follow Jeffrey Flanagan on Twitter at @jflanagankc or email him at jeffreyflanagan6@gmail.com.
---