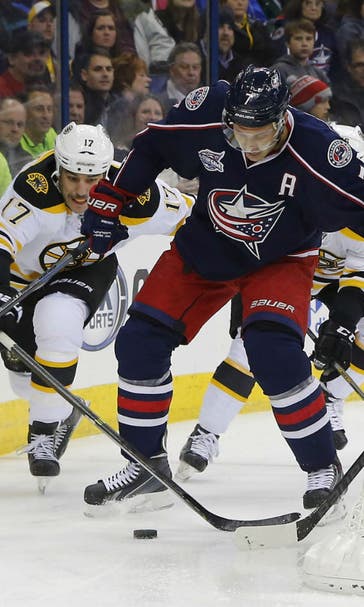 The Blue Jackets are making progress
BY foxsports • November 22, 2014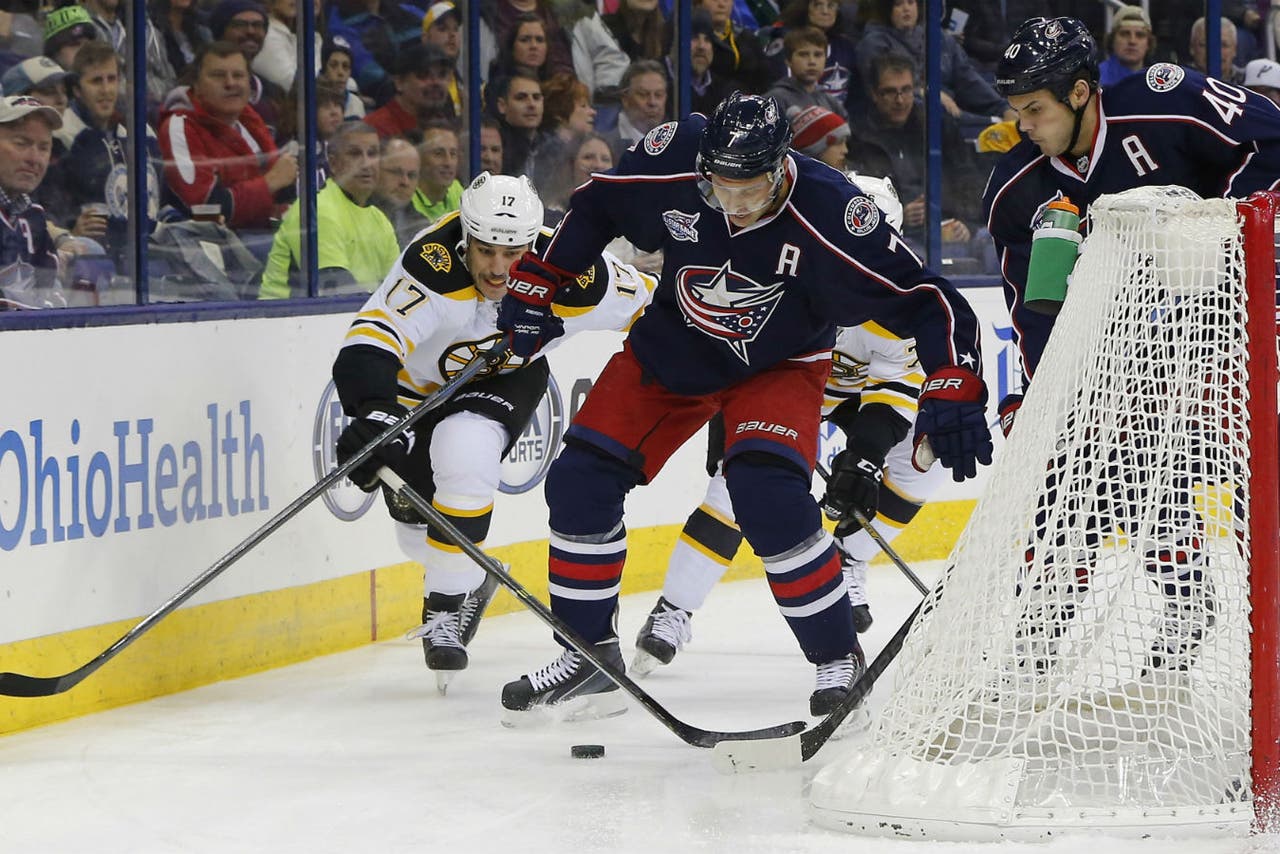 Columbus, Ohio - When is a loss bearable to a team? Or is it ever really bearable? Most would answer that a loss is never bearable. Friday night in Columbus, the argument can be made that the 4-3 loss to the Boston Bruins was bearable in that the team made strides in finding 'their game'.
Two points are better than one, but one is better than none. This team has been searching for the identity that they forged over the past year for quite some time. Yes, the injuries that have transpired for this club are a major contributor in their dismal record of 6-11-2. Couple that with a search for the very essence of their reputation and it's amazing that their record isn't any worse.
"You look at the first period," said veteran defenseman Jordan Leopold, "I think that was the best first period from what I've heard, that we've played all year. We were ready from the puck drop and it set the tone for us. In the second period, we lost a little bit, but we hung in there. And in the third, it was what it was, but we found a way to get back into the game."
Friday night was Leopold's third game for the Union Blue since being traded from the St. Louis Blues. He earned his first point as a Blue Jacket on an assist on Nick Foligno's goal in the first period. He's proved to be steady and calming when he's on the ice, logging 20:28 against the Bruins.
He may be the 'new guy' in the room, but he comes in as a veteran voice that has been in the very position that Columbus is in presently. He liked the pushback that the team showed in the third period.
"And that's key, that's adversity," he said. "We've had a lot of adversity around here and we showed some composure. We didn't give up and we didn't bury our heads. We knew we were playing hockey where we could win the hockey game. We had the big goal there at the end (Jack Johnson) to tie it up."
"Of course, we'd like the two points. After a long night and long shootout, I don't think we're happy with one (point), but in these circumstances we'll take it."
With the two goal lead going into the final stanza, Boston showed why they are one of the top teams, year after year. With a depleted defensive corps, they organized their own pushback to take the game to the end of regulation tied at 3-3. Columbus didn't play for the tie, as they kept attempting to get the go-ahead goal, but to no avail.
Blue Jackets head coach Todd Richards saw the team start the game on the right foot. Although there were missteps, overall he was pleased with the way the guys responded.
"I think when you have a two-nothing lead going into the third period and then you come away with one point," he said, "you feel like you lost a point. But I will say this about the guys... It's a 2-2 game and they (Boston) score another goal to make it 3-2, I think the air went out of the building."
"But, the guys were positive on the bench. I saw a little bit of what these guys are about. That's the resiliency and they stuck with it. Then they found a way to tie it. Obviously, it's disappointing that you don't get the extra point in the overtime with the shootout. There were a lot better things in this game."
Four out of their last five games have been played with a closer resemblance to their identity than any other games this season. Starting on Veterans Day in Washington, they've rediscovered what it means to play 'Blue Jackets hockey'. Being aggressive on their forecheck and getting pucks deep to create chances was the bread and butter of this club last spring.
"We took some steps forward," said goaltender Sergei Bobrovsky. "We just have to stay together, as one group, and work hard. If we do that, we'll get our game back and be back on track. We have a really good team here."
By playing this way, they have a renewed confidence in their game. Yes, they still have a long road to hoe as they attempt to turn their season around. But they have taken the positive first steps in their climb out of the basement.
"Tonight was a great sign," Leopold said. "If you look at the game against Detroit (Tuesday), we get the two goals scored against us and the third was the back-breaker. So, if you look at tonight, we were in the lead, it's a different situation, we tie the game up. We maybe didn't get the bounces we like, but we stuck with it. That's a good sign."
"When you're in losing streaks or tough times, sometimes it's easy to lose your focus and lose composure. But the guys did a great job (Friday night) in sticking with it. Like I said, we ended up finding a way to get the tying goal. I wish the shootout was different, but it's not and we have to live with that. But tomorrow's a new day and we have a good opportunity to build on this."
With 63 games left on the calendar, conventional wisdom dictates that they will likely need to win two of every three games down the stretch. That equates to winning 42 games (84 points). If they were to do that, coupled with the 14 points they have through the first 19 games, they would have 98 points and be safely in the playoffs come April.
They're one point off the pace that they started the season last year. It's not an insurmountable goal for them to find the wherewithal to do make it happen.
"What I take out of it is it's something to build off of," said Todd Richards. "Comparing Tuesday (5-0 loss to Detroit) to the way we played (Friday), there's no comparison for me. But, we still have to be better in how we manage the puck. We had turnovers that led to opportunities. We were more engaged and ready to start this game."
And that is progress, any way you slice it. They have been reminded that they do indeed remember how to play to their identity. Hard work and focus will get them to where they want to go. Right now, for this Blue Jackets team, the only easy day was yesterday.
---