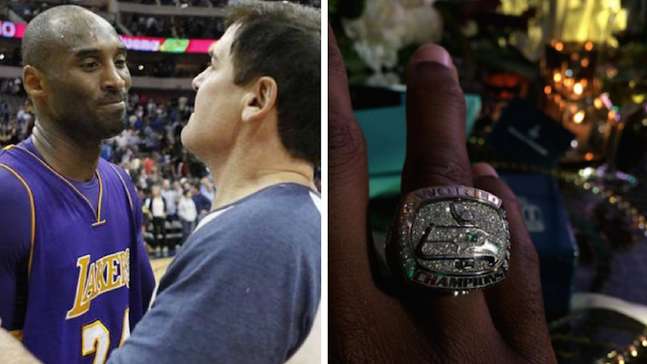 Happy birthday to Twitter, which celebrates its 10th year of existence on Monday.
1. Carmelo Anthony responds to a guy who spewed expletives at him and called him a disappointment
2. Dodgers pitcher Brandon McCarthy being Brandon McCarthy after getting hit in the head with a line drive
3. Spencer Lanning is a punter, not a tackler
4. DeMarcus Cousins filed one away and fired back at Clay Travis when the calendar called for it
5. Patrick Peterson got paid, but Richard Sherman had already collected the jewelry
6. After hanging 38 points on Dallas, Kobe responds to Mavs owner Mark Cuban's earlier suggestion that the Lakers should use the amnesty provision on Bryant
7. A prophetic note from Conor McGregor two weeks before his fight against Jose Aldo at UFC 194
8. Life as a Cleveland Browns fan, as recorded by a Browns fan
9. Sometimes Twitter is hard, starring baseball writer Peter Gammons
10. English soccer player Dele Alli has a thought on business
11. About the accommodations at the Olympic Winter Games in Sochi...
12. After getting annihilated on a punt return, Baylor kicker Chris Callahan speaks
13. Michigan backup point guard Spike Albrecht caught fire from behind the arc in the 2013 NCAA National Championship game, and he made the most of the spotlight
14. Alabama QB A.J. McCarron has a word for Georgia QB Aaron Murray after 'Bama won the 2013 National Championship
15. After a controversial brawl between Los Angeles and San Diego in which Dodgers pitcher Zack Greinke suffered a broken collarbone
16. Pssst… turn around
17. Now you know…
18. The Los Angeles Kings throw a grenade at the Devils before the 2012 Stanley Cup Finals
19. USC Athletic Director Pat Haden
20. Just Swaggy P
21. Philadelphia 76ers' big man Joel Embiid's shamelessly unrequited love for Rihanna
22. Relatively well-known Mets fan Jerry Seinfeld with the perfect summation for what proved to be one of the best-ever trade deadline acquisitions