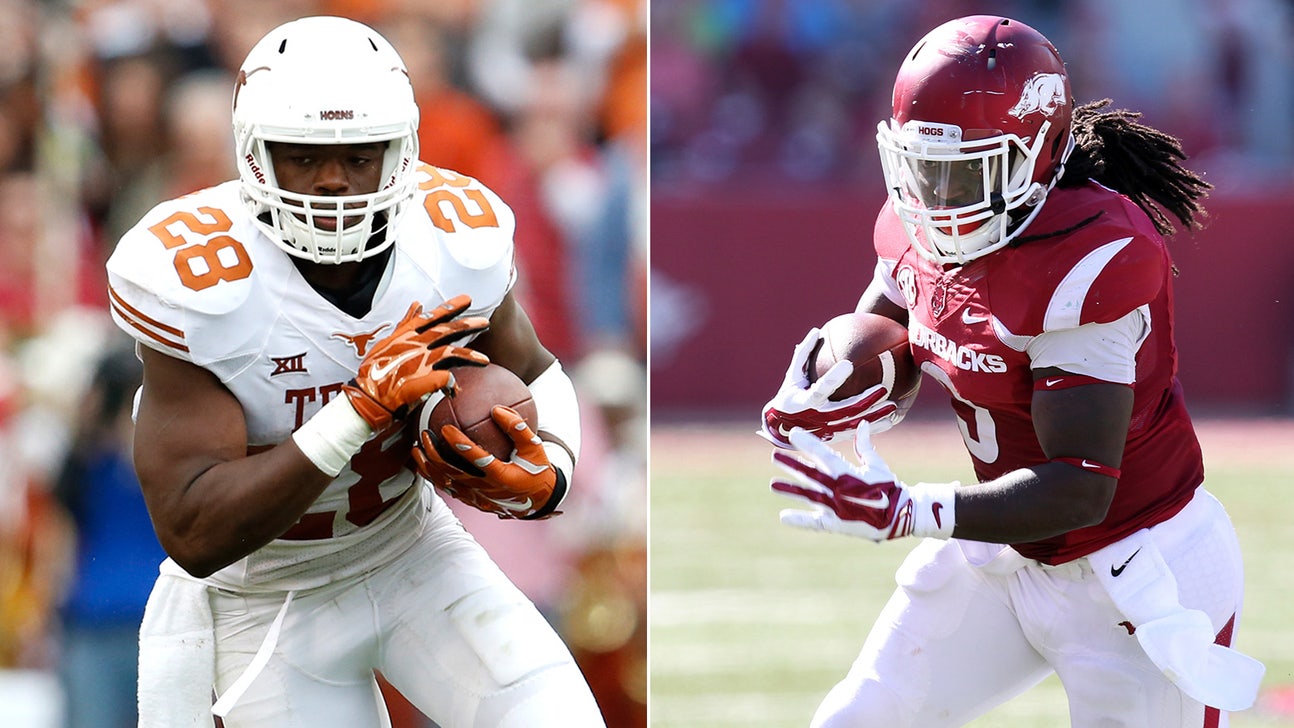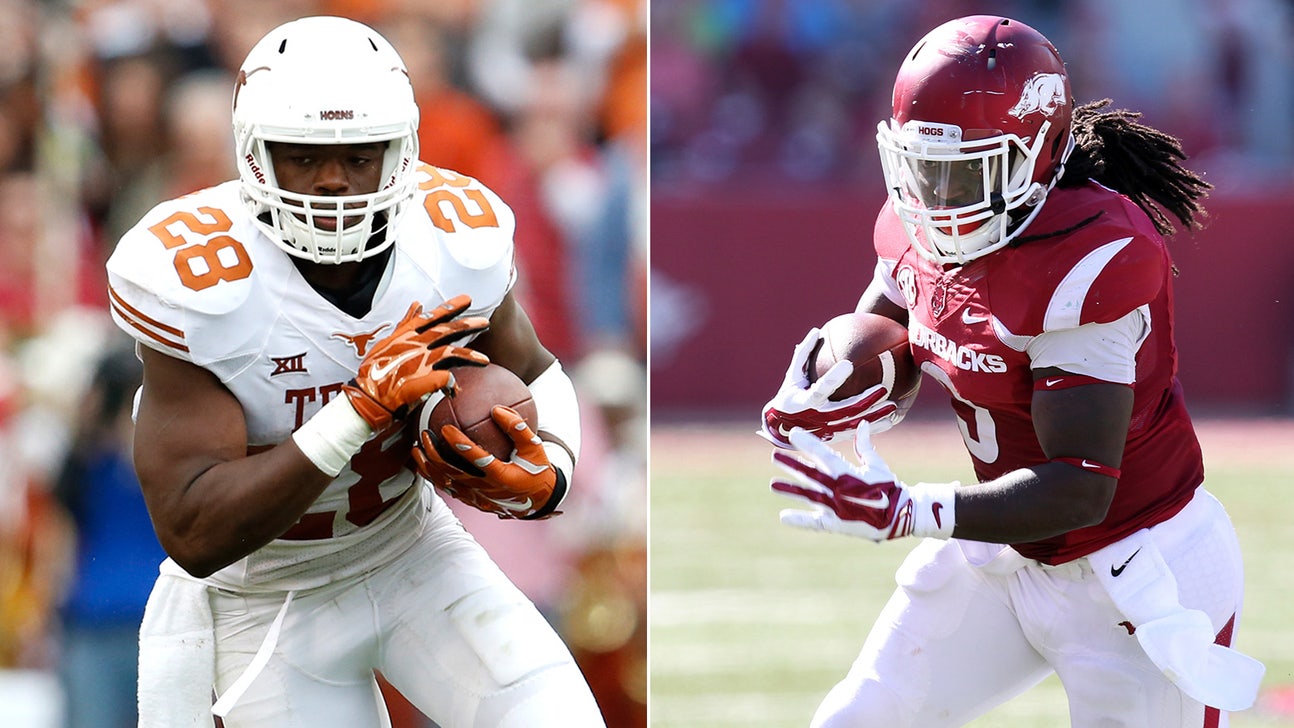 Texas Bowl breakdown: Arkansas-Texas
Published
Dec. 18, 2014 1:04 p.m. ET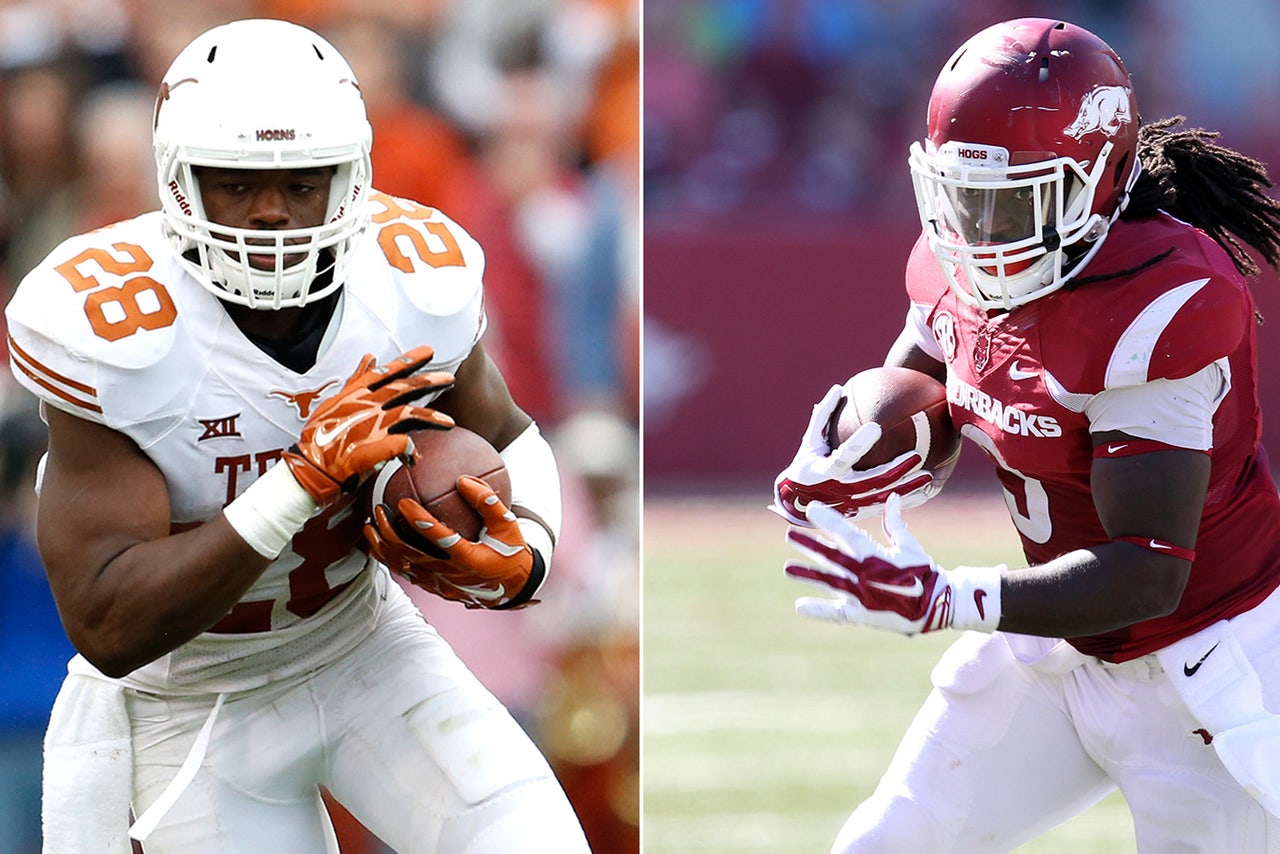 The sheer size of the Arkansas Razorbacks' offensive line was a popular topic throughout the 2014 season, drawing rave reviews whether the 1,500-plus pounds of blocking mass was opening up holes for running backs Alex Collins and Jonathan Williams or throwing trick-play touchdowns. It was the unsurprising offensive centerpiece for second-year coach Bret Bielema and it's now the task at hand for the Texas Longhorns' defensive front, namely end Cedric Reed and tackles Malcolm Brown and Hassan Ridgeway.
Texas features NFL-quality talent along its defensive line and it will be faced with one of its biggest tests to date. Brown is the junior anchor in the middle, leading the team with 12.5 tackles for loss this season. Reed is the talented 6-foot-5 senior edge rusher that disappeared at times, but, as West Virginia's O-line can attest, is more than capable of getting into an opponent's backfield. Ridgeway is the up-and-comer, taking over the starting job after the UCLA loss and logging nine tackles for loss.
How can that group handle Bielema's relentless rushing attack? The Longhorns ranked 64th nationally against the run this season, but, aside from the loss to No. 5 Baylor, improved on that side of the ball after Taysom Hill and BYU gutted them in the second game of the year (248 yards, five touchdowns). If Texas coach Charlie Strong has his defensive line performing like it did against Oklahoma and Oklahoma State, that will change the complexion of this Southwest showdown. For what it's worth, Strong's Louisville teams did not allow a single 50-yard rusher in their final three bowl games.
Brandon Allen, Arkansas
The last time the general public watched the junior Arkansas quarterback, he was struggling to stay on his two feet against a Missouri pass rush -- not so much because of Shane Ray & Co. but because of a hip injury that limited his mobility and balance. (All the same, the Razorbacks, untrue to form, kept throwing the ball down the stretch.) Arkansas dropped that regular-season finale, sending Mizzou to the SEC Championship game in Atlanta, but Allen is expected to be "good to go" in Houston.
Brandon Allen was not exactly a prolific player in the Razorbacks' run-first attack. That comes as no surprise. And though he was fairly efficient when called upon, only six other players in the top-35 of ESPN's Total QBR metric logged fewer "action plays" this season: Gary Nova (Rutgers), Joshua Dobbs (Tennessee), Patrick Mahomes (Texas Tech), Hutson Mason (Georgia), Justin Thomas (Georgia Tech) and Trevor Knight (Oklahoma).
Texas boasts the 12th-ranked passing defense nationally, and if the Longhorns are able to take away the running game it'll fall on Allen's arm to keep things going. His counterpart, Texas sophomore Tyrone Swoopes, has struggled adjusting to top competition, so in a ground-dominant game it may come down to which quarterback can make the most players ... or who can best avoid mistakes.
5: With Swoopes boasting a little more than 2,300 passing yards (in 11 games), the Longhorns are all but guaranteed to finish without a 3,000-yard passer for the fifth straight season, dating back to Colt McCoy's senior year.
2: With back-to-back shutout wins over Ole Miss and LSU near the end of the season, Arkansas became the first unranked team to shut out multiple ranked opponents since 1942.
Bielema and Strong are both in the middle of trying to turn their respective programs around, but Arkansas has a one-year head start. Strong has not been shy in saying that the Longhorns need to restock the roster with higher-quality talent through recruiting, and it looks like Arkansas will have the edge here. The Razorbacks have made huge strides defensively, feature one of the top running games and will want to enter the 2015 season with plenty of returning starters and positive momentum.
Texas will hang around, but the Razorbacks get the job done in Houston.
---