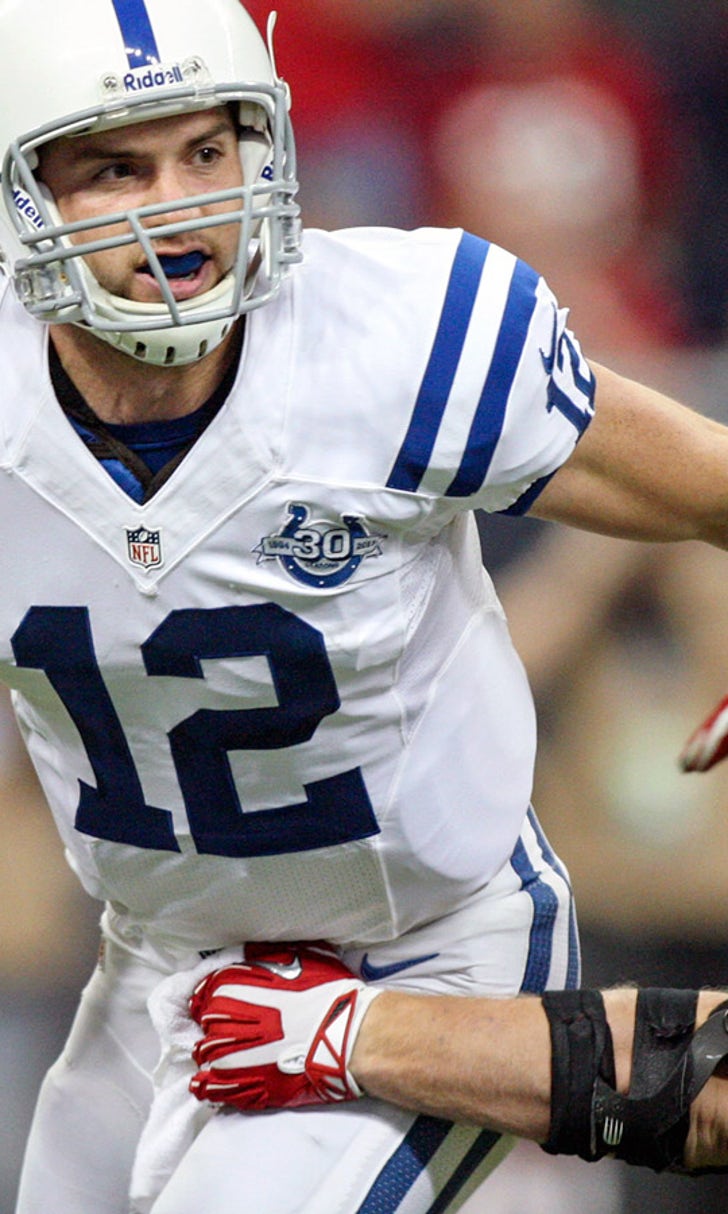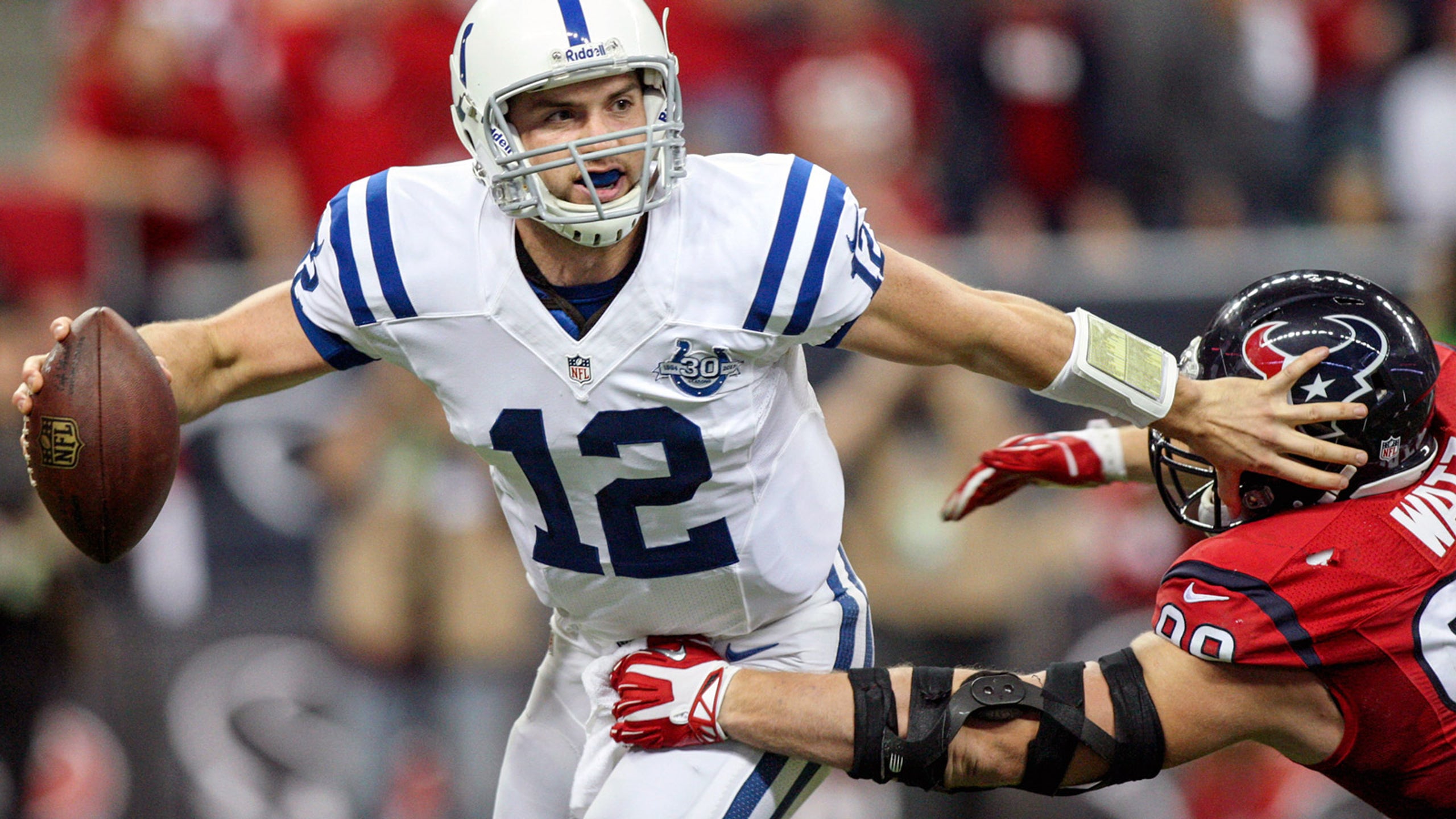 Texans drop 12th-straight game in loss to Colts
BY foxsports • December 16, 2013
Houston was hoping a coaching change would make a difference on the field.
Turns out, Sunday was just more of the same.
Andrew Luck threw two touchdown passes in the first half, Robert Mathis forced a safety on a record-breaking sack in the second half and AFC South champion Indianapolis rolled past the reeling Texans 25-3.
The Texans (2-12) lost a franchise-record 12 straight games.
"We looked like a team that lost 11 in a row playing a good football team," interim coach Wade Phillips said after his first game since replacing the fired Gary Kubiak. "I thought we could compete with them, but we didn't do a good job of that."
Case Keenum was picked off twice by the Colts and fumbled in the end zone, which led to the safety.
The Texans' defense gave up 20 first-half points to a team that had only scored 24 combined in the first halves of its previous six games.
The punt coverage broke down, allowing recently activated Griff Whalen to set up a field goal with a 51-yard return and, a week after committing 14 penalties in a loss to Jacksonville, the Texans committed 14 more against the Colts.
Phillips and the beleaguered Texans, who are 0-12 in Indy, struggled to find answers even though Phillips said Keenum would start the final two games.
"We didn't play well enough to win. That's all I can say," linebacker Daryl Sharpton said. "Penalties are going to kill you. Most penalties are discipline penalties. You can't win with those."
It was the perfect time for the Colts (9-5) to break out of their six-week funk.
After losing 42-28 at Cincinnati last week, the Colts learned on the bus trip home they had clinched the AFC South title when Denver beat Tennessee.
At the time, it looked as if the Colts would be locked into the No. 4 seed and would have little to play for.
But with Denver (11-3) losing Thursday night, New England (10-4) losing Sunday at Miami, Indy winning and Cincinnati playing Sunday night at Pittsburgh, the door has cracked just a bit -- if the Colts win their final two games.
The problem, from November through Sunday, was that Indy had not played anywhere near well enough to string back-to-back wins together.
Over those previous six games, Indy lost three times by at least two touchdowns and was outscored 114-24 in the first halves.
Things suddenly changed dramatically.
Luck went up-tempo right from the start and used a heavy dose of bubble screens to open things up down the field. It worked well.
He finished 19 of 32 for 180 yards with the two first-half TD passes that gave the Colts a 20-3 halftime lead.
Indy played without two starting offensive linemen, lost replacement starter Joe Reitz with a concussion on the opening series and lost running back Donald Brown with a stinger later in the first half.
"We needed it," coach Chuck Pagano said. "We talked all week about coming back and even though we had clinched the division, we wanted to start building or gaining some momentum."
Most of Houston's problems were self-inflicted, again.
Andre Johnson, who needed five catches for another 100-reception, caught four balls for 18 yards. Ben Tate rushed 16 times for 72 yards and was fortunate not to lose a fumble.
Luck opened the game by throwing a 14-yard TD pass to Whalen for Indy's first opening-drive touchdown since Week 3. After Houston's Randy Bullock made a 49-yard field goal, Darius Butler picked off Keenum to set up Adam Vinatieri's 37-yard kick.
Luck made it 17-3 when he faked another receiver screen, then flipped the ball on a shovel pass to Trent Richardson for a 9-yard score. And after Butler's second interception, Vinatieri made a 43-yard field goal and Indy led 20-3.
"We played good football today, kept the mistakes to a minimum and were just able to get after it," Mathis said. "A little bit of stuff here and there we can improve on, but for the most part, good football."
NOTES: Mathis, the NFL sacks leader, has 16 this season and 108 in his career. Longtime teammate and close friend Dwight Freeney held the Colts' previous marks, getting 16 in 2004 and 107 in his career. ... Houston's 12-game losing streak is the city's professional football record. ... The Colts have gone 29 consecutive games without back-to-back losses. ... Hall of Fame running backs Eric Dickerson and Marshall Faulk joined Indy's Ring of Honor at halftime.
---