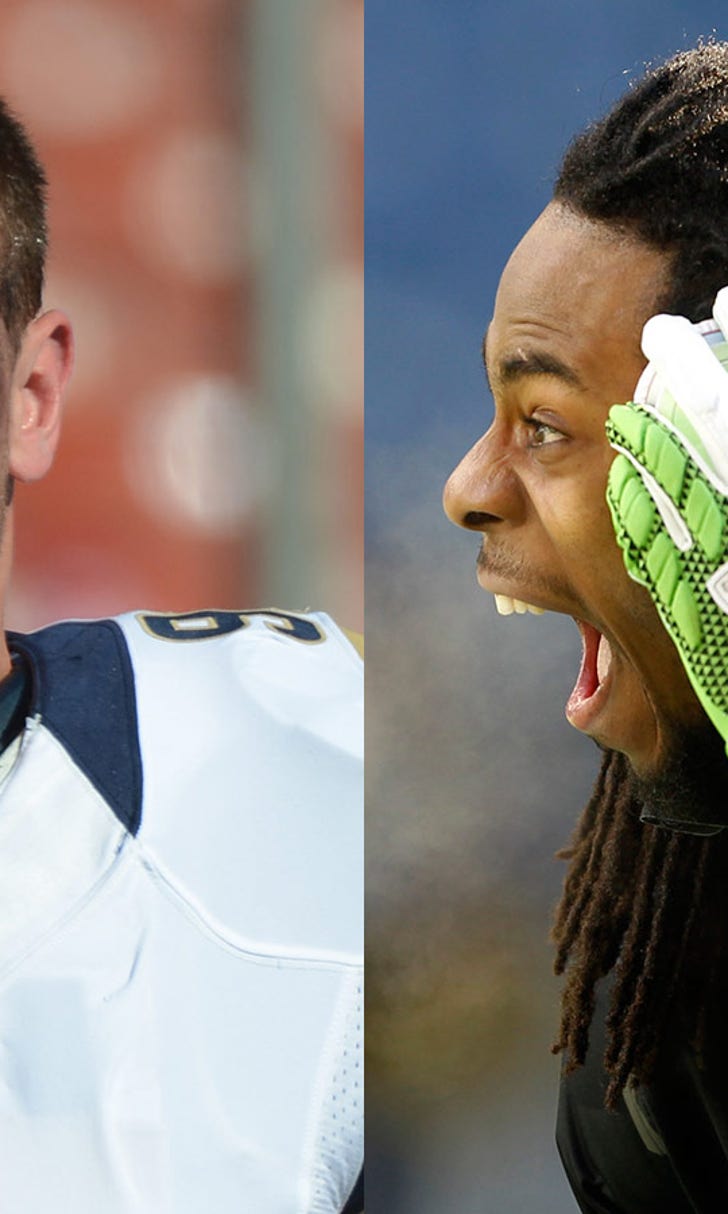 Teryn's Hot Topics: Rams react to Richard Sherman's epic rant
BY foxsports • January 24, 2014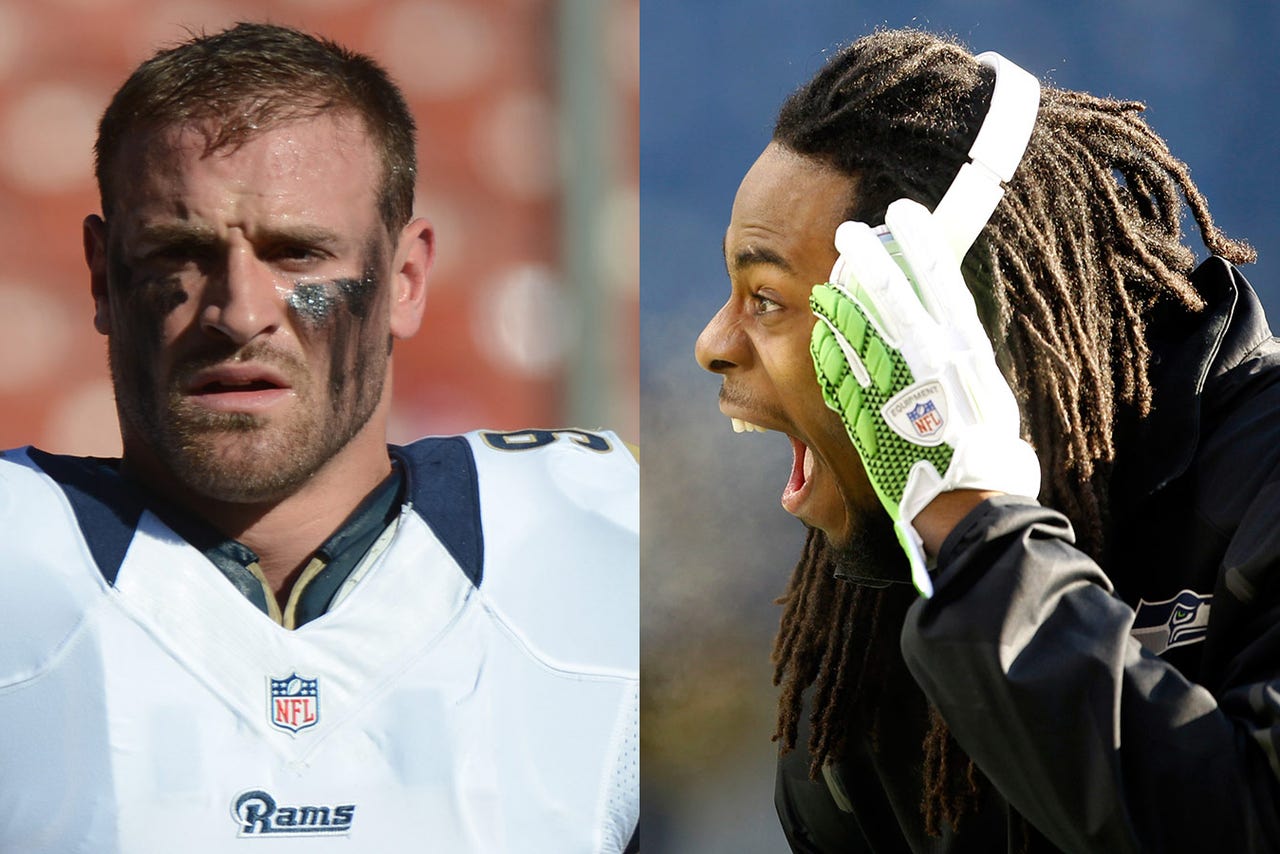 ST. LOUIS -- You've heard EVERYONE's opinion on Richard Sherman's post-game interview with Erin Andrews, but how did your hometown players react? What were your take-aways from this year's Cardinals Winter Warm-Up, did it already have you saying "Wacha, Wacha, Wacha!?"
In this week's column I explore those topics and, of course, give a few well-deserved shout-outs. Can I get a "Let's Go Bills!?"
What's trending on STL social media? You guessed it, Sherman...
"I'm the best corner in the game. When you try me with a sorry receiver like Crabtree, that's the result you gonna get!"
Just as those words came pouring out of Seattle Seahawks cornerback Richard Sherman on Sunday after an emotional win that propelled his team to the SuperBowl, the entire Twitter world blew up.
"Don't you ever talk about me."
Well, now everyone's talking about him. So I thought it would be interesting to see how our hometown St. Louis Rams players were reacting on social media.
Chris Long, AKA @JOEL9ONE, is one of the best follows on the St. Louis sports scene. Both his Instagram and Twitter accounts can make you laugh. (Just check out his Twitter profile photo, it's a parody of Drake's latest album cover -- hilarious.) Therefore, it comes as no surprise that the defensive end had a few remarks that led to a conversation with his followers, including former Ram Leonard Little:
#LOB was trending on Twitter that day as well, referring to Seattle's defensive secondary, "Legion of Boom." Rams running back Chase Reynolds tweeted Sunday evening:
Meanwhile, some took a more humors stance, like wideout Emory Blake and running back Benny Cunningham:
SuperBowl XLVIII fun continues as Kayla joins other Fox Sports Girls next weekend in New York for activities leading up to the broadcast on FOX. Check us out on Facebook (Fox Sports Midwest Girls) and on Twitter and Instagram (@FSMidwestGirls) to follow her journey.
Wacha's Winter Welcome
Just one performance, one great play, one spark of potential is all it takes for an athlete to land on someone's radar. A couple of near no-hitters and a starting spot in the World Series rotation won't hurt either.
I had the pleasure of experiencing my first Cardinals Winter Warm-up this past weekend, getting myself a refreshing dose of Cardinals baseball. I watched as fans lined up out the door for autographs from the likes of Tony La Russa, Adam Wainwright, Yadier Molina and, yes, Michael Wacha.
Cardinals Winter Warmup 2014 was Kayla's second time around, and she noted that last year people were coming up to the Fox Sports Midwest booth wondering who Michael Wacha was.
What a difference a year makes.
"I really wasn't expecting it," Wacha told Fox Sports Midwest's Stan McNeal. "The goal was going out there trying to win a ballgame for this team. It ended up being a pretty special year."
2013's unknown prospect went from "Michael Who?" to people shouting "Wacha, Wacha, Wacha" as his name was announced at the start of Monday's autograph session. The Cardinals were even selling scratch off tickets to win a spot in his autograph line because the original allotment sold out.
Pitching problems
It's tough to see someone struggle to shake the injury bug, especially a hometown guy.
Want to get to know FOX Sports Midwest Girl Teryn a little bit better? CLICK HERE.
Former Cardinal pitcher Kyle McClellan went to the Winter Warm-Up experiencing the exact opposite of Wacha. It was heart-wrenching to hear about his struggles over the past few years -- first a hip injury in 2011, then the arm trouble.
The Hazelwood grad has had to deal with numerous roadblocks since his departure from St. Louis.
But like any true athlete, it takes more than a few setbacks to break them away from the game they love. Physically, you can take them away from the game. But mentally, they will always be there, standing on the mound, taking a deep breath before they fire one down the middle.
McClellan hopes to start a new chapter in his baseball career this season and sign with a club as a free agent, according to Nate Latsch of FoxSportsMidwest.com.
I cannot help but like a story of perseverance from a hometown guy. Good luck, McClellan!
SLU Shout-out!
I have watched from Chaifetz Arena trying to figure out this year's Saint Louis University Men's Basketball team. No matter how close the game may be most of the way through, they always seem to walk away with a 'W'.
The numbers don't lie. SLU has only two loses this season, and they were at the hands of top 10 teams. That's more than my beloved Missouri Tigers can say...
The Billikens are also a perfect 7-0 on the road this season, the best mark in the country.
So I most definitely have to give a shout-out to the Billikens this week, who are currently undefeated in conference play and ranked 19th in the latest AP Top 25 poll.
S/O to @SaintLouisMBB! The Bills move up five spots to No. 19 in the AP Top 25. Keep it up SLU! -Teryn

— FSMidwest Girls (@FSMidwestGirls) January 21, 2014
I am anxious to see what this team can do going forward and what coach Jim Crews can continue to build here in St. Louis. Because in the words of Stan McNeal, good teams always find a way.
My video pick of the week
This week's Hull-U-Ary, a month-long look at Brett Hull, took us back to 1991 in a home-and-home match-up with the Chicago Blackhawks. The segment about the St. Patrick's Day Massacre got our fans' blood pumping before Tuesday Night's game. One fan even went out of their way to tweet us about it.
---