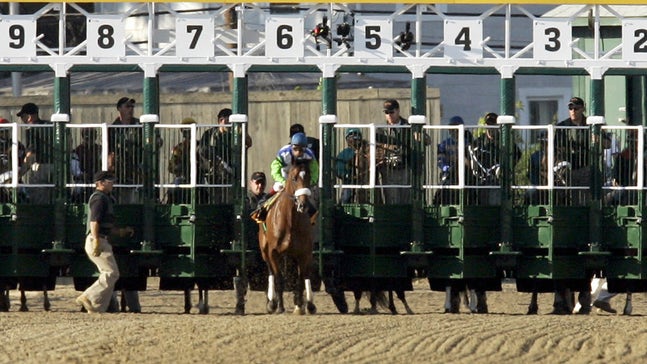 Ten years later, jockey Edgar Prado lives with the triumph and tragedy of Barbaro
Published
May. 18, 2016 6:00 a.m. ET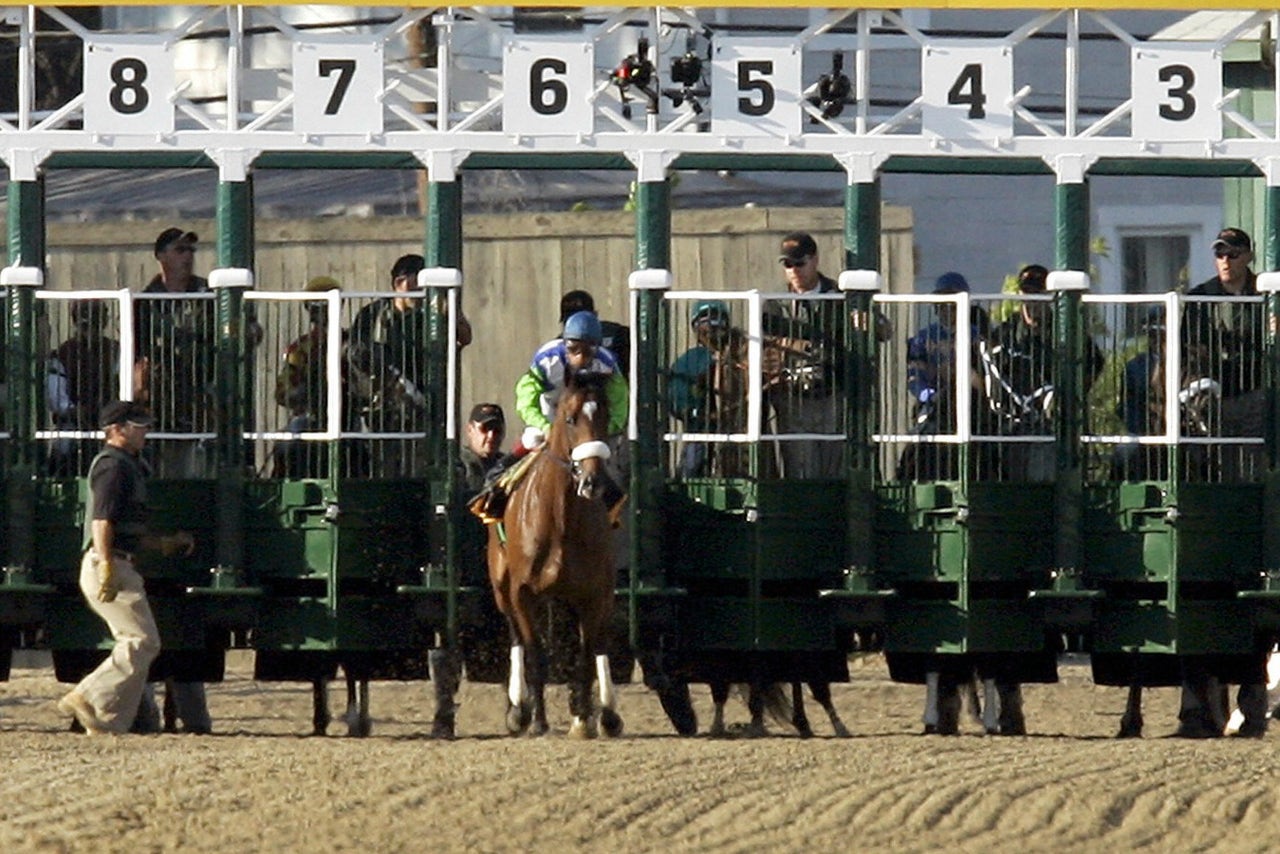 Ten years later, few can likely recall the winner of the 2006 Preakness Stakes. While Bernardini's name may escape the majority of those who witnessed the second jewel of that year's Triple Crown, there isn't a spectator among the 128,643 in attendance that day at Pimlico -- or among the millions who tuned in at home -- who will forget the race.
That's certainly the case for Edgar Prado, who, a decade after the fact, can't shake the memory of Barbaro, a champion gone too soon.
A veteran jockey, Prado was aboard Barbaro on May 20, 2006, when the Kentucky Derby winner broke his right hind leg shortly after exiting the starting gate on the dirt track outside Baltimore. Eight months later, after a series of surgeries and other complications, Barbaro's owners, Roy and Gretchen Jackson, made the emotional decision to have the dark bay 3-year-old colt euthanized.
For Prado, it was a heartbreaking end to what had been a magical run and a special bond.
"I think it's something that's going to stay with me forever," Prado told FOX Sports this week of his experience riding Barbaro. "He was a very special horse who had a big impact on my life and gave me the greatest moment of my career. Even 10 years later people are thinking about him, and they remember him as the great champion that he was."
Though he eventually rose to prominence as Barbaro's jockey, Prado wasn't the horse's original rider. Jose Caraballo got the mount in Barbaro's first two races, and it was in those wins that Prado first saw Barbaro's potential.
"I didn't even have to be on him to know he was special," Prado said. "I saw the (maiden) race where he won in Delaware Park, and I was impressed with the way he did it, and then the second time that I saw him it was in Maryland for the futurity. I was riding a horse for Todd Pletcher at the time, but I was very impressed with the way he looked, the way he acted -- and believe me, when he ran, he ran hard. He made it look easy, effortless."
Eventually, Prado, a two-time winner in the Belmont Stakes, replaced Caraballo, and the results were spectacular.
Barbaro began his 3-year-old year with an impressive win in the Tropical Park Derby, then held off Great Point in the Holy Bull Stakes. In April 2006, Prado rode Barbaro to a half-length win in the Florida Derby, his first Grade 1 stakes race, and when the bell sounded at Churchill Downs on the first Saturday in May, Barbaro was the second choice at 6-1 odds.
It was over the 2:01.36 that followed that Barbaro truly became a household name, sprinting away from the pack for a 6 1/2-length win in front of 157,532, at the time, the second-largest crowd in Kentucky Derby history.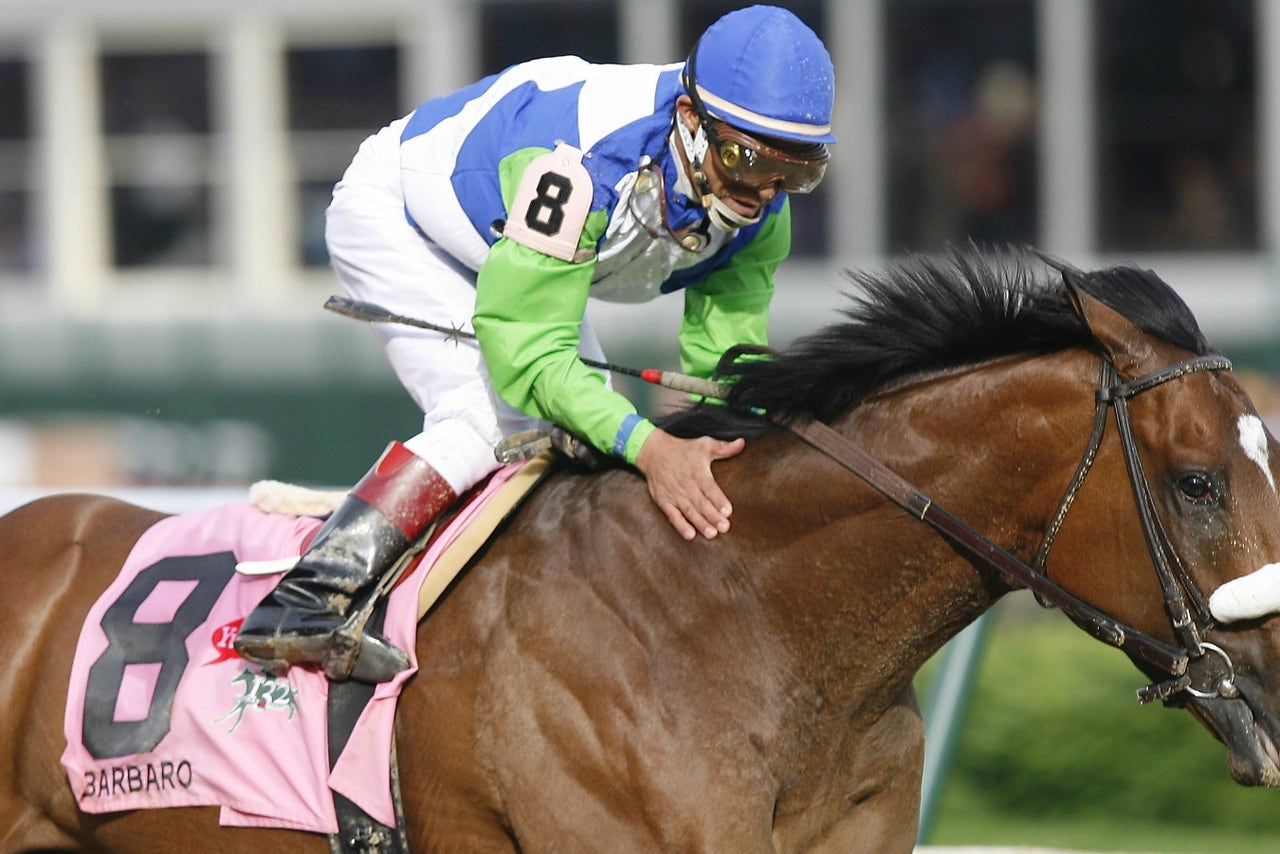 Barbaro and Edgar Prado win the 2006 Kentucky Derby.
"It's a dream for any jockey to win that kind of race," Prado said of the Derby. "That's why we get up in the morning and work so hard. It's not an easy race to win because sometimes it's not the best horse who wins.
"It was a great experience for me, my family, my friends, and for all the people who showed up that day in Kentucky," he added. "They saw a horse with a lot of potential, a horse that could win the Triple Crown. Riding Barbaro that day, winning the Derby, was great, and winning that way was absolutely outstanding, having that kind of horse. It was the best moment of my life."
And by all accounts, Barbaro was expected to keep winning, as the even-money morning line favorite coming out of post position six at the Preakness Stakes.
"(Trainer) Michael (Matz) was very happy and very confident with how the horse was training coming out of the race, and after the Derby, when I pulled up, Barbaro wasn't even breathing hard," Prado said. "It seemed like a walk in the park for him. So everybody was looking forward to running the Preakness and moving on to the Belmont."
Except Barbaro never made it to the first turn, as he suffered fractures both above and below his right hind ankle within the opening sixteenth of a mile. Prado said he knew almost immediately that something was wrong.
"I knew how powerful he was coming out of the gate and how he'd get me to where I wanted to be," Prado said. "So when he broke and he wasn't really doing anything, I could feel that he was kind of having trouble with his back leg. So I pulled him up right away because I knew that something was wrong."
It was Barbaro's second try after breaking through the gate after he was initially loaded into it, but track veterinarians determined that he was healthy to race. Prado also said that he didn't sense anything amiss with his horse.
"I wish I could have sensed anything or even had it cross my mind that something was wrong," Prado said. "Believe me, I wouldn't have taken any chances just to live to fight another day. But unfortunately, there was no indication. Everybody looked around and there were no cuts, no bleeding, he was doing OK, so that's why we put him back in the gate and started the race all over."
That was of little comfort, however, as medical staff tended to Barbaro on the track. As doctors took care of the horse, an inconsolable Prado could be seen hugging his brother a few yards away, fearing for Barbaro's life.
"I was hoping it was a bad dream," Prado said. "I was hoping to wake up from this thing that I was experiencing. But unfortunately it wasn't (a dream), and eventually your mind goes blank because you don't know what to do. You wonder how it's possible that this happened to one of the greatest horses in the world.
"I remember seeing so many people in Pimlico, this place where I really started my career, and I wanted to bring so much happiness, but instead of that it was a lot of people crying and screaming," Prado continued. "I went blank and everything was kind of silent for a moment, but I kept hoping that it wasn't as bad as it was. I hoped it was something minor, but unfortunately, it was more than that."
Barbaro was eventually taken from Pimlico to New Bolton Center in Kennett Square, Pennsylvania, for treatment, and the following day he underwent five hours of surgery to repair his leg. But while the procedure was deemed a success, the man who performed it, Dr. Dean Richardson, cautioned that survival was no guarantee, giving Barbaro 50-50 odds to survive.
Over the several months that followed, Barbaro faced several complications, the last of which was laminitis in each of his four legs. With Barbaro at that point unable to put pressure on any of his legs, the decision was made to euthanize him on Jan. 29, 2007.
"There's more to it than just getting on a horse and going around, left, left, left," Prado said of his relationship with Barbaro. "You have to understand the horse and you have to understand what he likes, what he doesn't like. It's a very special sport, and a lot of people get attached to their horses. After you ride 33,000 horses, there's going to be more than one you get attached to, and I felt attached (to Barbaro)."
Nearly a decade has passed since Barbaro's death, and now Prado, 48, is back riding full-time in Maryland this summer. And while Prado can't help but feel nostalgic when he takes to the track at Pimlico, he says he's forever motivated by Barbaro's fight following one of the most harrowing moments in Preakness history.
"He brought so much happiness with the best win of my career, in the Kentucky Derby, and he stole the hearts of not only me, but the groom, Eduardo (Hernandez), the breeders, Michael Matz, the Jacksons and the whole country, the whole world," Prado said. "And the most important thing is that he fought hard for nine months, and he was a very brave horse and didn't give up.
"He just kept on trying, and I think that's something we should apply in life," Prado added. "Even when you want to give up and are really down, if you keep fighting hard, you have a chance to survive and move forward."
You can follow Sam Gardner on Twitter or email him at samgardnerfox@gmail.com.
---