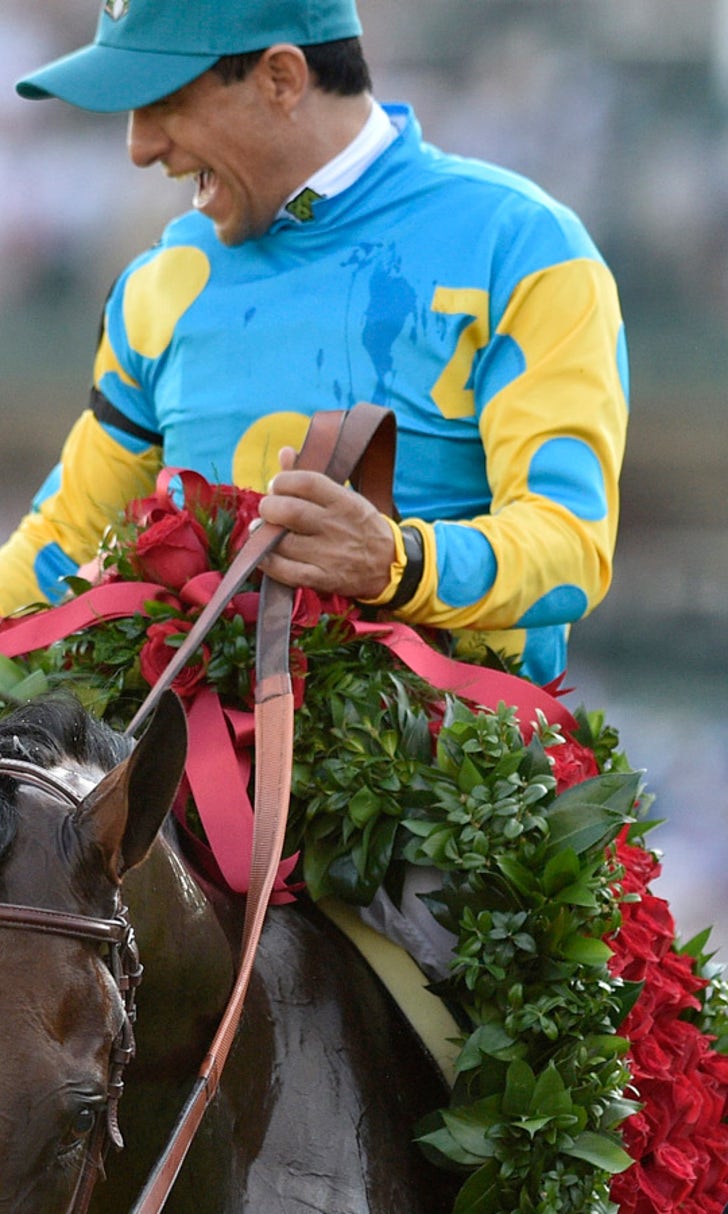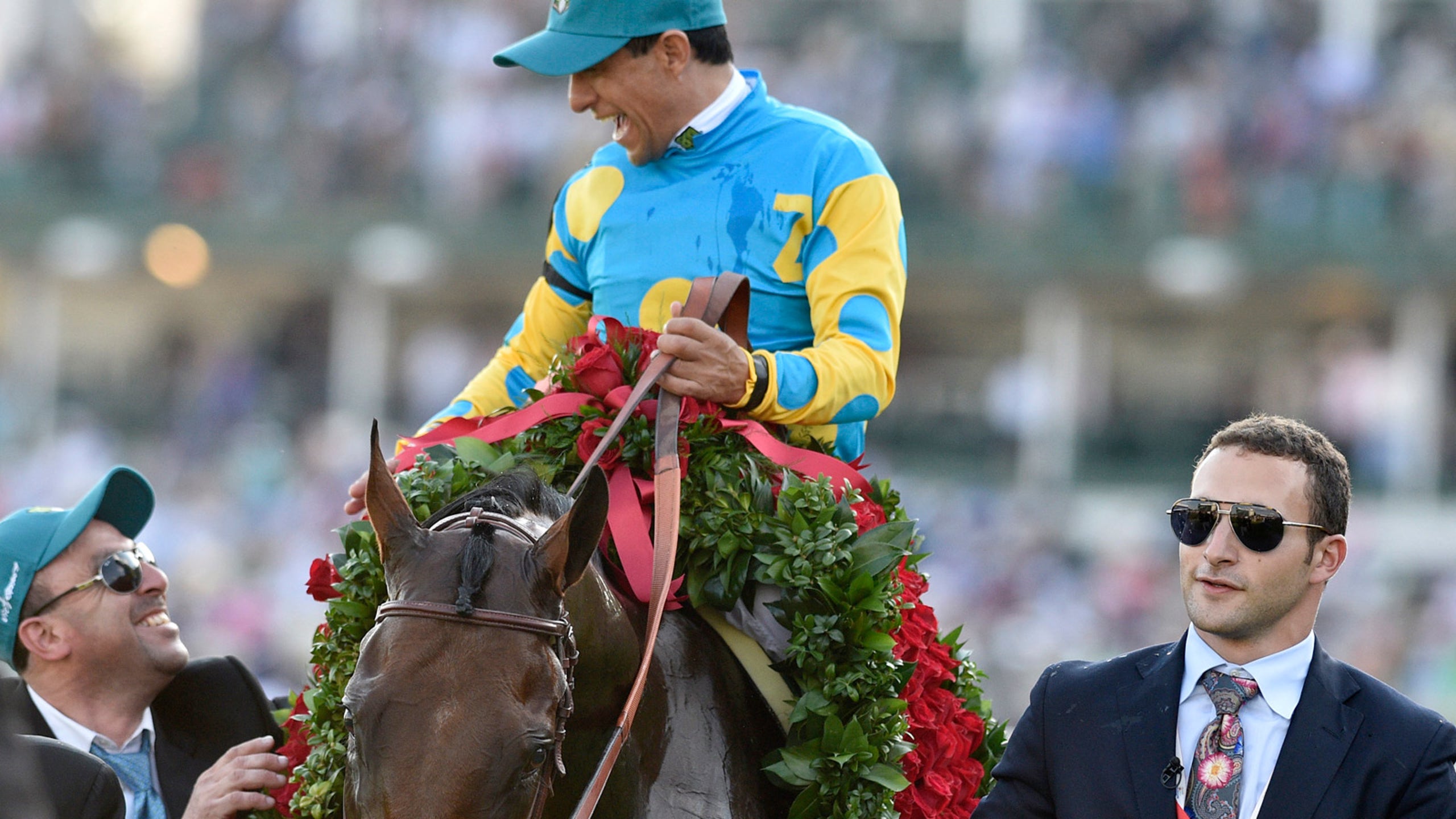 Ten questions with Justin Zayat of American Pharoah fame
BY foxsports • July 27, 2015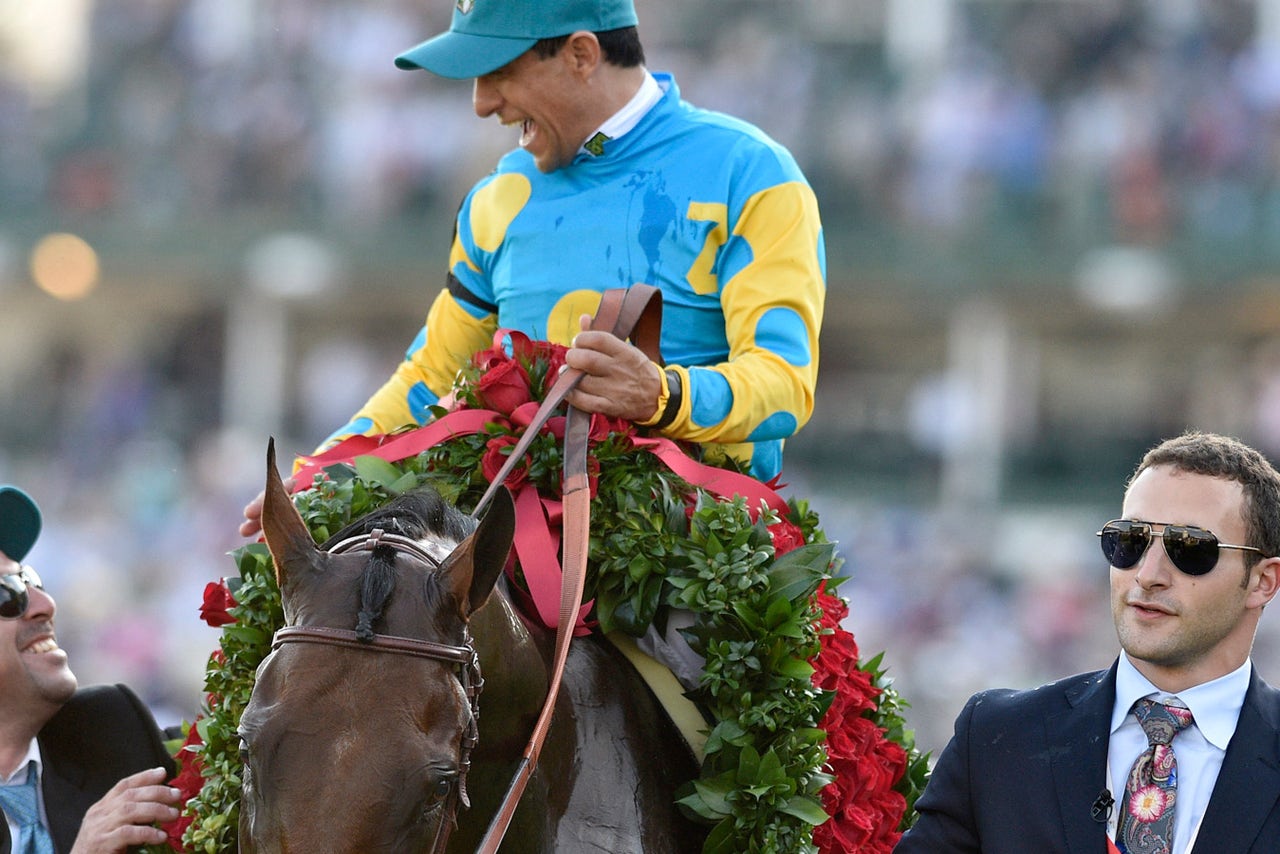 It's not bad being Justin Zayat - especially this spring. At 23, he was already helping to run his father Ahmed Zayat's racing operation as racing and stallion manager for Zayat Stables. He graduated with a degree in economics from New York University. And, oh, yes, the family business owns the first Triple Crown winner in 37 years. With American Pharoah returning to the racetrack Sunday for the Grade 1, $1-million William Hill Haskell Invitational Stakes, Zayat is providing America's Best Racing with exclusive, daily access to his week leading up to the race. The first three days, he will answer 10 questions about what it is like being so close to American Pharoah.
1. How did you celebrate American Pharoah's historic Triple Crown win?
Out of all the races, the Belmont [Stakes] was the only one that I was able to really celebrate with my friends and with my family, because after the [Kentucky] Derby, I flew back right away and had to go sit down and study for finals, which I had to take between the Derby and the Preakness. It was a busy time, so I couldn't exactly go out and party. The Thursday before the Preakness was when I finished all my finals. After the Belmont Stakes and we won the Triple Crown, everyone in the world was pumped for the win. I'm living in New York. I'm from New York. All my friends came out, and we went out that night. A hundred of my friends came out. We went to a club in downtown New York around the Meatpacking [District]. Everyone was celebrating. It was just a really fun time.
2. As the stable manager for Zayat Stables, can you explain the role and responsibilities and what an average day/week is like?
It depends on the day. It could be as early as 5 [a.m.] when I wake up when I'm watching the horses training. When I go to the office for the day, I wake up around 7 [a.m]. I'm really a morning person; I'm not a kid who ever really slept in past 7:30, ever. I wake up early every day. For starters, you're hoping you don't get any bad calls to start your morning. When you don't get any calls early in the morning, it's a good day so far. Every single day for me changes. My title is racing and stallion manager, but I really do every single thing in the stable along with my dad. My dad and I work hand in hand together. One day I could be working on the financing and another day I could be working on the marketing of Zayat Stables. Regarding the racing side, I constantly look over our stable and see how every horse is doing. I'll have a conference call once a week with each of the trainers. I'll go through every single horse with them, see how they're doing, what's next for them. If there's a problem, how do we solve it? Does this horse need surgery? Do we give him time off? This is a team; we don't like to micromanage our trainers. We just want to know what is going on, and we work as a team. I also go to the auctions and buy the horses.
3. Since American Pharoah's win, which celebrity/personality have you heard from who most surprised you?
It wasn't more who I heard from as what was cool, what came about from it. I was able to go to the ESPYs. I was able to meet Derek Jeter and Alex Rodriguez. Derek Jeter was my role model growing up. I love Derek Jeter. I met Lisa Leslie. Actually, through racing I met Vince Wilfork and became very close with him, so he was with us at the Derby. There isn't anyone in particular who just stood out. It wasn't like President Obama or anyone.
4. Did you bet the Belmont Stakes? If so, what was your bet?
No, I didn't. I actually didn't bet any of the races that American Pharoah ran in the Triple Crown. Unfortunately, I didn't bet a future. For some reason, those days I'm so nervous, I'm so superstitious, it's like I don't want to screw this up. Actually, I like to bet horses. I gamble on them. It's a good part of the sport. But for some reason for American Pharoah, I just never felt like I should bet him, because I didn't want to jinx him. I'm happy I didn't.
5. What is your typical favorite or go-to bet at the racetrack?
I actually like playing Pick 4s. I happen to be pretty good at Pick 4s. I play all races. I play exactas, tris ... all those. I like handicapping a lot. I use Ragozins. My dad and I have a fun time handicapping together. It's one of the hobbies that we do together. We bond. We compete. But for some reason, when we bet together it never works. We always freakin' lose. When we're betting against each other, when we're betting different reasons or not in the same position, we'll win. It's amazing. But if I have to pick a bet, it's going to be the Pick 4.
6. Did you drink each signature drink at the Triple Crown races - Mint Julep at the Kentucky Derby, Black-Eyed Susan at the Preakness and Belmont Jewel at Belmont Stakes - and which is your favorite?
I didn't have the one at the Preakness or at the Belmont. I did have one Mint Julep at the Derby, and it was good. I actually had it on Oaks day, and it was good. Someone gave me one, and I enjoyed it.
7. As you look back at it now, when was the first occasion you had an inkling that American Pharoah was special?
It's cliché for me to say it was right when he was born at the beginning. I knew he was a good horse. I could tell you when he was a weanling, almost turned a yearling, not in my dreams did I think this was going to be a Kentucky Derby-Triple Crown horse. I got a little excited, because it was a nice Pioneerof the Nile colt. Then, all of a sudden, I kind of knew he was a nice horse. In 2 1/2 years what could happen? So I put him in the back of my mind. Then I went to J.B. and Kevin McKathan's farm in Ocala when he was a 2-year-old in March, and he breezed. There's that famous video. Everyone is just like 'Oh, my God. This guy is a freak.' That day what he did on the track was jaw-dropping in front of everyone. That day we worked Mr. Z and El Kabeir. We had a lot of very nice horses working on the farm that day. When he came out he just caught everyone's eye. It was that day I knew he was a very nice horse. I was just keeping my fingers crossed.
8. You know this question is coming, so let's get it out of the way.
The throw-up question? (laughs)
Most race fans certainly appreciated the emotions involved in such a dramatic stretch run at the Derby. Were you close to doing that at the Belmont Stakes?
Here's what I could tell you. I wasn't expecting to win the Kentucky Derby. When you're coming down the stretch, there's an adrenaline surge. For some reason, I was very nervous all day, so I did not eat, which I totally regret now, obviously. I wasn't really hydrated. The combination of the jumping and the adrenaline made me nauseous. At the Preakness [throwing up] didn't happen. At the Belmont, it didn't happen either. At the Belmont, I made sure I told myself I do not start jumping too much. I was just frozen. I knew, though, halfway around the back side that we kind of had it. You just saw how he was traveling. I was keeping my fingers crossed. When I saw him turn for home, in my mind it was 'Holy crap, this is about to happen.' I was just smiling and looking around and taking in the whole, entire, crazy atmosphere that was going on in front of my eyes. Obviously, I started jumping at that point. It was insane. But that was the race that I sat back the most and took a deep breath. The Belmont, for me, it was like the most calm. I don't know why. It's obviously the most testing race and it's the hardest one to win. But for me, I was the most calm during that race. I felt at peace, like whatever was going to happen was going to happen, and I was just enjoying the moment.
9.  What brand of suit and tie do you prefer to wear to the races?
Zegna. I shop at Bloomingdale's or Nordstrom or one of those. I'm really not the type of guy that this is the brand I'm going to buy. I look around at a couple suits, and I'll get that one if I like that one. And most of the time all my ties are Zegna.
10. If the decision were solely yours, where would you race American Pharoah through 2015?
Where would I race him after the Haskell? The Travers. No doubt in my mind, as long as the horse is doing well and he comes out of the race just like he's always done - like he comes out and he's just Pharoah. I would see no reason that he shouldn't run in the Travers. It's Saratoga. It's the most prestigious track. If a horse could potentially win the Haskell and win the Travers, he could go down with the greatest season in history. What horse would you know that won the Triple Crown and the Haskell and the Travers? It would be off the charts what he could do. Pharoah, of course, is a horse in my mind who could do anything. I've always said he's the horse of a lifetime. Of course I want him to win all these big races for his career, for the racing fans. You know how much everyone there was lobbying for this horse on SportsCenter. I want to bring him there. It just really depends on how the horse is doing. If the horse is ready to roll, then he's going to come, if it was in my hands, it's 100 percent. [Trainer] Bob [Baffert] and my dad, too. We all want the same thing. He's a Triple Crown horse. We want him to win. I want to keep him winning. I want to keep him happy. Having a Triple Crown winner now is a new responsibility. It's not like you just have a good horse. With a Triple Crown winner so captivating, it's nationwide now; it's not just the racing world. We want to make sure all our decisions are calculated and balanced. After that he could go to the Pennsylvania Derby. He could go back to California. Who knows? We could go Haskell, two more and then the [Breeders' Cup] Classic. He could do it. This horse is incredible.
---