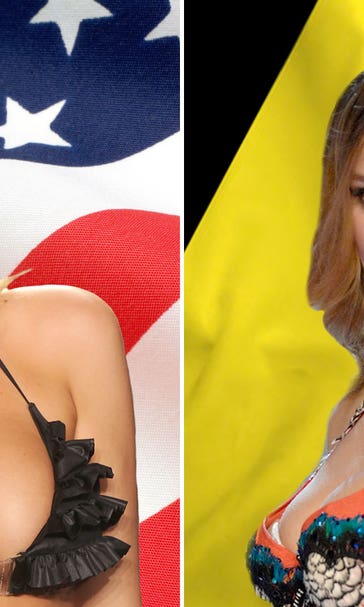 Team USA vs. Belgium tale of the tape
BY Brett Smiley • June 30, 2014
As the U.S. nears its round of 16 date with Belgium Tuesday at 4 p.m. we bring you this tale of the tape comparing some crucial aspects of each combatant's country, such as its most famous martial artist action hero, its waffles and its women. In others words, you should definitely rely on this tale of the tape as a prognostication tool. Let's go!
UNITED STATES VS. BELGIUM TALE OF THE TAPE
Category
United States
Belgium
Edge
MARTIAL ARTS ACTION HERO

Chuck Norris of Ryan, Okla.

Jean-Claude Van Damme, Muscles from Brussels
Only one man has inspired a body of facts about his otherworldly accomplishments. That man is Chuck Norris, who doesn't get wet when he goes swimming -- the water gets Chuck Norris. [U.S.]
WAFFLES

Waffle House

Belgian waffles
Despite the clever literal depiction of the waffle staple that rules the U.S. southeast, Belgium takes this one. [Belgium]
WOMEN

Represented by Kate Upton, Beyoncé and Alex Morgan

Represented by Jessica Van Der Steen, Elise Crombez and Ellen Petri.
They're all gorgeous. It's even. Hey, this is soccer we're talking about -- that can fly. [Draw]
BEST HAIR

Kyle Beckerman's Rastafarian locks

Marouane Fellaini's afro
They're both impressive but I can't get over the entertainment value of Fellaini's mushroom cloud of hair. It cannot be denied. [Belgium]
SEXIEST FANS

Part of Team USA's nipple contingent

Head of Belgium's undergarment army
In this case, more is better: the nipples prevail. [U.S.]
BEST INSTAGRAM COMMEMORATING TEAM'S ENTRY INTO ROUND OF 16

One nation, one team, ready to march on

Kevin Mirallas and others took a number of #KingSelfies with King Philippe of Belgium, who celebrated the team's advancement in person
Meanwhile, President Obama watched U.S. versus Germany aboard Air Force One. It's not easy ruling the entire world. [U.S.]
BIZARRO "GAME OF THRONES" CHARACTER"

Midfielder Michael Bradley looks a lot like a long-lost relative of Varys

Blonde hair, blue-eyed backup goalie Simon Mignolet looks like he could be a Lannister
Varys is pretty influential, so U.S. gets the edge. [U.S.]
BEST MOMENT FROM GROUP PLAY

John Brooks' 86th-minute header against Ghana, lifting the Americans to a 2-1 victory

The 88th-minute winner against Russia was huge, but Dries Mertens' 80th-minute goal in a 2-1 come-from-behind victory in the opener against Algeria set the tone for the squad's run
John Brooks was a little-known substitute, and thanks to his game-winning header goal when the Americans looked likely to come away with just one point, they built the momentum to lift themselves from the Group of Death. But Belgium produced unforgettable flashes of brilliance as well. Too close to call. [Draw]
BEST FLANDERS

Ned Flanders

The Flanders region and community lies in the northern the portion of Belgium
This doesn't even make sense. [Draw!]
BEST PHOTO OF HEAD COACH CELEBRATING ON THE FIELD

Jurgen Klinsmann celebrates USA's best loss ever (to Germany) by inviting us all to the gun show

Marc Wilmots goes airborne riding an imaginary horse after besting Russia 1-0
Have to respect that vertical. [Belgium]
MOST SUCCESSFUL ATHLETE-ENTREPRENEUR

George Foreman grills have become such a commercial success that anyone born about 1990 or later may not even know that George Foreman was an incredible boxer. Foreman took a perfect 40-0 record into Zaire for his "Rumble in the Jungle" against Muhammad Ali.

The late water polo champion Gérard Blitz founded Club Méditerranée, which your parents may know as Club Med, in 1950. Today, the resort chain combines for an annual revenue of nearly 1.5 billion
People will always have to eat. Always bet on grilled chicken. [U.S.]
BEST-WORST VILLAIN FROM THE MOVIES

The Stay Puft Marshmallow Man terrorized the streets of New York, but was no match for the Ghostbusters.

Though less physically imposing than Stay Puft, Dr. Evil was quite ambitious and oddly charming. As for his heritage, recall when Dr. Evil said: "The details of my life are quite inconsequential ... Very well, where do I begin? My father was a relentlessly self-improving boulangerie owner from Belgium with low-grade narcolepsy and a penchant for buggery ..."
This turns mainly for one small reason: Mini-Me. [Belgium]
RESULT: Add it up and that's 5-4-3 for the U.S., a clear sign that USA will be moving onwards and upwards.
Special Chuck Norris Bonus Section!
---