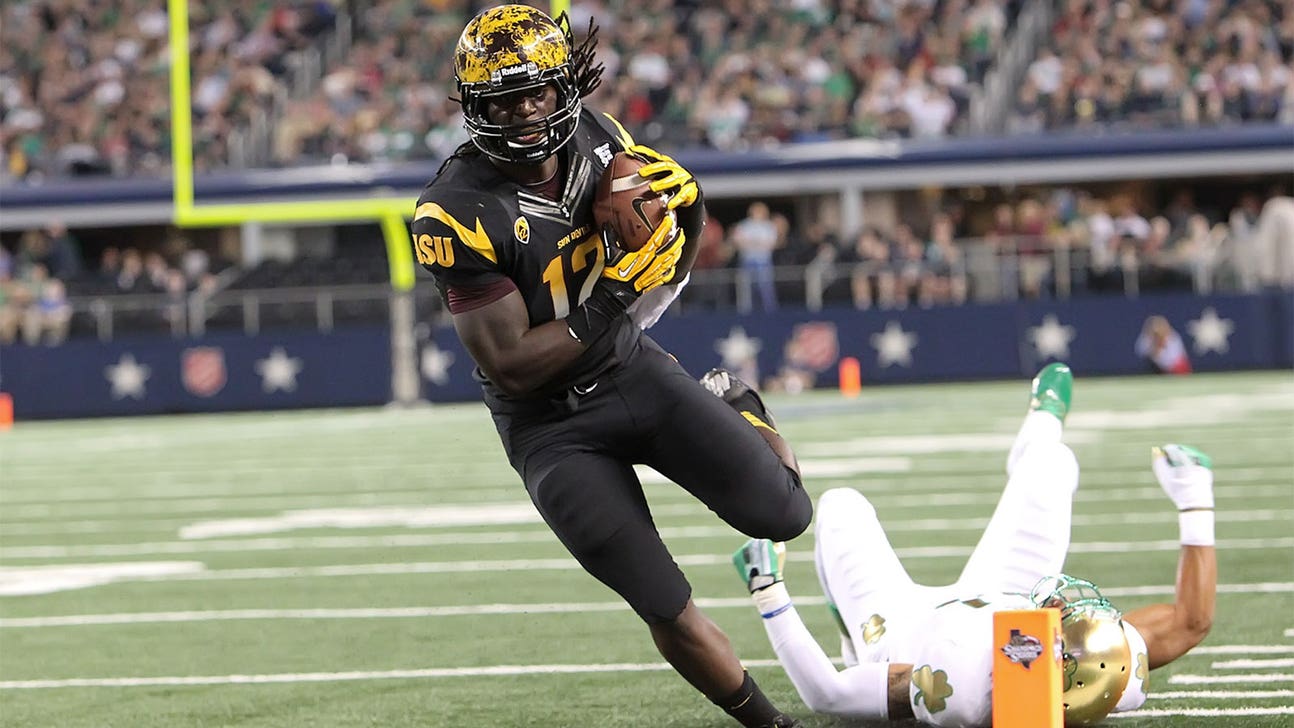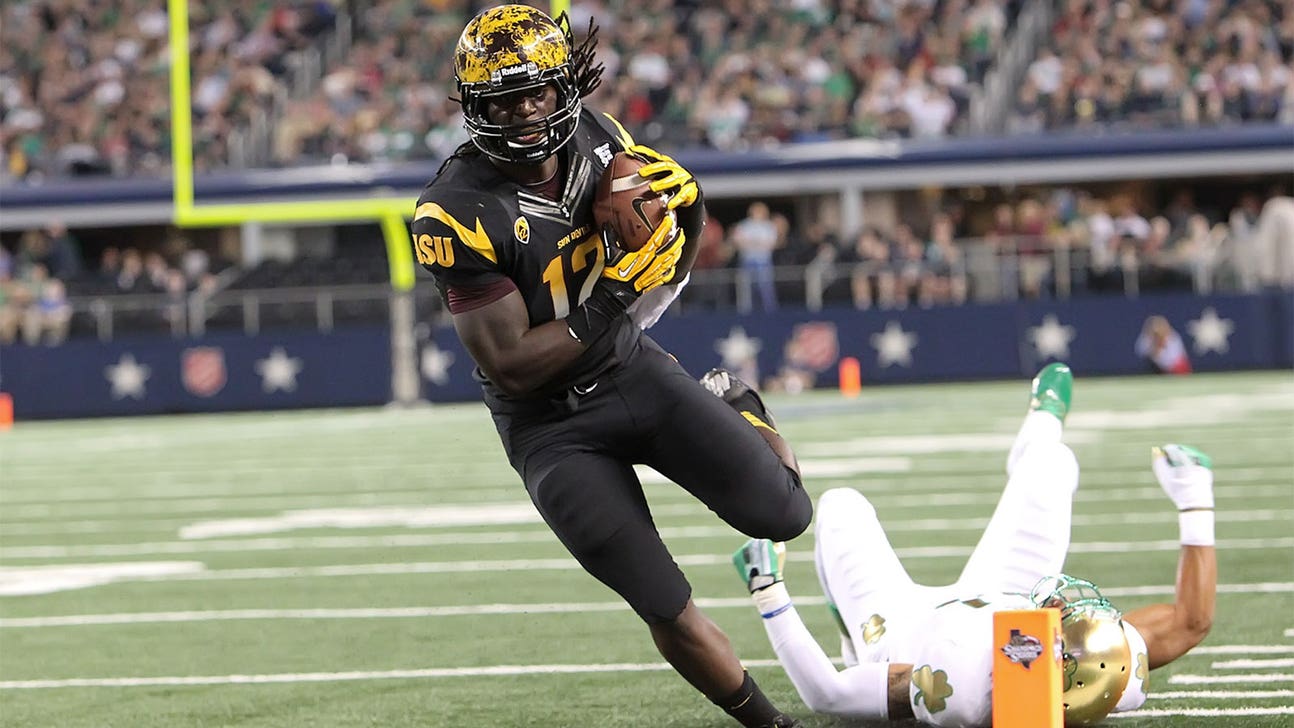 TE Nelson carving out role as 'every-down' Devil-backer
Published
Aug. 4, 2014 6:54 p.m. ET

TEMPE, Ariz. -- With each day of fall camp, De'Marieya Nelson's "look" at Devil-backer becomes less of an experiment and more of a fixture.
ASU coach Todd Graham said Monday that Nelson, a tight end/H-back, appears on track to play primarily on defense but remain involved on offense.
"Right now I think he'll play (Devil-backer) and then have a package on offense," Graham said after ASU's fourth day of fall camp. "I see him being an every-down guy on defense."
A junior college transfer entering his second season at ASU, Nelson opened camp as the expected starter at ASU's H-back position, an offensive weapon primed to take a big step. But Graham wanted to give Nelson a look at Devil-backer -- a hybrid defensive lineman/linebacker position -- after Nelson did some situational pass rushing last season.
The early verdict?
"Unblockable," Graham said.
Nelson has already traded out his maroon offensive practice jersey for a defensive white. If Graham is as serious about the move as he says, Nelson probably won't be switching back during camp so that he has plenty of time to learn the position.
Graham has made it a priority to nail down the Devil-backer spot during fall camp, trying to find a replacement for Carl Bradford, who left after his junior season and was taken in the fourth round of the NFL Draft.
Part of the reason Graham feels confident moving one of his big offensive playmakers to the other side of the ball: a deep, though inexperienced, group of tight ends.
"That's one of the reasons we feel like we can use De'Marieya on defense," Graham said. "I like the diversity we have in that bunch."
Graham mentioned true freshman running back Kalen Ballage as a '3-back' option and redshirt freshmen Grant Martinez and Kody Kohl as tight ends. He has also liked what he has seen from walk-on tight end Dan Vear.
Last year, Nelson played behind senior tight end Chris Coyle, seeing limited offensive action. Graham, for now, sees a similar role for Nelson this season on top of his new defensive duties.
"He only played like 12 plays a game offensively last year, so we can do that stuff with him," Graham said. "We've just got to limit his special-teams stuff."
In his opening remarks Monday, Graham singled out spur linebacker Viliami "Laiu" Moeakiola.
"Laiu has been the guy that has stuck out to me more than any kid on our defense," Graham said. "He's just been absolutely phenomenal."
Moeakiola hasn't always had an easy path at ASU. As a true freshman defensive back in 2012, hea got into two games. In the first game, he recorded 3-1/2 tackles and an interception. In the second game, he suffered a season ending injury.
Last season, Moeakiola nearly won a starting job as a defensive back but eventually moved to spur. He made his first start at spur against Utah but suffered a concussion and never really got rolling.
"Everybody's excited about who you're recruiting and all the new guys," Graham said. "Here's a guy that's been in the program two years, just keeps getting better, keeps training and develops. That's awesome to see him doing what he's doing."
Asked to elaborate on how Moeakiola has stood out, Graham offered a long list of characteristics:
"Just faster, stronger, character, smart, disciplined, tough, does not line up wrong, does not take false steps, makes plays, and he's really improved himself dramatically physically."
Graham said Moeakiola's physical development might get him a look at bandit safety, but for now he appears the clear leader at spur.
Graham has accomplished a lot in two seasons at ASU, but one of his first big accomplishments was dramatically reducing the team's penalties. Accordingly, he wasn't pleased about nine penalties in Monday's practice.
"That's the most penalties we've ever had in any practice I've had since I've been here," Graham said. "Just stupid penalties. I think six offsides penalties."
ASU has led the Pac-12 in fewest penalty yards per game the past two seasons, with 34.9 per game in 2012 and 31.4 in 2013. Those figures ranked eighth and seventh in the nation.
-- Graham on Ballage: "Kalen is the most impressive freshman running back that we've ever had. D.J. Foster was impressive, (and) a different style of back. Love how he (Ballage) compliments (Foster)."
-- Viliami Latu is out of the mix at Devil-backer. He competed there in the spring, but Graham said Monday that Latu will be a defensive lineman. He is working at defensive end.
-- Graham on Lloyd Carrington, the expected starter at field cornerback: "I never say much about Lloyd, but man, we're very thankful to have him. He just really, really improved and is playing really well."
-- Defensive tackle Jaxon Hood remains absent from practice as he takes care of what Graham called "personal issues."
-- Incoming freshman linebacker Ismael Murphy-Richardson and junior college running back De'Chavon Hayes have not yet reported for fall camp as they sort out academic issues.
-- Expected bandit safety starter Marcus Ball remains in a green no-contact jersey with an undisclosed medical issue. Others joining him in green Monday were receiver Cameron Smith and defensive backs Jayme Otomewo and Armand Perry.
-- After Monday's practice, Graham recognized the hardest workers in the summer strength and conditioning program, naming the annual "Dirty Dozen." The 12 players recognized and awarded "Dirty Dozen" shirts were: RB D.J. Foster, S Damarious Randall, LB Salamo Fiso, LB Marcus Washington, OG Christian Westerman, OG Vi Teofilo, LT Jamil Douglas, RT Tyler Sulka, LB Viliami Moeakiola, TE/LB De'Marieya Nelson, LB Antonio Longino, RB Jarek Hilgers.
Follow Tyler Lockman on Twitter
---