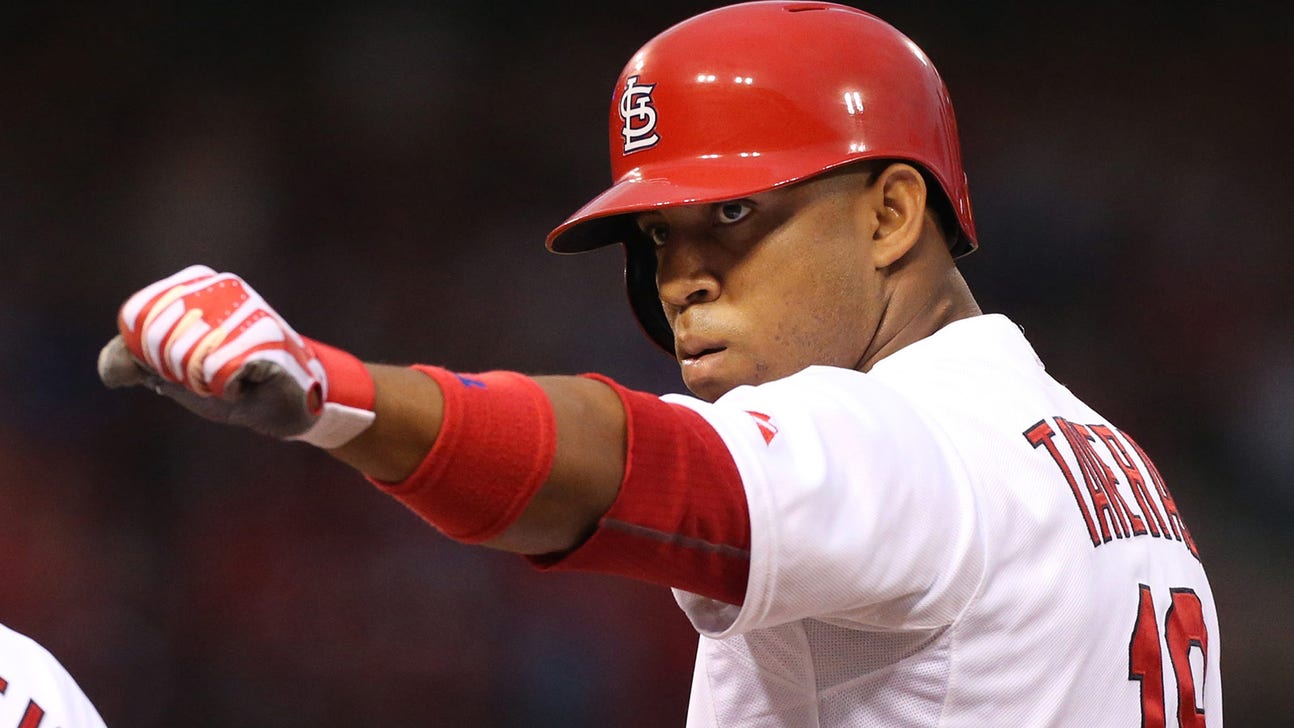 Taveras has yet to break out but is trending up since Craig trade
Published
Aug. 8, 2014 11:58 a.m. ET

ST. LOUIS -- Every time Oscar Taveras bangs out a hit, you wonder: OK, now? Is this when he takes off and shows the baseball world what all the fuss is about?
It's not like Taveras has been slumping. Since he assumed the everyday job in right field seven games ago, he has a hit in each one and has been a key contributor in the club's 5-2 record. The way he swings, the way he watches pitches, he looks more experienced than a 22-year-old rookie.
But so far, he's been more complementary player than main man. There's little doubt Taveras can have games like Kolten Wong did Thursday night, when he hit two homers and led the Cardinals to a 5-2 victory. Taveras just hasn't broken out yet.
Cardinals manager Mike Matheny believes that day could be coming sooner than later.
"He's doing better at getting closer," Matheny said Thursday night after Taveras drove in a first-inning run and went 1 for 4.
Matheny sees the hard fouls. He sees the long outs like a deep fly to center Thursday night. He sees Taveras with the lowest swing-and-miss rate on the team. He sees a talent who is capable of big things.
Taveras' rookie season can be split into three parts:
-- Eleven days in June when he was called up so the club could see what he could do. He hit .189 (7 for 37) with one homer, two RBI, seven strikeouts and two walks.
-- Twenty-nine days in July when he was recalled and shared right field with Allen Craig. He hit .220 (13 for 59) with no homers, four RBI, eight strikeouts and two walks.
-- Nine days since he took over right field after Craig was traded. He has hit .292 (7 for 24) with one homer, six RBI, two strikeouts and three walks.
Put them together and the totals are less than what the club hoped: .225 (27 for 120) with two homers, 12 RBI, 17 strikeouts and seven walks. But there's little doubt his best stretch is the latter, a good sign that he is adjusting to life in the majors.
With every game he gains experience, and with every success his confidence grows. Perhaps three games in hitter-friendly Camden Yards will serve as his taking-off point. Perhaps three games in Miami, which is as close to his home in the Dominican Republic as he will come during the season, will bring out his best.
His manager, for one, would not be surprised.
Watch the Cardinals Live pregame and postgame shows before and after every St. Louis Cardinals game on FOX Sports Midwest.
"I see him getting close to really getting comfortable," Matheny said.
STREAKING STARTERS
It's Justin Masterson's turn Friday night. When the right-hander starts against the Orioles, he will need to pitch at least seven innings to keep a streak going that was started Sunday by the Cardinals' other new starter, John Lackey. Since Lackey went seven innings and gave up two runs to the Brewers, Lance Lynn, Shelby Miller and Adam Wainwright have each followed with seven-inning outings.
Recent history will not be on Masterson's side against the AL East-leading Orioles. He has been roughed up twice in his past two starts at Camden Yards, allowing 11 runs in 12 innings. Masterson worked six so-so innings in his debut last Saturday, allowing seven hits and five runs with three walks and four strikeouts. He picked up the win as the Cardinals won, 9-7.
HOLLIDAY'S HANG TIME
Matt Holliday will enter the weekend 0 for his last 7 and without a homer in his past three games, the longest he's gone without one since his power started surging July 11. But don't think the power has left him.
In his 0 for 4 Thursday, all four outs came on fly balls to the outfield, including a liner to right that seemed to hang up in the damp air. Holliday also launched a long out to center Wednesday, another night when fly balls did not carry well at Busch.
With 12 homers and 48 RBI, Holliday's numbers are starting to approach what was expected. On this date last year, he had 13 homers and 52 RBI and would go on to finish with 22 and 94.
Sensing another strong finish in Holliday, Matheny said he plans to DH him in Baltimore to give him a breather but still keep his bat in the lineup. Peter Bourjos figures to play center field, with Jon Jay moving over to Holliday's spot in left.
You can follow Stan McNeal on Twitter at @StanMcNeal or email him at stanmcneal@gmail.com.
---