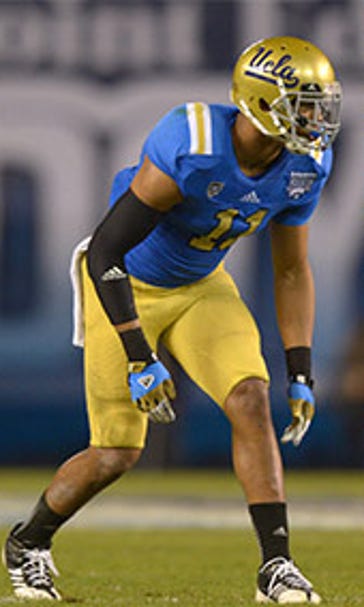 Taking a look at Lions' draft needs
BY foxsports • May 7, 2014
You can argue what the Detroit Lions need more in this NFL draft that begins Thursday night with the first round and continues through Saturday.
An upgrade in the secondary? A pass rusher or two? Another receiver? Depth for the offensive line?
Even a kicker?
Here's a look at how the Lions could try to address these issues:
CORNERBACK
This should be a major point of emphasis if the Lions expect to "win now."
Chris Houston is coming off a poor season and remains hampered by a foot injury that apparently won't heal. It's difficult to know how much more Rashean Mathis has left in a body that's been through 11 NFL seasons.
The youngsters -- Darius Slay, Bill Bentley, Chris Greenwood and Jonte Green -- haven't shown that they can be relied on just yet.
This is why the Lions need to add another option. There are three potential choices with the No. 10 pick overall in Michigan State's Darqueze Dennard, Oklahoma State's Justin Gilbert and Virginia Tech's Kyle Fuller.
Dennard doesn't possess Gilbert's speed, but he is a physical corner and a dependable tackler. Lions general manager Martin Mayhew seemed to describe him earlier this week when asked about the qualities he likes in a cornerback.
"The most important thing to me is competitiveness," Mayhew said. "You've got to have that guy that doesn't want anybody catching any balls on him ever, in practice, in walk-through, whatever.
"We're looking for a guy that has that kind of mentality. A lot of them have different physical attributes, but the mentality is the most important thing at corner, I think."
Unless the Lions truly believe in their young corners, which is hard to believe based on what we've seen, they need to invest in the best player to help their secondary immediately.
That player is Dennard, who won the Jim Thorpe Award last season as the best defensive back in college football. He will bring some toughness and intelligence to a group that's been a weak link for this team for too long.
PASS RUSHER
The Lions would like an outside linebacker who can help put heat on the quarterback for their new defensive scheme. None of the team's current linebackers gives them that element.
They could go that direction in the first round by drafting UCLA's Anthony Barr or they could wait until the second round for, say, BYU's Kyle Van Noy.
"He became known as one of the best all-around linebackers in college football," NFL Network analyst Mike Mayock said of Van Noy. "There's been a buzz about him the last month or six weeks.
"He does everything well. His versatility is a huge plus. I think he's going to be a real good NFL player."
Other second-round possibilities at outside linebacker include Boise State's Demarcus Lawrence (ranked No 41 prospect overall by Mayock), Louisville's Marcus Smith (No. 53) and Stanford's Trent Murphy (No. 61).
This year's draft is considered a little weak overall on the D-line, but the Lions still need another defensive end -- perhaps in the middle rounds -- after losing Willie Young in free agency.
That need could become much greater depending on whether Jason Jones, coming off a season-ending knee injury, is likely to return to full strength.
RECEIVER
There has been so much speculation about trading up in the draft to get Clemson's Sammy Watkins or maybe even Texas A&M's Mike Evans.
If the Lions stay at No. 10, that desire to add another wideout could wait until the second or even third round.
There are several possible second-round targets in a deep receiver class, including Indiana's Cody Latimer, Fresno State's Davante Adams and Vanderbilt's Jordan Matthews.
Penn State's Allen Robinson, South Carolina's Bruce Ellington, Clemson's Martavis Bryant, Colorado's Paul Richardson and Mississippi's Donte Moncrief all could still be around in the third round, too.
The addition of free agent Golden Tate really doesn't make adding a high-profile receiver quite as important as some believe. The Lions would be better off saving the draft picks it would cost to get Watkins, improve their defense early in the draft and then take the best-available receiver in the third round.
MIDDLE AND LATE ROUNDS
A year ago, the Lions used a fifth-round pick on punter Sam Martin. This time, they need a kicker, which could be addressed in the sixth round by drafting Rice's Chris Boswell or Texas' Anthony Fera.
Detroit also has three fourth-round picks, none in the fifth round and one in the seventh round. Those selections can be used for depth by taking the best available center, defensive end, safety and/or quarterback.
BOTTOM LINE
If Mayhew comes out of this draft with immediate help for the secondary, pass rush, receiving corps and kicking game, along with some depth on both sides up front, this should be considered a very good draft for the Lions.
---