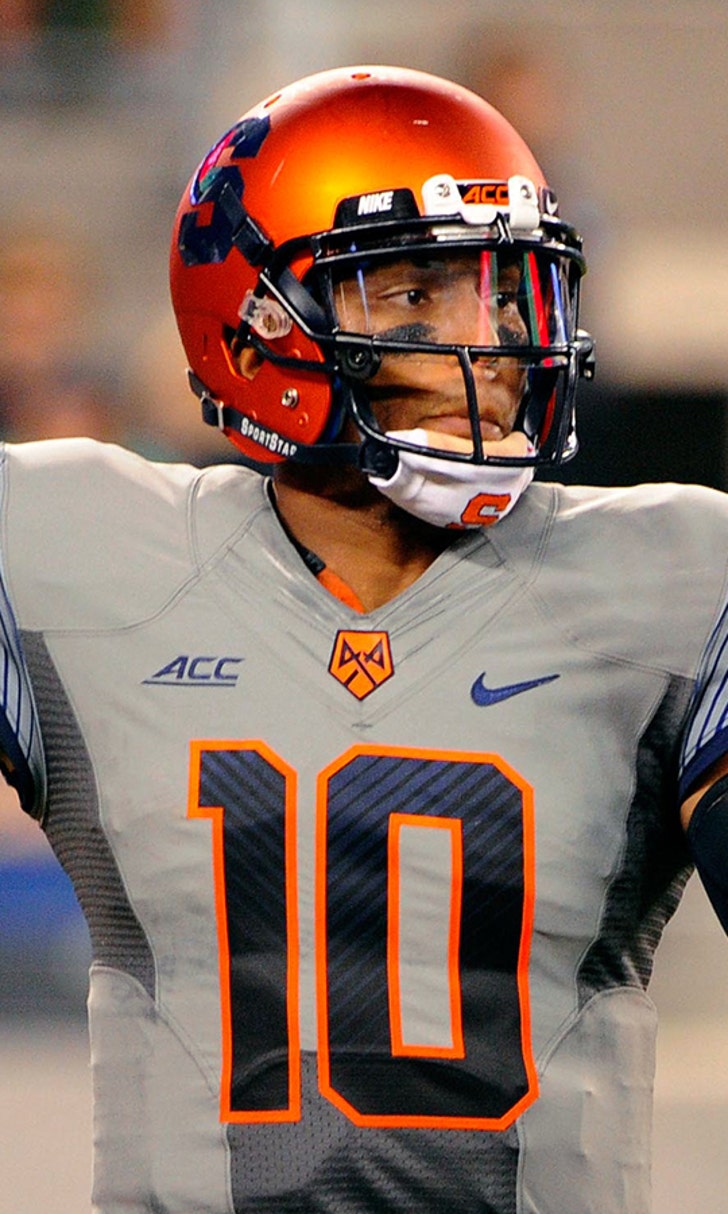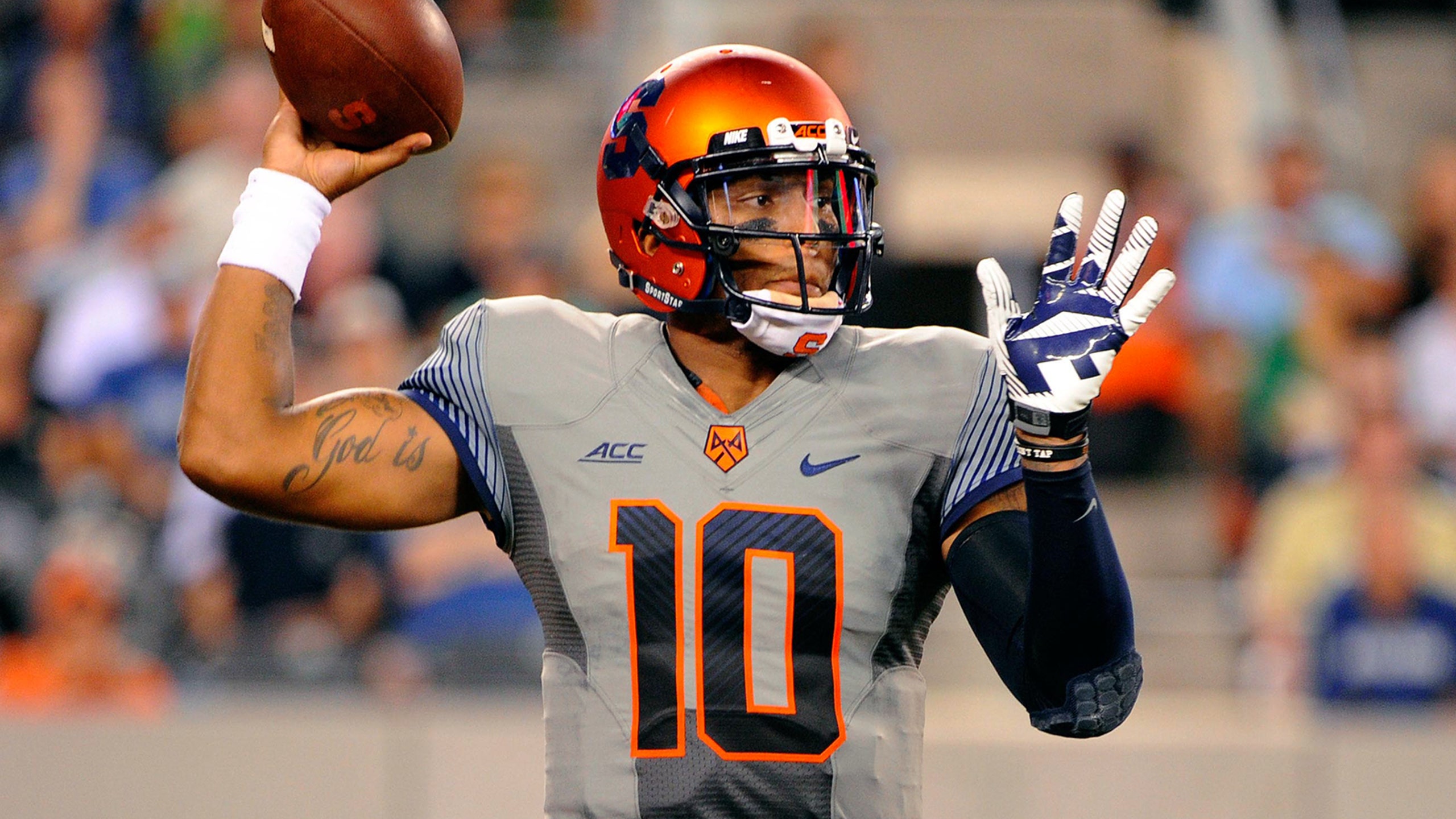 Syracuse: Five players to watch in 2015
BY foxsports • June 19, 2015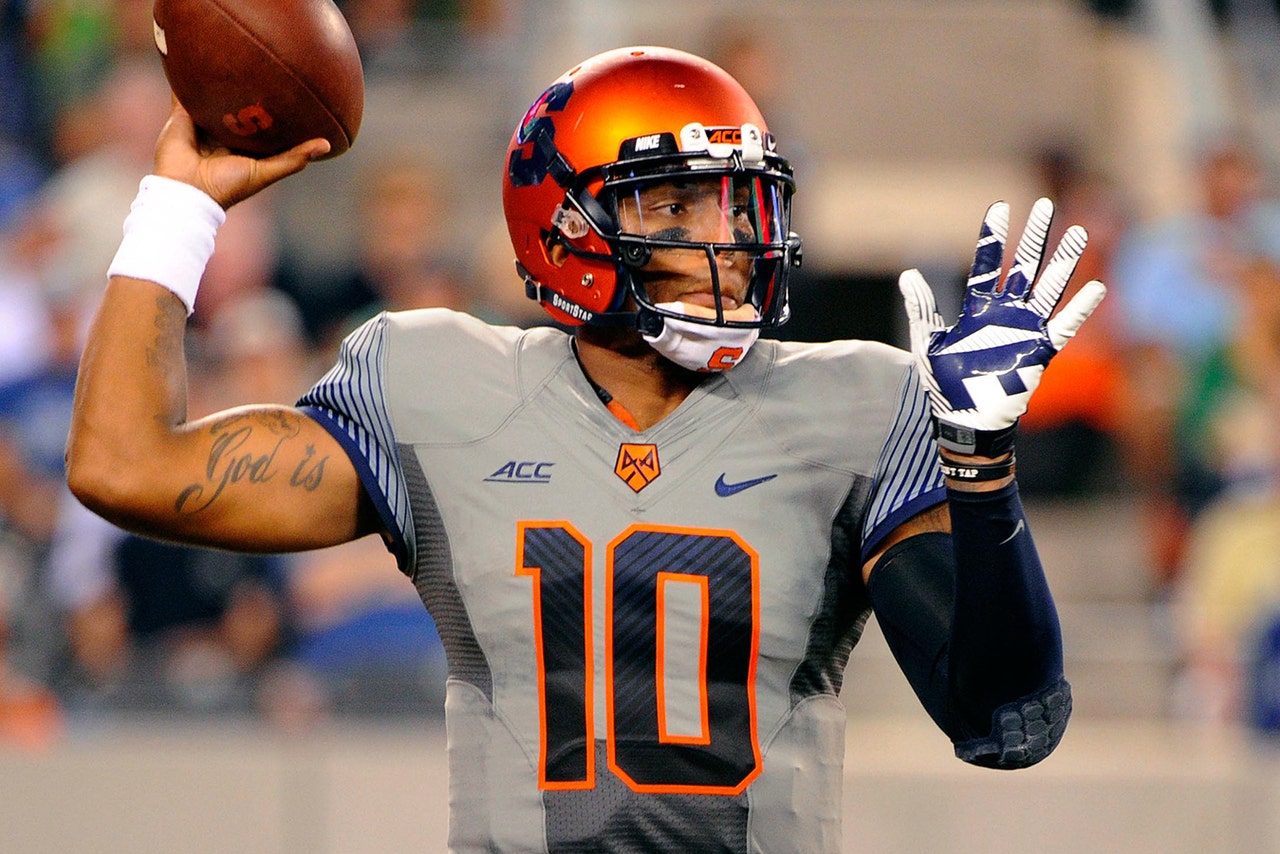 Syracuse finished last year 3-9 and is actually starting over in a lot of ways, with a lot of talent from its defense now gone. But the offense should be better, and the schedule is a little friendlier. For the Orange to exceed expectations in 2015, some key guys are going to have to step up.
1. Terrel Hunt
The senior quarterback was ejected after a silly personal foul in the season opener, but then came back strong -- only to break his leg in the fifth game of against Louisville and miss the remainder of the season. Syracuse played QB roulette in his absence and eventually settled on AJ Long, to mixed results. It's unclear whether or not Hunt would have made a huge difference, but he was playing pretty well when he went out.
With a new offensive coordinator now for a full off-season in Tim Lester, can Hunt thrive in a simplified system and be the true dual-threat quarterback this team needs in what should be a much-improved offense?
2. Ron Thompson
Syracuse lost a lot on the defensive side of the ball. But Ron Thompson, a senior, is a big returnee. Thompson played primarily on the interior last season, but with the departure of some starters, he'll slide back to his natural spot at defensive end. He had three sacks and seven tackles for loss a season ago, and is one of Syracuse's leading returners in those categories. He'll be counted upon as the senior leader to help hone a young but potentially talented group up front, and could have a breakout season.
3. Steve Ishmael
Ishmael had 21 of his 27 catches and 83 of his 415 receiving yards in the final seven games last year, not to mention all three of his receiving touchdowns. When Lester took over is when Ishmael began to thrive, and he was one of the few big-play threats on a relatively pedestrian offense. Lester is going to use Ishmael quite a bit as a guy who can potentially stretch the field, and that's certainly something Syracuse needs.
4. Zaire Franklin
Syracuse's leading returning tackler, Franklin -- just a freshman last year -- turned a lot of heads with his play. The linebacker finished with five tackles for loss and two sacks, and he is going to be counted upon to be the leader at a spot where Syracuse lost two of its better players last year in Dyshawn Davis and Cam Lynch. He'll likely play wherever Syracuse needs him this season, but it's clear he has a natural ability to make plays, and that's something Syracuse will need.
5. Riley Dixon
Syracuse fans -- only half-facetiously -- have started a movement pushing the senior punter for Heisman. But he did finish last season as Syracuse's top-rated quarterback, completing his only pass attempt for a touchdown on a trick play. Syracuse's other quarterbacks combined for just five passing touchdowns. So who knows? But he is also an excellent punter, and Syracuse's special teams have struggled in almost every area except his leg. If the coverage and return units around him can improve, he can at least help his young defense by giving them better field position.
---