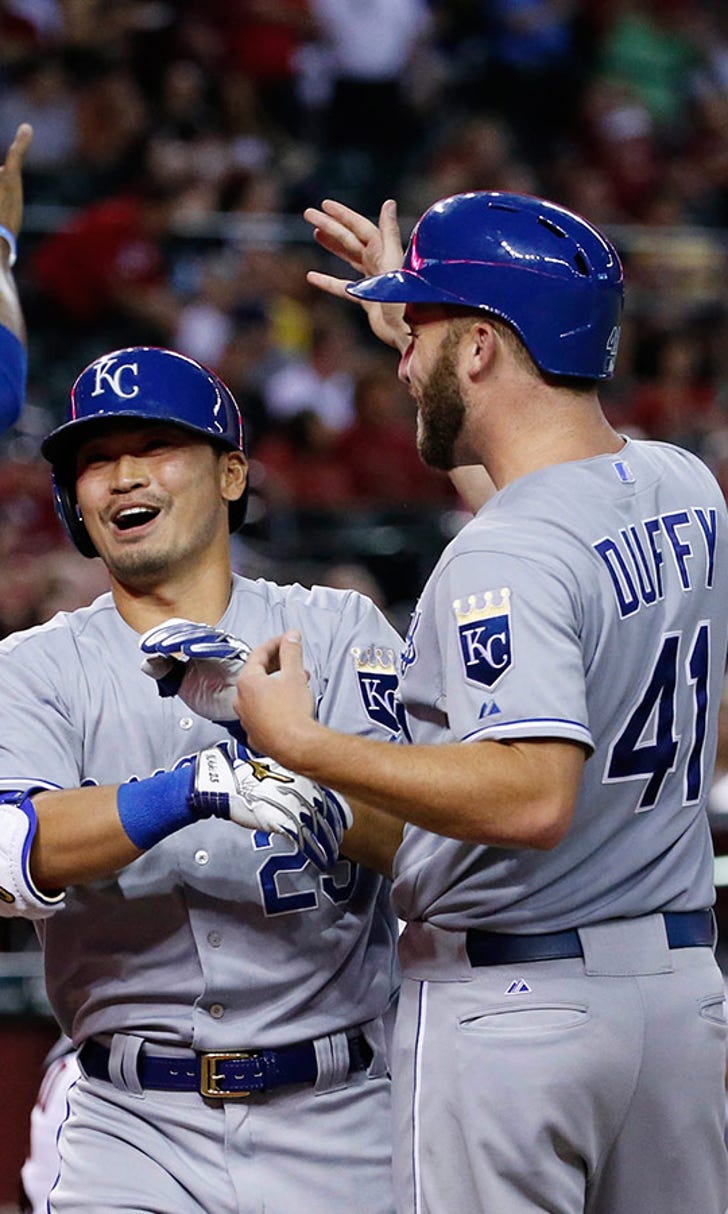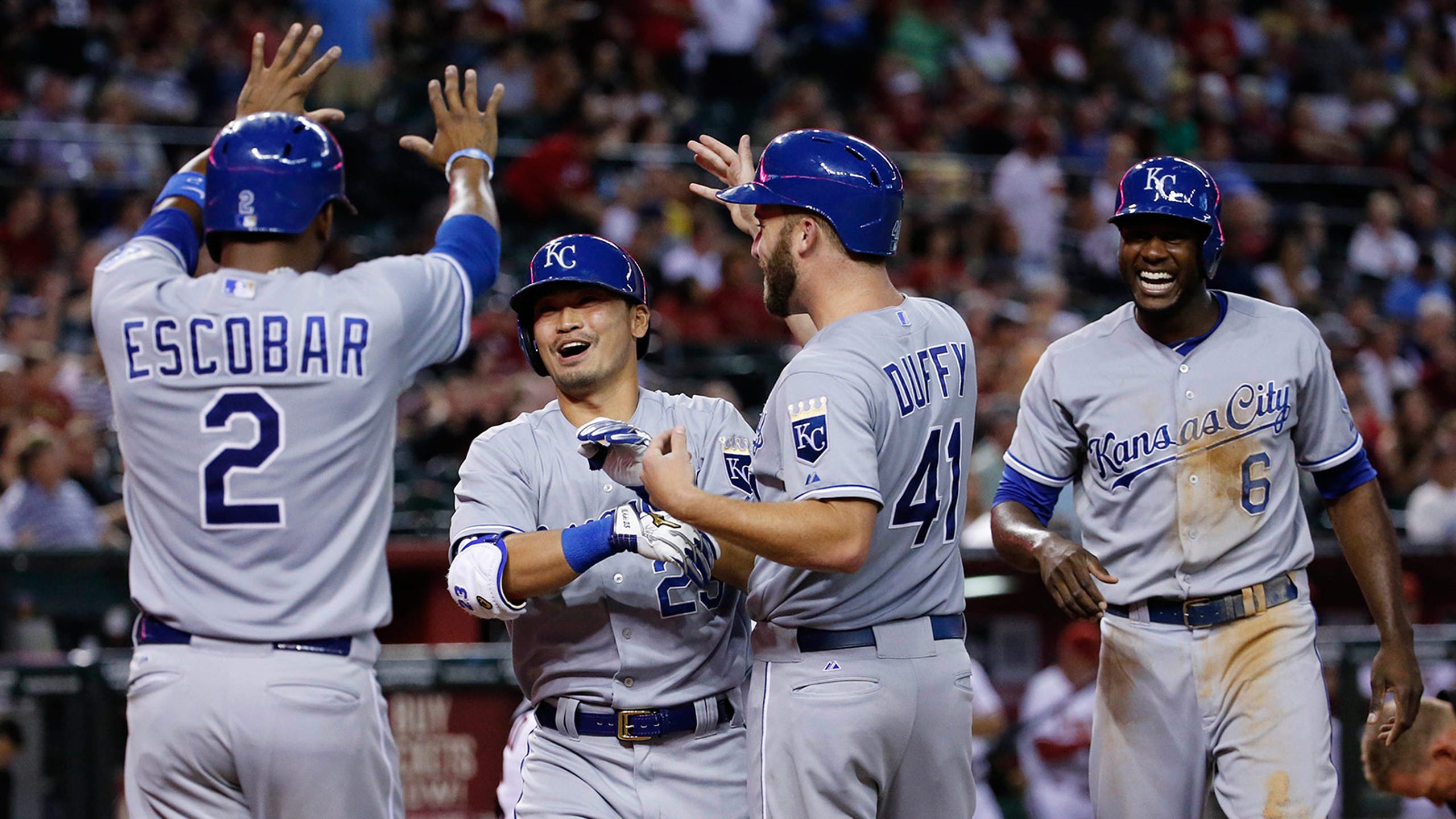 Sweet home, Arizona: Royals return to desert and let the good times fly
BY foxsports • August 6, 2014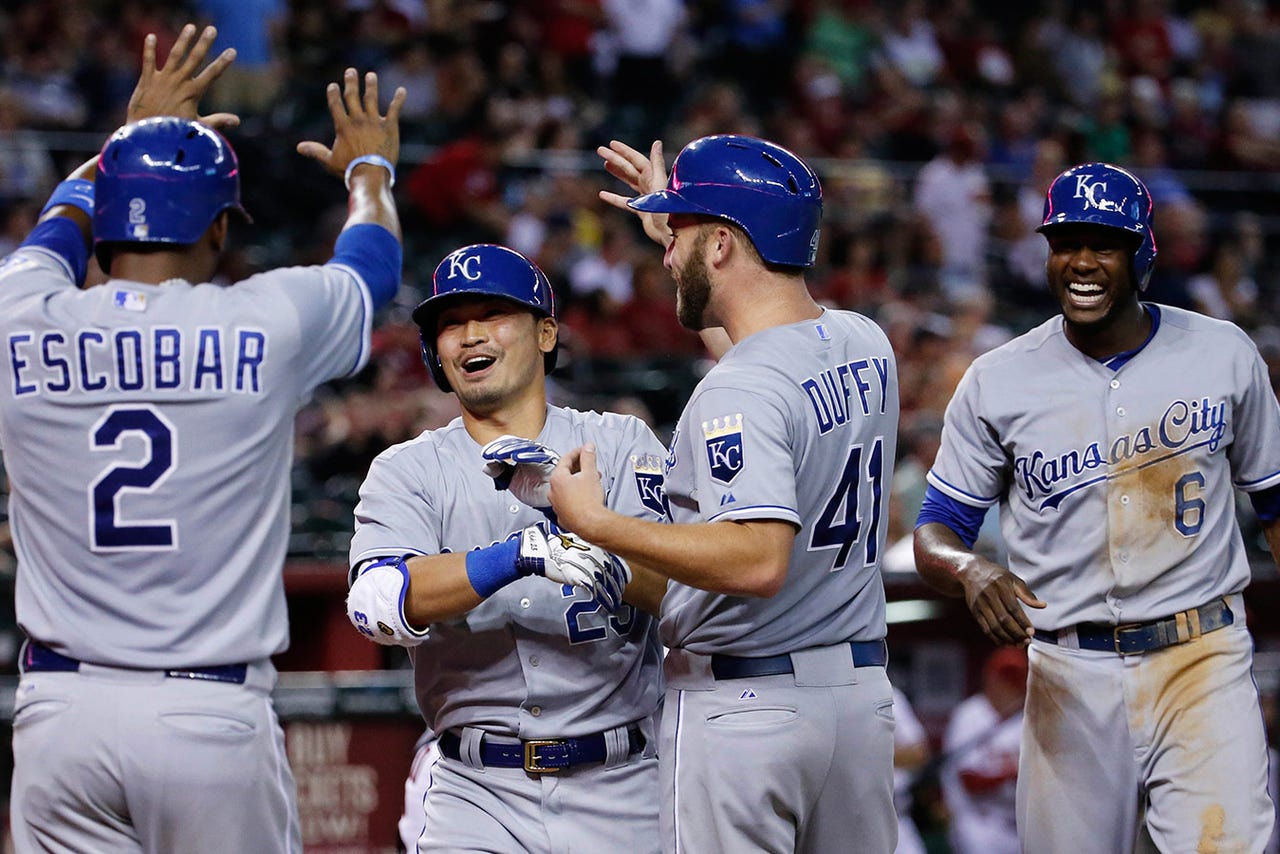 The Royals set foot on Arizona soil again, and crazy offensive things began to happen.
The Royals, the team that has pounded Cactus League pitching the past two springs but saw that offense vanish in the regular seasons, suddenly muscled up again as they returned to the Valley of the Sun.
The Royals whacked three home runs, totaled 15 hits in all, and rolled to a 12-2 thumping of the Arizona Diamondbacks. That was the most runs the Royals have scored in a game all season.
Hard-luck pitcher Danny Duffy, who was given just three runs of support over his last five starts, was the beneficiary of the offensive explosion.
Arizona did tax Duffy's pitch count, and he left after just five innings and 93 pitches as manager Ned Yost opted to use his fully rested bullpen. Duffy struck out seven through five innings and gave up just three hits.
The Royals now are half a game out of the second wild-card spot behind Toronto. And they are one win away from capturing their fifth straight series.
3 UP
-- Bomb No. 1. The Royals actually were trailing 1-0 in the third inning against Diamondbacks starter Wade Miley. But Alcides Escobar singled sharply to center, Duffy got down a nice sacrifice bunt (on a two-strike count, no less), and Nori Aoki drew a tough walk from the left-handed Miley. With two out, Sal Perez jumped on a 2-2 changeup and drilled it over the left-center-field wall for a three-run homer. Perez also had two other hard-hit singles.
-- Bomb No. 2. A great night for Billy Butler, who had his first four-hit game of the season. Butler's most significant hit came in the Royals' eight-run fifth when he jumped on a Miley fastball that was letter high and sent a towering shot over the center-field wall for a three-run homer. That blast made it 6-1 and sealed the deal for the Royals and their superior pitching staff.
Watch the Royals Live pregame and postgame shows before and after every Kansas City Royals game on FOX Sports Kansas City.
-- Bomb No. 3. We've been wondering all season how in the world Aoki ever got 18 home runs the past two seasons with Milwaukee. We got a glimpse Tuesday night. Aoki barreled up a thigh-high fastball and drilled it just over the right-field fence and about 12 feet inside the foul pole for a grand slam. Yes, a grand slam. There was a great scene in the dugout, too, as his Royals teammates high-fived him and then bowed to him.
3 DOWN
-- Poor scouting? The Diamondbacks got the early lead when, with two out in the first inning, Mark Trumbo hit a low-and-inside curveball off the left-field wall for an RBI single. The problem was, Duffy hit his spot, almost exactly where Perez set up the target behind the plate. Trumbo seems to struggle on pitches up, but for some reason the Royals pitched him down, where he could golf pitches.
-- Moose doesn't join the party. Mike Moustakas wasn't in on much of the fun, although he did get one single in five trips. But in the fourth inning after Cain had singled and stole second with none out, Moose failed to get the runner over to third, instead flying out to left field. Moose also committed an error.
-- Nope, won't do it. You kidding? Find another thing wrong with a 12-2 win? Not a chance.
You can follow Jeffrey Flanagan on Twitter at @jflanagankc or email him at jeffreyflanagan6@gmail.com.
---