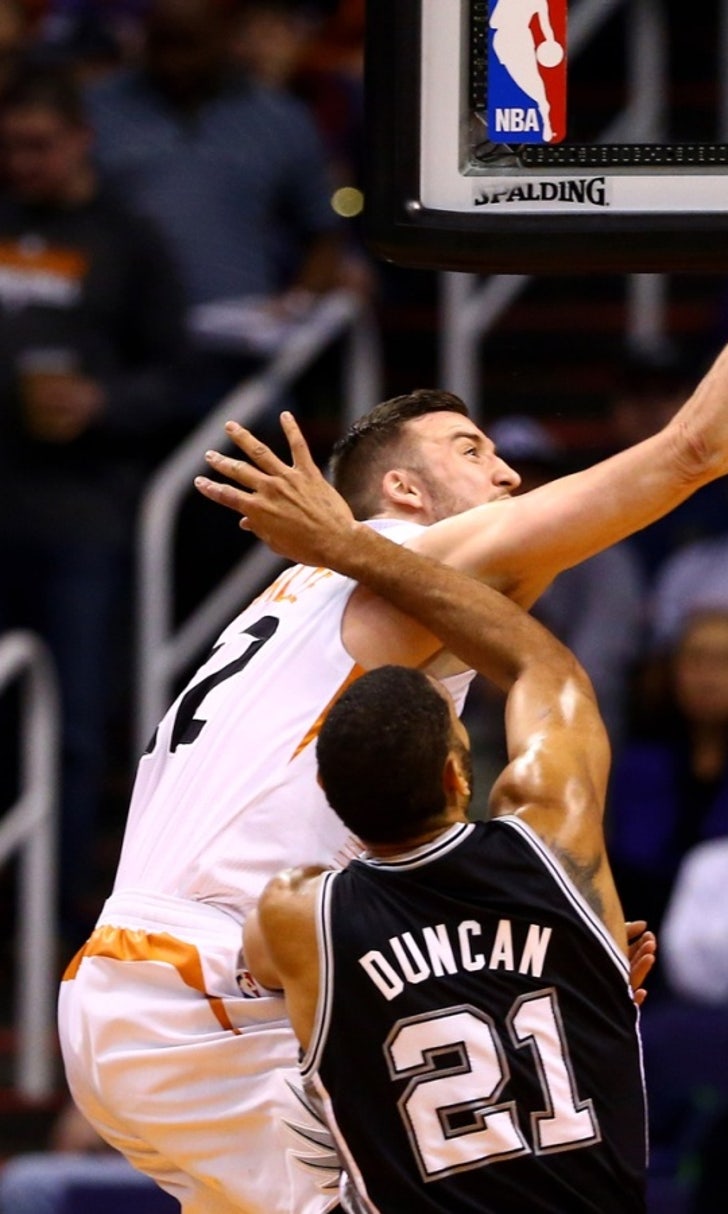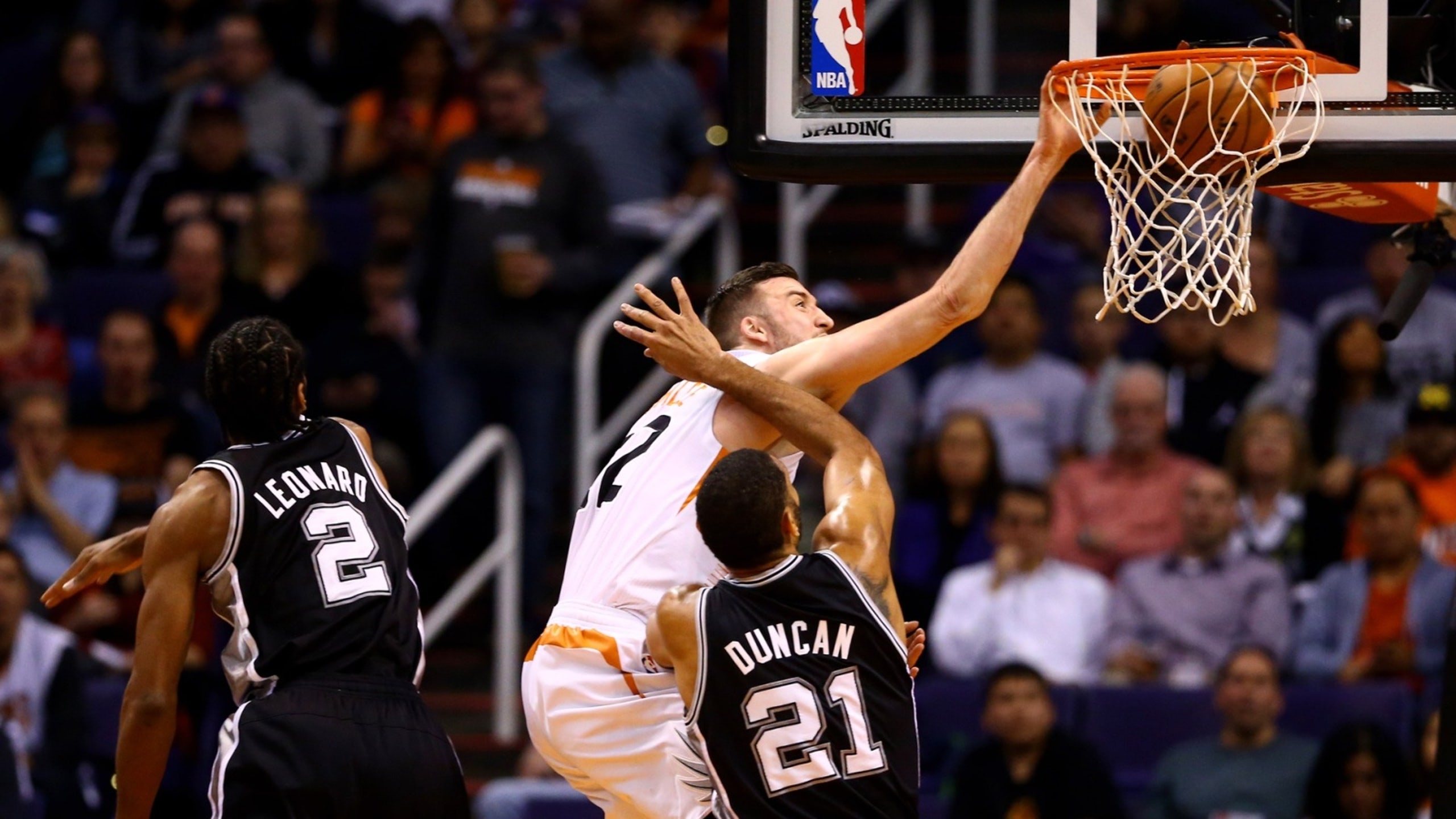 Suns' five-game roll picked off by veteran San Antonio team
BY foxsports • December 18, 2013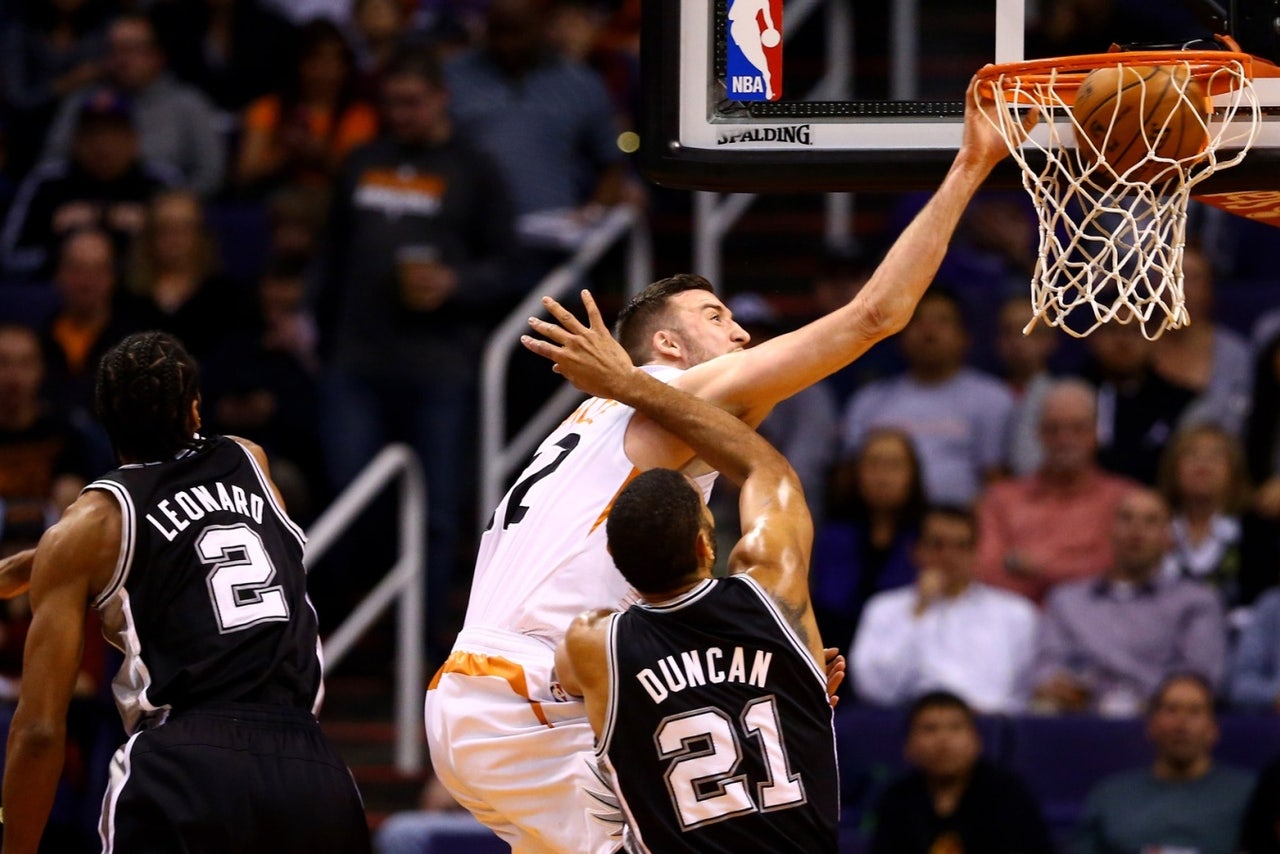 PHOENIX -- The Suns' stab at playoff-challenging credibility cannot be validated or corrupted one week before Christmas.

But Wednesday night's date with the San Antonio Spurs certainly had the potential to maintain the Suns' elevated, early-season karma. Although the announced tickets-issued number (13,661) is evidence that a lot of people still are missing out on an entertaining team, the start-to-finish atmosphere was the most electric it's been all year.

Having the evil Spurs in town will do that.

Even with star point guard Tony Parker canceled by a shin boo-boo, the Spurs have enough surplus craftiness to make defeating them well worth doing. San Antonio adheres to a system that might be able to generate victory with the offense initiated by the equipment manager.

"They play the same way, they execute the same plays," Suns coach Jeff Hornacek said of the Parker-less Spurs, whose 108-101 victory at US Airways Center reminded us they've been playing the right way longer (and more efficiently) than the home team.

For quick realization of how San Antonio (20-5) managed to kill the Suns' winning streak at five, please note Phoenix (14-10) scored 34 points in the first quarter and 43 the second half.

"They turned it up defensively and took away certain things," Hornacek said. "Our pick-and-rolls, which have been great the last bunch of games … they handled 'em pretty well."

Yeah, after that first quarter -- during which Channing Frye had a trio of 3-pointers in a 6-for-6, 15-point run -- the Spurs made specific adjustments to stall an offense that had risen to sixth in the league in efficiency.

To prevent Frye from getting open in pick-and-pop maneuvers, the Spurs switched ball screens and gave pristine help if Frye attempted to exploit a mismatch near the post. They also installed a smaller lineup for long stretches, which made it difficult to play Frye big minutes while chasing little Spurs on defense.

With Frye (22 points for the game) neutralized, the Suns still had Plan A. And Plan A means riding their point-guard tandem of Eric Bledsoe and Goran Dragic.

That's usually a stellar plan.

In Sunday's triumph over the Golden State Warriors, Bledsoe and Dragic combined to score 45 points on 13-of-27 shots from the field.

Against the Spurs, they managed to convert a far more pedestrian 12-of-33 shots and finished with 33 points.

"They are a great team," Dragic said. "We just didn't execute well, especially on offense. They were good defensively and it was really tough."

In addition to what Hornacek called "blasting" through ball screens, San Antonio's defenders funneled point guard traffic to its lane police.

Its chief, of course, is veteran center Tim Duncan, who added three blocked shots to a points-rebounds double-double (17-13).

"After they shot the way they did in the first half, we tried to get them off that line and to make them make plays at the rim," Duncan said. "We did a good job of contesting their shots and they missed some shots and for a while there, they were finishing those shots with some offensive rebounds, but we cleaned that up in the end, so that was good."

But while we're saluting the Spurs for prolonged saltiness and deep thinking, let's allow veteran guard Manu Ginobili to provide a dose of reality.

"They shot bad, too," Ginobili said after scoring a game-high 24 points, taking six rebounds and handing out seven assists off the bench. "We don't have to think that's just because of our defense. Sometimes teams miss shots, but we were way more aggressive.

"They were not open shots, at least, and they can make them, but we were more attentive, our rotations were there, we grabbed more rebounds and it got easier that way."

Along with praising San Antonio, Dragic concurred.

"Tonight's game we missed some easy shots, some easy layups," he said. "I missed two, a dunk and a layup. So, if you don't hit those easy shots, then the game is going to be tougher, especially against those guys.

"It doesn't matter if Tony Parker is out, they still have a great team and unfortunately we lost the game. I think we could play better, but what happened happened and we have to look toward the game next game. We have to win in Denver (Friday)."
---