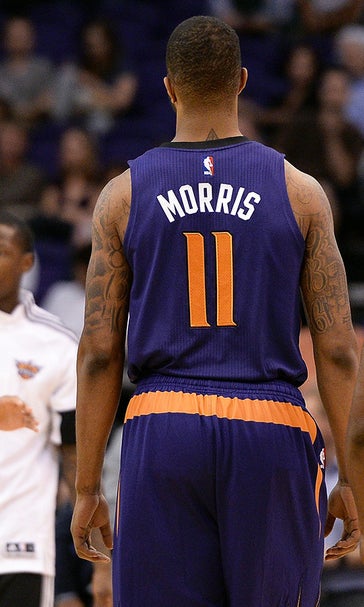 Suns' season of upheaval approaches final lap
April 13, 2015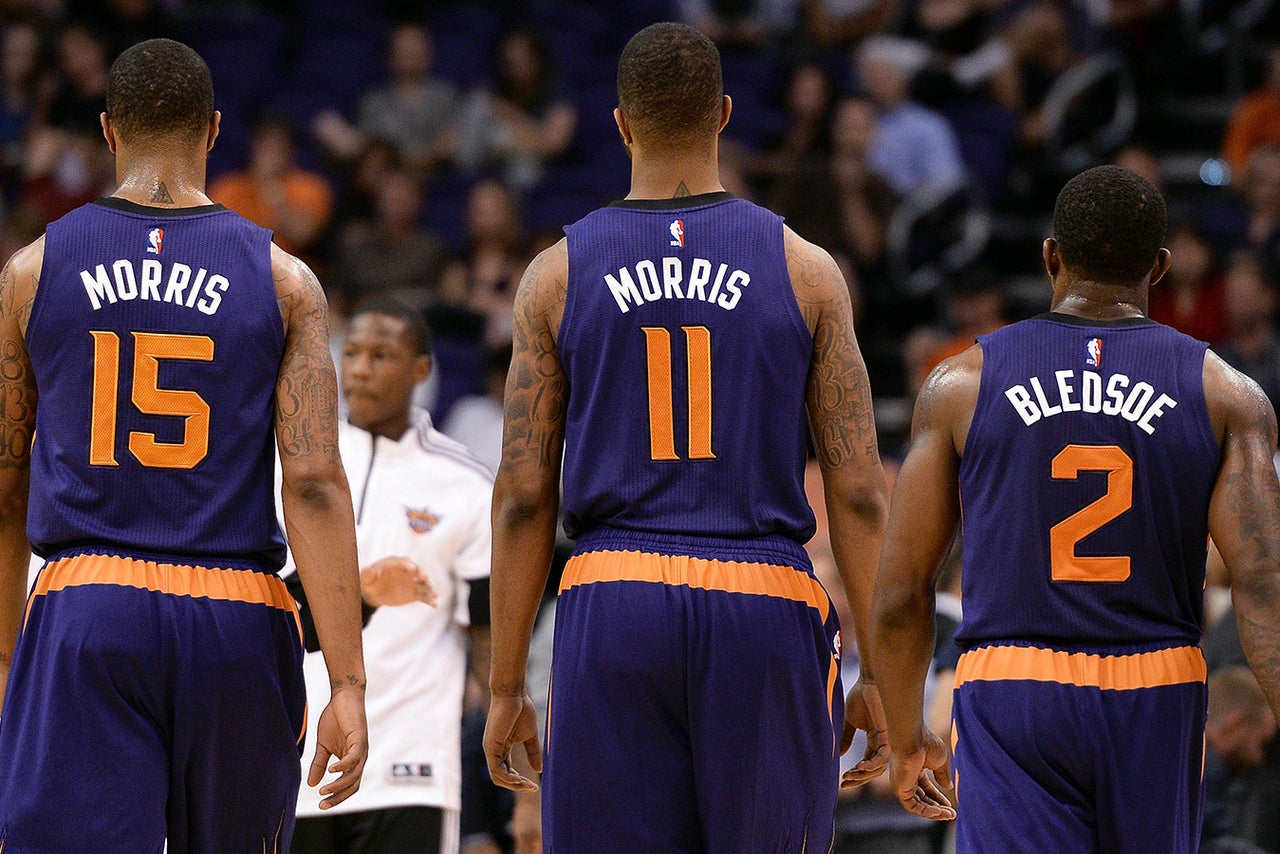 PHOENIX -- There have been 167 days separating the Suns' season-opener and Game 82 on Tuesday night.
An avalanche of drama transpired between these dates, including the questioning of almost everything by, seemingly, everybody.
Even the season-ending distinction of Fan Appreciation Night -- co-starring the Los Angeles Clippers -- reminds us of that exquisitely timed, post-game salvo from the Morris brothers questioning the commitment of Phoenix fans.
We can place that seminal moment in a bucket that includes a couple of Suns players questioning the team's direction, another harpooning the organization's honesty, team officials rebooting in the choppy wake of their own personnel decisions, and the fans pretty much questioning everything.
There have been on-court dilemmas, off-court rumblings and nine fewer victories than the prior, future-igniting season.  
Having lost 17 of their last 27 games (and 9 of the last 10), it's not exactly a stretch to recommend paying close attention to those players working in the season finale against the Clippers.
Many of these guys could be participating as Suns for the last time.
Based on solemn testimony during a recent local radio chat with general manager Ryan McDonough, the Suns will do whatever's necessary to upgrade this roster. That includes having little to no interest in public opinion when making a decision on anyone.
McDonough specifically was addressing the upcoming interactions with restricted free agent Brandon Knight, who was the major target during the team's controversial flurry of trade-deadline maneuvers.
That doesn't mean Knight -- whose injured left ankle continues to prevent the team and fans from observing his fit alongside Eric Bledsoe -- is anything but firmly tucked into the team's future plans.
We're just convinced this is a front office that doesn't fear change or the temporary judgment it provokes.
And while the clarity of the current rebuild might improve as we step back from the scrutiny of this season, the disappointment in how it followed last season's unexpected rise is tough to shake.
For a bit of context, let's revisit this season's Game 1, which ended in a 119-99 over Kobe Bryant and the L.A. Lakers.
This was, of course, the first game involving the Suns' ballyhooed trio of upper-tier, attack-mandated point guards.
Before he was tossed for questioning a call (what a harbinger of things to come, eh?), Bledsoe produced 16 points and nine assists. He started alongside Goran Dragic (18 points), while newcomer Isaiah Thomas came off the bench to supply a team-high 23 points on 9-of-11 shooting.
They didn't work as an on-court trio that night, but the Suns' PG3 did combine to put 57 points on L.A., making a ridiculously efficient 20 of 30 shots from the field.
Marcus Morris -- called upon to start while P.J. Tucker was serving a suspension for super-extreme DUI -- made 5 of 9 attempts from behind the 3-point line and finished with 21 points.
The high-powered Phoenix offense made 54.9 percent of its shots against the hapless Lakers, including 16 of 32 from distance.
Now, with half of the 14 players on the roster that night currently working elsewhere, the Suns have scored 80 or fewer points seven times since the trade deadline. Over the last 15 games, the Suns are 29th in the league for offensive efficiency.
The firepower issues aren't helped by the extended absence of Knight, of course, but the sizzle he provided the Milwaukee Bucks had yet to materialize during a limited run in Phoenix.
Another newcomer we might not be able to witness in the seasonal benediction is center Brandan Wright, who missed Sunday's loss in San Antonio with an injured ankle.
Recently starting in place of Alex Len, Wright will enter unrestricted free agency this summer after averaging 10 points and 7 rebounds per game in April. The slender lefty has a difficult time holding defensive post position against certain opponents but is solid against ball screens and in other help situations.
His limited shooting range is somewhat mitigated by the ability to elevate quickly for lob passes or put-backs.
Even though Wright would seem to be a quality fit for playoff-level teams looking for veteran depth, he has expressed an interest in continuing with the Suns.
Three of Wright's current teammates will join him as unrestricted free agents after one more game in a Suns uniform: Veteran shooting guards Gerald Green (his recent surge was a break-glass-in-case-of-emergency situation) and Marcus Thornton and veteran backup center Earl Barron are in the same position as Wright.
Two players worthy of a close look tonight are youngsters T.J. Warren and Archie Goodwin. Unless included in some off-season transaction, these players could help define where the team goes in the near future.
So, too, could Tucker, whose hustle points and reasonable contract make him a valuable commodity -- here and, perhaps, elsewhere.
And what prelude to Fan Appreciation Night would be complete with a closing mention of the Morris twins, who have provided plenty for the team and its fans to like . . . and otherwise.
---