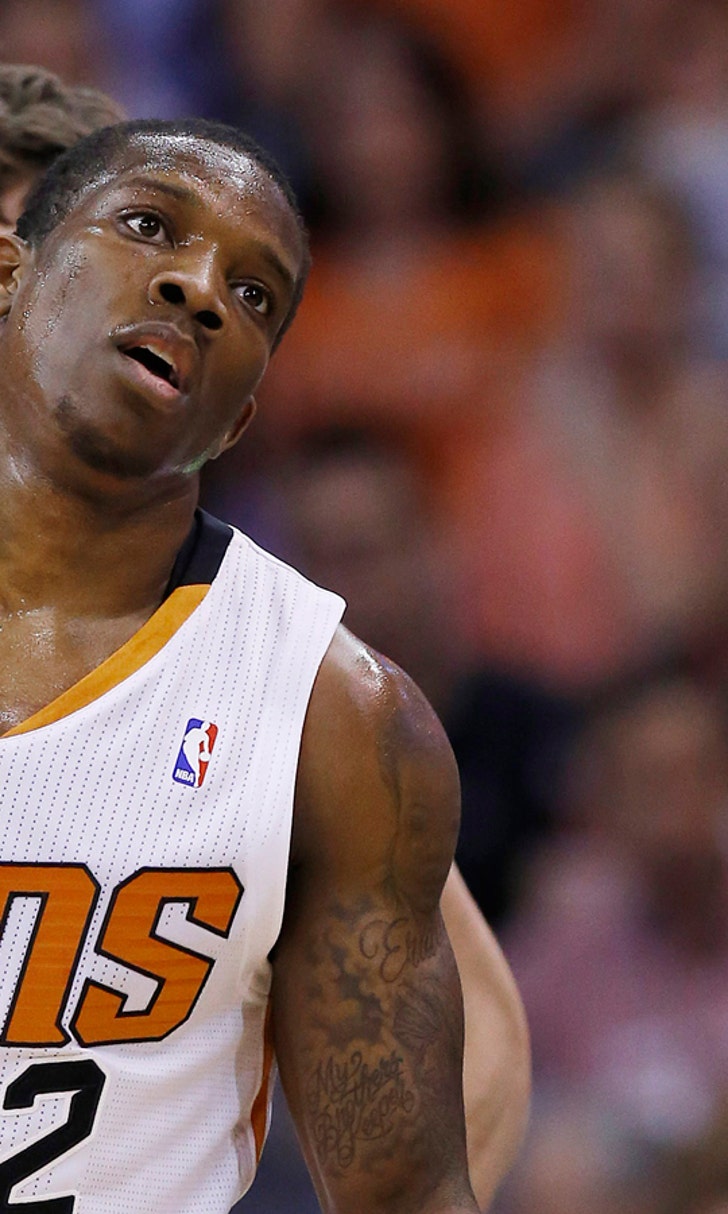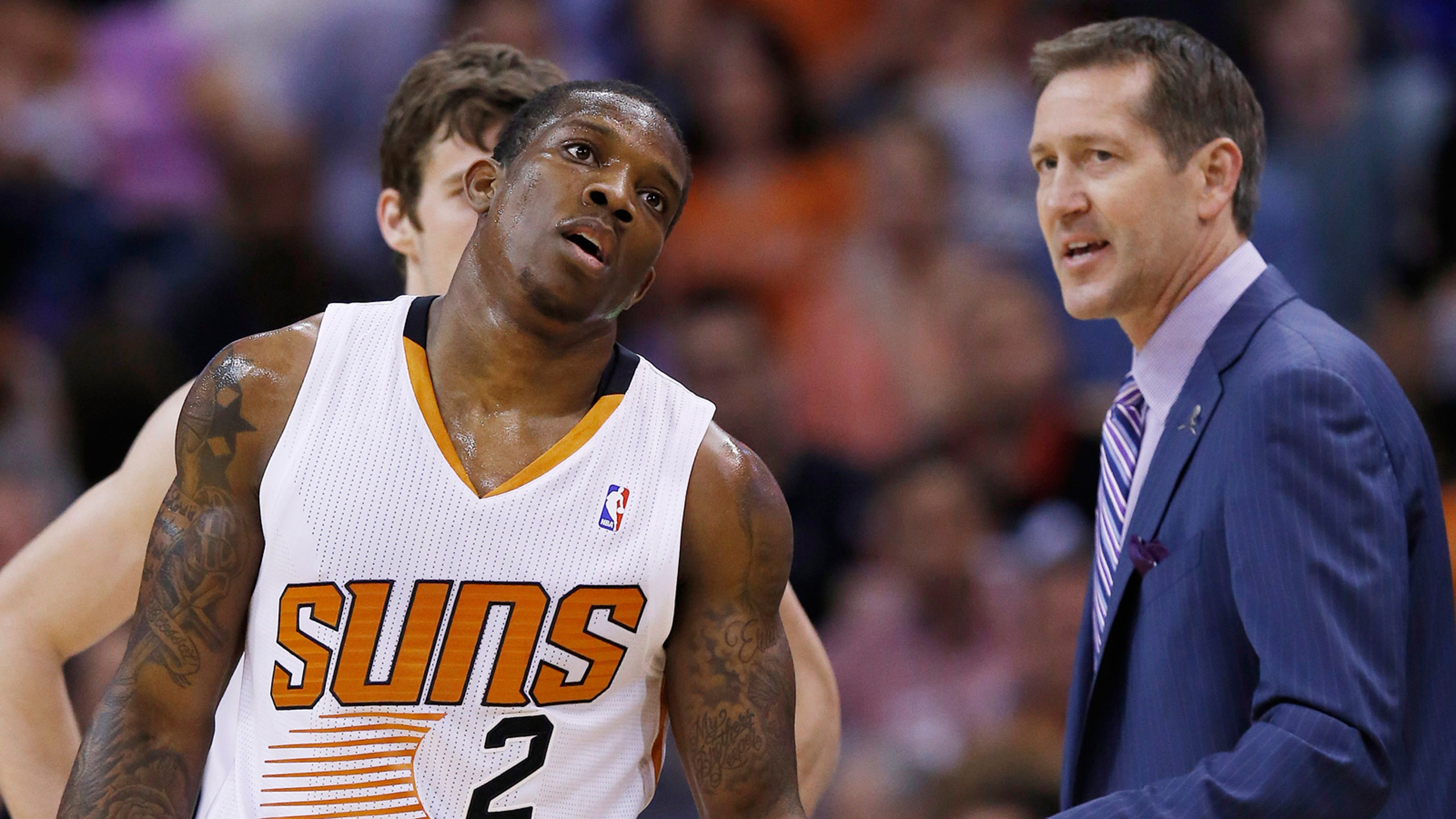 Suns' recovery will have to be accomplished on the road
BY foxsports • March 13, 2014
PHOENIX -- With a four-game gauntlet of Western Conference heavies behind them, the Suns were ready to take a big swing at five consecutive foes from that other conference.
Unfortunately, their first of these dates was a home-court clunker turned in Wednesday night against the generally dismal Cleveland Cavaliers.
Although they won't run into the Heat, Bulls or Pacers, the Suns' next three showdowns with Eastern Conference representatives will happen on the road.
To make matters a bit tricky, the now-ninth-seeded Suns also must attempt to resurrect their playoff drive while incorporating Eric Bledsoe back into what had been a reasonably effective flow.
But any difficulty associated with Bledsoe's return had little to do with what caused their third consecutive loss.
"I don't know what's going on with us right now," said Goran Dragic, the point guard who helped carry the considerable load while Bledsoe was out.
What Dragic didn't know in the dismal aftermath of Wednesday night's loss to the Cavaliers was why the Suns have become terrifically unaware defensively and not exactly as energetic, in general, as you might expect from a team fighting for its playoff existence.
"We have to get those things together because we're still in the playoff hunt," Dragic said. "It's not over. We still have 18 games left."
For the record, only six of those games will be contested within the friendly confines of U.S. Airways Center.
And even though the aforementioned Eastern Conference heavyweights are not on the schedule, this three-game road swing (beginning Friday night in Boston) could re-define the Suns' season.
Phoenix certainly is capable of defeating the Celtics and coming away triumphant after subsequent games in Toronto (Sunday) and Brooklyn (Monday), but the fearless approach presented by first-year Coach Jeff Hornacek now is subject to periods of apparent player nonchalance.
"You would think they would know the situation with the games we're in, the standings and that kind of stuff," Hornacek said of his players. "We don't go over it, but I think everyone understands that at this point, everyone has to step it up. You're trying to win games. We have to win games we're supposed to. That's the disappointing part."
The aforementioned tricky part is folding Bledsoe back into an offense that had kept the Suns barely above the water line, while hoping his on-ball potential can make their team defense more reasonable.
"When a guy comes back, everybody else has their role change a little bit," Hornacek said. "I don't know if they're pressing to think they have to do better than normal to stay getting minutes or whatever. You just have to play the game and play with confidence."
If Dragic and recently scalding teammate Gerald Green were uncomfortable playing alongside Bledsoe again, it didn't impact their opportunities on Wednesday ... at least not on paper. The three Phoenix guards combined to hoist 49 shots against Cleveland (they made 17).
But even though Bledsoe shifted gears into overdrive in obvious fast-break situations and finished with nine assists, the near-frenetic pace wasn't there in his first game back.
"Even all season when he was healthy, we were trying to get him to push it," said Hornacek, who was referring to running the ball into the frontcourt after the opposition scores. "I still think he's at his best when he's pushing the ball up court, coming full speed at somebody that can't stop him."
It certainly seems to work for Dragic.
As for the defense, adding Bledsoe on the perimeter didn't have much of a collective chance to pay off with stopper P.J. Tucker suspended for the Cleveland game.
"Obviously, not having our emotional and physical leader in P.J. hurt us," Hornacek said of Tucker, who was sanctioned for his participation in Monday's skirmish with Blake Griffin of the L.A. Clippers. "With all those loose balls, maybe somebody else gets them."
And with Tucker on the floor, Cavaliers three-man Luol Deng might not have been comfortable enough to bag 7 of 12 shots vs. Phoenix.
Tucker will have his chance to make amends on the road, with expected assignments of Jeff Green, DeMar DeRozan and Joe Johnson.
Maybe Tucker will have an even bigger influence on the Suns' energy level. Perhaps little more is required than looking in the mirror.
"We're in a black hole," Dragic said. "I don't know. Are we tired? After every game, we should not stand on our legs. We should fall down. And if we lose like that, we can say '€˜OK, I gave everything I got.' "
---