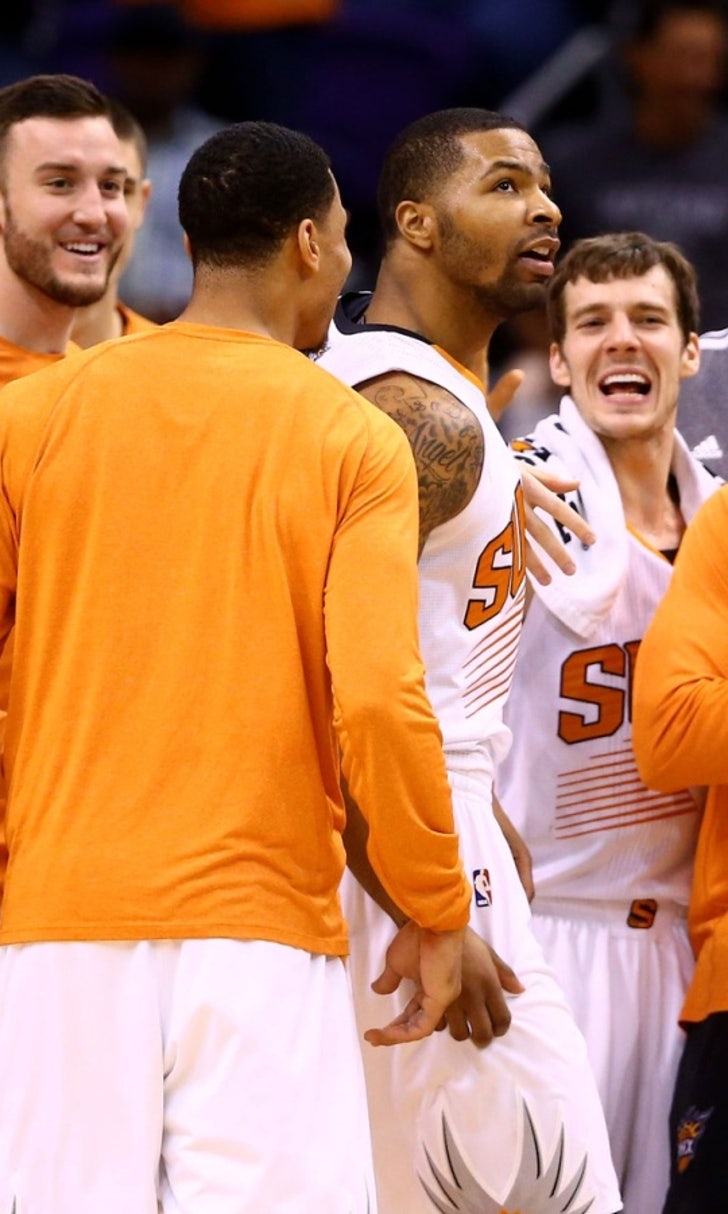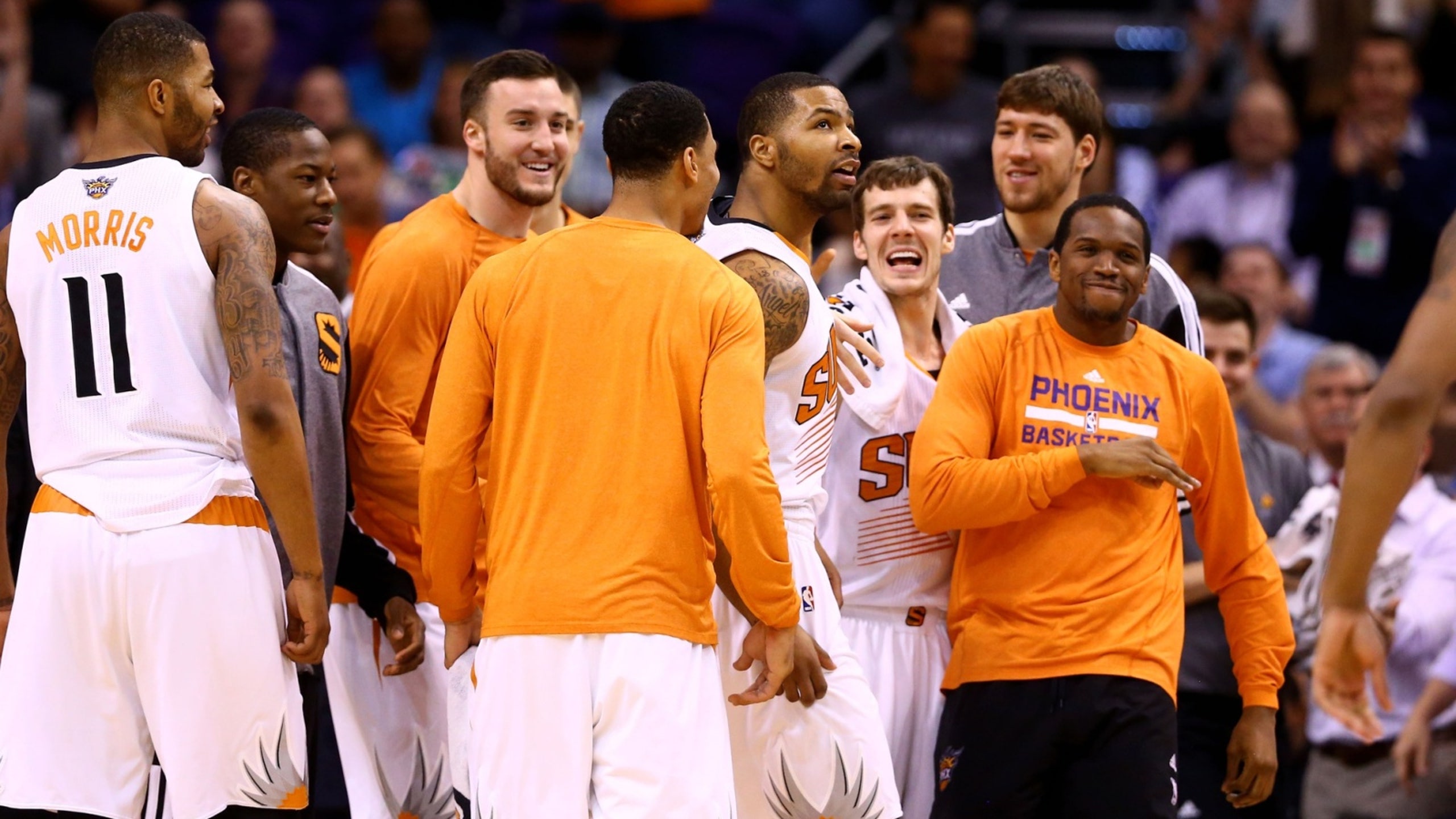 Suns do just enough to deal with Celtics
BY foxsports • February 20, 2014
PHOENIX -- For extended stretches of their trade-deadline-eve victory over the Boston Celtics, the Suns offered evidence that something is missing.
Well, not missing as splendidly as the Celtics, who made just 39 percent of their field goal attempts in a 100-94 defeat at US Airways Center. And this may be evidence that Boston -- a team looking to unload some ugly contracts -- probably doesn't have anyone available that could make things even brighter in Phoenix.
Nationally spun gossip may suggest otherwise, but hey.
The Suns (32-21), by the way, already mined the Boston employee roster when they hired general manager Ryan McDonough last year. And McDonough, who was part of the evaluating process when most of the current Celtics were acquired, is very aware of what Phoenix needs.
He also is blessed by not needing to unload any future-strangling albatross contracts. With upcoming cap space, a load of draft picks and an overachieving team still very formidable in the playoff chase, McDonough and his associates have leverage.
But they also have an interest in seeing how high the current team can climb.
With that in mind, another lackluster offensive performance from center Miles Plumlee (four points in 20 minutes) may continue to stir speculation regarding a deadline move for another large man to work the post.
But Wednesday's grinder -- executed on the second night of a back-to-back assignment -- was another reminder of how the Suns could use a player who just happened to be in the building.
That is Eric Bledsoe, the injured Suns' point guard who spent part of his pre-game rehabilitation on the US Airways Center hardwood going through drills with team strength and conditioning coach Mike Elliott.
"It feels weird being out here," Bledsoe said.
The Suns' offense probably doesn't qualify as weird without him, but it also seems a lot easier -- at times, at least -- for opposing defenses to handle.
Their date with the Celtics included 14 first-half turnovers that prevented 51 percent shooting from generating anything more than a two-point cushion at intermission.
"When you have those lulls," Suns coach Jeff Hornacek said, "sometimes it's tough to watch."
He wasn't kidding.
After allowing turnovers to wreck some fine first-half shooting, the Suns had sufficient second-half nonchalance to hit 36 percent of their shots in the last two quarters. They made it through 24 minutes with only four additional turnovers. But they may have been too lethargic to take any risks.
"You've got to be hungry and want it," Hornacek said in assessing his team's intermittent lack of focus since the All-Star break. "If you want to be an elite team in this league, you can't take plays off. We're not good enough to take plays off."
And without Bledsoe, they're not skilled enough to score efficiently when the ball doesn't move.
So, with the league now prepared to channel most of its defensive attention toward Goran Dragic (the Suns' healthy and borderline elite point guard), the points may not come as easily.
Dragic, who was piling up 20-points-plus games with regularity, needed 13 shots to reach 17 points against Boston. Not terrible, but not crazy efficient.
When asked if the Suns could use some trade-related assistance for a playoff push that currently finds them in sixth place among Western Conference teams, The Dragon was defensive.
"I'm happy about where we are and who we have on the team now," he said in regard to having a new teammate by Thursday's deadline. "But maybe some big guy who could help us give more resistance near the basket on defense."
That kind of defensive.
"But that's not my job," Dragic said of personnel-evaluation duty. "I fully trust what Ryan is doing and they did such a great job last summer. I feel like we can make the playoffs with the players we have now. But you never know what can happen. And if we do make a trade, we'll welcome any player they bring in."
For the record, defending the rim wasn't much of a problem against the Celtics, who finished with a mere 34 paint points.
It should be noted the Suns did allow Boston to collect 13 offensive rebounds. Adding a beastly type to help with the glass work has inspired gossip involving Celtics power forwards Brandon Bass and Kris Humphries.
Bass, who has another year (and $6.9 million) on his contract, scored 18 points and grabbed eight rebounds. But he can't space the floor (an important issue in this town) like Channing Frye (15 points, seven rebounds) and is less efficient for the money than Markieff Morris (18 points and four rebounds).
Humphries (his deal dies at the end of this season) played a bit more than 11 minutes and gave Boston five points and three rebounds. He didn't look like the bridge to a four seed. The Celtics also would love to get rid of Gerald Wallace (two years and more than $20 million beyond this season), but the Suns aren't insane. Jeff Green is a nice three man, but his deal is only slightly less lucrative than Wallace's.
As McDonough and president of basketball operations Lon Babby keep reminding us, adding help today will not come at the expense the near future.
Oh, Boston also still has Rajon Rondo (18 points, 10 assists, seven rebounds), but the Celtics may not be all that willing to ship him out. Besides, the Suns are in pretty decent shape at his position.
What they don't seem to have in abundance is the moxie to put teams away.
"I want this team to have a killer instinct," Hornacek said. "We don't have that."
---