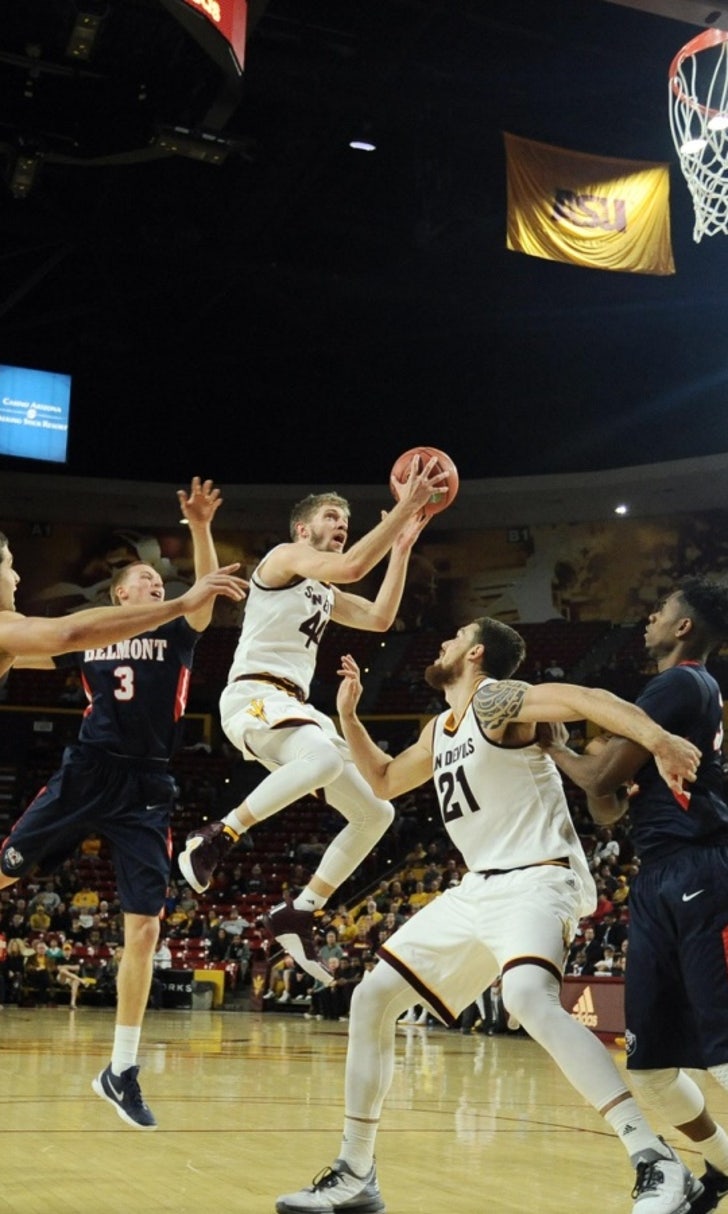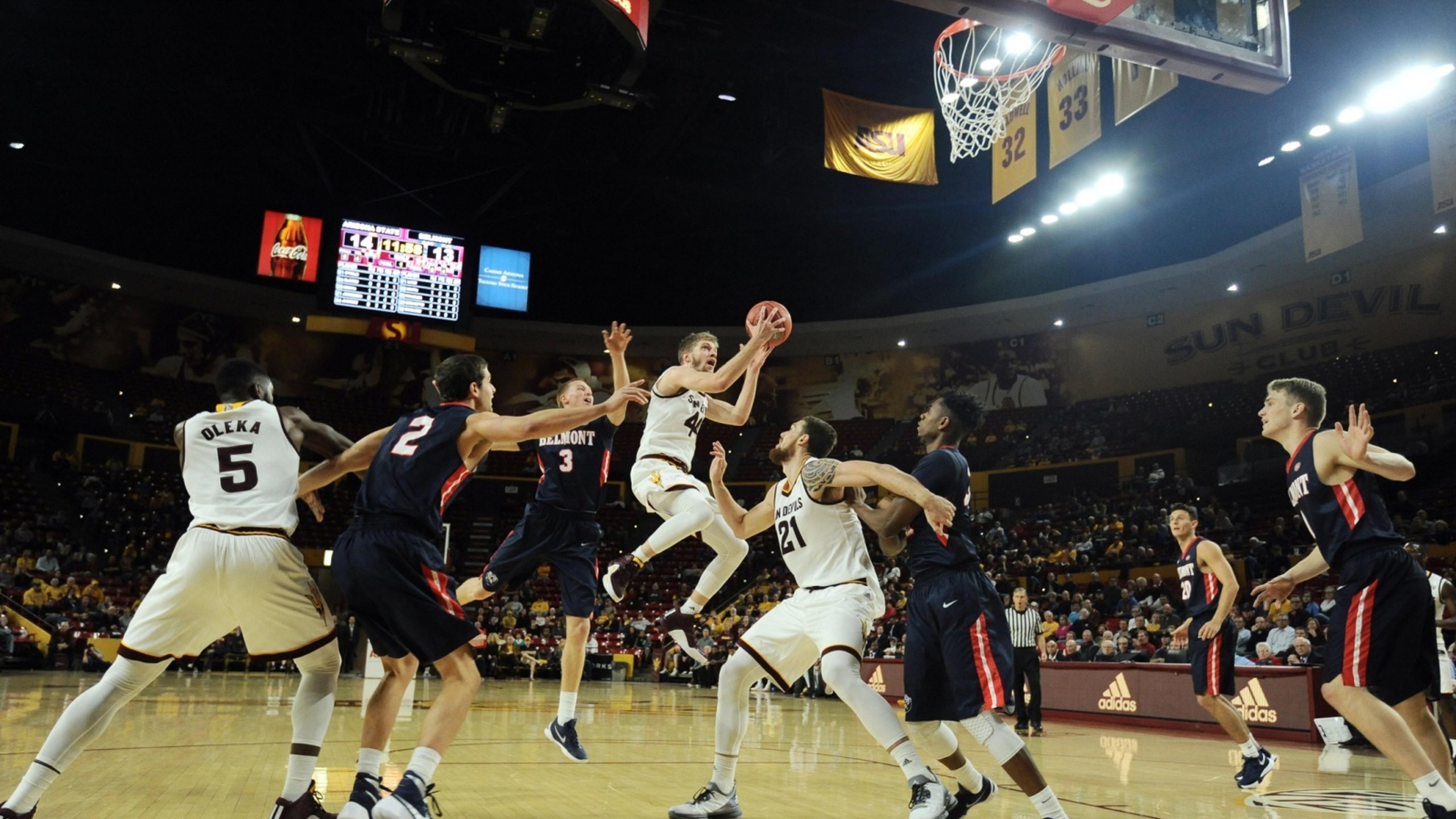 Sun Devils bounce back to beat Belmont behind Blake's 22
BY foxsports • November 17, 2015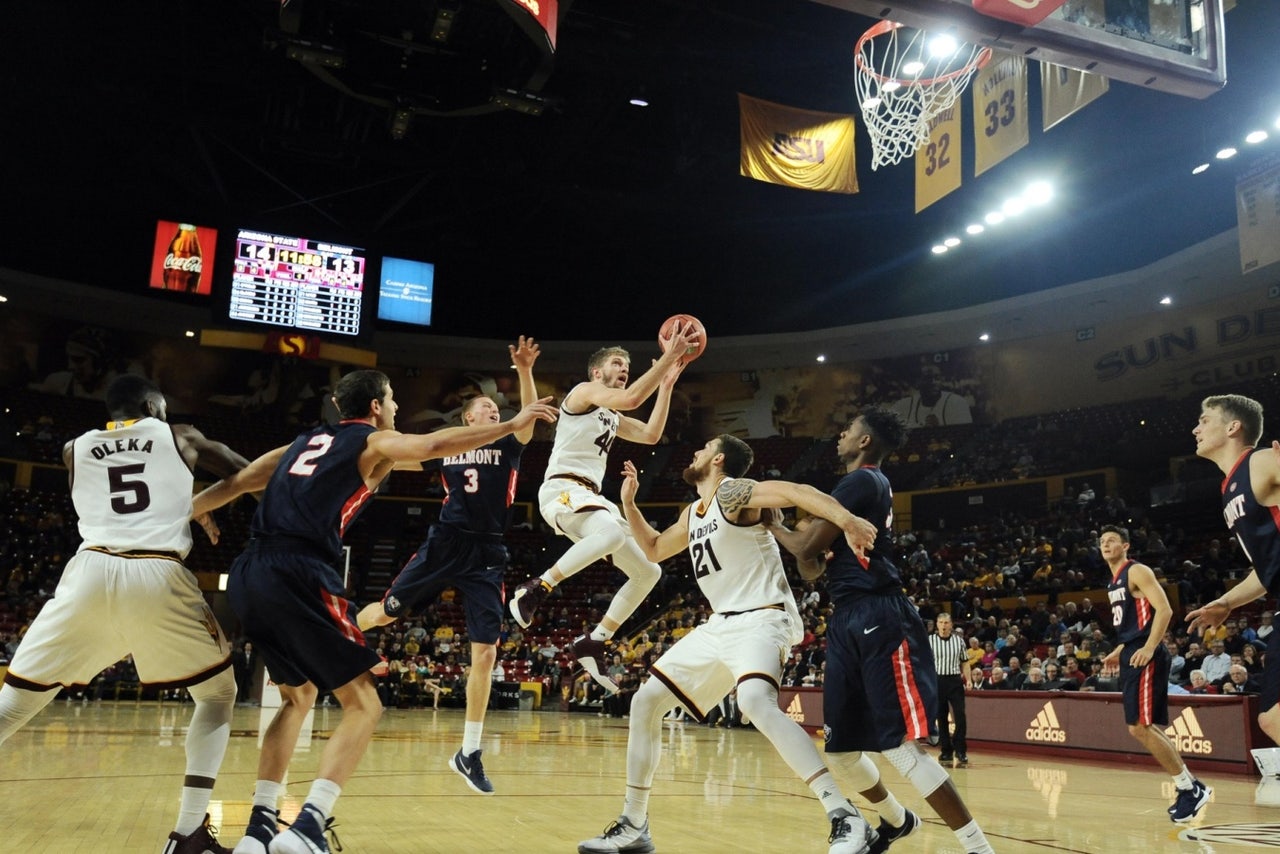 TEMPE, Ariz. -- Gerry Blakes, on the day he turned 22 years old and scored 22 points, was more than happy to get a win for his head coach.
Blakes led four players in double figures as Arizona State defeated Belmont 83-74 for coach Bobby Hurley's first win as head of the Sun Devil basketball program.
"They had, like, a ceremony in our locker room. Gave him a basketball in appreciation for him," Blakes said. "It's the first of many, so we're excited to get this season rolling."
Andre Spight added 15 points and Savon Goodman had 13 points, 12 rebounds and five blocked shots as the Sun Devils (1-1) lost a 10-point first-half lead but rallied and held on after trailing early in the second half.
Belmont (1-1), an NCAA tournament team in four of the past five seasons, got 17 points, eight rebounds and five assists from guard Austin Luke, who was held to four points in the second half. Craig Bradshaw added 12 points.
Hurley, the former Duke star point guard hired last April after leading Buffalo to the NCAA tournament, made the win more about his players. The Sun Devils fell to Sacramento State at home last Friday in the season opener and Hurley put the team through a long film session.
"Because I've won a number of games before, I don't feel like this is the first time," Hurley said. "But certainly here, it's special with this group. Even for our season, moreso than me personally, to have to live for 48 hours with the results of Friday night and to be able to respond and beat a good team here, I'm proud of the group for doing that."
Kodi Justice knocked down a pair of key 3-pointers at the 6:37 and 4:02 marks of the second half, the second one giving ASU a 69-61 lead it would not relinquish.
Belmont cut the ASU lead to 69-68 on a pair of Evan Bradds free throws, but the Sun Devils scored the next eight points including a basket by Blakes with 1:22 left for a 75-68 lead.
Blakes added eight rebounds.
The Bruins turned a 10-point deficit with three minutes left in the first half into a 44-40 lead a few minutes into the second half, but couldn't keep the momentum.
"They deserved to win," Belmont coach Rick Byrd said of the Sun Devils. "For the most part of the 40 minutes they did a lot of good things. They were good defensively and made good decisions with the ball."
Neither team started the game shooting the ball well. The largest lead for either team over the first 10 minutes was four points.
Luke had the hot hand early with 11 points on 4-of-4 shooting including a pair of 3-pointers before he was given a rest. But Belmont went more than three minutes of the latter part of the first half without a point, and a pair of free throws by Blakes gave the Sun Devils their largest lead of the half, 36-26, with three minutes left.
Arizona State didn't score another point before halftime, and a missed steal attempt on one end by Spight freed Luke to dribble inside the paint at the other end, where he floated in a short jumper to cut the lead to 36-30.
Blakes punctuated the win with a dunk in the closing seconds. He also took it as a challenge to guard Bradshaw, the preseason Ohio Valley Conference player of the year. "I really took that personal on my birthday. I felt like I should have the most swag for the day," Blakes said with a smile. "But on a serious note, I just felt I had to play great defense."
Arizona State: Hurley rang a large brass victory bell at conclusion of the game, a victory tradition. ... The Sun Devils won the rebounding battle 45-31.... This was the second time the two teams have met, with ASU winning 92-44 in Tempe in 2000.
Belmont's home opener is Wednesday against Western Kentucky.
Arizona State hosts Kennesaw State on Wednesday.
---
---