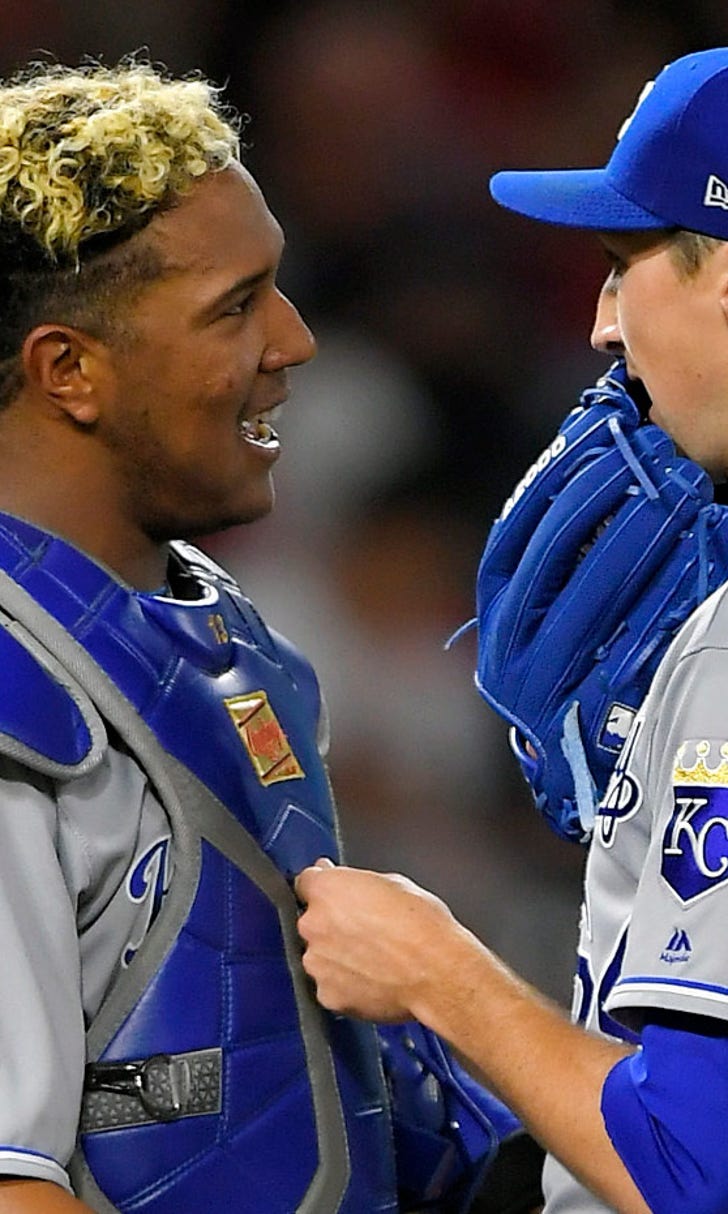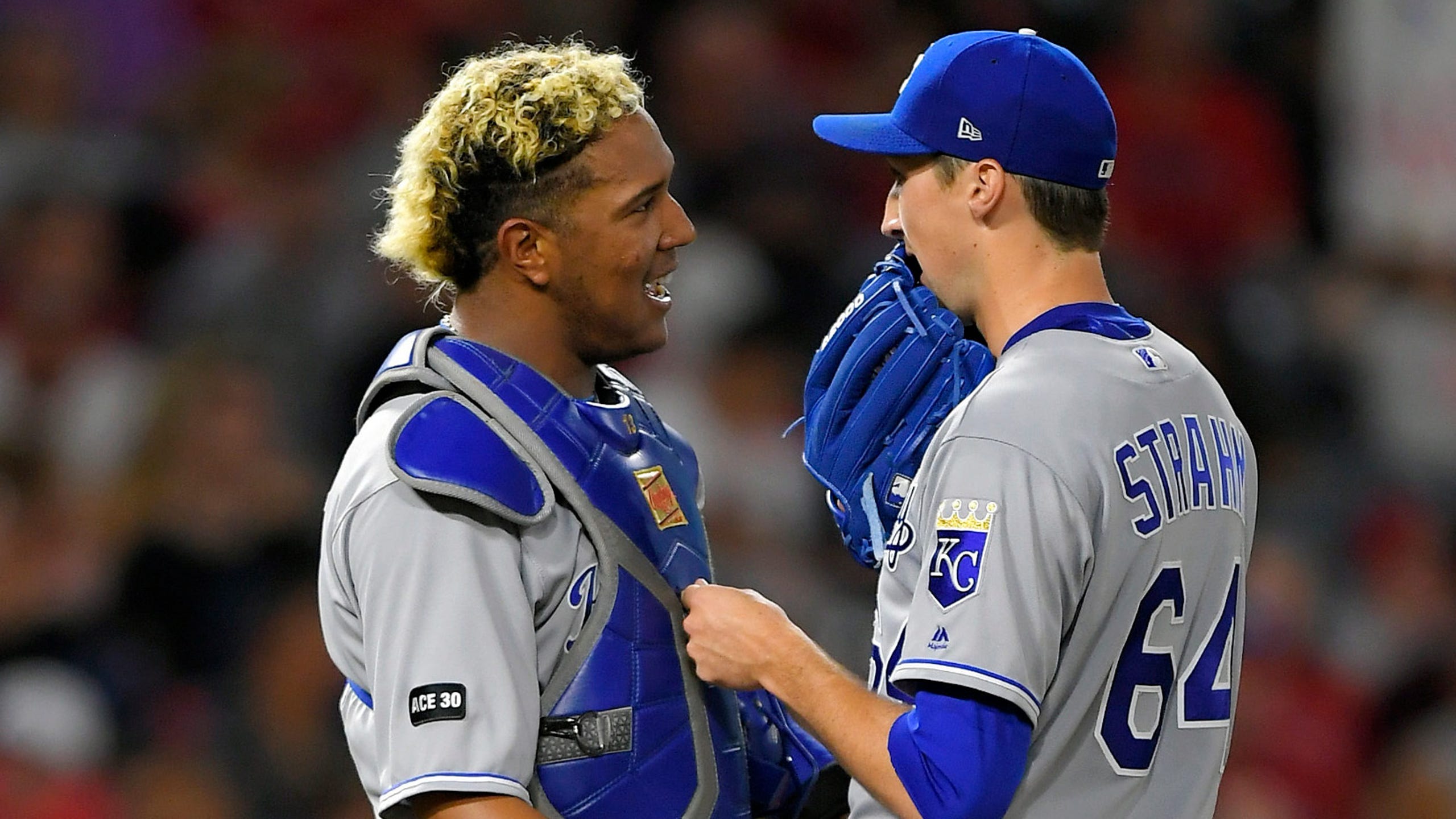 Strahm pitches Royals past Angels 7-2 in first MLB start
June 16, 2017
ANAHEIM, Calif. -- A trip to California was all the Kansas City Royals needed to get their offense in gear.

Lorenzo Cain and Alex Gordon hit solo home runs and the Royals picked up their fifth consecutive victory, beating the Los Angeles Angels 7-2 on Thursday night.

The Royals have now scored at least seven runs in each of their last five games, marking only the third such streak in franchise history. The feat was previously accomplished May 25-June 1, 1978 and Aug. 9-12 1979.

The streaking Royals have been getting it done with power, clubbing 14 homers in this unbeaten stretch that began in San Diego, continued in San Francisco and has carried back down to Orange County.

"The offense is just rolling right now," Gordon said. "It started in San Diego. As an offense, it kind of clicks, and everyone just, you know, tags along."

Cain hit a line drive that barely cleared the wall in left-center in the third inning, and Gordon followed it up with a shot to center in the fourth, his third of the year.

For Gordon, who went 3 for 5 and came up a triple shy of hitting for the cycle, it was especially gratifying. He arrived in California hitting .174 but is 8 for 22 on the trip.

"You try to keep your head up," Gordon said. "Obviously, you are going to go through struggles in baseball sometimes, and just try to find a way out of it. Hopefully, it will keep coming."

That was more than enough support for Matt Strahm (2-3), who won his first career start after making 41 appearances as a reliever over the past two seasons. Strahm went five innings, striking out three while giving up three hits and one walk.

"It's the first time we've seen him in the windup this year, but he commanded his pitches well," Royals manager Ned Yost said.

Ricky Nolasco (2-8) dropped his sixth straight start, giving up five runs and 10 hits in six innings, while the Angels failed to pick up their first three-game winning streak since Mike Trout's thumb injury.

Kole Calhoun put the Angels ahead 1-0 in the first, scoring an unearned run when Albert Pujols singled to right after initially reaching second on Gordon's error, but the Royals responded with two runs in the second after a throwing error by Calhoun.

Danny Espinosa of the Angels lost a home run in the fifth when the video replay showed his shot into the corner in left had curled out of play.

The Angels did finally notch their second run an inning later when Yunel Escobar picked up an RBI, only for the Royals to respond with three in the seventh. Mike Moustakas had two RBIs, giving him 16 in 13 games this month.

Moustakas' eruption is indicative of a team-wide trend. The Royals have scored 42 runs in their last five games.


Strahm: "I just knew I wanted to be as efficient as possible with those 70 pitches and it carried me into the fifth. Very fortunate." pic.twitter.com/59u2qQB73T

— FOX Sports KC (@FSKansasCity) June 16, 2017



EASY ADJUSTMENT

Considering Strahm's last start happened in Double-A last July, the second-year left-hander had no apparent issues transitioning from reliever to the first pitcher up.

"I don't ever feel like I conserve anything," Strahm said. "Competing every pitch and just try to be as effective as possible with every pitch."

The plan was to have Strahm throw between 65 and 70 pitches, and he finished at 68. Pitching coach Dave Eiland wanted to have Strahm get up to throw four times, but Yost felt confident in letting him get back up for the fifth.

"Now, hopefully, 85 pitches next time," Strahm said.

TRAINER'S ROOM

Royals: DH Brandon Moss was back in the starting lineup after being limited to three at-bats as a pinch-hitter during interleague play at San Diego and San Francisco. Moss went 1 for 5.

Angels: RHP Matt Shoemaker's status for his next scheduled start is uncertain after leaving Wednesday's game against the Yankees with tightness in his forearm. "Historically, he has had these before and they seem like they go away in fairly short order," manager Mike Scioscia said. "How many days that is remains to be seen.". Scioscia believes RHP Cam Bedrosian (groin) is "very close" to returning. Bedrosian pitched 2/3 of an inning in a rehab assignment with the Angels' Single-A affiliate Thursday.

SIGNED, SEALED, STARTING SOON

The Angels have signed first-round draft pick Jordon Adell and the No. 10 overall selection will report to the club's rookie ball affiliate in Arizona next Wednesday.

"For me, it was a no-brainer," Adell said. "This organization believed in me and it was easy. I didn't want to waste any time. I wanted to get right to work."

Adell led the nation with 25 home runs last season for Ballard High School in Louisville, Kentucky.

UP NEXT

Royals: RHP Ian Kennedy (0-6) has given up at least four runs in each of his last six starts. The Huntington Beach native and former USC star is unlikely to find any home-cooking against the Angels, with an 0-4 record in six career starts.

Angels: RHP Jesse Chavez (5-6) has allowed a home run in 11 straight appearances to set a franchise record. Chavez dropped his only previous start against the Royals in 2015.
---
---