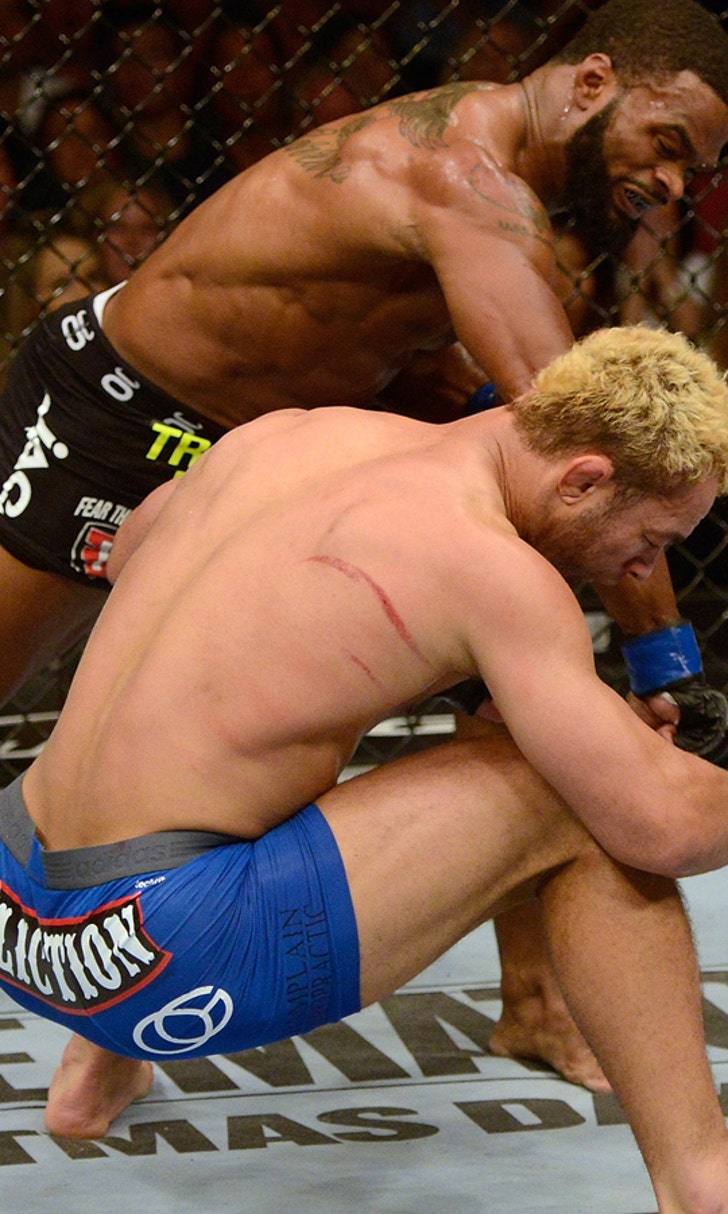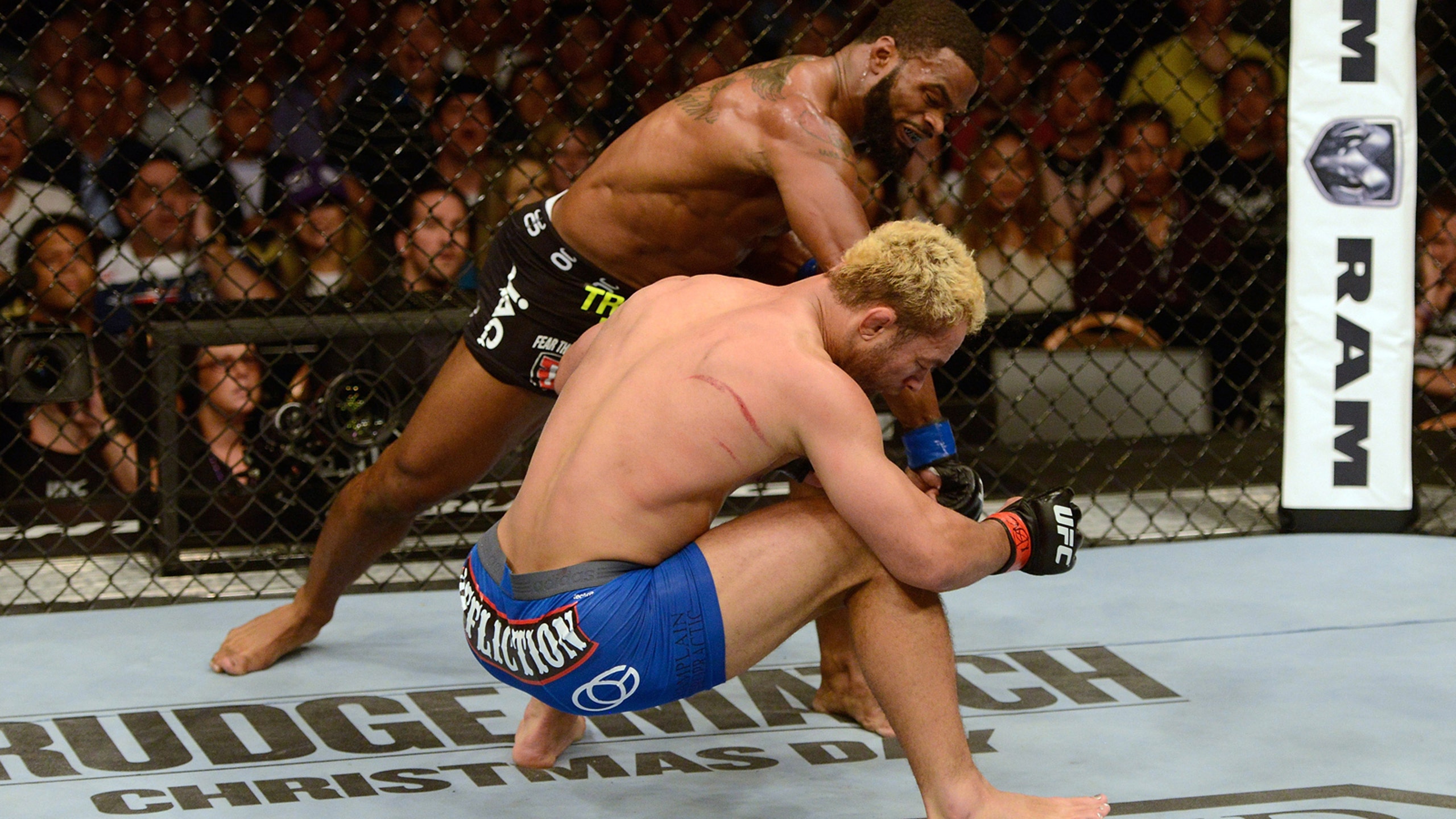 St. Louis fighter Woodley says 'this is my time' heading into UFC 171
BY foxsports • March 14, 2014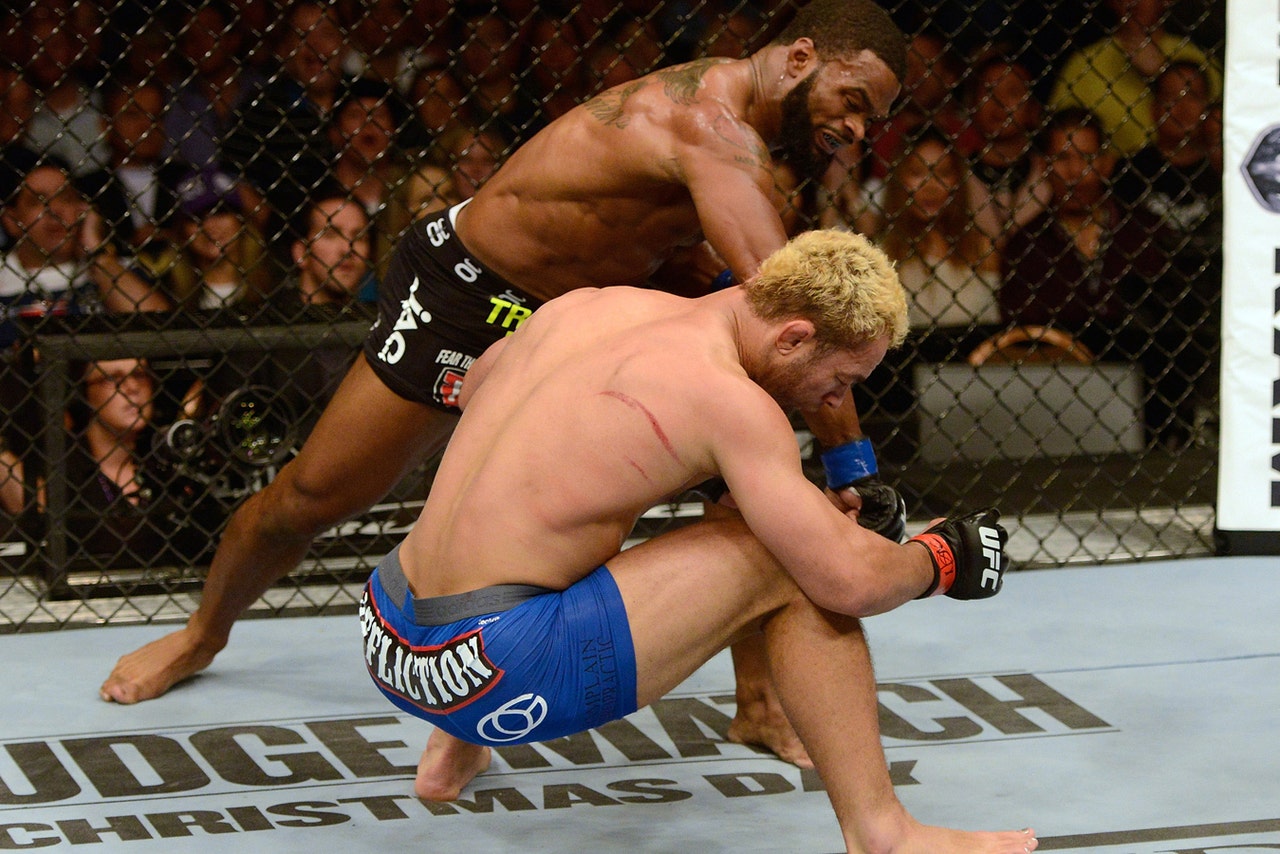 St. Louis UFC welterweight Tyron Woodley's star is on the rise.
In less than a year since making his UFC debut, Woodley has reached the co-main event of Saturday night's UFC 171 in Dallas, where he will take on veteran Carlos Condit (pay-per-view, sometime after 9 p.m. CT).
Beat Condit and Woodley could rise right to the top of the welterweight division. Though UFC president Dana White told reporters Thursday that "nothing is guaranteed," all signs point to the Woodley-Condit winner earning a shot at the title against the victor of Saturday night's main event matching Johny Hendricks and Robbie Lawler.
Woodley sounds as confident about beating Condit as he does about getting his chance at a championship.
"This is my time," Woodley says.
It's difficult to argue. Woodley is coming off an impressive knockout of Josh Koscheck in November. Woodley put down Koscheck with a monster right hook late in the first round that earned knockout-of-the-night honors.
Outside of the octagon, Woodley has been just as impressive in promoting himself and his rising chances. When Nick Diaz, the No. 9-ranked welterweight, turned down the offer to fight Condit in early December, Woodley took to social media -- and his cellphone -- to push for his opportunity. White said he was getting 15 texts a day from Woodley, and the UFC prez was only half-joking.
Woodley's persistence paid off. By Christmas, he was on the card.
He's also been busy building his fan base, twice being asked to take over the UFC's Twitter handle during UFC shows and also hosting a live chat.
"UFC has done a very good job of introducing me to the fans and helping me increase my following," says Woodley, who is active on Twitter (@TWoodley) on his own.
Woodley will enter as the underdog against Condit, the No. 2-ranked welterweight and one of the few fighters who ever has knocked down Georges St-Pierre, the vacated welterweight champion. Though Woodley's background is in wrestling, his boxing skills have accelerated his rise in UFC. He knows he will need to grapple and punch to beat Condit.
"I'm focusing on winning every position in the fight, and that's going to put me in position to be dominant," Woodley says. "If he leans it or I have a clean shot, I will try to knock him out, I will try to submit him."
Except for about a week that he trained in Florida, Woodley held his training camp in his hometown. Besides the accessibility it provided his support staff, he was able to stay close to family. He didn't live at home much of the time, but would see his wife and two boys at his ATT Evolution gym in Rock Hill and they were nearby when he needed them.
Woodley admits he could have used two or three more fights before climbing into this position, but he's not about being patient. Unlike some UFC fighters, Woodley is not one to dodge anybody.
"Some guys forget we're in the fight business and our job is to go out there and fight," he said. "I stood up and wanted to fight the No. 2 guy in the world when nobody else was stepping up to the plate. Doing so put me in a great position to fight him and in victory, it puts me in position to fight for a world title."
And his rising star really would soar.
You can follow Stan McNeal on Twitter at @stanmcneal or email him at stanmcneal@gmail.com.
---