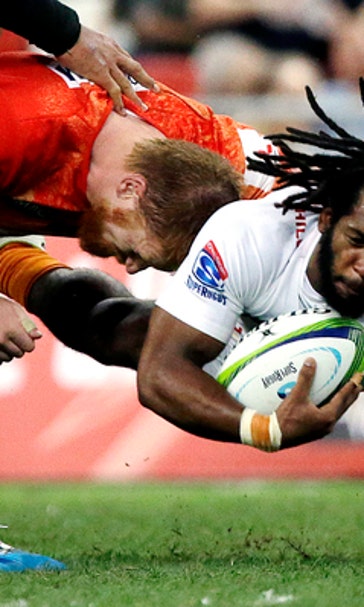 South Africa confirms Cheetahs, Kings axed from Super Rugby
BY AP • July 7, 2017
CAPE TOWN, South Africa (AP) The South African rugby union confirmed Friday what was already widely expected as it axed the Cheetahs and Southern Kings from Super Rugby from next season.
SA Rugby said the two teams reached agreements with the national union on their Super Rugby exits and will explore other ''international competition opportunities,'' the biggest hint yet that they will join the Pro 12 competition in Europe.
Super Rugby organizer SANZAAR resolved this year to cut the southern hemisphere competition - which features teams from five countries and three continents - by three teams to 15 to help make it more financially viable.
Two teams from South Africa and one from Australia had to go, with SANZAAR leaving the national unions to decide which ones to cut. The Australian Rugby Union hasn't yet said which one out of the Perth-based Western Force and Melbourne Rebels will lose its Super Rugby place.
Controversially, SANZAAR opted to retain the Japan-based Sunwolves in Super Rugby despite that team being the biggest struggler since it joined in 2016, a decision based on expanding rugby into new territories rather than increasing the quality of rugby in the tournament.
The bottom-placed Sunwolves lost 94-7 to South Africa's Lions last weekend, the biggest losing margin in Super Rugby for a decade.
However, SANZAAR would have been mindful that Japan is hosting the next Rugby World Cup in 2019, the first time rugby's biggest event has been held outside the sport's traditional homes in Europe, Australasia and South Africa.
The Cheetahs, based in Bloemfontein, and the Kings, based in Port Elizabeth, were always expected to lose out against South Africa's four other Super Rugby participants, which are the country's biggest teams and play out of the major cities of Johannesburg, Pretoria, Cape Town and Durban.
Officials from both the Kings and the Cheetahs said they were now looking at other competitions, amid reports that they are about to join the Pro 12, a tournament made up of Irish, Welsh, Scottish, and Italian teams.
The Cheetahs board ''is extremely positive about the prospect of appearing in an alternative international competition,'' Cheetahs chief executive Harold Verster said. ''It will be an exciting challenge for our players, supporters and commercial partners and will be the start of a new chapter for rugby both in our region and in South Africa.''
Andre Rademan, president of the Eastern Province Rugby Union, which oversees the Kings, said: ''We have enjoyed Super Rugby but the chance to test ourselves against different opposition in different conditions is a mouth-watering one. We are therefore not opposed to joining new competitions.''
The decision to lose three teams is a blow to Super Rugby, which was expanded by three teams only last year following a new television deal.
The southern hemisphere tournament has become unwieldy, difficult for SANZAAR to manage and hard for fans to follow. It has constantly changed its format to deal with the large distances teams from South Africa, Australia, New Zealand, and now Argentina and Japan, have to travel to play each other.
SANZAAR announced in March that they would lose the three teams and restructure Super Rugby yet again from 2018 after a ''comprehensive assessment of the economic and sporting environment.''
---