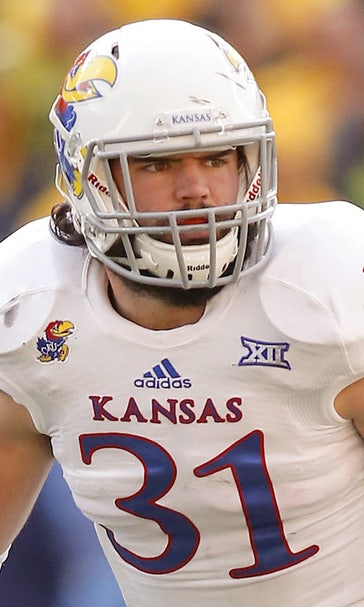 Some NFL scouts -- not all -- are getting wise to ex-KU LB Heeney's upside
BY foxsports • March 25, 2015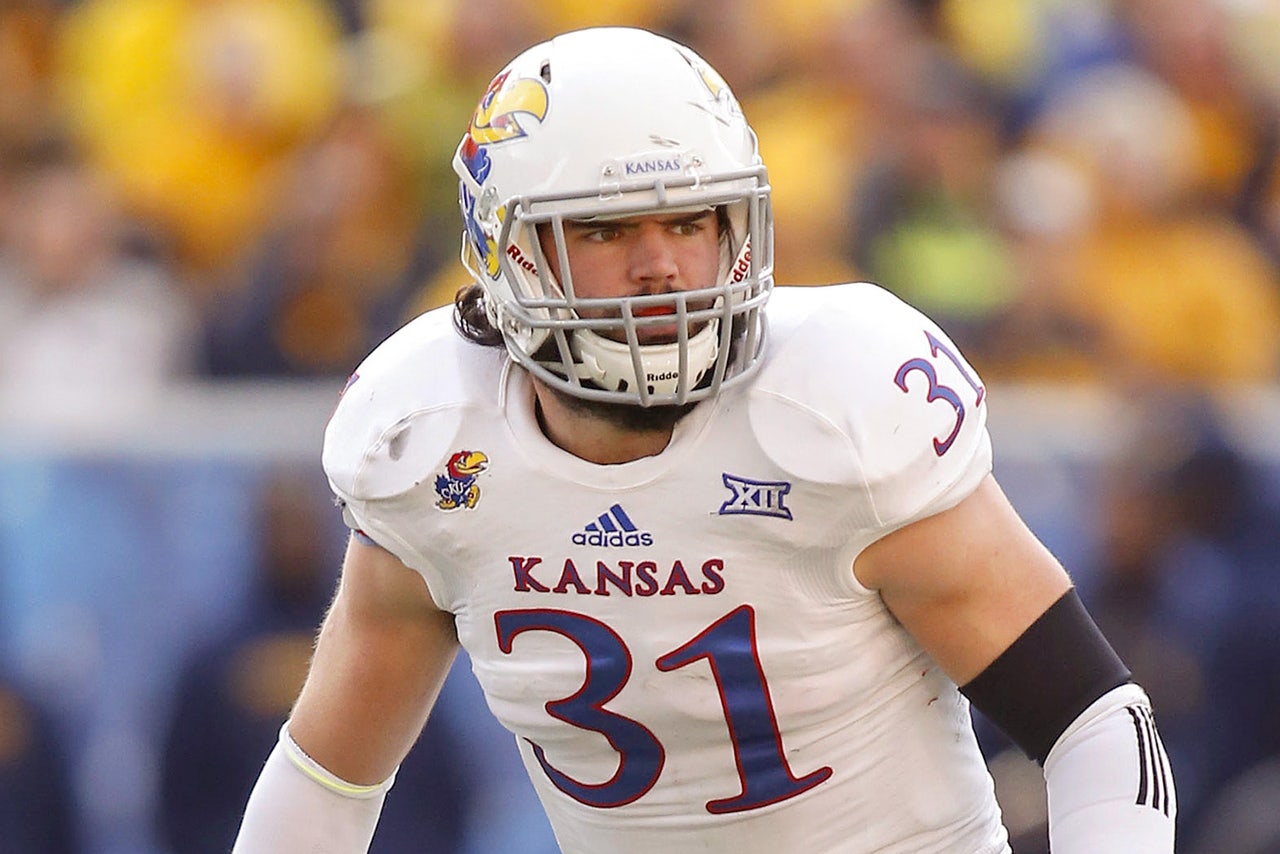 KANSAS CITY, Mo. -- Ben Heeney doesn't just read a quarterback's eyes. Dude reads his own reviews, too.
Twitter? Totally. Google? Guilty.
"Yeah, a little bit," the former Kansas linebacker and NFL prospect recently told FOXSportsKansasCity.com. "You know, it's probably not good that I read that stuff. But it adds fuel to my fire, so it's all good."
Well, most of it's good, at least. Although, to be honest, reviews for the ex-Jayhawks defender among pro scouts over the last three months have been a little all over the place. Which, ironically enough, also happens to be one of the best parts about Heeney's game.
"I'm not saying he doesn't have instincts or work hard," one NFC scout told NFL.com's Lance Zierlein, "but he guesses way too much. He's always around the ball, but he's also missing too many tackles to play in our league."
The tape don't lie. But the stopwatch doesn't, either, and the first-team All-Big 12 'backer has pretty much crushed any speed or agility test thrown his direction. The NFL is a short-passing, hashmark-to-hashmark game, now more than ever. And few inside linebackers in the 2015 draft pool cover short spaces in shorter times than Heeney, whose 4.59 40-yard dash at the NFL Scouting Combine ranked fifth best among all linebackers, and whose 20-yard shuttle (4.00), 60-yard shuttle (11.06) and three-cone drill (6.68) times all topped the position group.
The Hutchinson, Kan., native led the NCAA last fall in solo tackles per contest (7.13), including eight against pass-happy Baylor, 10 against Oklahoma State and a whopping 17 against Texas Tech, the pass-happiest crew of them all. It wasn't Heeney's fault KU went 6-18 over the past two autumns, unless you want to blame the guy somehow for not playing quarterback, too.
"That (short passing) is something that I'm used to," Heeney said. "The Big 12 is definitely a passing league. And you know, I just think that I can stop the run, I can stop the pass. I'm pretty confident in my abilities."
Scouts, of course, like to poke tiny little holes in that confidence, detailing every little flaw. Heeney is a physical fireplug -- 6-foot, 231 pounds -- in every sense, a compact package, which means getting docked for short arms and a smaller frame. He reportedly logged 19 bench reps Wednesday at KU's Pro Day, the same number at the Combine.
While that's a tick below the man to whom he's often compared -- the just-retired former 49ers linebacker Chris Borland did 27 last spring -- Heeney's vertical (33 inches; Borland jumped 31) and speed times blow the ex-Wisconsin standout's 2014 spring totals in the shuttle (4.27) and three-cone (7.18) drills completely out of the water. And, now that you mention it, Heeney's numbers kick the snot out of Luke Kuechly's 2012 shuttle (4.12) and three-cone (6.92) figures, too.
NFLDraftScout.com projects the former Jayhawk as the sixth-best prospect among inside 'backers, and likely a fourth-round pick. Borland was tapped in the third round by San Francisco in the 2014 draft, and wound up collecting 108 tackles, a sack, four pass deflections and two interceptions in 14 contests.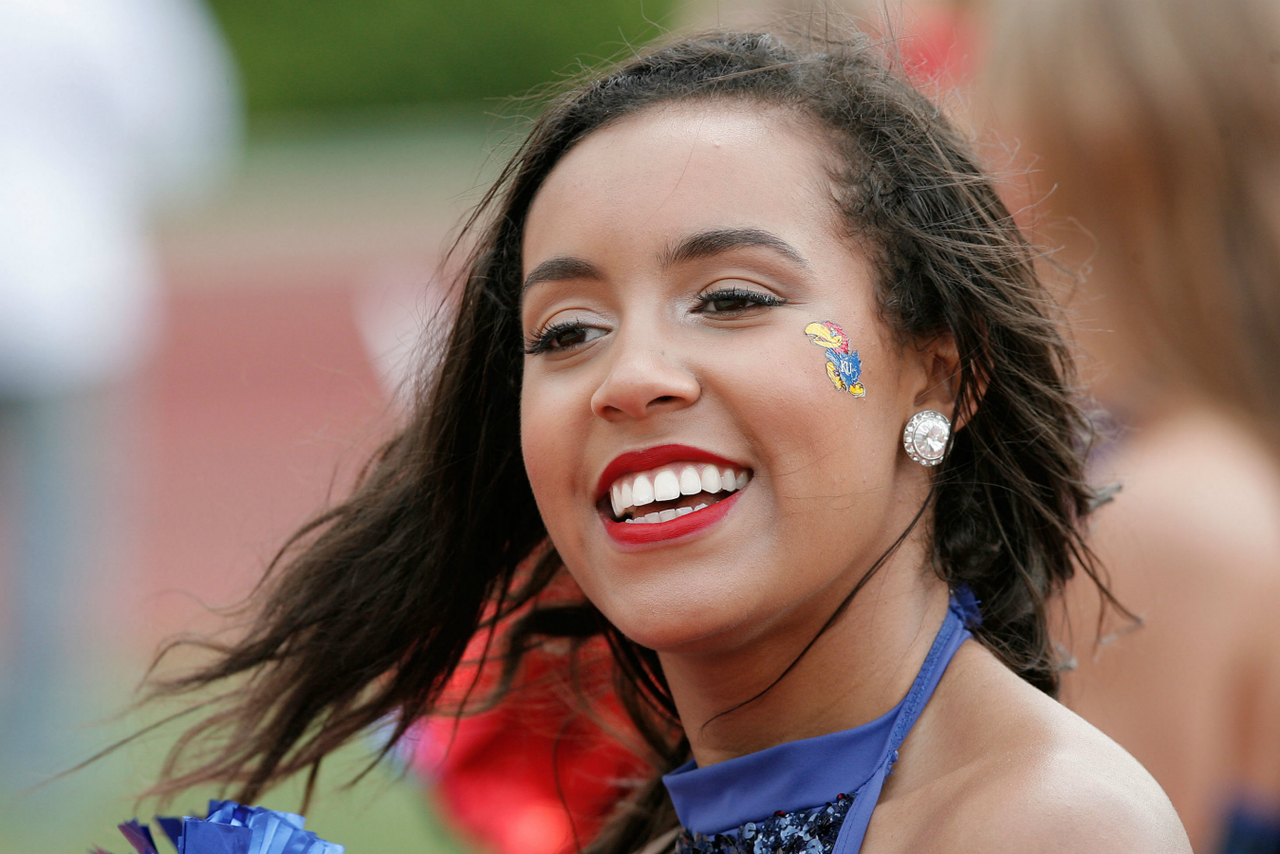 Lookin' good! Check out our gallery of Big 12 football cheerleaders.
"I try to make a lot of plays, just like the way (Kuechly) plays," Heeney said of the Carolina Panthers Pro Bowler. "I like Chris Borland's (game), too. Coach (Charlie) Weis, when he was my coach, he always compared me to (former Pro Bowler) Zach Thomas."
Same frame (5-11, 242). Same mindset, too.
"'Would you compare yourself to a dog or a cat?' That was one of the tests we had to take (for teams)," Heeney chuckled. "That was a weird one.
"I said, 'Dog.' For sure. First of all, I'm a dog person. I like dogs. I've never, ever had a cat. Not much of a cat guy. I don't know. I just like dogs better. I didn't understand the question. Something like a house cat versus, like, a pet dog? If they were talking about a lion or something, I'd take the cat."
Can't be worse than what they say on Twitter, though. Right?
"A lot of it, you just have to take it with a grain of salt," Heeney said. "Because a lot of people don't know what they're talking about."
But the more the evaluators see, the more they tend to like. Heeney was tapped as a big-time sleeper coming out of workouts for the East-West Shrine Game, then again after the Scouting Combine, where special teams potential -- the key for any tackler drafted after the third round, if they want to stick -- is checked in the "plus" column.
"I can do anything," Heeney said. "Punt team, punt coverage.... I played gunner on punt team my freshman year (at KU). I've been the headhunter on kickoffs. Most of the time, I just run to the ball."
And the rest, more often than not, tends to take care of itself.
You can follow Sean Keeler on Twitter at @SeanKeeler or email him at seanmkeeler@gmail.com.
---