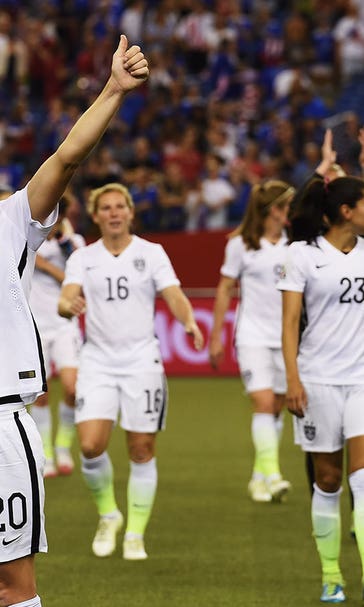 Soccer is the Best Women's Sport in the World
July 3, 2015

Of all the sports in the world that women play (which, as far as I know, is all of them, even that crazy Scottish deal where they throw telephone poles) the top three have to be Mixed Martial Arts (MMA), basketball and soccer.
Here's my criteria:
1. Ability to make a living playing the sport
2. The appeal of the sport for the average sports fan
3. Overall profile of the game
Basketball is in the conversation because the pro league is the most successful women's league in the world. Salaries are a fraction of what they are for the men's game (less than six figures on average, not including sponsorships,) but as a woman, you have the option in basketball to be a professional athlete, and take it from someone who does something he loves for a living--that is a good start. It also gives ambitious would-be athletes from around the country something to shoot for.
You also have the opportunity to play in front of twos or even threes of thousands of fans (average attendance for WNBA games in 2014 was a respectable 7,578). That's the highest of all women's leagues, falling just behind the National Lacrosse League (9,426) and the Arena Football League (8,473), and just above the second-tier North American Soccer League (5,501).
Unfortunately, the lack of dunking in women's basketball makes watching it feel about the same as watching a censored version of Game of Thrones. Fun, but just not the same. WNBA athletes are tremendous- -gifted, quick, confident and coordinated, but there's no game above the rim, and that hurts its appeal for most fans.
MMA is a close second to soccer. Of all the women's sports, I believe MMA would have the most appeal to the untrained fan. I'm sure there are thousands of prudes around the country who can't get used to the idea of a woman kicking the crap out of another woman, but if you've ever seen Ronda Rousey work, you've seen how the female version of the sport can be just as beautiful a combination of violence of action, technical skill and artistry as the men. Female MMA has great personalities (which is what we love in our fisticuffers after all) in Rousey, Cristiane "Cyborg" Justino, and up-and-comers like Paige VanZant, who recently landed a high-profile sponsorship deal with Reebok.
Women's MMA is also just fun to watch. It's high-paced, the fights are usually pretty well-matched, and the parity in skill level in most contests makes them exciting, as there's an anything-can-happen feeling reminiscent of early MMA before defenses were perfected and when fighters could get by on heart and a refusal to quit.
The problem with high level women's MMA is similar to basketball--it's missing the octagon's version of above the rim play, with an almost complete lack of knockouts. As fun as it's going to be to watch Rousey tap out another ten in a row, it's not going to be as edge-of-your-seat exciting as a mid-grade heavyweight battle between guys like Stipe Miocic, or Mark Hunt, or Roy Nelson, which could literally end at any second. If you look at lower levels of women's MMA, like the all-women Invicta fight promotion, you'll find knockouts, but in the UFC, not so much. This isn't so much a male/female thing as it is a weight class thing, as the same lack of firepower plagues the lighter men's divisions too, with one of the best pound-for-pound fighters ever in Demetrious "Mighty Mouse" Johnson barely earning his pay-per-view status as champion. The little guys and gals just aren't (usually) as fun to watch for the untrained fans.
The other reason women's MMA isn't the top of the list is that it's still "only MMA." Despite UFC president Dana White's assertion that his sport will be the biggest in the world one day, it's not yet. In fact, I can't even get them to put the fights on at my favorite restaurant's bar because "It's too violent, and some of our family customers might be turned off." As fun as the fights are to watch, they're still medium-sized potatoes in the American sports landscape. Rousey's the sole female to really enter the male sports conscious, and VanZant might be famous one day--she's got the "it factor" and like Rousey is hot enough to look great in sponsor's magazine ads--but the relative obscurity (and size) of the sport keeps it from being at the top of the heap.
A strong case could be made for volleyball to be included here. It gets huge bonus points for being so female-centric. The women own the sport, just like field hockey or gymnastics, which is awesome. I love showing my daughters examples of women being at the top of their field. The women's game is fun to watch too, and there's a decent pro circuit, with even some well-known personalities (at least around Olympics time.) But its relative obscurity is a drawback in the best-sports list. Not enough people are passionate about the sport period outside of the Olympics for it to matter much.
Tennis would definitely be on the list if I'd gone with a top five, but it has the same walled-off fan base (although, admittedly, much larger than volleyball.) Aside from a few highlights for the big matches, no one really cares about tennis outside of tennis fans. Wimbledon is nice, but nowhere near as big as the WWC. And if one of the Williams sisters isn't playing, it might as well not be happening for TV audiences.
There's also golf. Its biggest stars are well known and well paid. But come on, you guys, golf is just ridiculous as a spectator sport. You can put it on your list, but it's not making mine, because if you're not a huge golf fan, it is unwatchable in any form, male or female.
The Women's World Cup alone would put soccer at the top of the list. Is there a bigger female sporting event in the world? (No.) The 2011 version had a total attendance of 845,751. That's over 26,000 per match. FIFA reported that they broadcast 5,931 hours of television, with 407.8 million people tuning in at least once. They averaged 13.2 million viewers worldwide per game, with 62.8 million watching the final. With this year's WWC in an American time zone-friendly Canada, an expanded field of 24 teams instead of 16, and high-profile coverage on Fox, viewership is way up. Before the tournament started, the BBC estimated a billion viewers.  Comparatively, WNBA games in 2011 averaged 270,000 viewers.
More context: last year, game 7 of the MLB World Series had 23.5 million viewers. So the biggest, most important major league baseball game all of last year had about a third of the viewers of the WWC final in 2011.
Just like the men's version, the WWC benefits from the national pride factor. The fact that it's only held every four years also ups the importance level. But that's also one reason why it's at the top of the female sports heap--because whether you or FIFA president Sepp Blatter want to admit it (he famously suggested women's soccer could increase its ratings by wearing shorter shorts), once every four years the most important sporting event in the world is a women's tournament.
Women's soccer is also highly entertaining. They have skilled players, like Marta from Brazil or Megan Rapinoe and Tobin Heath for the U.S. There are physical dominators, like Abby Wambach. Admittedly, women's soccer in its league form hasn't taken off in the U.S. Twice since 1999 American professional leagues have folded. The failure has been partly due to poor management, but also chronically low attendance. But there continue to be a few solid career options for women overseas, sponsorship dollars available to women are growing (not fast enough, but they are growing) and national teams often subsidize their players' league incomes.
The reality of women's sports is that they're incredibly hard to build an audience for. But in the lead up to this year's WWC, the series of exhibition matches for the U.S. brought five times as many attendees as 2011. The national team is an established draw. It's not hard to imagine the largest viewership for a female sporting event ever for the final. The team has become so huge that they've started making their jerseys in men's sizes.
Soccer's not for everyone, of course. For every enlightened, gay Muslim taking his kids to the Women's World Cup, there's someone who just doesn't get it. Soccer's too boring, without enough scoring. Or whatever. For those fans, no version of the game is going to be fun. But they're stupid.
The bottom line is that for the rest of us, for the last few weeks, the WWC wasn't just the best women's sport on TV, it was the most important sporting event in the world. Period.
For roughly half of the people on the planet who are too often marginalized in the male-centric sports world, that's something worth celebrating. And for the other half of us too.
Sunday, the U.S. women take on Japan on Fox at 7 Eastern in the final. It's going to break records. Be one of the millions of people around the world who watches, and you'll see that I'm right.
Do you even tweet, bro?
---
---