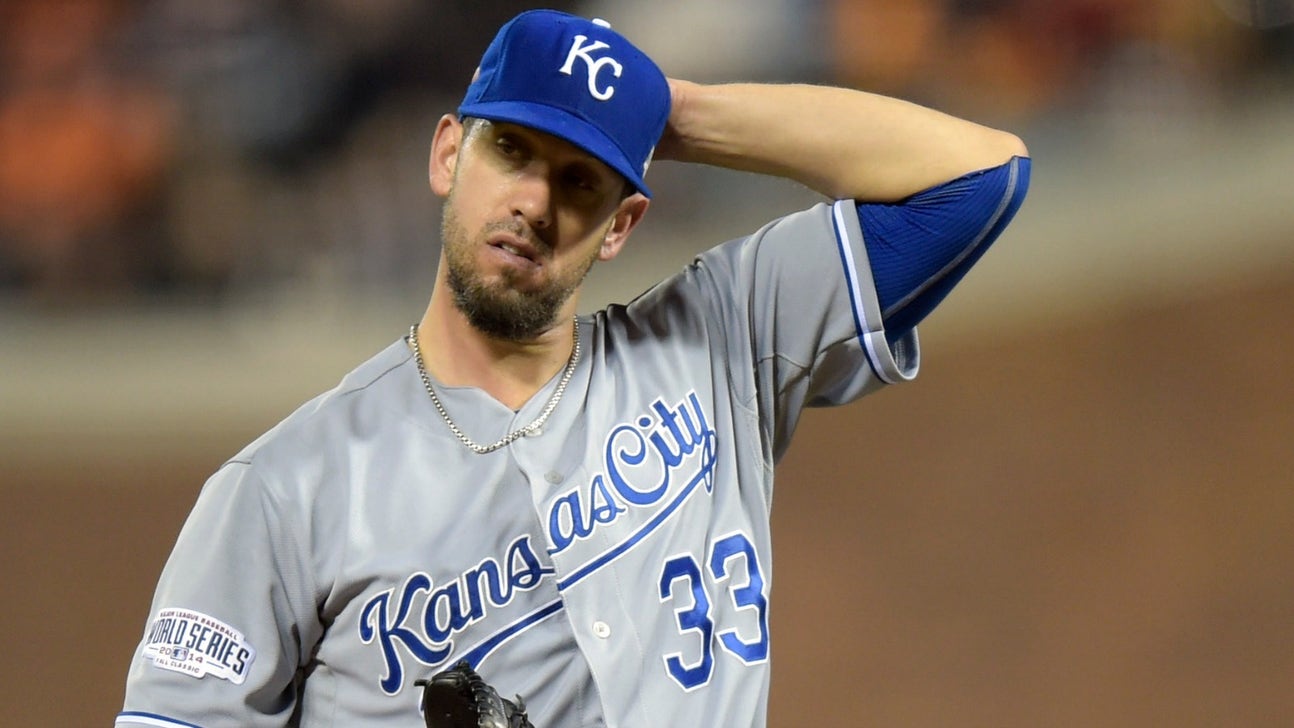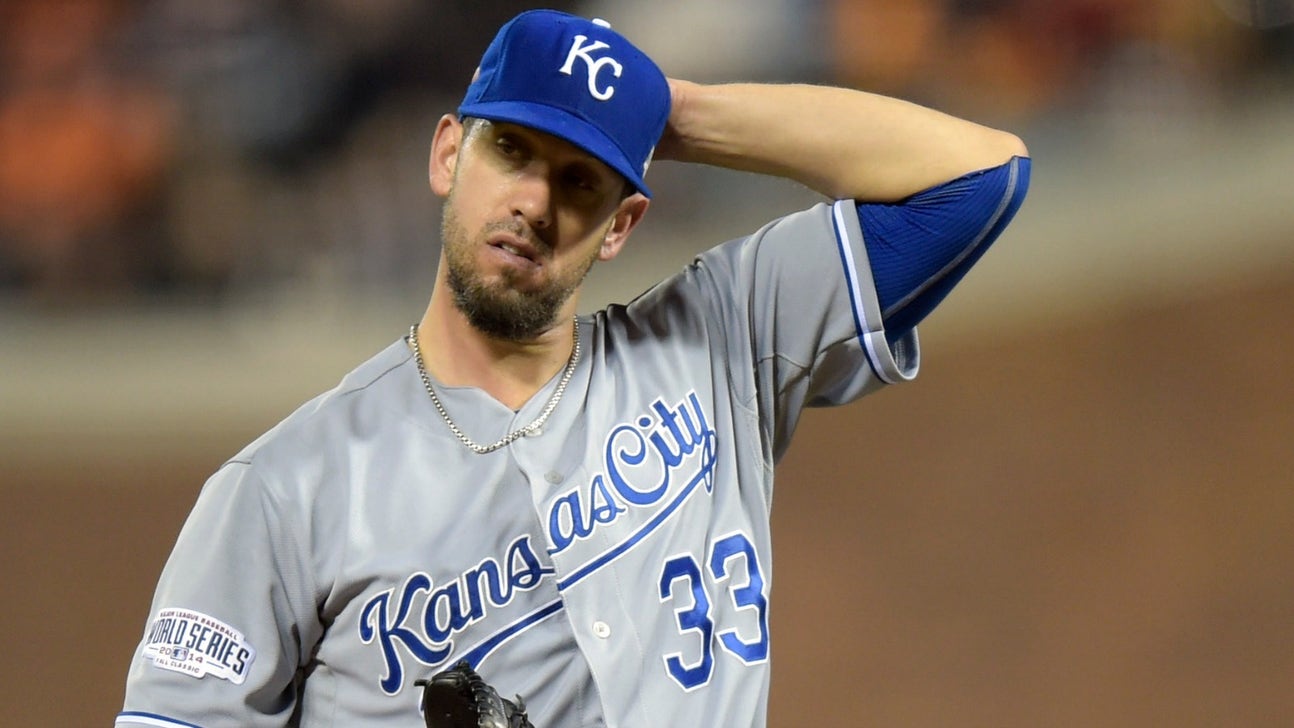 Shields finally comes through in playoffs, but it's not enough against Bumgarner
Published
Oct. 27, 2014 12:12 a.m. ET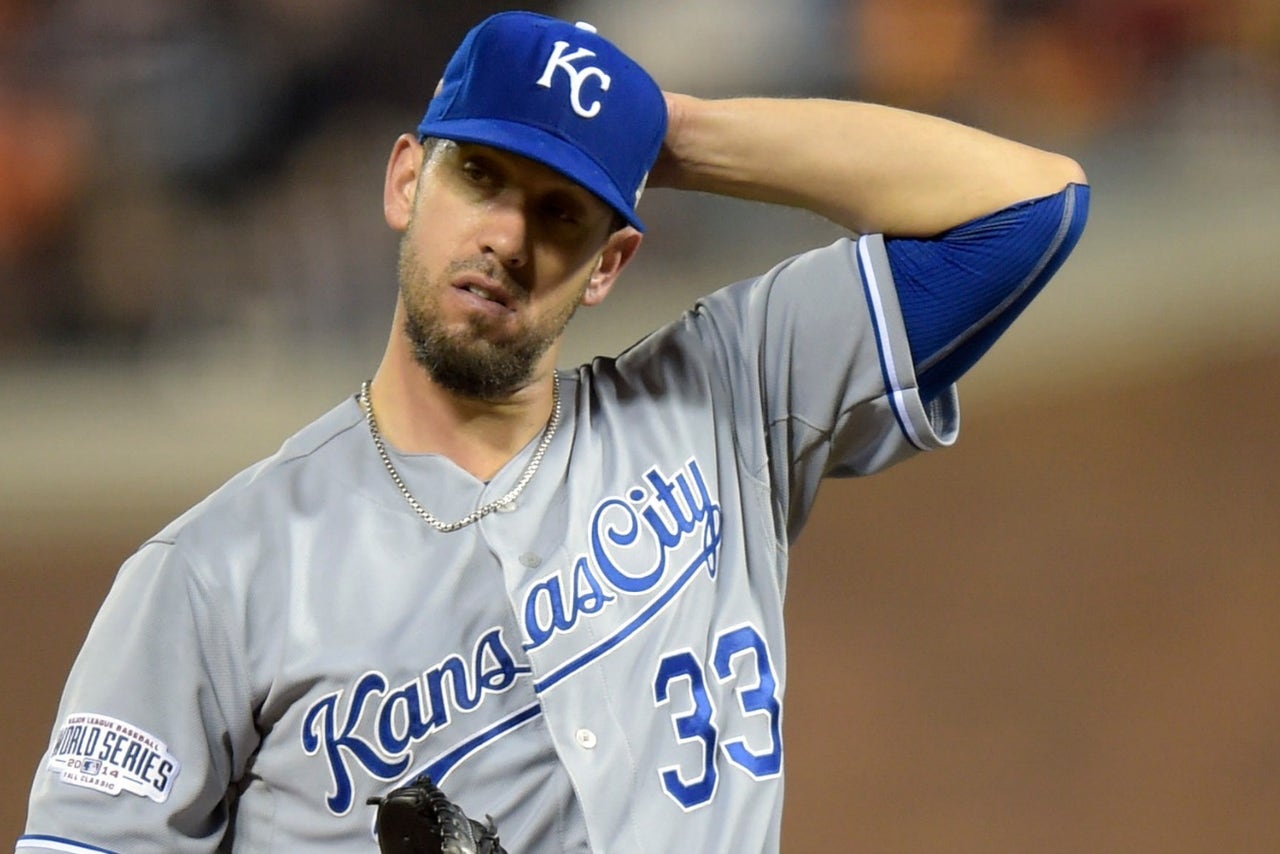 SAN FRANCISCO -- This was the game Royals fans have been waiting for from James Shields all postseason. And Shields responded, in what likely will be his last start in a Royals uniform.
Unfortunately, Shields' counterpart, Madison Bumgarner, was almost unhittable as the Giants cruised to a 5-0 win Sunday over the Royals in Game 5 of the World Series.
The Royals trail the Series, 3-2, heading home for Games 6 and, if necessary, 7.
"You know, I like our matchups coming home," a defiant Shields said after the game. "We got Yordano Ventura and Jeremy Guthrie. We've been down before, we've needed to win games before in September and October, and here we are again.
"We have a lot of character in this room, enough to get it done."
Shields did his part Sunday night. The Royals asked him to keep the game close in hopes of scratching out some runs and then turning the game over to the big three in the bullpen.
Shields checked the Giants on eight hits -- most of them soft hits -- and gave up just two runs. Both runs, in fact, were tainted by shaky defense.
Shields got nicked for a run in the second after Hunter Pence hit a grounder that somehow sneaked under shortstop Alcides Escobar's glove. Pence went to second on a bunt, to third on a flyout and home on a groundout.
In the fourth, the Giants had a runner on first with two outs. Shields appeared to be out of the inning when Travis Ishikawa grounded one to Escobar's right. The ball again just went under Escobar's glove. The next hitter, Brandon Crawford, blooped one to center for an RBI.
"I thought that was a good pitch," Shields said of Crawford's hit. "If he doesn't throw his bat at it, it goes in the dirt. Not much you can do."
As for Escobar's misplays?
Watch the Boulevard Royals Live postgame show on FOX Sports Kansas City after every Kansas City Royals postseason game.
"You know, I consider him a Gold Glove shortstop," Shields said. "I'll put my trust in him anytime. He's made great plays all season."
But manager Ned Yost conceded that Escobar probably should have had both grounders.
"If he catches those balls, it's probably 0-0 going into the eighth," Yost said. "We're used to seeing Esky make those plays."
Shields said he made some adjustments with his arm angle and shoulder release between his Game 1 start and Sunday.
"It felt good," he said. "I felt I was pounding the strike zone.
"But hey, the bottom line is, I've got to do even better. I've got to keep them off the board."
That was because Bumgarner rolled to a complete-game shutout.
"Yeah, he's been pitching great all postseason," Shields said. "You have to admire that. Unfortunately, he's been doing it against us."
But Shields said no one in the clubhouse was doubting the Royals could still come back and win the Series.
"It's a seven-game Series," he said. "They've got the edge right now, but we've just got to go out and win two games like we've done all season."
Added Yost: "We've got to walk the tightrope now without a net, but our guys aren't afraid of walking the tightrope without a net. But if we win Tuesday, then no one's got a net in Game 7."
You can follow Jeffrey Flanagan on Twitter at @jflanagankc or email him at jeffreyflanagan6@gmail.com.
---