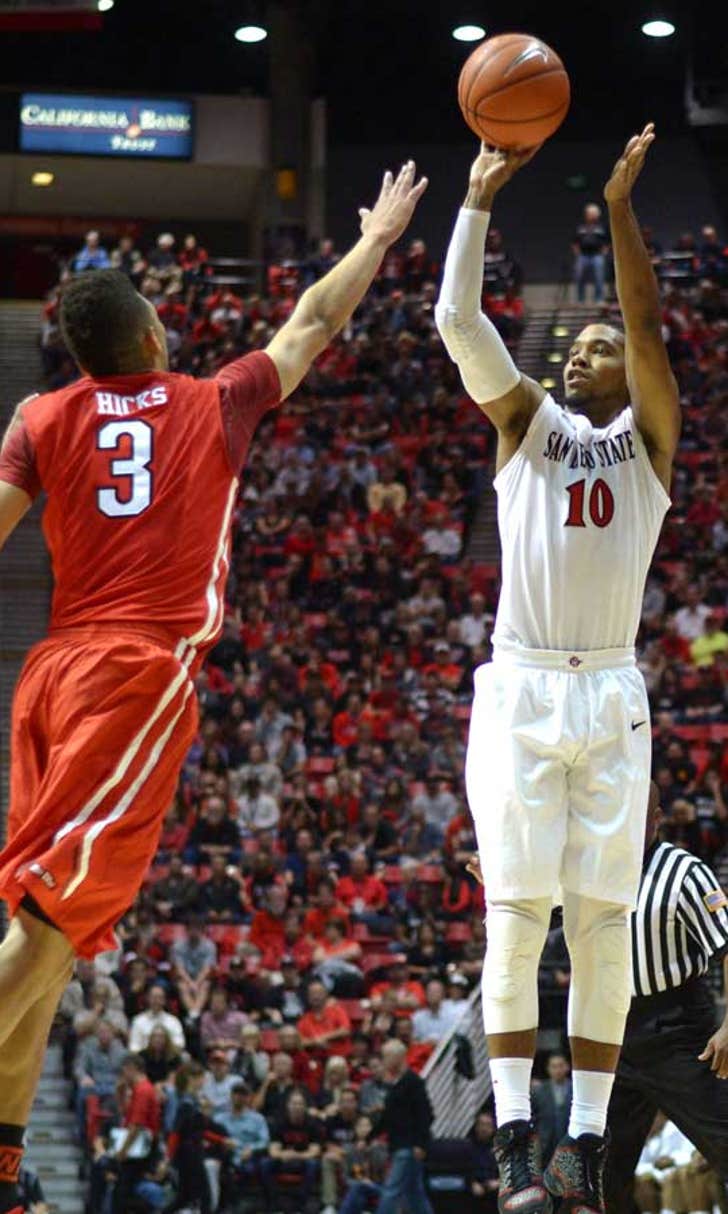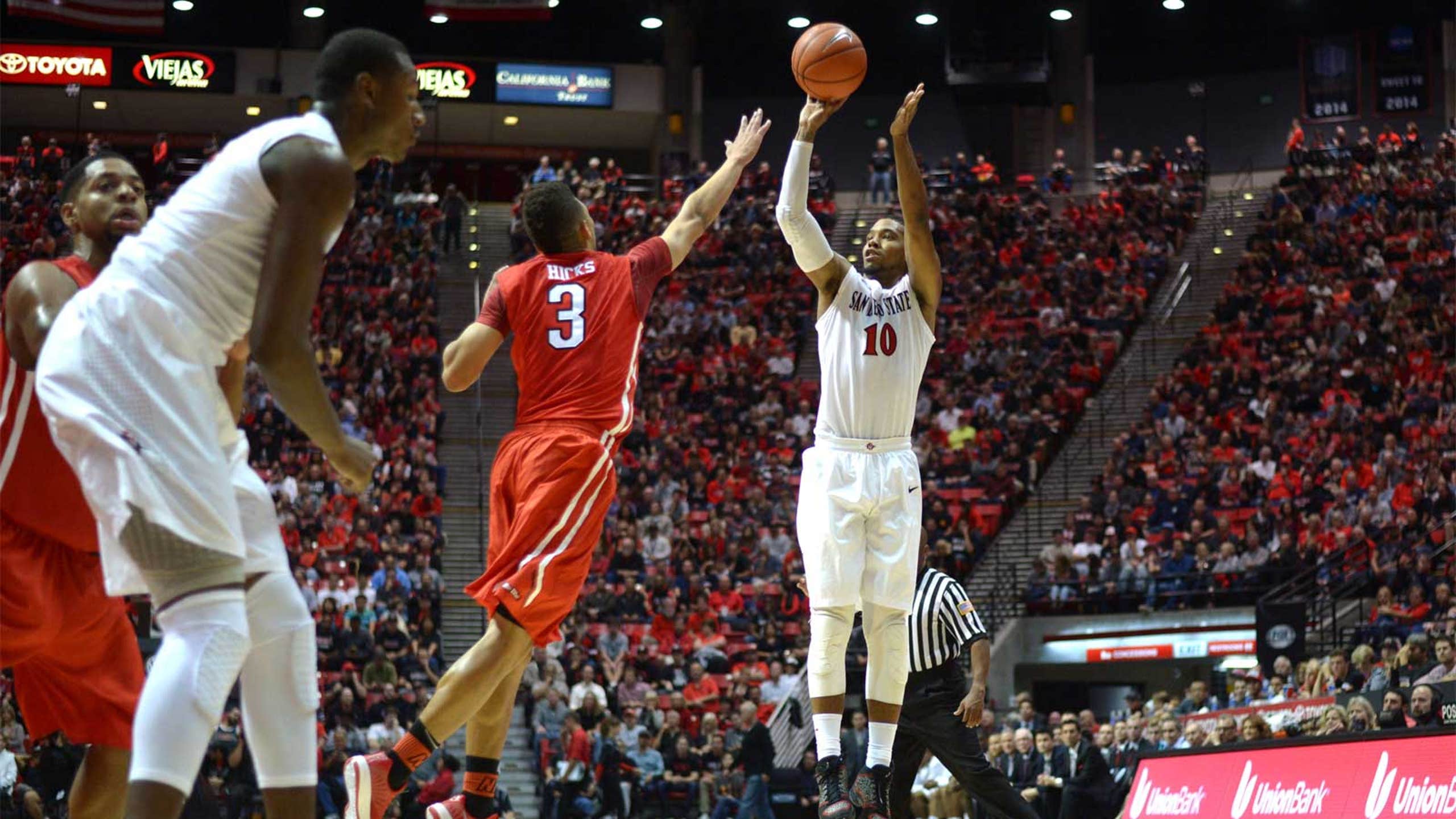 Shepard, Quinn lead No. 16 SDSU past CSUN, 79-58
BY foxsports • November 15, 2014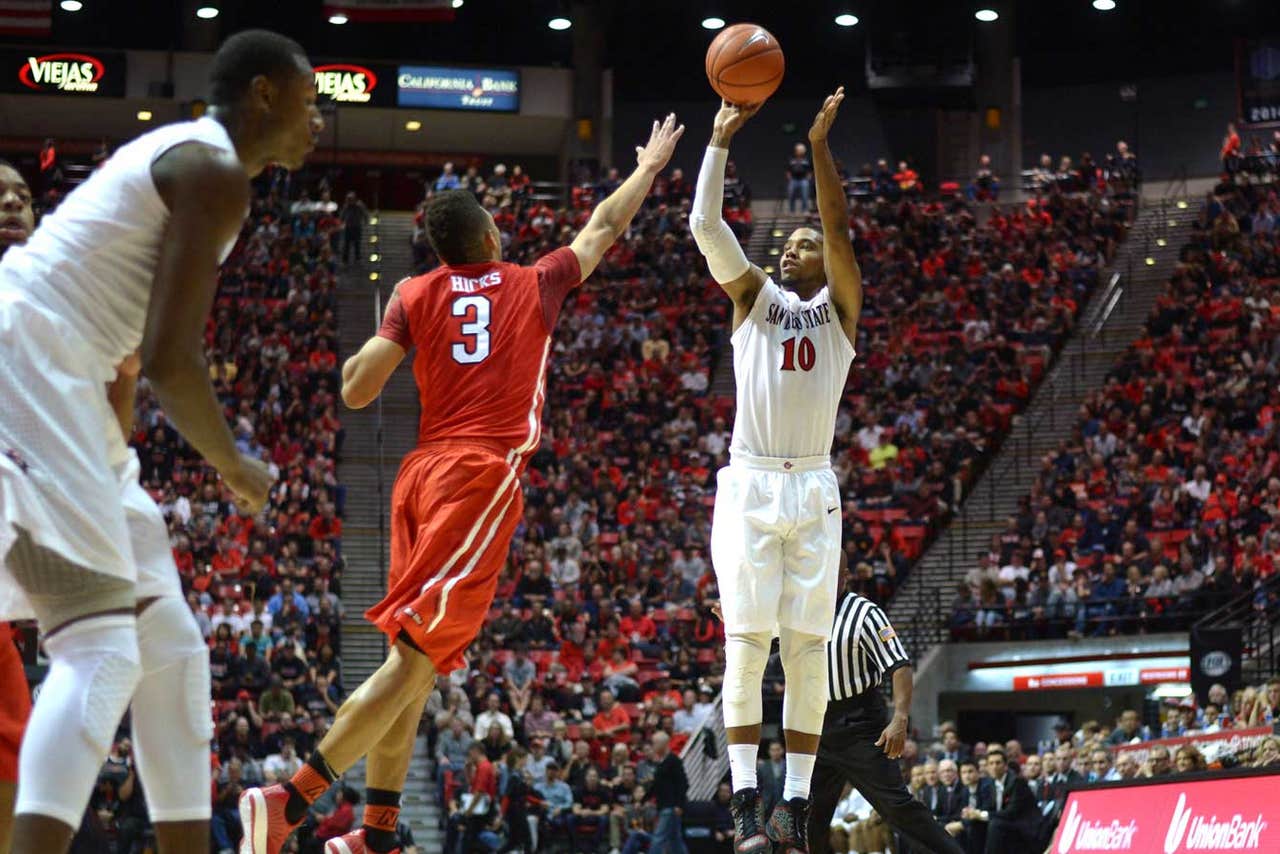 SAN DIEGO (AP) -- San Diego State unveiled two more banners at Viejas Arena before opening the season by dispatching undermanned Cal State Northridge 79-58.
The No. 16 Aztecs will have a few days to enjoy the victory before the competition gets decidedly tougher on Tuesday when they host No. 25 Utah.
"It was a good start," coach Steve Fisher said. "There's more to come. It's a big game on Tuesday but today was a big game."
Aqeel Quinn, who started his career at Northridge, scored 15 points for the Aztecs. Winston Shephard had 14, JJ O'Brien 13 and Dwayne Polee II 11 for SDSU, which is coming off a 31-5 season that included the second trip to the Sweet 16 in school history.
It was an unbracketed game in the Maui Invitational. While Northridge is in the mainland portion of the tournament, the Aztecs go to Maui, opening with a game against BYU on Nov. 24.
SDSU has won 15 straight games at home and 42 straight against California schools.
Stephan Hicks scored 16 while Stephen Maxwell had 15 points and 10 rebounds for the Matadors, who suited up only 10 players. Northridge announced earlier this month that several players are sitting out while the university investigates whether they violated team rules and university policies.
"Not a lot of combinations out there," Northridge coach Reggie Theus said. "It just hurts our style a little bit, the way we want to get out and play.
"The only thing that matters is that they didn't play harder than us. We battled them the whole game. Even when we got down by 20 we battled back and a great indication was he had to go back with his starting lineup. That was an indication that our guys were not giving up on the game."
Landon Drew came out with an injury midway through the second half and Tre Hale-Edmerson fouled out with about six minutes left, giving the Matadors just eight available players.
Shepard scored 11 in the first 20 minutes, and the Aztecs shook off the Matadors and raced to a 41-21 halftime lead.
Northridge took an 11-8 lead before the Aztecs went on a 9-0 run, which included a bucket and free throw by Shepard and a jump-hook by Angelo Chol, a transfer from Arizona who attended San Diego's Hoover High. SDSU later had an 8-0 run that started on a spin move layup by freshman Kevin Zabo.
Northridge closed to 15 points in the second half before Quinn made consecutive 3-pointers to give the Aztecs a 49-33 lead with 13 minutes left.
SDSU's Skylar Spencer matched his career-high with six blocked shots.
------
TIP-INS
Northridge: A fan in SDSU's student section, "The Show," was haranguing Theus, a former NBA star, early and often. At one point, Theus turned and gave a hat-tip motion to the fan.
SDSU: The Aztecs unveiled a banner for winning the Mountain West Conference regular-season title and one for making the school's second Sweet 16 appearance in four seasons.
UP NEXT
Northridge visits Arizona on Sunday.
SDSU hosts No. 25 Utah on Tuesday.
FRESHMEN: Trey Kell started at point guard and played 25 minutes, and Zabo played 15 minutes for the Aztecs, who lost star Xavier Thames to graduation.
"I thought the two freshmen who played point guard did a nice job," Fisher said. "We don't view them as freshmen, we view them as players. Trey's starting for us. Both of them did some very good things. Both of them did some things they have to improve on."
Kell played at San Diego's St. Augustine High.
SKYING WITH SKYLAR: The 6-foot-10 Spencer is a shot-blocking and altering machine.
"When they do get by us, if they do get by us, we have Sky there to correct our mistakes," forward JJ O'Brien said.
"The six blocks jump out at you," Fisher said. "He had six more that looked like they were going in, but he reached up or jumped and they missed because of his reach. He's a huge factor for us."
Spencer also had eight rebounds.
---