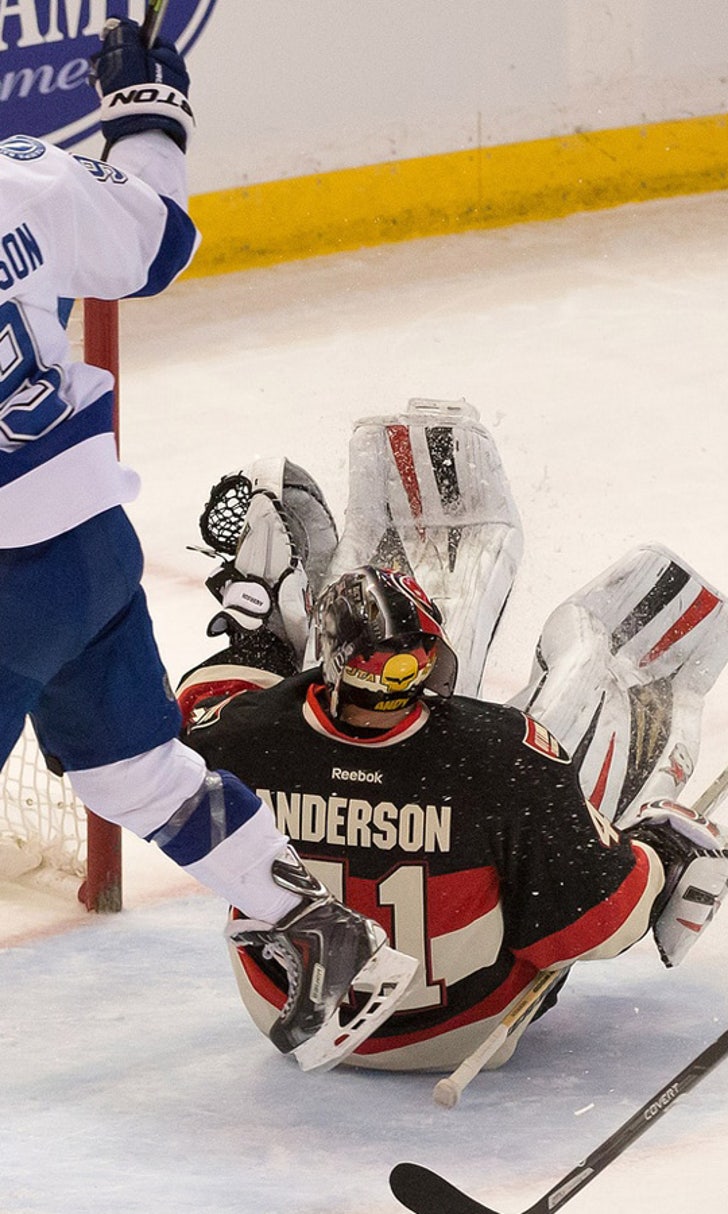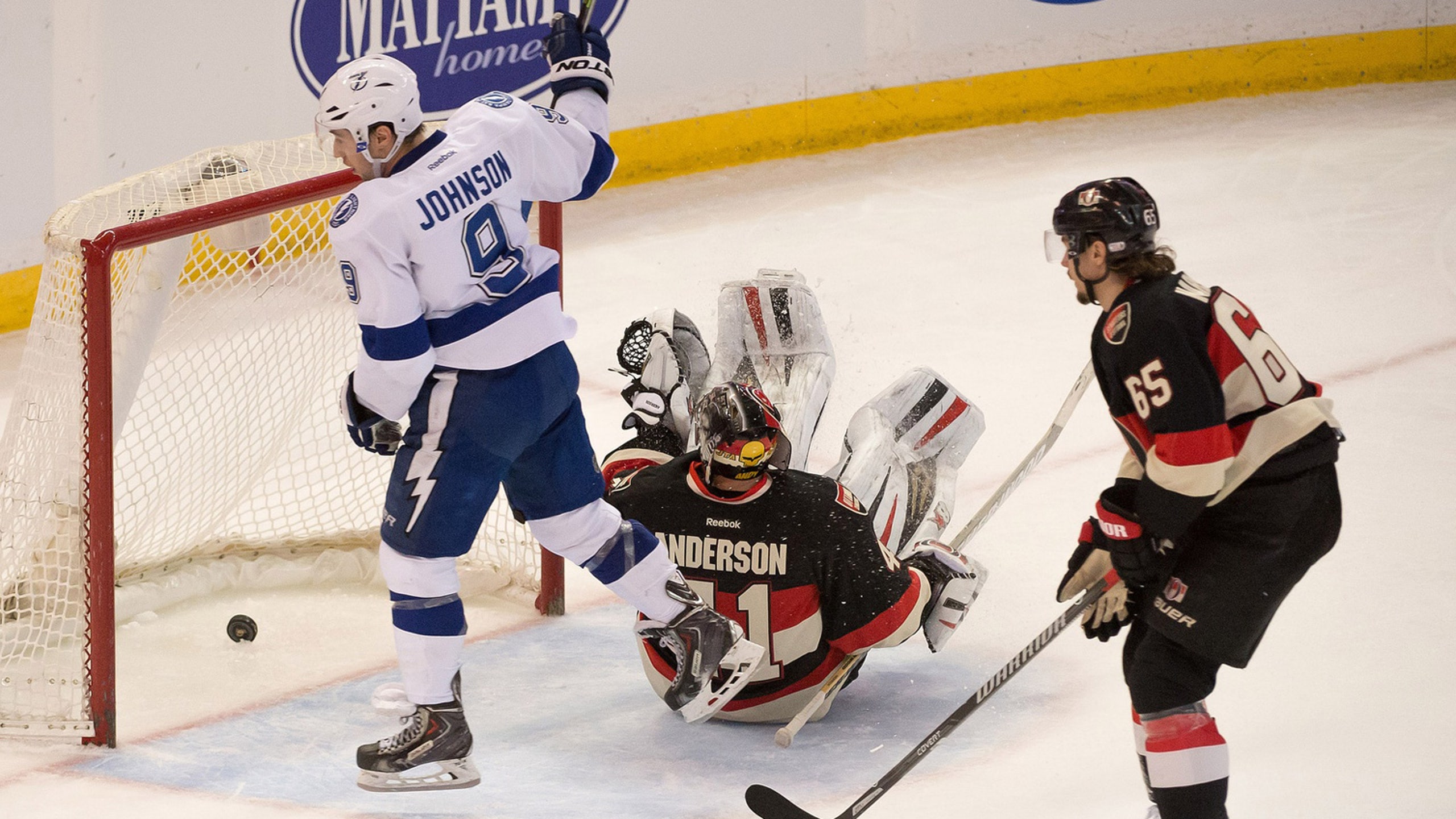 Senators at Lightning game preview
BY foxsports • March 23, 2014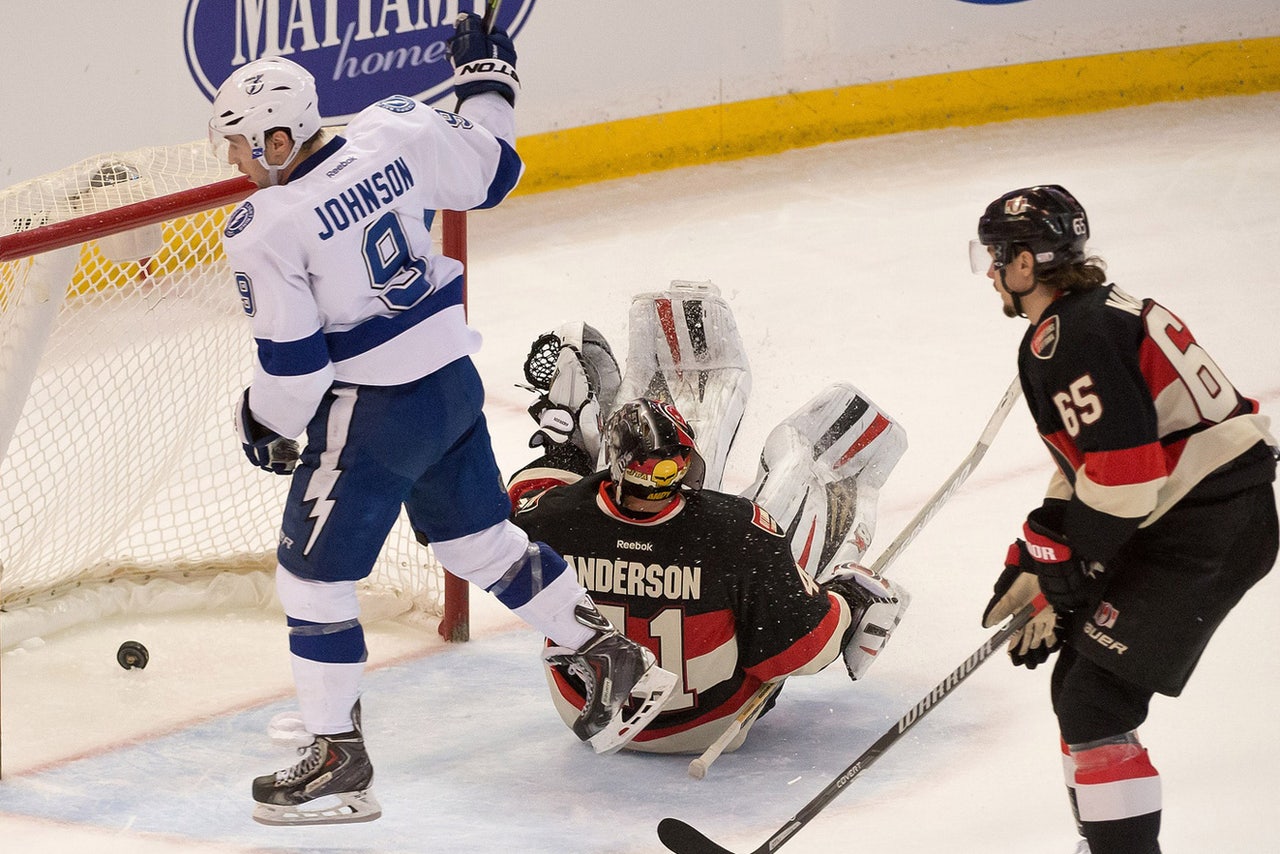 The last time the Tampa Bay Lightning had a longer stretch without a regulation loss than their current streak, the season ended with their names engraved on the Stanley Cup.
The Lightning lost their first game after trading away the last member of that 2003-04 championship team, but will now try for their first nine-game point streak in over a decade Monday night at home against the desperate Ottawa Senators.
Tampa Bay (39-24-8) is 5-0-3 since March 8, its best stretch without a regulation loss since an 18-game point streak from Feb. 5-March 12, 2004.
The Lightning's last loss was its first game without Martin St. Louis on March 6, and they've since reached an impressive level of offensive consistency with at least three goals in each game on the streak while averaging a league best-tying 3.88 per game.
Still, they weren't thrilled with leaving Pittsburgh without two points after Saturday's 4-3 overtime loss. The Lightning led 2-1 midway through the third but needed a goal in the final two minutes of regulation from Ondrej Palat to send it to overtime.
"We need to get points," coach Jon Cooper told the team's official website as his squad tries to retain second place in the Atlantic Division. "It was frustrating how the game ended up, but we got five out of six points on the road and that's a good trip."
Valtteri Filppula also scored to match Palat with 12 points during the team's streak, while Steven Stamkos had a goal and an assist to give him six goals and three assists in six games.
While the production is nothing new for Stamkos and Filppula, the 22-year-old Palat has taken a huge step forward with 37 points in the last 35 games of his first full NHL season.
"For a young guy, Palat has really grasped the pro game quickly," Cooper said.
In goal, Anders Lindback made a rare start, likely paving the way for Ben Bishop to return against Ottawa. Despite the run of success, Bishop has allowed at least three goals in eight of his last nine starts, a 5-2-2 stretch with a 2.96 goals-against average.
The last of those starts was a 5-4 win Thursday in Ottawa to run Bishop's career record against the Senators to 4-0-0 in five starts and give the Lightning three wins in four games in the season series.
Erik Karlsson had a goal and an assist for Ottawa and scored again Saturday in a 3-1 loss at Dallas to extend a point streak to six games.
For Ottawa (28-29-13), though, the streak that matters is a six-game winless drought during which they've gathered two points in the standings.
"I didn't think we defended or played terribly, but at the end of the day, we didn't play hard enough and we didn't play long enough to find a way to win the game," Senators coach Paul MacLean told the team's official website.
The Senators now face a double-digit point gap with five teams to pass in the last 12 games as an unlikely path to get into the playoffs.
Making matters worse was top goal scorer Bobby Ryan leaving the Dallas game with a lower-body injury. There's no word on his status, but the club recalled forward Mark Stone from AHL Binghamton on Sunday morning.
"It's kind of up in the air," MacLean said. "It's not something that's definite. It's just a reaggravation of something."
The Lightning have won four straight home games against Ottawa, including both meetings this season.
---