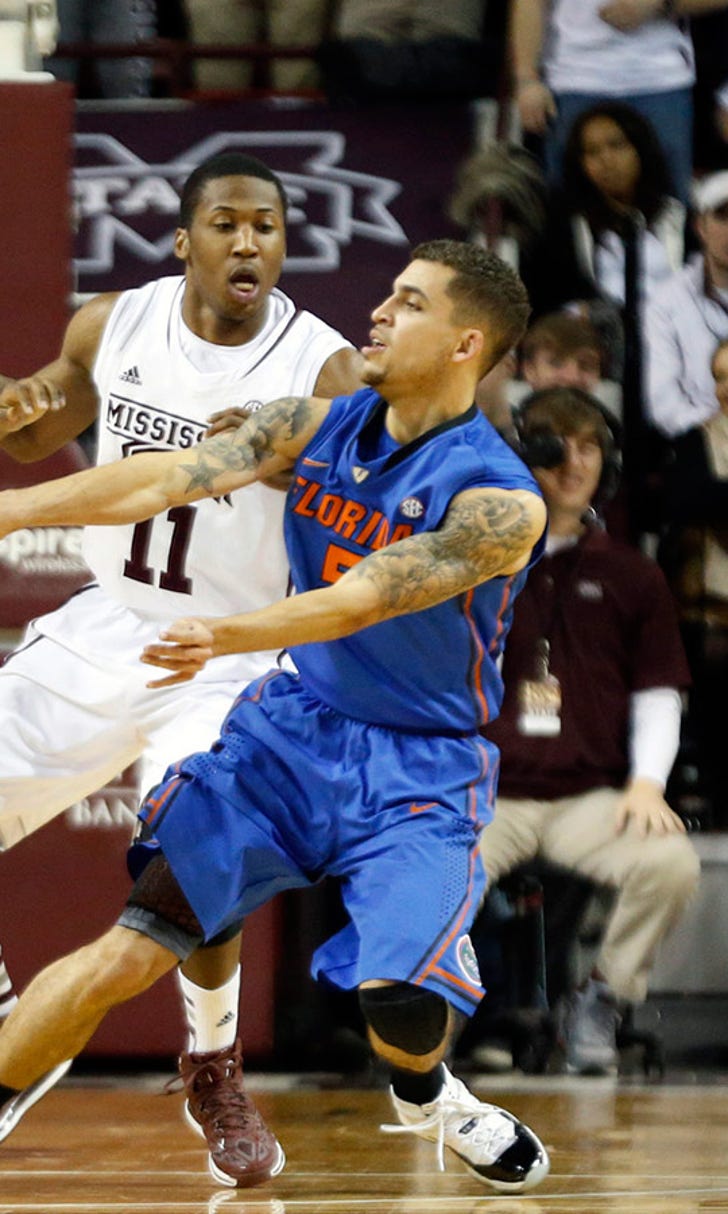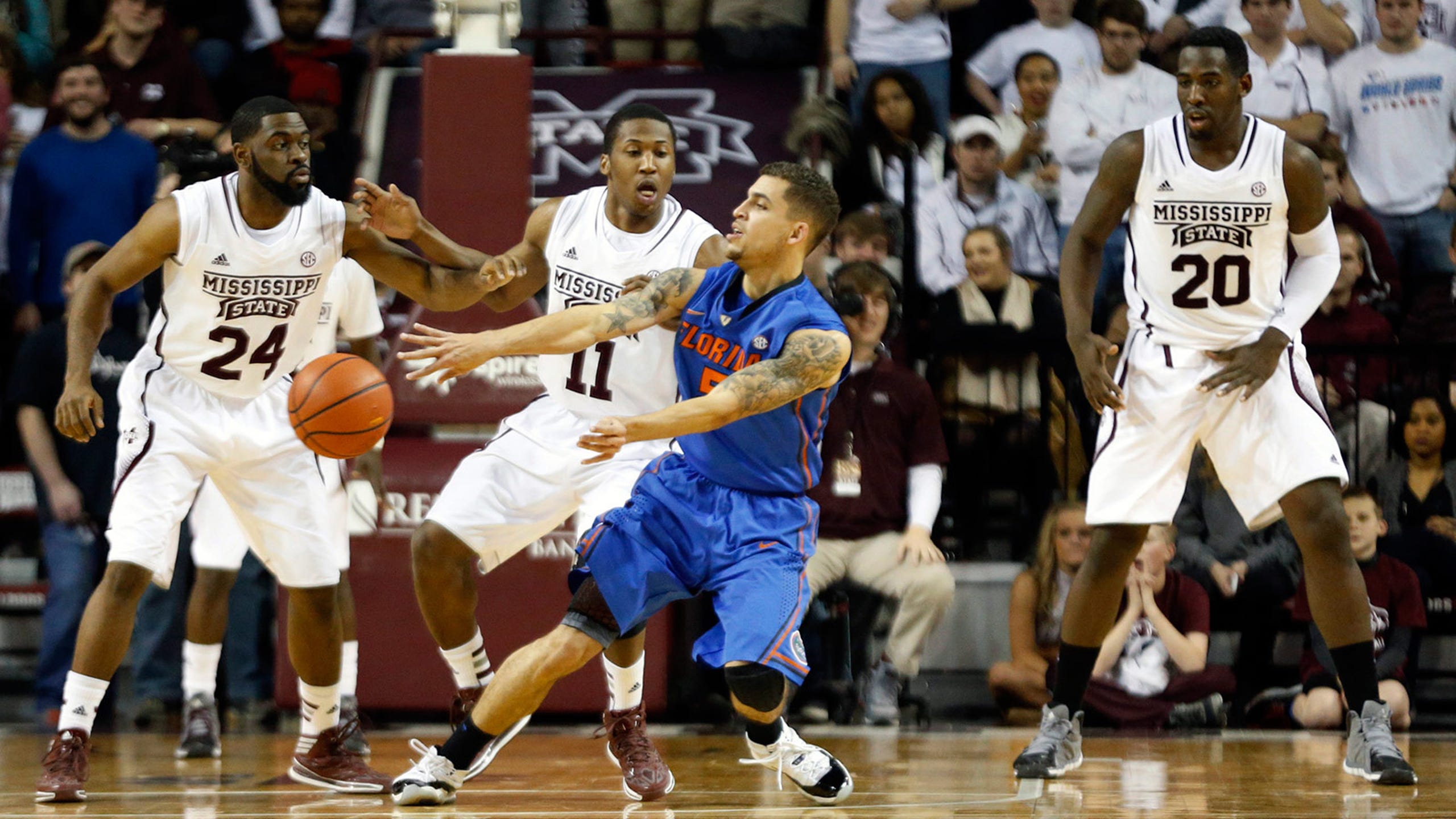 SEC power rankings: Nearing halfway point, Mizzou is (barely) in upper half
BY foxsports • February 3, 2014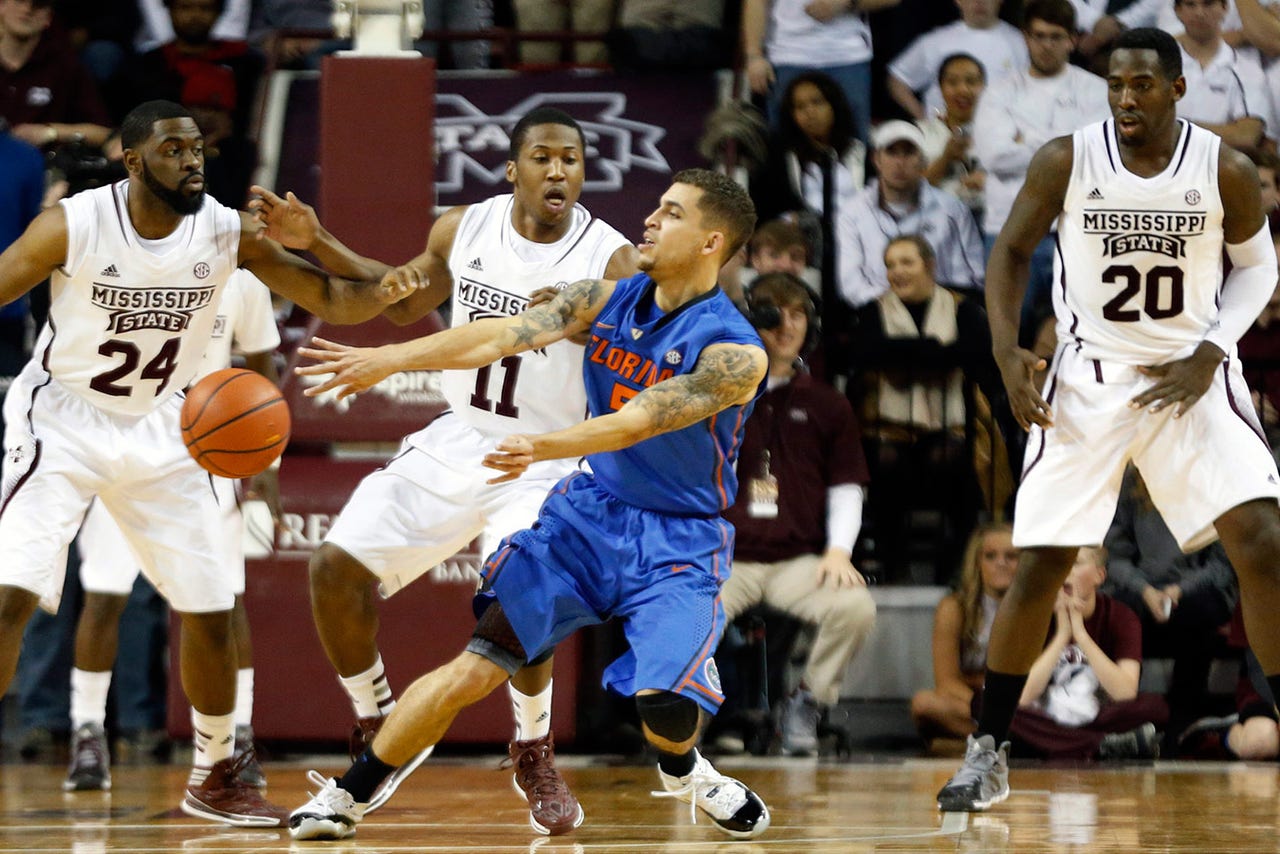 Almost at the halfway point of the SEC's 18-game conference schedule, Florida has left little doubt that it is the conference's strongest team. The No. 3 Gators have experience with four senior starters. They play the best defense and boast the third-best shooting percentage in the conference.
They're also as balanced as any Final Four contender, a fact that will help the chances of not only the Gators come tournament time, but also of Jabari Brown, Julius Randle and any other player hopeful of claiming SEC Player of the Year honors. It's tough to single out any Gator for the award when so many are contributing.
Scottie Wilbekin is the team's unquestioned leader and is considered the conference's best point guard by at least one SEC coach, Billy Kennedy of Texas A&M. But Wilbekin's numbers are not the kind that typically win Player of the Year awards. He's averaging 11.9 points on just 38.6 percent shooting to go with 3.6 assists per game. Senior forward Casey Prather is Florida's leading scorer at 16.9 points on 62.5 percent shooting, but he has missed two conference games and lacks the all-round performance of some of the SEC's other top players.
After a 33-point effort against Kentucky, Brown has to be considered one of the top two or three contenders for Player of the Year at the halfway point. He's the conference's leading scorer at 20.4 points a game (23.6 in conference games) and is shooting 50.8 percent for the season (57.1 percent in conference play). His 3-point shooting has been as deadly as any player's in the country over the past six games. Brown has made a remarkable 23 of his past 35 3-point attempts (65.7 percent). Keep that up and he will be hard to beat out for Player of the Year honors.
The other leading contenders include Randle, the Kentucky freshman who is averaging 16.1 points and is second in rebounding, Tennessee senior Jordan McRae (19.2 points), LSU junior Johnny O'Bryant III (15.8 points, 7.5 rebounds) and Brown's backcourt mate, Jordan Clarkson (18.9 points).
Watch 'This Week in Mizzou Basketball' at 6 p.m. Fridays on FOX Sports Kansas City. Check your local TV listings.
The power rankings at the eight-game mark:
1. Florida  (19-2, 8-0)
This week: Missouri on Tuesday, Alabama on Saturday
Last week: Won at Mississippi State 62-51, beat Texas A&M 69-36
Not that the Gators need reinforcements, but one arrives Tuesday night for Missouri when 6-foot-10 freshman forward Chris Walker makes his college debut. A top 10 recruit nationally coming out of Holmes County (Fla.) High, Walker will have sat out 12 games for receiving prohibited benefits during the recruiting process. Walker is considered raw but very athletic. He isn't likely to start but should give the Gators a top defender and rebounder off the bench.
2. Kentucky (16-5, 6-2)
This week: Mississippi on Tuesday, at Mississippi State on Saturday
Last week: Lost at LSU 87-82, won at Missouri 84-79
Coach John Calipari showed last week he can do more than recruit. He can develop players, too. After a less-than-spirited showing at LSU, Calipari said he made sure every good play by the Wildcats from a well-set screen to a successful pass was rewarded with a compliment from at least one teammate. Forcing the young Wildcats to think about someone other than themselves -- as well as recognize how important the little things can be -- should help them improve as March nears.
3. Tennessee (14-7, 5-3)
This week: At Vanderbilt on Wednesday, South Carolina on Saturday
Last week: Beat Mississippi 86-70, won at Alabama 76-59
Since a 1-for-15 shooting performance in a 26-point loss at Florida, McRae has scored 26 points in each of his past two games on 17-of-34 shooting. It's no coincidence the Volunteers scored impressive victories in each outing. "I think the Florida game was a growing point for our team," forward Jarnell Stokes said after Tennessee beat Alabama. "We struggled with the press against them, we struggled hitting shots and we struggled in ball-screen defense, and that's almost exactly what Alabama's game plan was. (Beating Alabama) means a lot to me because we were able to step up and do the things that we've been struggling in."
4. LSU (14-6, 5-3)
This week: At Georgia on Thursday, Auburn on Saturday
Last week: Beat Kentucky 87-82, beat Arkansas 88-74
O'Bryant and frontcourt mate Jordan Mickey are playing as well as any twosome in the conference. They combined for 88 points and 35 rebounds last week, good enough to garner player of the week honors for O'Bryant and freshman of the week for Mickey. Halfway into the conference season, O'Bryant is making a strong bid for first-team All-SEC honors.
5. Mississippi (15-6, 6-2)
This week: At Kentucky on Tuesday, Missouri on Saturday
Last week: Lost at Tennessee 86-70, beat South Carolina 75-71
Missouri can relate to this: The Rebels' top four scorers all are guards, led by gunner Marshall Henderson and Jarvis Summers. The duo is combining for 37 points a game, 2.3 less than Mizzou's Brown and Clarkson. Should make for an interesting matchup in Oxford this weekend.
6. Missouri (16-5, 4-4)
This week: At Florida on Tuesday, at Mississippi on Saturday
Last week: Won at Arkansas 75-71, lost to Kentucky 84-79
The Tigers have gone 1-1 in all four weeks of conference play. A 1-1 repeat this week would be a good thing considering they face two of the conference's top teams on the road. No matter what happens, don't look for Missouri to get blown out. In all five of their losses this season, they have been within one possession in the final minute.
7. Vanderbilt (12-8, 4-4)
This week: Alabama on Wednesday, Arkansas on Saturday
Last week: Won at Georgia 59-54, beat Mississippi State 55-49
The Commodores are getting it done with defense, having held their opponents to 52.6 points during their three-game winning streak. Kevin Stallings should be considered for Coach of the Year, too, given that Vanderbilt has been playing with only seven scholarship players since the holidays.
8. Georgia (10-10, 4-4)
This week: LSU on Thursday, Texas A&M on Saturday
Last week: Lost to Vanderbilt 59-54, lost at Auburn 74-67
With an opportunity to hang with the conference's elite, the Bulldogs lost to a couple of also-rans. Coach Mark Fox was so upset with the effort in the loss to Vanderbilt that he tweaked his lineup for the Auburn game. He blamed that loss on Georgia's mediocre free-throwing shooting (19 for 28).
9. Mississippi State (13-8, 3-5)
This week: at Texas A&M on Wednesday, Kentucky on Saturday
Last week: Lost to Florida 62-51, lost at Vanderbilt 55-49
The Bulldogs' offense went missing as the team endured two of its lowest-scoring outputs of the season. The Bulldogs have yet to score more than 63 in a conference game this season. But they were able to hold Florida to its second-lowest scoring total of the season
10. Auburn (10-9, 2-6)
This week: At South Carolina on Wednesday, at LSU on Saturday
Last week: Beat Alabama 74-55, beat Georgia 74-67
The Tigers jumped out to 9-0 lead on Alabama and never looked back all week, ending their 15-game conference losing streak with two straight wins.
11. Arkansas (13-8, 2-6)
This week: Alabama on Wednesday, at Vanderbilt on Saturday
Last week: Lost to Missouri 75-71, lost at LSU 88-74
Tough week for the Razorbacks, who dropped more than a pair of games. They also lost third-leading scorer Michael Qualls and key backup Alandise Harris. Both have been suspended indefinitely by coach Mike Anderson for conduct detrimental to the team.
12. Alabama (9-12, 3-5)
This week: At Arkansas on Wednesday, at Florida on Saturday
Last week: Lost at Auburn 74-55, lost to Tennessee 76-59
Tough times for the Tide, who must hit the road this week after suffering their worst home loss in more than six years against Tennessee.
13. South Carolina (8-13, 1-7)
This week: Auburn on Wednesday, at Tennessee on Saturday
Last week: Beat Texas A&M 80-52, lost at Mississippi 75-71
The Gamecocks ended a six-game losing streak with an impressive blowout of Texas A&M and led Mississippi by 15 midway through the second half but could not sustain the momentum. South Carolina shot 9 of 24 in the second half as Ole Miss closed the game with a 29-10 run.
14. Texas A&M (12-9, 3-5)
This week: Mississippi State on Wednesday, at Georgia on Saturday
Last week: Lost at South Carolina 80-52, lost at Florida 69-36
The wheels have come off for the Aggies, who suffered last week's losses by a combined 51 points. Texas A&M has lost five in a row since its strong start to conference play.
You can follow Stan McNeal on Twitter at @stanmcneal or email him at stanmcneal@gmail.com.
---