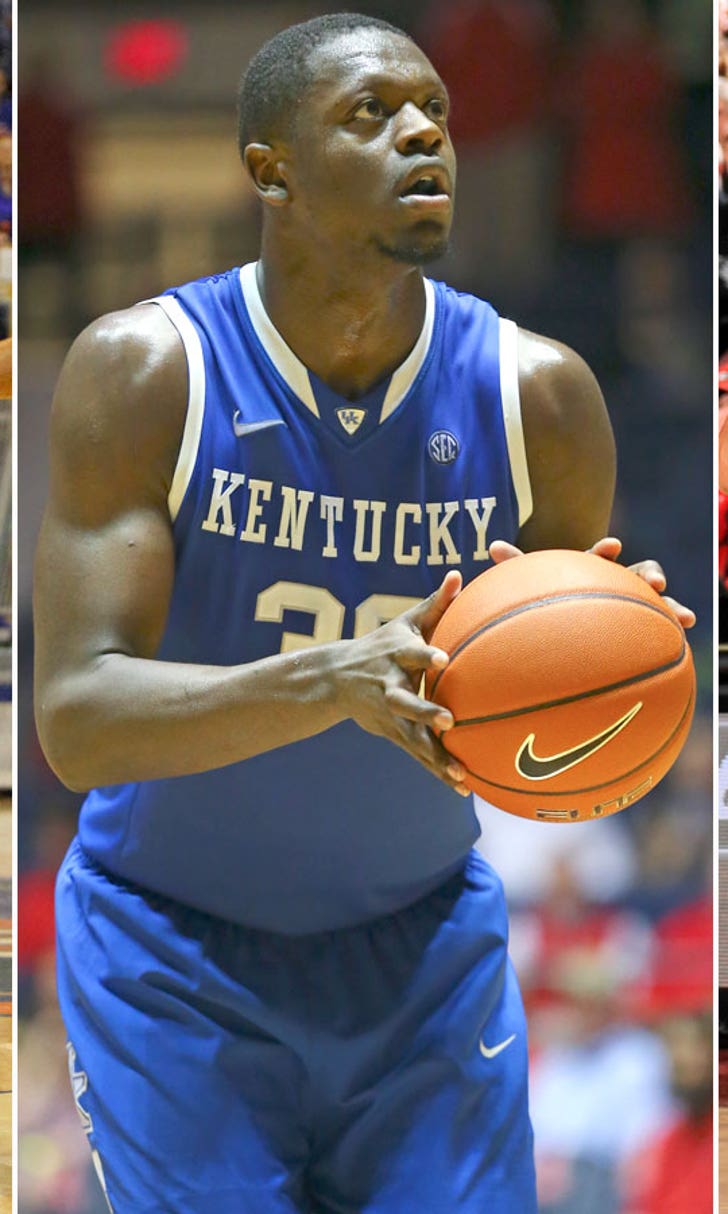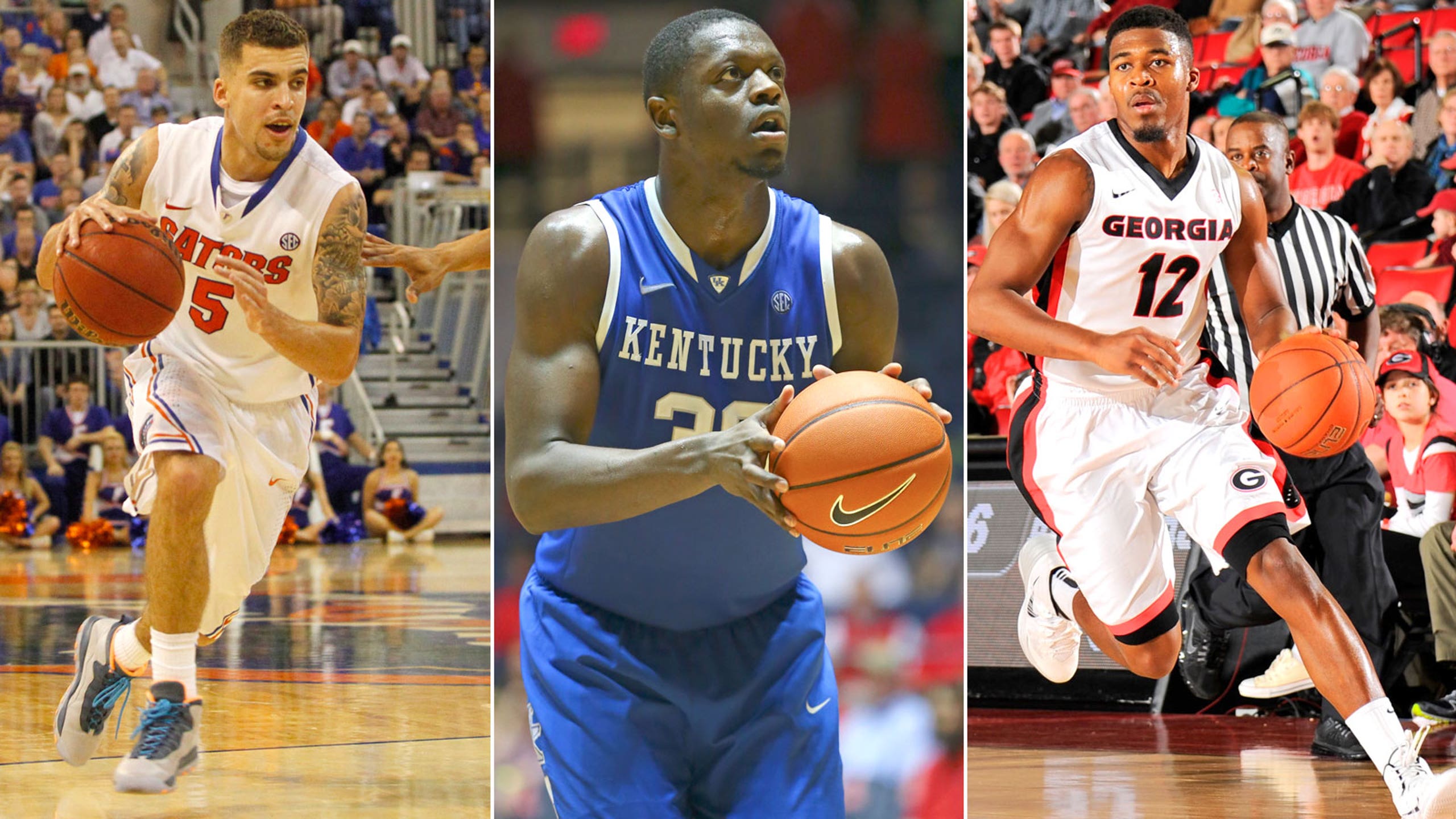 SEC Power Rankings: Florida, UK riding high; Georgia rising
BY foxsports • February 24, 2014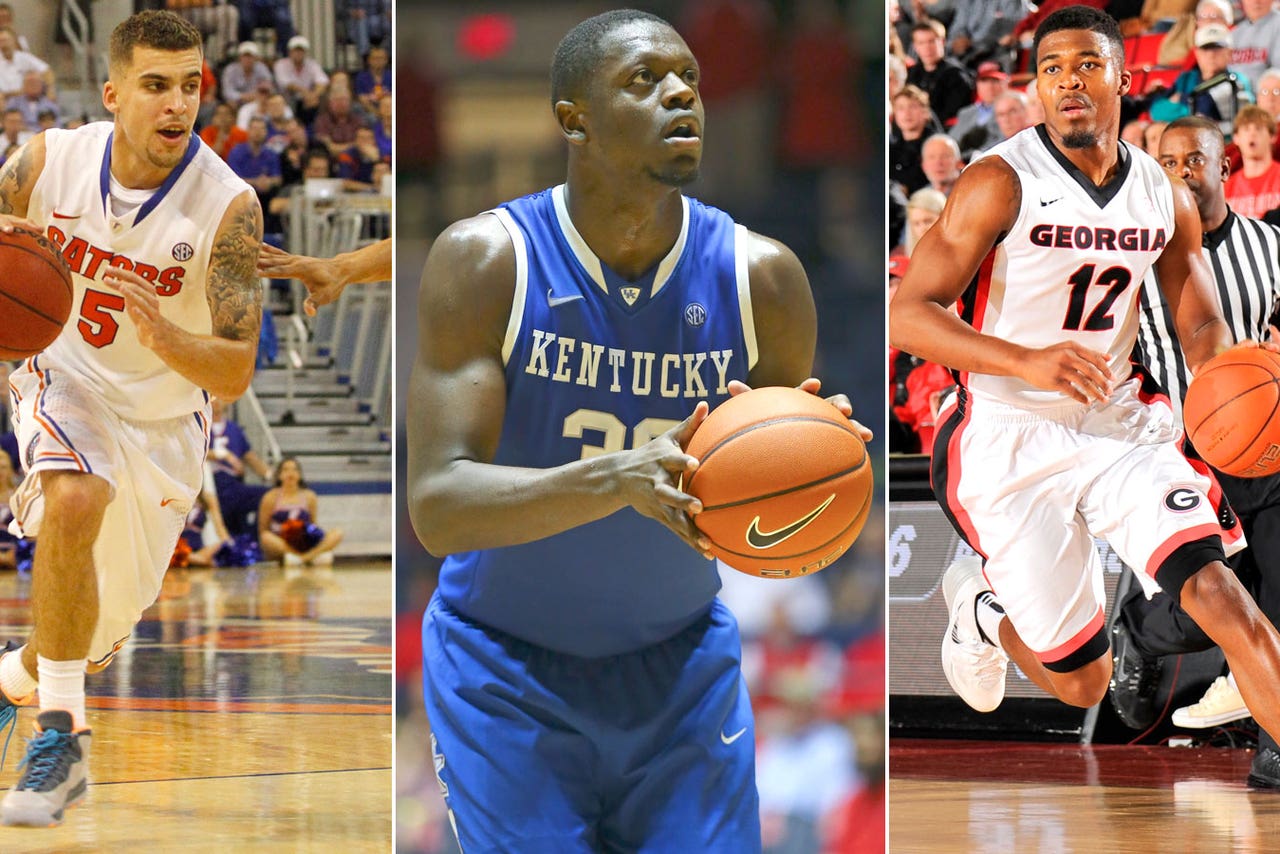 NASHVILLE, Tenn. -- Just like the way it plays defense and wins games, Florida has scratched and clawed all the way to the top ranking in the land.
It's the first time the Gators have been ranked No. 1 in the Associated Press poll since 2006-07, the season they won a second straight national championship. Florida was ranked No. 1 eight weeks that season, including two as the unanimous choice.
Kentucky continues to be the only other SEC team considered a lock for a NCAA tournament. While Georgia (9-5) has a two-game lead for third place over seven teams, the lack of quality non-conference wins and an RPI of No. 89 (NCAA.com) has the Bulldogs needing to win out during the regular season and make a deep SEC tourney run to harbor any NCAA hopes.
Indeed, there are seven teams -- or half the league -- sitting at 7-7 with two weeks remaining before the SEC tourney in Atlanta (March 12-16).
"It amazes me when people beat each other in other leagues," Kentucky coach John Calipari said, "it shows how strong their league is. When we beat each other in our league, then the league is not very good. What?"
Of the seven "power" conferences, the Pac-12 has the most teams ranked in the RPI Top 100. After that, the SEC has nine clubs -- tied with the Atlantic Coast Conference and Big Ten.
Heading into Week 8, with four games to play (per team), here are the most recent SEC power rankings:
Despite the best overall start in school history (along with league play), plus a program-best 19-game winning streak, Gators coach Billy Donovan predictably downplayed the No. 1 ranking.
"Certainly that's probably a good conversational piece, having that," he said. "But that really means nothing to do with what we are trying to do. I think during the course of the season our guys never really had a goal of, 'Hey let's try to be No. 1 in the country.' It really doesn't mean anything right now."
Maybe Calipari is on to something when he talks about parity in the SEC. In Saturday's 77-76 overtime win over visiting LSU, it took a follow-shot by freshman Julius Randle -- the SEC player of the week -- with 3.9 seconds to preserve the victory.
While playing a career-high 41 minutes, freshman guard James Young made the Wildcats' only three-pointer. Kentucky is 10-1 when starting an all-freshman lineup.
Non-SEC losses to Georgia Tech, Davidson, Temple, Nebraska, Colorado and George Washington doomed the Bulldogs to NCAA also-ran status, although they have played solidly enough in league play to sit securely in third place.
The 15 overall and nine league wins match the UGA's totals from last season. Sophomore guard Kenny Gaines scored a career-high 27 points in Saturday's victory over South Carolina.
Sitting well within the NCAA tourney bubble with a No. 45 RPI, the Tigers can probably lock down an at-large berth with wins at Georgia (Tuesday) and at Tennessee (March 8). The next victory will mark a sixth straight 20-win season and represent a school-record 150th over a six-year period.
Junior guard Jabari Brown, the SEC's second-leading scorer (20.2 points) and leader in minutes played (36.9), has scored in double figures every game this season.
Getting swept by Texas A&M, including Saturday's overtime road loss, might have doomed the Vols (No. 60 RPI) to a third straight NIT berth under coach Cuonzo Martin. That would follow six straight NCAA tourney visits under former coach Bruce Pearl. The number '16' is wild for junior forward Jarnell Stokes. With 16 points and 16 rebounds against the Aggies, he leads the SEC with 16 double-doubles.
After opening SEC play 1-4 and winning just two of six, the Razorbacks have rallied to win five of six, including three in a row -- counting last week's victories over South Carolina and Mississippi State. It puts Arkansas with an RPI of 70 -- fifth-best among SEC teams -- and makes Thursday's game at Kentucky rather large.
The Aggies sit along with six other teams at 7-7 in league play, but their RPI (118th) may have this season already resting in peace, despite beating Alabama and Tennessee last week.
Texas A&M is 15-2 at home and has already matched its league total in wins from a year ago. Sophomore forward Antwan Space hit game-winning three-pointers in both wins over Tennessee.
The Rebels (No. 80 RPI) couldn't run the gauntlet of Kentucky and Florida last week, but they put a Saturday scare into future No. 1 Florida in a four-point home loss. After scoring 22 points in the first half, senior guard Marshall Henderson missed all six shots in the second half and was held scoreless.
The overtime loss at Kentucky would have been a signature win for the Tigers (No. 72 RPI). Native Kentuckian Anthony Hickey, a junior guard out of Hopkinsville, scored 20 points.
LSU is only 2-7 in road games and has lost four of six overall. Freshman forward Jordan Mickey leads the SEC in blocked shots (3.3), while Hickey is tops in assists-to-turnover radio (3.5).
How did freshman Damian Jones get out of his hometown of Baton Rouge, La., and not sign with LSU? The Commodores are glad the 6-foot-10 center did. He matched a career-high with 19 points in the loss at Missouri and has scored in double figures 18 times.
In the win at Auburn, Vandy (No. 87 RPI) relied on walk-ons Nathan Watkins and Carter Josephs to spark the team down the stretch.
Spoiler alert: The Crimson Tide beat visiting NCAA hopeful Missouri on Saturday behind a career-high 33 points from junior guard Levi Randolph.
Alabama plays two teams -- at Ole Miss Wednesday and visiting Arkansas on March 8 – that cannot afford any more losses. With 18 points providing a 28th straight game in double figures, senior guard Trevor Releford moved into seventh place in program scoring (1,773 points). He leads the SEC in steals (2.2).
The Tigers gave Florida not one, but two scares this season. Auburn was within a single point in the final two minutes, before falling to Florida on Jan. 18. And last Tuesday, the host Gators didn't seize the lead until 20 seconds to play (five-point win).
The league's top-scoring backcourt, senior Chris Denson (SEC-best 20.3 points) and junior KT Harrell (18.7), were held to 13 points each in Saturday's loss against Vanderbilt.
Senior guard Brenton Williams continues to lead the nation in free-throw shooting (96.4 percent) by making 80 of 83 free throws. San Diego junior Johnny Dee (93.8) trails Williams by nearly three percentage points.
Funny thing, the Gamecocks are just fifth in the SEC in free throws (70.2 percent). With 16 points in Saturday's loss to visiting Georgia, Williams has reached double figures in 17 of 19 games.
No spoiler alert: The Bulldogs lost to LSU and Arkansas to push their losing streak to nine games. It was the first win in Starkville for Arkansas since 2000.
Former Bulldog guard Jalen Steele, who has graduated but sat out this season with an injury, said he will transfer to Middle Tennessee next season and be immediately eligible.
---