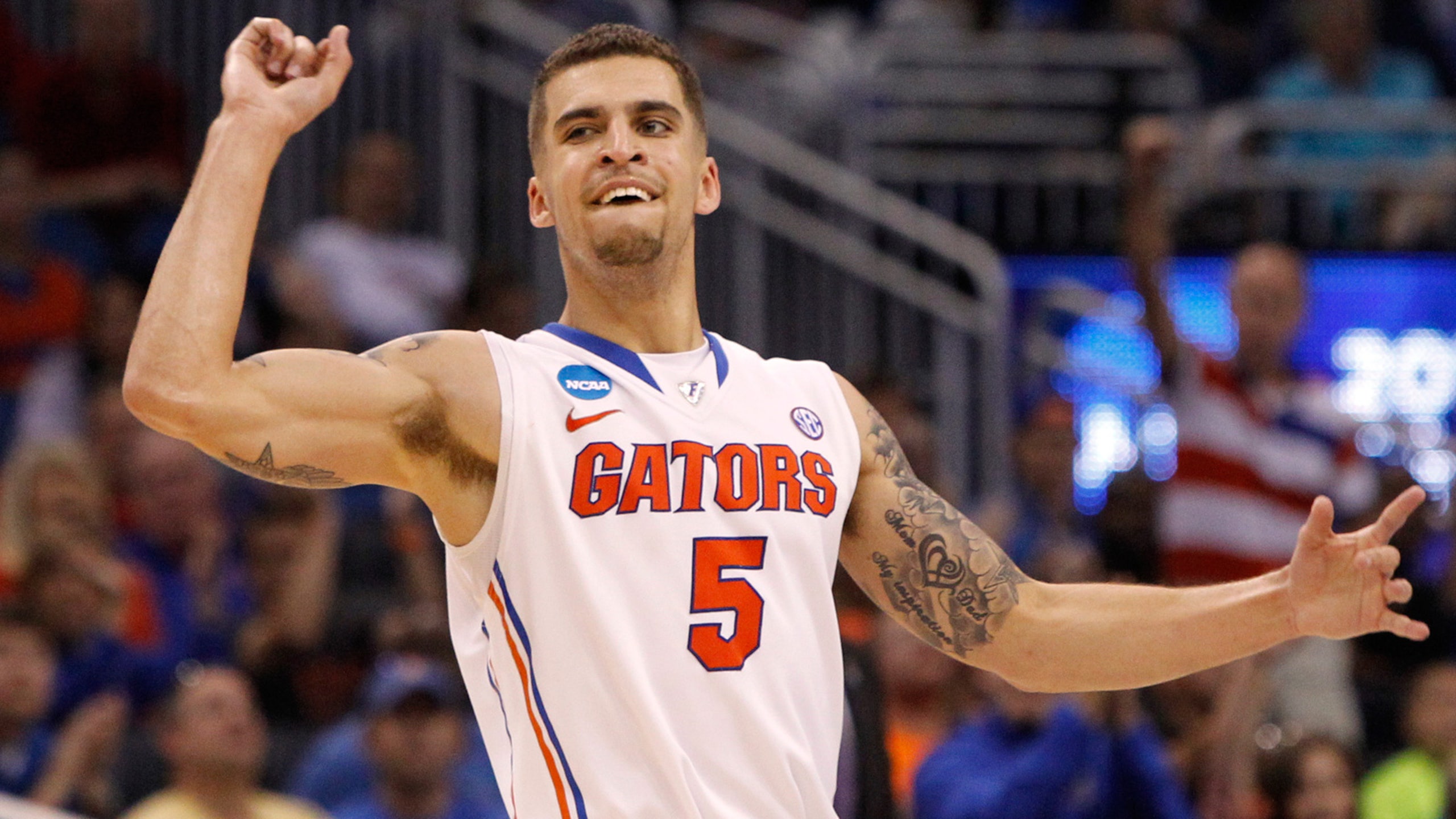 Scottie Wilbekin -- who else? -- helps revitalize Gators to move on in tourney
BY foxsports • March 22, 2014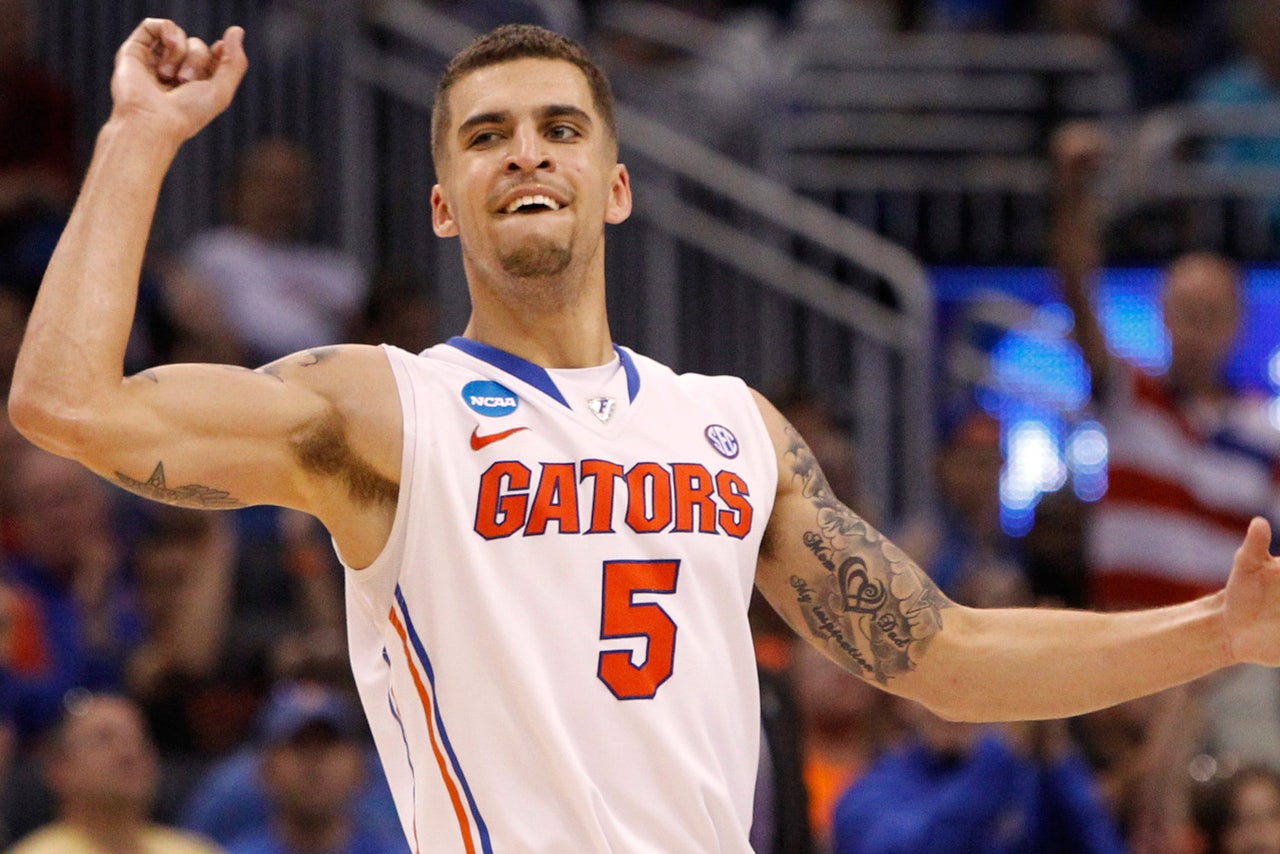 ORLANDO, Fla. -- The play is called a "flat" and in an end-of-clock situation (like with 4.3 seconds to go before halftime Saturday, for example), Florida inbounds the ball to Scottie Wilbekin and just lets him take off and try to get something, anything.
Wilbekin dashed up the floor, weaved past a Pittsburgh defender, sped head-on into the Panthers defense, took off of one foot, sailed toward the basket and swished a running 23-footer as the horn sounded.
It was Wilbekin's warm-up act; one of his easier baskets of the day, actually.
"Wow!" UF assistant coach John Pelphrey beamed about an hour later. "He put on a show out there."
Wilbekin poured in a game-high 21 points, 13 coming in the second half, including eight straight inside the final five minutes, as the No. 1-ranked and top-seeded Gators rode their assassin-like leader to a 61-45 close out of the ninth-seeded Panthers in third-round play of the NCAA Tournament South Region at the sold-out, UF-friendly Amway Center.
In going 9-for-15 from the floor and hitting a trio of 3-point shots, Wilbekin dropped all of his second-half points from the 8 1/2-minute mark to when the Panthers started fouling desperately with just over a minute to play and the game well in hand.
Sophomore forward Michael Frazier had 10 points, and seniors Patric Young, Will Yeguete and Casey Prather combined for 23 points and 14 rebounds, five blocks and five steals, but Wilbekin was the show-stopper when the Gators had the ball and Panther-stopper when the other guys did.
"Our offense isn't really designed for one to player to do that," said Wilbekin, who also three rebounds, two assists and a pair of steals. "The ball was in my hands in some late-clock situations and I was able to get down the lane."
The win was the 28th straight for the Gators (34-2), who advanced into the Sweet 16 round Thursday night at Memphis, Tenn. UF, the nation's lone team to reach a regional quarterfinal four straight years, will play the winner of Sunday's night's game between fourth-seeded UCLA (27-8) and Stephen F. Austin (32-2) from San Diego.
Just as important as living to play another game, the Gators got back to playing the high-energy, dogged-defense brand of basketball that was a season-long calling card until sleepwalking through a listless 67-55 defeat of 16th-seeded Albany two nights earlier.
Anyone looking to use that game to find holes in the tournament's overall No. 1 seed better look harder.
"People try to find something wrong with them at 34-2 -- and there's not a lot wrong with them," Pittsburgh coach Jamie Dixon said. "They're experienced. They're well-coached. They're by far the most physical team we've played and they banged us around all day long. ... We tried to cut, we tried to curl, we tried to go to the basket and we just bounced right off of them."
Maybe the Albany game was exactly what the Gators needed. Then again, it also came right after Pittsburgh destroyed Colorado by 29 in Thursday's early regional opener.
The confluence of the two got UF's collective attention.
"There's so much potential for greatness in this team," said Young, who had four of UF's six blocked shots. "If we go out and play like we did against Albany and allow some team to take it from us, then we're cutting ourselves short."
That was basically Coach Billy Donovan's take on the previous game and he took it at his players with a vengeance. Playing harder and more desperate than the opponent had been UF's identity during its incredible winning streak.
For some reason, it wasn't there in the NCAA opener, and Donovan held Wilbekin -- the heart of this group -- more responsible than anyone.
"He challenged us to be that team we want to be again," Wilbekin said. "We weren't going to let them play harder than us."
There was no mistaking the message; or the fact it had been received. That edge Donovan likes to see wasn't missing long.
"We came here to play our style of basketball," said Michael Frazier, who had a second straight off-day shooting the ball (2-for-9 from the arc), but hit a couple key 3-point shots on his way to scoring 10 points. "We understand that what we have is very special and that we have a chance to do something special. We don't want it to end."
The Panthers (26-10), who finished fifth in the Atlantic Coast Conference, had a reputation as a physical, aggressive bunch that rebounds and runs its offensive sets to perfection; and with few mistakes. They played to that rep for the better part of the first half and trailed by just two, 24-22, after a basket with eight seconds left before halftime.
Then came Wilbekin's H-O-R-S-E-like shot at the buzzer.
"That was momentum, right there," backup forward Dorian Finney-Smith said.
Though the Gators led by just five, the Panthers found very little rhythm on offense and their three best players -- leading scorer Lamar Patterson, top rebounder Talib Zanner and point guard James Robinson -- each logged 18 minutes before the break.
"We might not have had the turnovers we wanted [only four in the first half], but we were getting into their legs," assistant coach Rashon Burno said. "We knew we had a chance to wear them down in the second half."
And it started almost immediately, even though the Panthers scored the first bucket of the second period. The Gators answered with a quick seven straight points, including an inbound steal by Prather (8 points, 6 rebounds, 3 steals, 2 assists) and lob pass for an alley-oop slam to Young (8 points, 8 rebounds) that quickly had UF out in front by eight and mostly orange and blue arena jumping.
Then it was nine, then 11, then 13, then 14 after a Wilbekin trey at the 8:21 mark.
Patterson, meanwhile, came in averaging 17.4 points per game, but had not dealt with a defender like Wilbekin, who held the ACC's No. 4 scorer to one point after halftime. Pittsburgh shot just 34.6 percent in the second half and was out-rebounded 38-31.
The Panthersm, though, trimmed the lead to eight with just over five minutes to play, but that was when Wilbekin drove, spun, banked, willed and circus-shot his way to four straight baskets and eight straight points over a 3 1/2-minute spree.
"It seemed like about 20 straight," Frazier said.
And it was enough to right whatever was wrong about the Gators when they arrived in Central Florida four days ago.
Now, it's off to Memphis.
Look for that edge to go with them.
"Heck yeah," Young said. "We came in here with a fear of not having 40 minutes more of basketball together; a fear for the end of our careers. But we also came with energy, passion and a hunger to do something great against a great team like pit and move on, hopefully, to greater things."
---