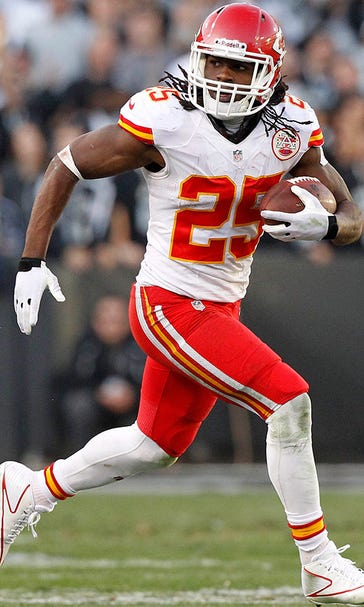 Savor Jamaal Charles' 2013 season, because it was the best ever by a Chiefs running back
January 22, 2014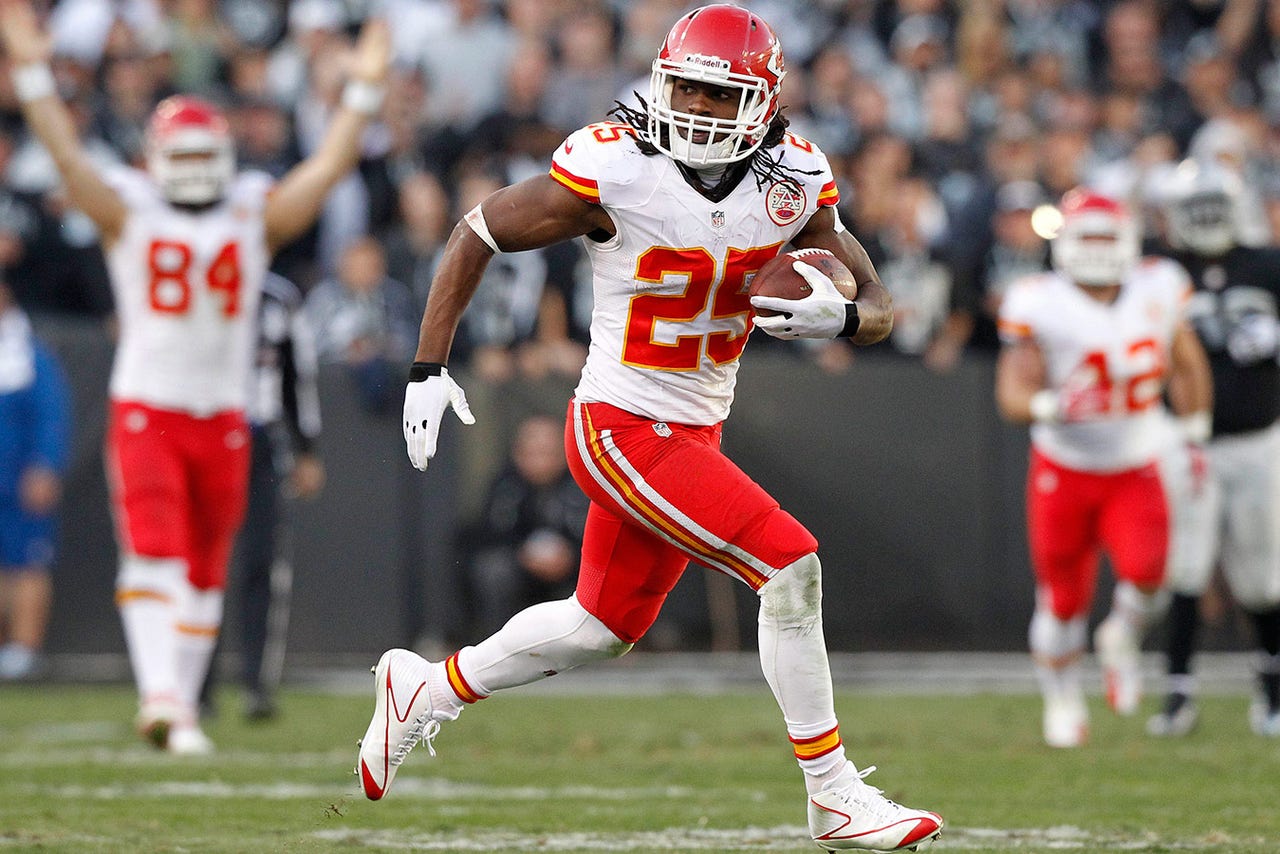 KANSAS CITY, Mo. -- We all know Jamaal Charles was sensational in 2013.
For much of the season, Charles simply was the Chiefs' entire offense. He ran for 1,287 yards and caught 70 passes for 693 yards. All told rushing and receiving, Charles had 1,980 yards and 19 touchdowns.
OK, sure, fans of Priest Holmes are already howling. Fans of Larry Johnson (are there any?) are, too.
By pure statistical standards, you can't top Holmes' 2002 season, when his combined yardage totaled 2,287 yards and 24 touchdowns. His 2003 numbers were off the charts, too -- 2,110 yards and 27 touchdowns (all on the ground).
And yes, Johnson had two phenomenal seasons, surpassing 2,000 combined yards in each of the 2005 and 2006 seasons while scoring 40 total touchdowns.
But Holmes and Johnson had a distinct advantage that Charles did not have in 2013: They both ran behind the greatest offensive line in Chiefs history.
The Chiefs' offensive line in 2002 consisted of left tackle Willie Roaf, left guard Brian Waters, center Casey Wiegmann, right guard Will Shields and right tackle John Tait. Granted, it's a stretch to call Tait anything but average, though he was a first-round pick and certainly wasn't any less of a tackle than Eric Fisher is at this moment.
But there is no arguing that Roaf was one of the best ever at left tackle -- he is, after all, in the Hall of Fame.
Shields, whom Dick Vermeil called the best at his position in the game, is now a third-time finalist for the Hall of Fame.
Wiegmann was an underrated center -- he was light, but was fearless and moved quickly to the second tier of blocking when he was in his prime.
And, of course, we know how good Waters was -- a six-time Pro Bowler.
That, my friends, was a dominating offensive line.
In 2002, the Chiefs broke or tied 22 offensive team records. In 2003 and 2004, the Chiefs rushed for a total of 63 touchdowns, tying a 42-year-old NFL record.
In 2004, the Chiefs led the NFL in total offense for the first time in franchise history.
All of that happened with a dominating offensive line, so dominating that it created stars out of numerous players and even coaches.
Remember when offensive coordinator Al Saunders was considered an absolute genius? The problem was, the minute he left Kansas City and that offensive line, he never again carried that genius moniker.
Trent Green? He was known as Tr-INT Green (24 picks in 2001) before that O-line was assembled. Behind that line, Green threw for over 4,000 yards three straight seasons. In his final three seasons in the NFL, without that line, Green threw 12 touchdowns and 22 interceptions.
And, of course, there was Holmes, who in four seasons with Baltimore had one 1,000-yard season but mostly was just another marginally talented back.
Then he came to Kansas City, and behind Roaf-Waters-Wiegmann-Shields, he became the talk of the league. Not to dismiss Holmes' achievements -- he had a great nose for the end zone -- but it's important to remember the countless times he was five yards beyond the line of scrimmage before he even got touched (especially when he ran left behind Roaf).
Johnson, too, got a taste of running behind greatness in 2005, and he had 2,093 combined yards that season, which made even the most ardent Holmes fans wonder if it indeed was as much the system as it was the player.
Remember also that those teams had fullback Tony Richardson, a three-time Pro Bowler and arguably the best blocking back of his era. And let's not forget another guy on that line -- future Hall of Famer Tony Gonzalez, who might not have been known for his blocking but was such a threat in the passing game that linebackers and safeties often were too preoccupied with him to worry about the running game.
The point is, Charles had none of those advantages last season. Charles came up with most of his yards on his own.
While Branden Albert obviously is a Pro Bowl-caliber tackle, he missed four games because of injury and played hurt in several other games. The rest of Charles' line -- Jeff Allen, Rodney Hudson, Jon Asamoah and Fisher -- might be good someday, but it is young and inexperienced now.
And no one will confuse today's line as one of the NFL's best. In fact, profootballfocus.com ranked the Chiefs' offensive line a below-average 20th in the NFL.
Yet Charles had one of the most prolific seasons for a running back in team history.
Just imagine what he could have done behind that offensive line from 10 years ago.
You can follow Jeffrey Flanagan on Twitter at @jflanagankc or email jeffreyflanagan6@gmail.com.
---