Saints hoping fifth-round pick Tull pays off big
Published
May. 6, 2015 11:23 a.m. EDT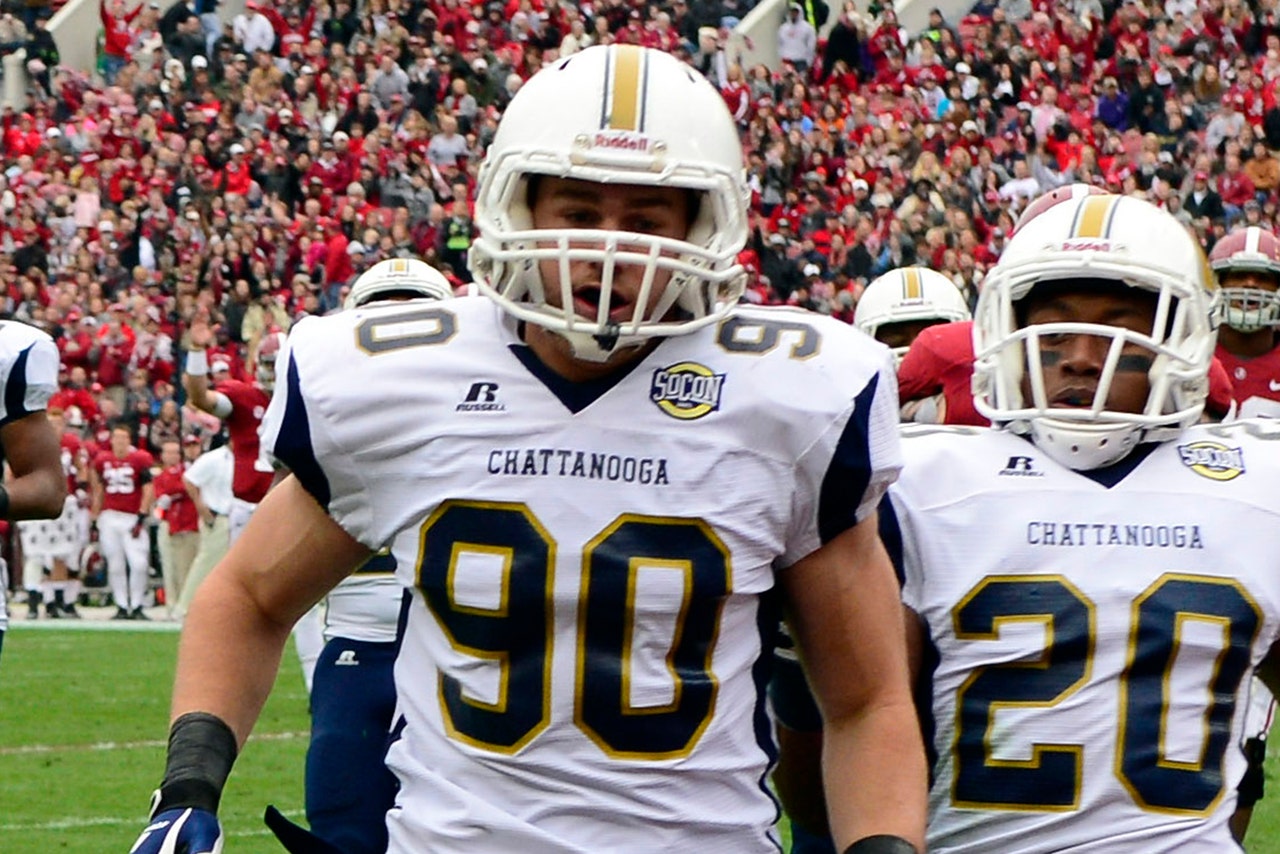 Four-time All American linebacker Davis Tull may not hit the field at full force for the New Orleans Saints at first, but the Black and Gold have high hopes for the University of Tennessee at Chattanooga product.
Tull, a finalist for Buck Buchanan Award in 2013 and 2014, had surgery this March to repair a torn labrum in his right shoulder.
"I'm right on track with rehab," Tull said. "Everything is looking great. I'm not going to rush anything, but at the same time, I'm looking forward to getting better right now."
Coach Sean Payton will patiently wait, believing New Orleans was able to get Tull as a steal in the fifth round because of the shoulder injury.
"This guy had great production in college, great makeup, and an exceptional workout," Payton said.  "He is a guy that dealt with an injury and some rehab and will continue to have to do that, but he's someone that we had a real high grade on, and we were fortunate to get at that selection.  He can play Sam (linebacker).  We feel like it is just one of those positions where he has production in the rush, special teams, versatility is a plus here with his vision and also someone that we feel like can rush in the nickel."
The Saints will hold Rookie Mini Camp from Friday, May 15- Sunday, May 17. Don't expect to see Tull as a full participant.
"He has real good measurables when you look at his jumps, his speed, his height/weight, all of those things," Payton said.  "He's going to rehab his injury, and it's going to be fully prepared and healthy. Yet that first rookie camp, potentially he's not going to be involved in some of the early stuff. For him, he's a quick studSouny, he's smart, and he's a good learner. You have to look at your grade and say we're willing to wait a little bit. This guy has got a real good skill set."
Tull is no stranger to overcoming injury or adversity. A broken femur at the end of his high school career sidelined Tull's recruiting dreams. Instead of visiting and eventually playing for an SEC powerhouse like the University of Tennessee in his hometown of Knoxville, Tull walked on in Chattanooga, instead of living out what he thought was his destiny.
"I think all of the things that have happened in my life and my football career up to this point have built a chip on my shoulder," Tull said. "It gives me extra motivation, and it helps me play with that extra edge. I think at the end of the day, it's all helped me and adds fuel to the fire."
Now, Tull has made up for lost time. He laid claim to owning the Southern Conference Defensive Player of the Year three times. Tull is also known as one of the game's most intense players.
"I feel like I owe it to the people I played for and my teammates; that I need to play as hard as I can and I always try to do that," Tull said. "We were just talking about losing scholarships in high school and having a broken leg and having people not believe in you and having that chip. You always want to prove other people wrong. I think that's where most of this comes from."
Tull may not have had the college recruiting experience he envisioned, but after his time in Chattanooga, he was the first player drafted out of the state of Tennessee in 2015. Perhaps Tull will develop into a much needed edge rusher for the Saints with his speed. The 6'3", 23-year-old ran a 4.57 40-yard-dash. However, for now, he's happy earning any spot he can, including one on special teams.
"I think it will be perfect to be coming in and playing a bunch of special teams and adjusting to the new game and learning the defense," Tull said. "I think it's a good transition, and it's something I'm completely willing to do. I'm excited about it."
Tull will wear No. 90 for the Saints.
---