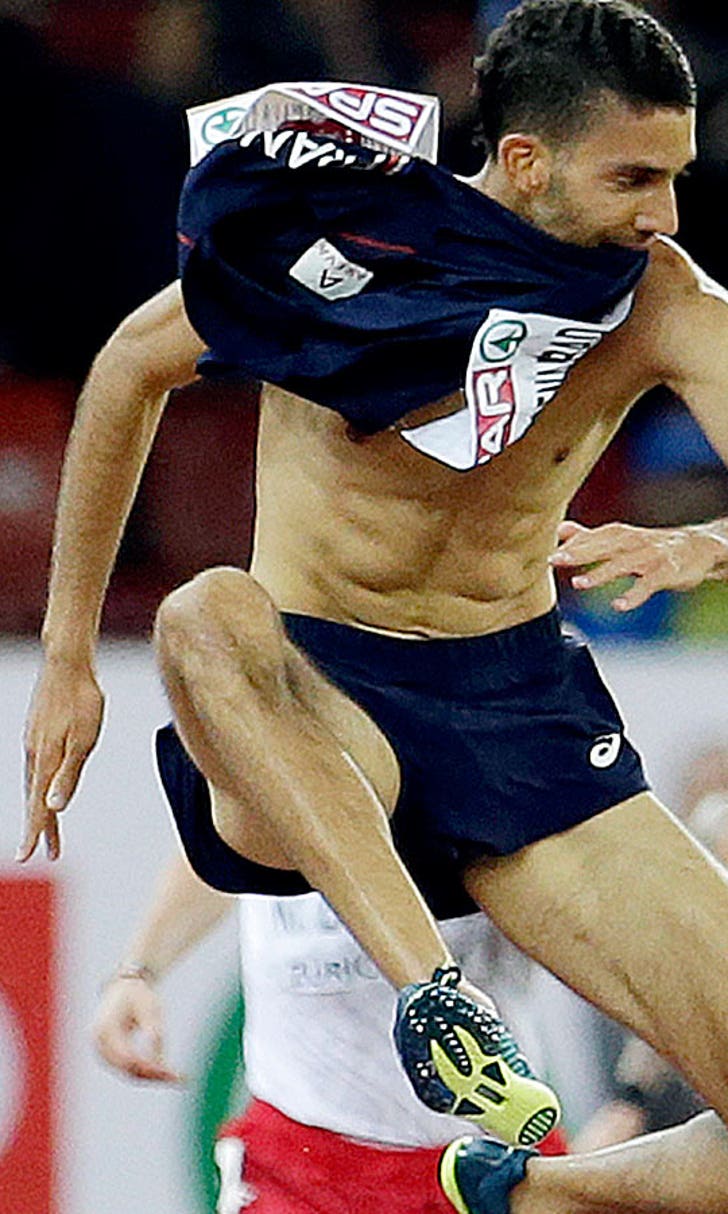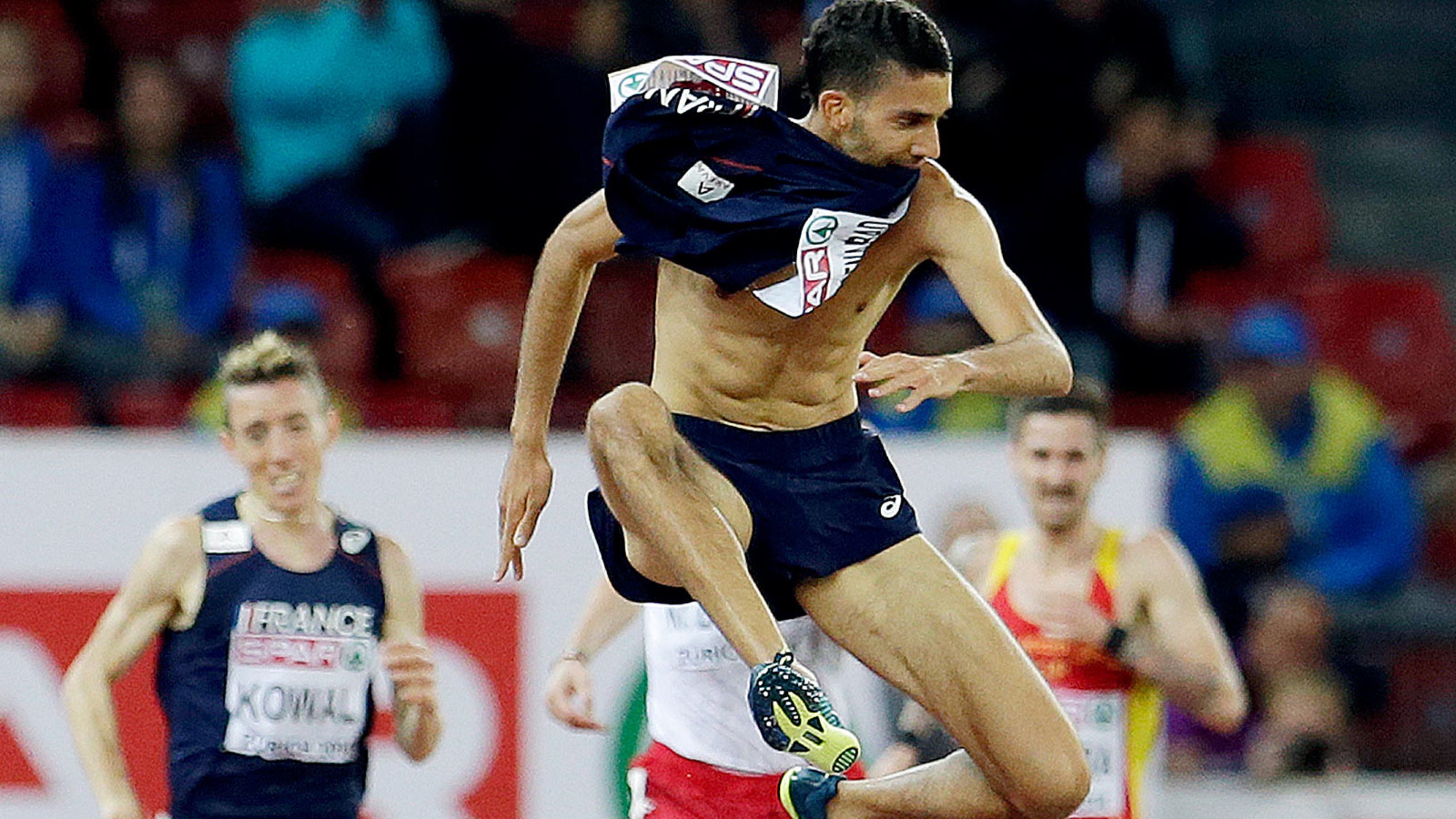 Runner Mekhissi DQ'd at Euros after bare-chested celebration
BY foxsports • August 14, 2014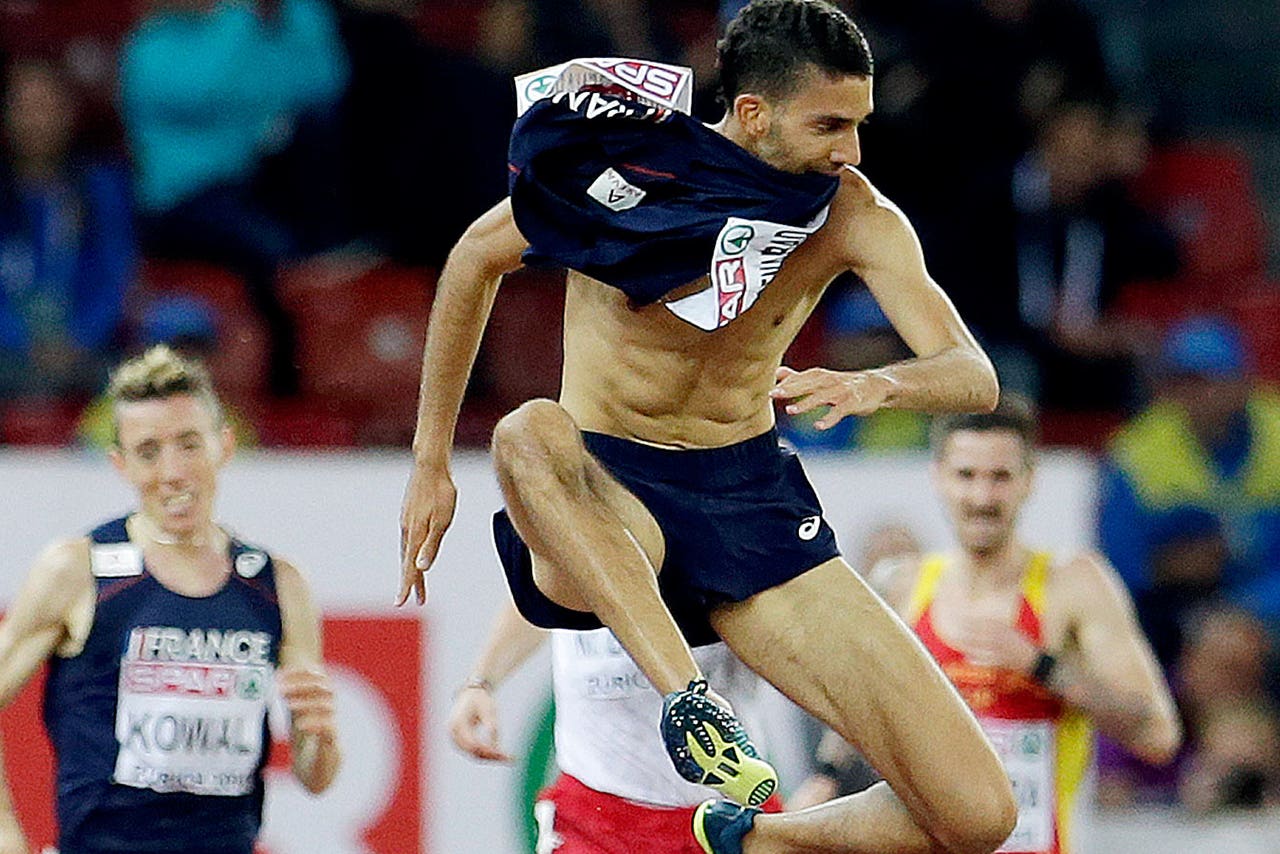 Mahiedine Mekhissi-Benabbad thought he was winning his third straight European Championship 3,000-meter steeplechase title and wanted to celebrate in style -- bare-chested through the finishing straight.
Instead, the Frenchman added yet another chapter to his controversial career when he was disqualified for taking off his shirt and bib for the last 100 meters.
Two years ago, he violently pushed the championship mascot after winning his second title, and a year earlier he threw punches at a French rival runner at a major meet.
At first, Mekhissi was given a belated warning for his partial strip, and said ''it was just the emotion'' taking over. But Spain, which stood to gain a bronze medal if Mekhissi was DQed, protested, and after appeal and counterappeal, Mekhissi was scrapped from the results.
''When I took off my vest,'' he said, ''it was because of my joy. I was so happy to defend my title.''
It turned another special moment into another controversy. As a runner, his talent is undoubted. He usually falls short only against the Kenyans in global competitions, and has two Olympic silvers and two world bronzes to show for it.
On Thursday, Mekhissi swept in front for good with one kilometer to go to lead a French one-two across the line, with Yoann Kowal taking silver ahead of Poland's Krystian Zalewski.
In the end, the ease of victory didn't matter, the premature celebration did. France middle distance coach Philippe Dupont said Mekhissi wanted to celebrate football-style, where players sometimes take off their shirt after scoring a goal. The coach acknowledged it was not the best thing to do.
Gold still remained French as Yoann Kowal moved up into the winner's position, Zalewski took silver, and Spain's Angel Mullera the bronze.
France still ended up with two gold on the night, as Benjamin Compaore won the triple jump ahead of Russians Lyukman Adams and Aleksey Fyodorov.
Yet, it was Russia's day when Sergey Shubenkov won the 110 hurdles in Thursday's last event, providing the third gold for his country as the European Championships reached the halfway stage.
That race, too, was sour for France because Pascal Martinot-Lagarde was a heavy favorite. Yet, as Martinot-Lagarde started tripping hurdles, it was Shubenkov who crossed first in 13.19 seconds, beating William Sharman of Britain. Martinot-Lagarde took bronze after compatriot Dimitri Bascou was DQed for impeding.
Earlier, Anzhelika Sidorova won the women's pole vault with the last vault, and Elmira Alembekova set off Russia's day on the right foot by winning the 20K walk.
With the women's 100-meter gold medal secured, Dafne Schippers dominated the 200 semifinals, too, the second step in a potential sprint triple.
Running a day after winning her first title, the Dutchwoman showed no ill effect from two more heats in barely eight hours as she clocked the fastest time for Friday's final.
''It was a real short night. But being tired at the start is nothing new for a heptathlete,'' Schippers said.
She turned sprinter for these championships and Wednesday's 100 was seen as her toughest individual challenge.
As in the 100, it looks like Myriam Soumare of France will be her main rival, coming through to win her semifinal.
Schippers has the fastest 200 time of the season, and if she wins the final on Friday she will have to rely on a strong performance from her relay teammates over the weekend to make it three titles.
It would equal the sprint triple of Fanny Blankers-Koen, who won three individual events at the 1950 European Championships.
One day ahead of women's high jump qualifying, former world champion Blanka Vlasic was forced to pull out because of a knee injury. Her comeback from an Achilles operation two years ago had been one of the most anticipated events of the championships.
---