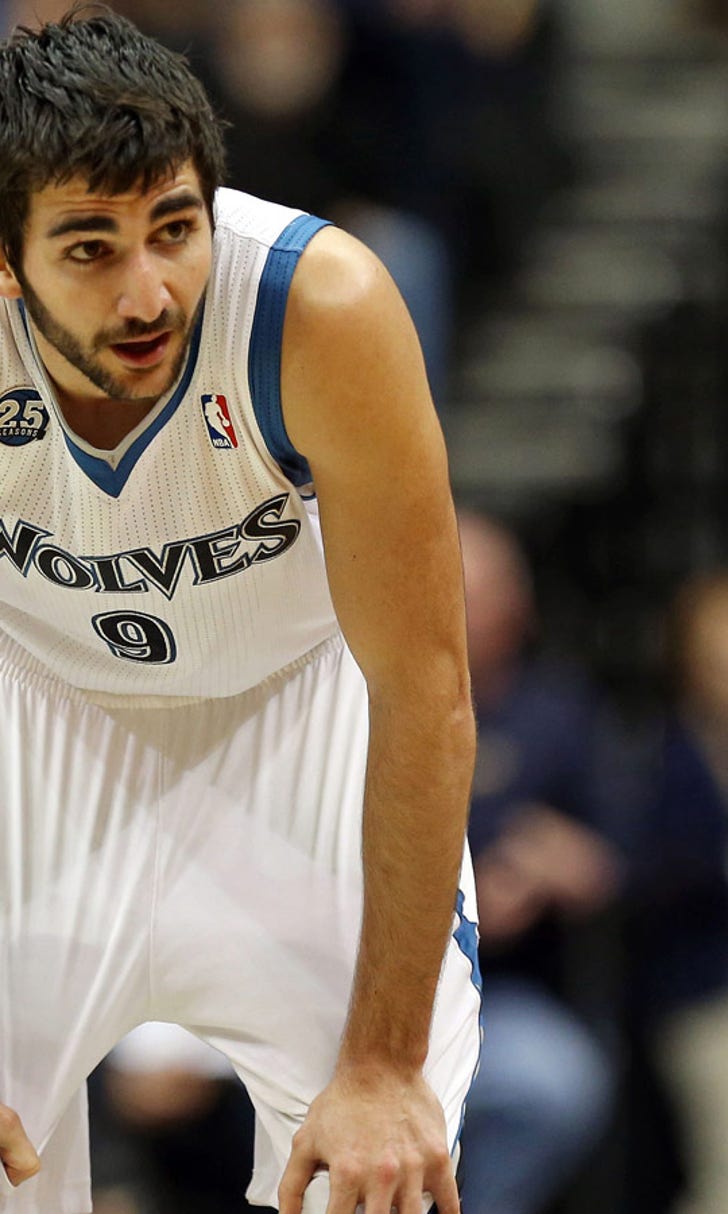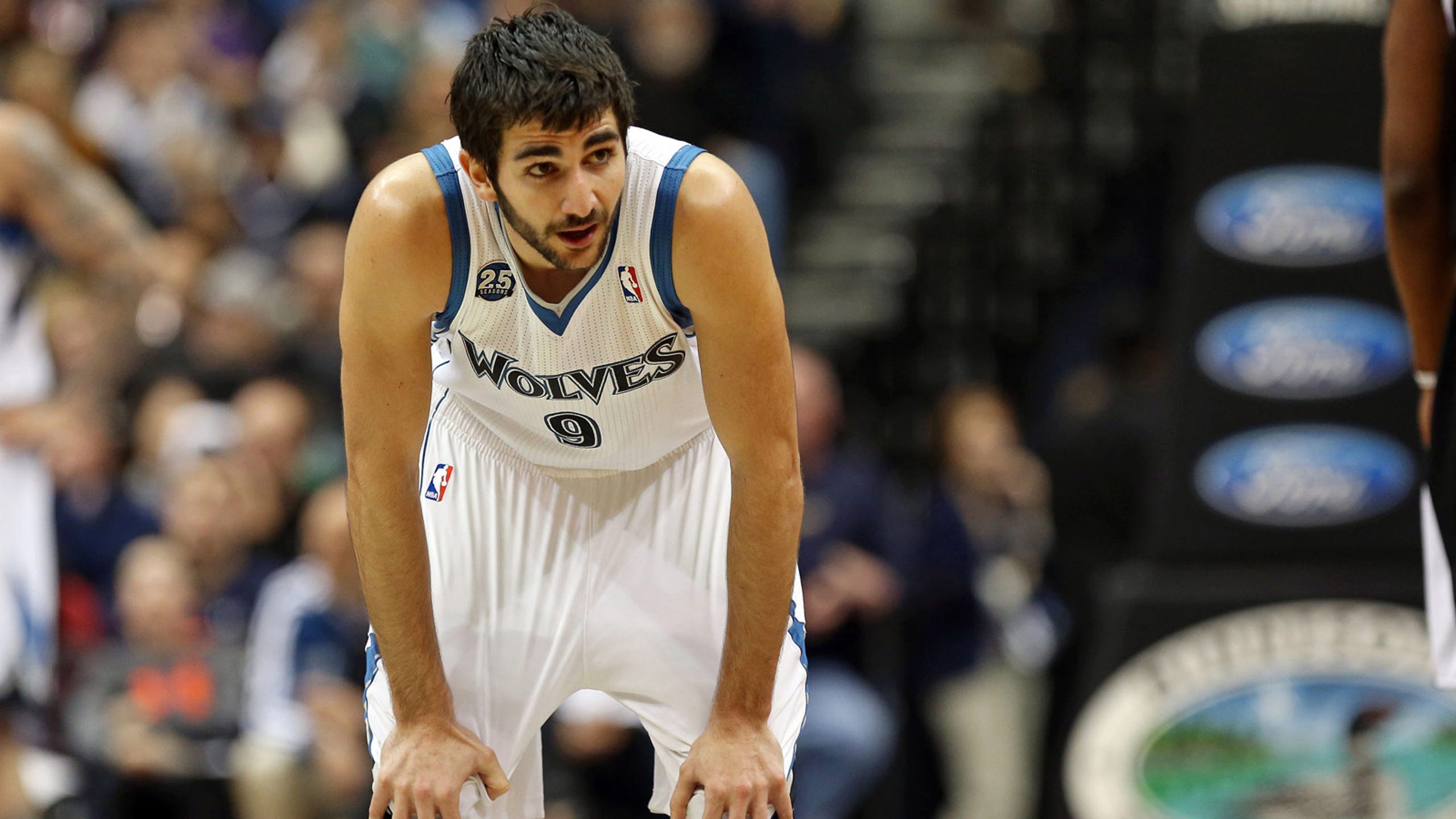 Rubio in good spirits as he awaits return, but injury came at 'tough time'
BY foxsports • November 20, 2014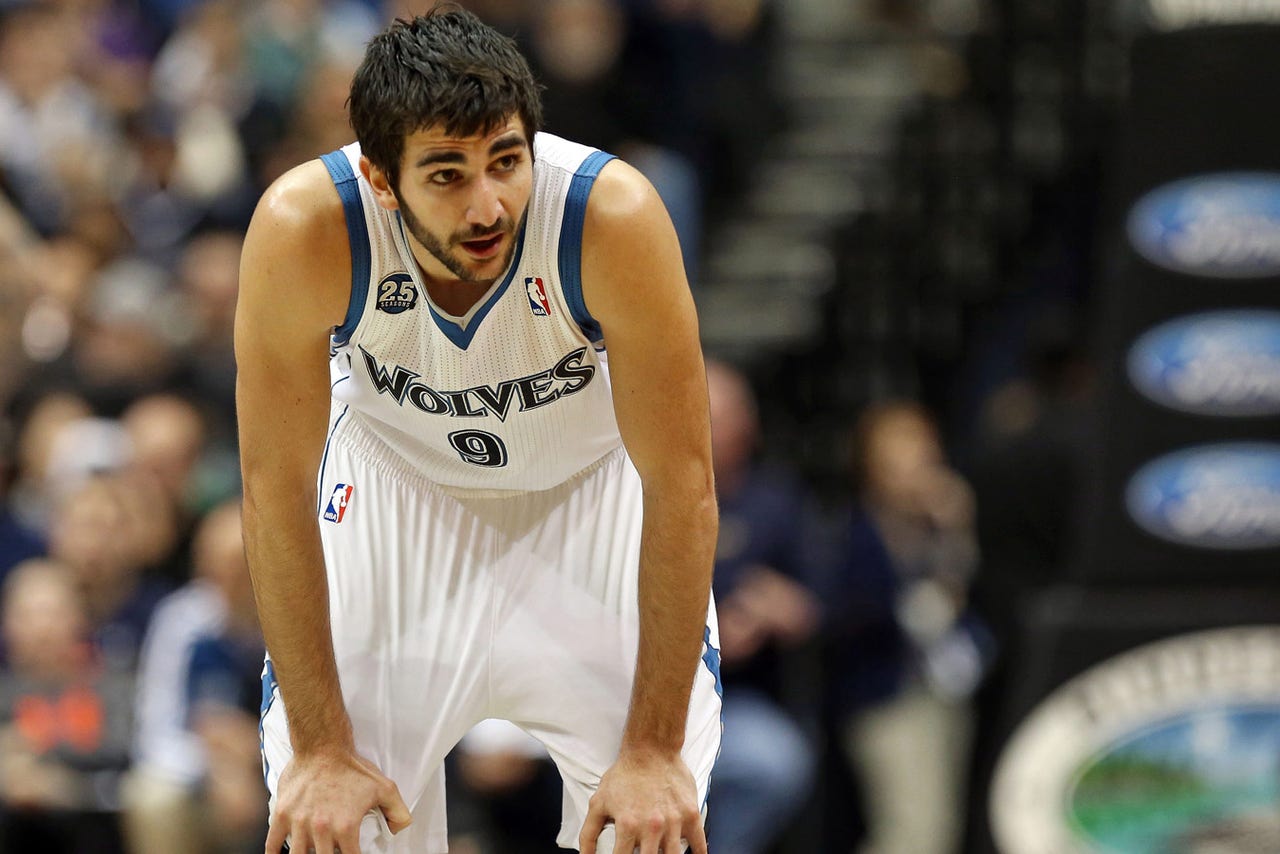 MINNEAPOLIS -- A fully healthy, graphically rendered version of Ricky Rubio slashed his way in and out of the lane, befuddling defenders en route to a career-high 40 points.
Then Rubio paused NBA 2K15 and set his controller down. Looked at the heavy walking boot encasing his left foot and lower leg. Back to reality.
Since sustaining a nasty left-ankle sprain that has him sidelined indefinitely, Rubio has tried to keep his spirits up. At the Target Center, that means frequently engaging his teammates and offering pointers to the Timberwolves' young contingent. At home, it means dodging the grim truism that he's powerless to help them any other way.
"A lot of people say you have a lot of time (to yourself) now you're not playing," Rubio, in good spirits but still on crutches, told reporters Thursday after practice. "I don't want to have that much time. That's more time that I can think about what happened and all that stuff."
What happened is that Rubio was playing what he considered the best basketball of his young NBA career, then saw the opportunity to continue torn away.
He'd recently signed a four-year, $55 million extension that makes him one of the league's highest-paid point guards. Heading into Minnesota's Nov. 7 tilt at Orlando, Rubio was shooting a career-best 42.6 percent and averaging 10 assists, 1.2 steals and 9.4 points per game through five contests. Moreover, he says, he was embracing his newfound role as the ringleader for a youthful bunch seeking to bring a lowly franchise back to respectability.
Then he drove the Amway Center lane hard against Magic shooting guard Willie Green with 2 minutes, 28 seconds left in the second quarter. Rubio's ankle buckled underneath him and rolled sideways upon landing.
"I felt a little pop," Rubio said, "and I knew it was over."
Rubio was helped back to the locker room. X-rays revealed he hadn't broken any bones, but he'd require further evaluation. That led him to miss the next day's game at Miami, instead receiving an MRI. He missed the rest of the Timberwolves' road trip, spending it in Minnesota to begin the rehabilitation process.
When Rubio first saw his swollen foot, it had already turned a dark bluish hue. "Which is kind of disgusting," he said.
Sprained ankle, the team announced the day after Rubio went down. Out indefinitely. Will be evaluated in two weeks (which would mean this upcoming weekend).
Coach and president of basketball operations Flip Saunders is officially perturbed by being asked exactly what it all means.
"I know you guys are smart," Saunders, rarely one to offer hard-line timelines for a player's return, told the gathered media Thursday. "So it's just what I told you; we will tell you after we evaluate him next week, and he knows that. We told you that the first day, and I said I'm not going to answer that question every day, OK? So when we find out, we'll be sure we tell you just like everybody else."
So all Rubio can do is show up for rehab sessions two or three times a day and let Minnesota's physical therapists and partner specialists from the Mayo Clinic do their work as he grimaces on top of an exam table.
It's not his first bout with significant injury. A torn ACL cost him a good chunk of his rookie season in 2011-12 and part of his sophomore campaign. But this is different. The end is in clearer sight, but the stakes are higher now.
"It comes at a tough time," said Rubio, who can't recall ever spraining his ankle before that fateful Friday in Florida. "I was feeling good. I went through training camp with a lot of energy, and I was starting the season well. But, I mean, not everything is going to be good. You have to go through this and keep going."
He's tried to push it. Earlier this week, he was told he could begin putting weight on his legs again. He hobbled around his home without crutches.
But the next day, the swelling in his foot had increased, both in size and sensation.
Back came the crutches.
"It's a matter of time, of knowing your body and listening to your body because it's going to react and tell you how do you feel," Rubio said. "I'll push hard, but there are limits."
Particularly at the workplace. Sitting behind the bench in a suit or hanging around practice on his crutches, Rubio is confined to communicating with rookie Zach LaVine and veteran Mo Williams, his fill-ins at the point till Rubio can return to the lineup.
At halftime of Wednesday night's victory over the Knicks, Rubio addressed the team in the locker room before the coaches did.
"Definitely, he's leading," forward Shabazz Muhammad said. "That's what big-time players do."
But it's not the way Rubio prefers to do it.
"It's harder, maybe, because the way I like to lead the team – especially with the young guys – is lead by example," the 24-year-old Spaniard said.
"Coming to practice and busting my ass, just playing hard, the same thing. I can't do it now, so I have to be more vocal. My English is improving, so I can talk to them more often and they understand me finally. Just trying to talk to them, see what I see, encourage them."
Said Saunders: "It's very difficult for people not playing, because he's not in the heat of the battle. . . . I think he can be more of a communicator than he can be a leader."
Rubio's injury in an overtime loss was the first domino in a tumultuous 1-5 road trip that left the Wolves without three starters and has them at 3-7 heading into home games Friday against San Antonio and Saturday against Sacramento. The absences of Nikola Pekovic (sprained wrist, sore ankle) and Thaddeus Young (personal reasons) are impactful enough.
But in Rubio, the Wolves lost "the heart and soul" of the team, Saunders has said.
"That was a little deflating," assistant coach Sidney Lowe said. "I felt bad for him, because I could see that he was really trying to lead this team. I could see it in him. So we certainly look forward to getting him back."
Follow Phil Ervin on Twitter
---