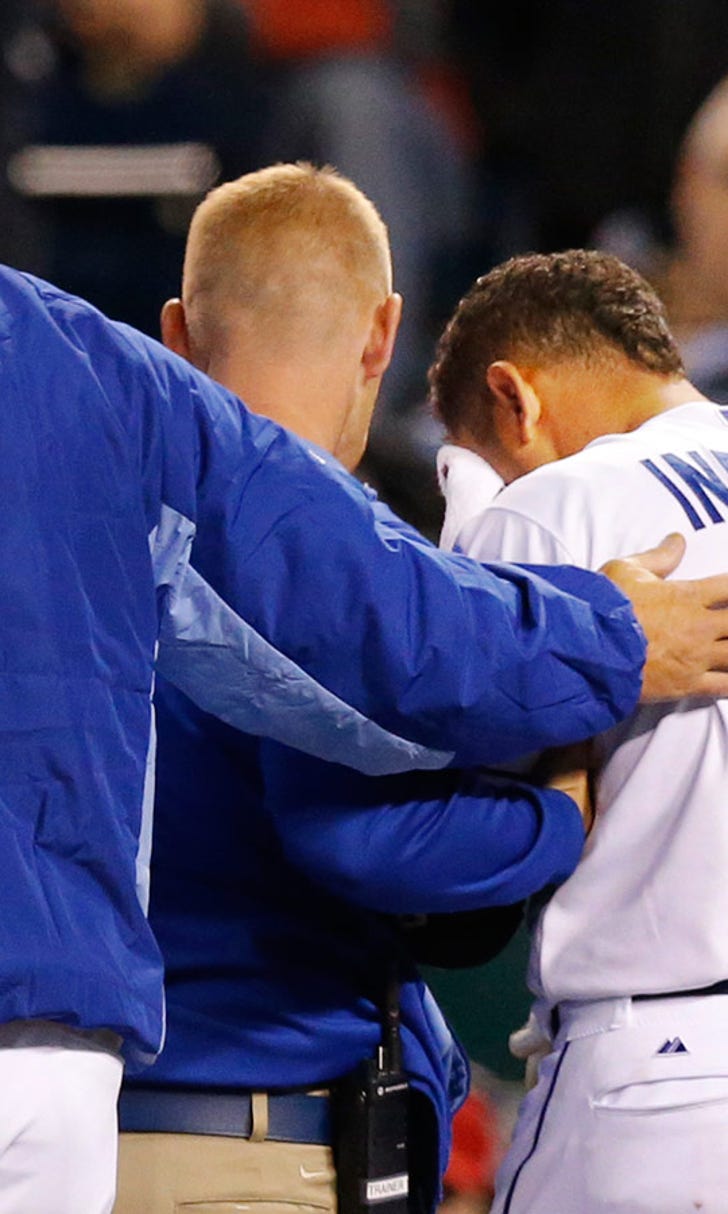 Royals wait to hear about Infante's injury, ponder possible roster moves
BY foxsports • April 8, 2014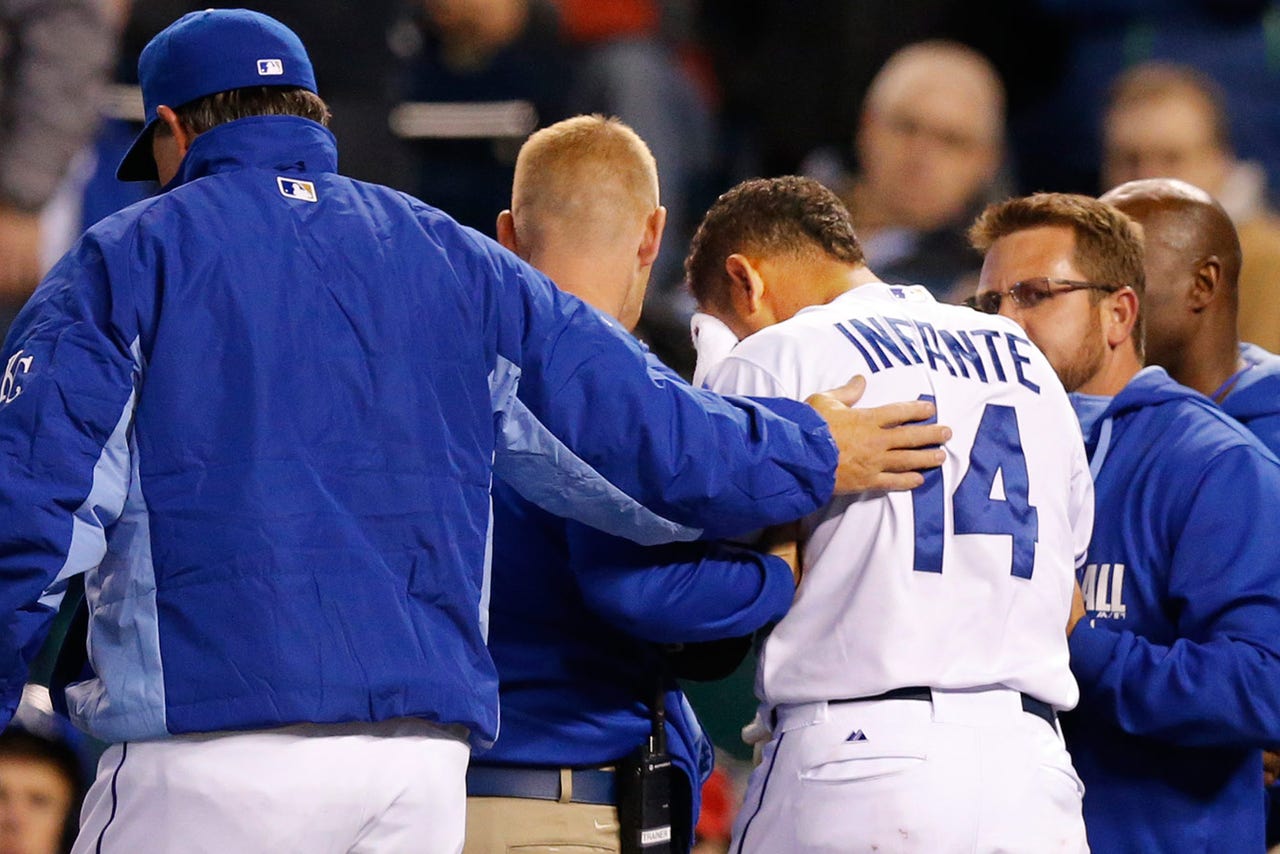 KANSAS CITY, Mo. -- Royals players were still grimacing from the sound made when a fastball from Tampa Bay's Heath Bell nailed Omar Infante of the Royals in the chin in the seventh inning.
"It makes that sickening sound," Billy Butler said, "and it's so bad you don't even want to hit when I came up. I know I didn't."
Infante was able to turn his head just enough so the pitch didn't hit his chin square. But it was still a gruesome connection that drew blood. He did require stitches before heading for the hospital, and he will go through the league's concussion protocol, manager Ned Yost said.
Yost also said he had no idea the extent of the injury or just how the Royals would adjust in terms of their roster.
The best-case scenario, Yost said, is that Infante might miss only a few days and the team might be able to survive with corner infielder Danny Valencia at second base. Valencia did play extensively at second base during spring.
The Royals also could put Infante on the disabled list, or they could option out a pitcher and go back to an 11-man staff, though Yost didn't seem in favor of the latter.
"It's just dangerous to try to get through with an 11-man stuff once," Yost said, "let alone twice. You use up some guys one night and it sets you back two days."
Shortstop Alcides Escobar said he checked in with Infante before Infante left for the hospital.
"He couldn't speak," Escobar said, "but he did give me a thumbs-up to say he was OK."
3 UP
-- Vargas victory. Left-hander Jason Vargas was superb again for the Royals, shutting out the Rays through eight innings. He came out for the ninth and gave up a leadoff homer to Ben Zobrist before closer Greg Holland came in and nailed down the 4-2 win. Vargas gave up four hits, walked just one and struck out two.
-- Esky bomb. Escobar, who had just one hit coming in, slammed a bases-loaded double off the left-field wall in the sixth inning to break the game open. Esky's three-run double -- he just missed a grand slam in the Sonic Slam inning -- gave the Royals a 4-0 lead. "I just wanted to hit something hard there because the bases were loaded," he said. "I feel I'm swinging better now."
-- Cain's defense. Once again, center fielder Lorenzo Cain chased down several well-hit balls in the outfield. And right fielder Norichika Aoki made a circus catch in the first inning to aid Vargas, who was appreciative. "Those guys don't make those plays," Vargas said, "who knows what happens in this game."
3 DOWN
Watch the Royals Live pregame and postgame shows before and after every Kansas City Royals game on FOX Sports Kansas City.
-- The Infante injury. Infante has struggled with a painful bone spur in his right elbow all spring and he said before the game it was just starting to feel a little better. Now, Infante could be headed for a stint on the disabled list. The Royals aren't carrying a backup middle infielder, which now will force them to make a roster decision they likely don't want to have to make.
-- Billy's bat. Billy Butler still hasn't found his timing here early in the season. He rolled into yet another double play to kill the first inning, and lined out softly in his next at-bat with runners on first and third and one out. The Royals need their cleanup hitter to get them off to a solid start.
-- Valencia's DP turn. Valencia is a third baseman by trade, but he has tried to learn second base this spring, and with Infante's injury, he could be pressed into regular duty for a few days. Valencia didn't look sure of himself when he tried to turn a routine double play in the ninth -- his throw to first was wild and sailed past Eric Hosmer. "He'll be fine," Yost said. "And actually, that's the first double play I've seen that he hasn't turned so far. Granted, this is the regular season now."
You can follow Jeffrey Flanagan on Twitter at @jflanagankc or email jeffreyflanagan6@gmail.com.
---