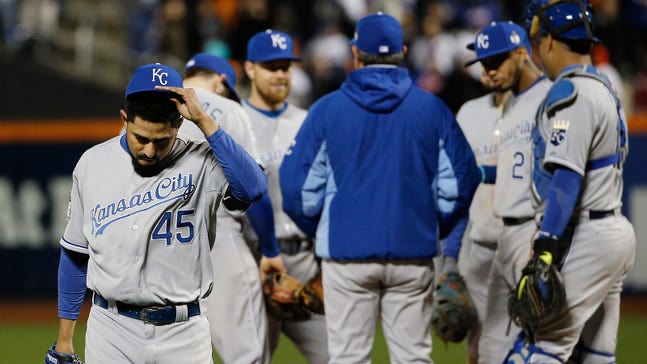 Royals drop Game 3 to Mets 9-3, still hold 2-1 Series lead
Published
Oct. 30, 2015 11:33 p.m. ET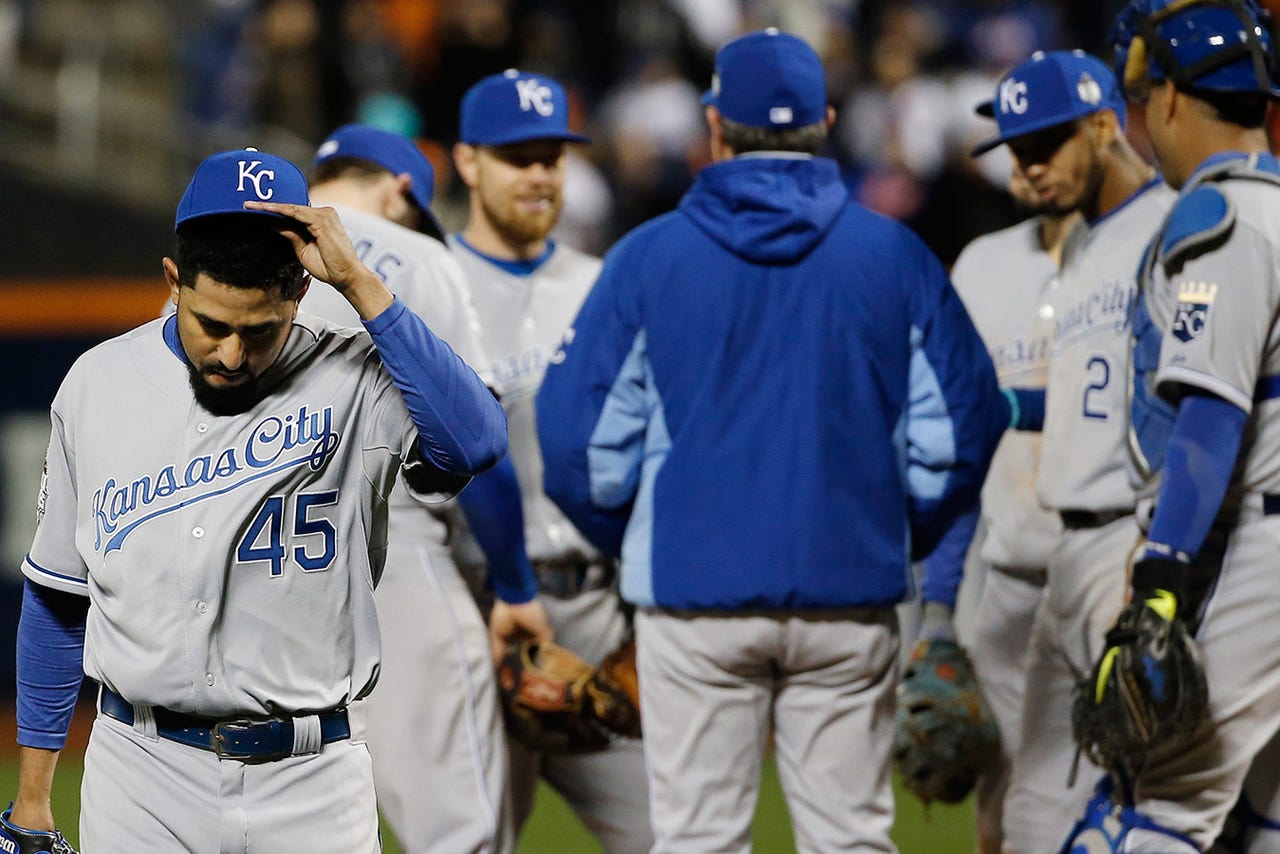 NEW YORK -- The Kansas City Royals left their near flawless brand of baseball at home.
That Gold Glove defense led by Eric Hosmer bungled several key plays. Those bats that couldn't miss at Kauffman Stadium in the first two World Series games were flailing helplessly against Noah Syndergaard once the rookie settled in. The nearly unhittable bullpen had trouble getting outs.
Yordano Ventura gave back two early leads and the Royals looked uncharacteristically shaky in a 9-3 loss to the New York Mets at a raucous Citi Field on Friday night, having their lead in the best-of-seven series cut to 2-1.
Now it falls to 6-foot-10 Chris Young, pitching on three days' rest after his hitless relief appearance in Game 1, to try to push the Royals to the brink of their first World Series championship since 1985. He's set to start Game 4 Saturday night against the Mets' Steven Matz.
The Royals got off to a hot start on a chilly night, shouting at Syndergaard after the golden-locked right-hander's first pitch sailed over the head of Alcides Escobar and scoring a run on Hosmer's fielder's choice.
But the unpredictable Ventura gave the lead right back, allowing a two-run homer to David Wright. He gave up another two-run shot, this time to Curtis Granderson, in the third to waste another lead.
The 100-mph hurling right-hander's velocity was way down, and then he really lost his way in the fourth.
After giving up two hits to open the inning, Ventura got Michael Conforto to hit a grounder between first and second base. Hosmer ranged far to his right to field the ball, nearly bumping into second baseman Ben Zobrist. Ventura made no effort to cover first and Hosmer made a late dive to attempt to tag the bag, but the not-so-speedy Conforto beat the play for an infield hit, upping the Mets' lead to 5-3 and putting runners on first and third with none out.
The Royals got out of that jam, but there was no comeback this time, though.
After allowing the first run by Kansas City's bullpen in the Series, reliever Franklin Morales threw away an opportunity to keep the score close in the sixth.
He fielded Curtis Granderson's comebacker and hesitated before throwing to second to try to start a double play. His toss was way off target and the Mets scored three more times, two of the big hits coming off near unhittable Kelvin Herrera to make it 9-3.
The Royals swung and missed only three times on 94 pitches against Jacob deGrom in their 7-1 Game 2 victory, and their patient plate approach was working in the first two innings against Syndergaard. But then the Mets' flamethrower found his groove and Kansas City lost its rhythm. The Royals came up empty on more than a dozen swings against Syndergaard.
From Zobrist's flyout to center field to end the second with a runner on second, the Royals made 12 straight outs before Mike Moustakas singled with two away in the sixth. They loaded the bases with two walks but the clutch hitting was not to be found as Alex Rios grounded out for their best opportunity to get back into the game.
---
---