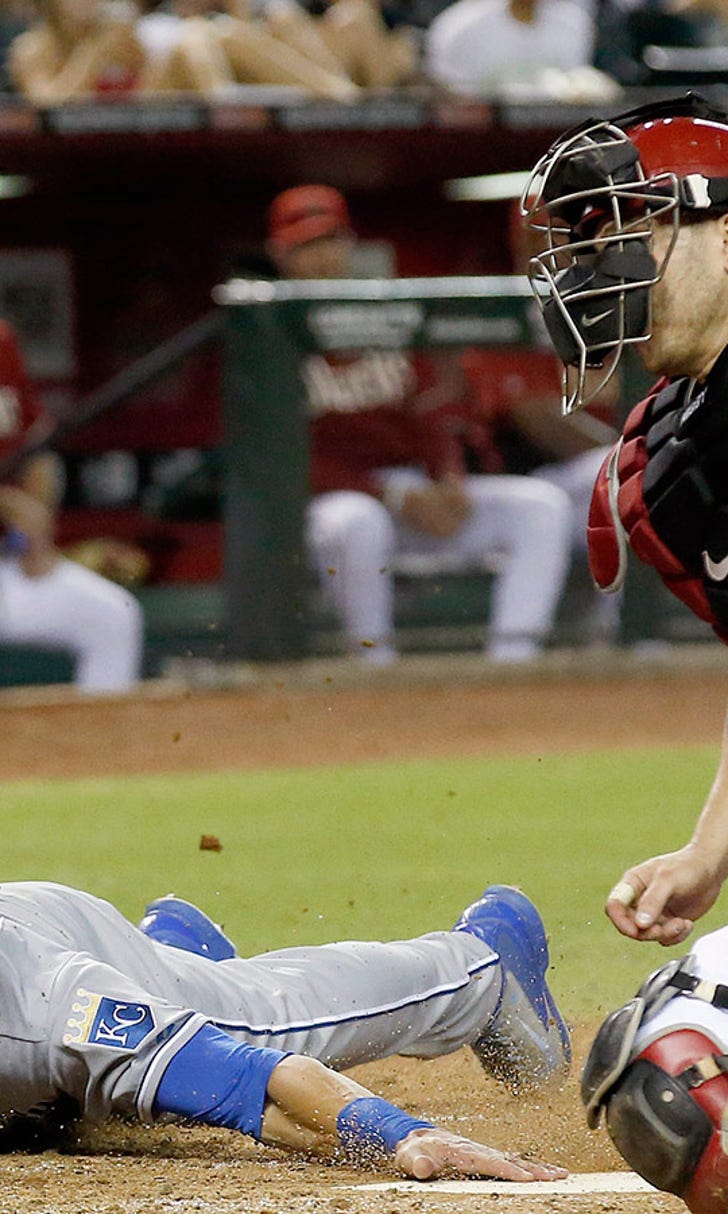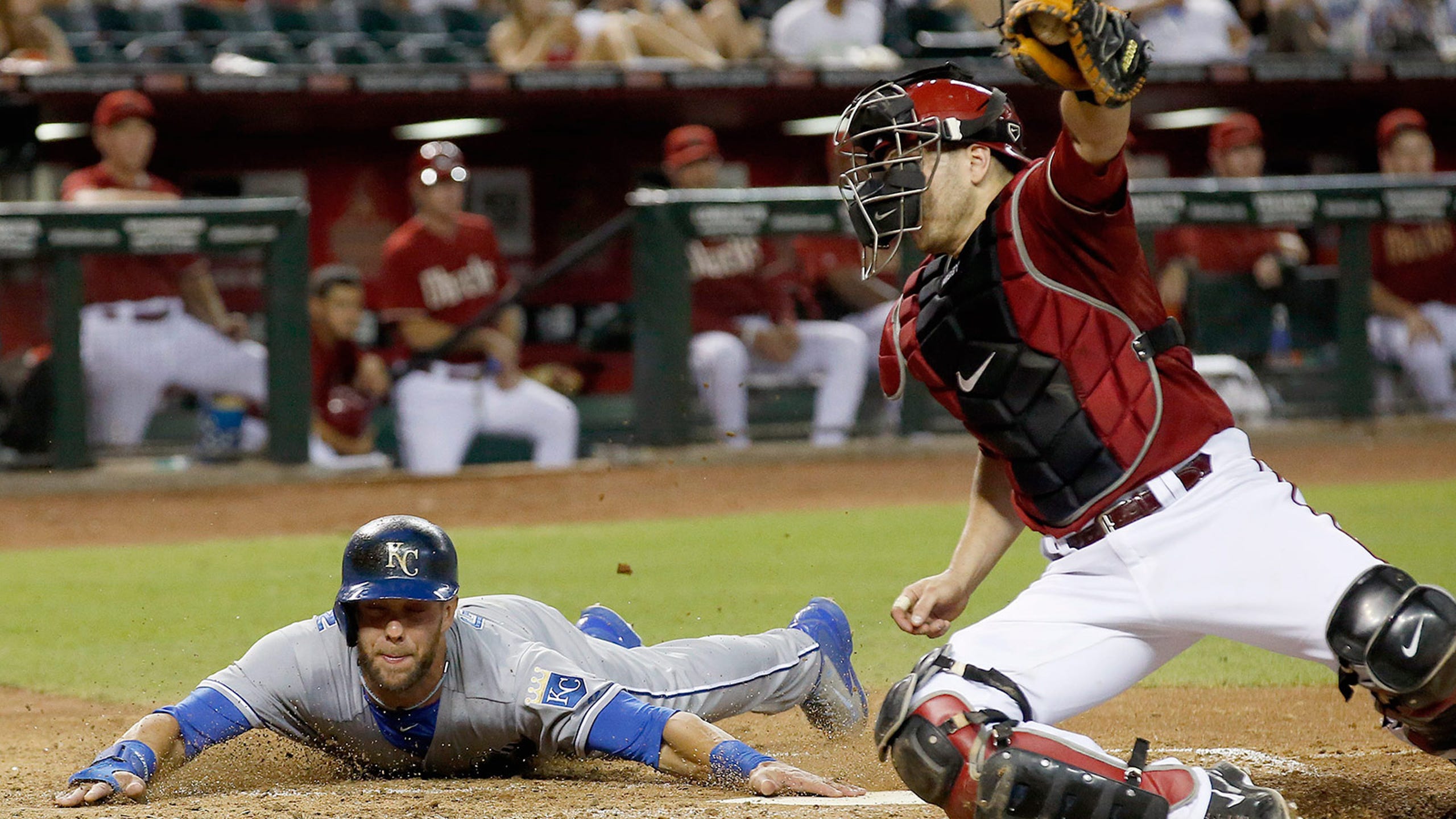 Royals complete sweep in Arizona and take possession of final wild-card spot
BY foxsports • August 8, 2014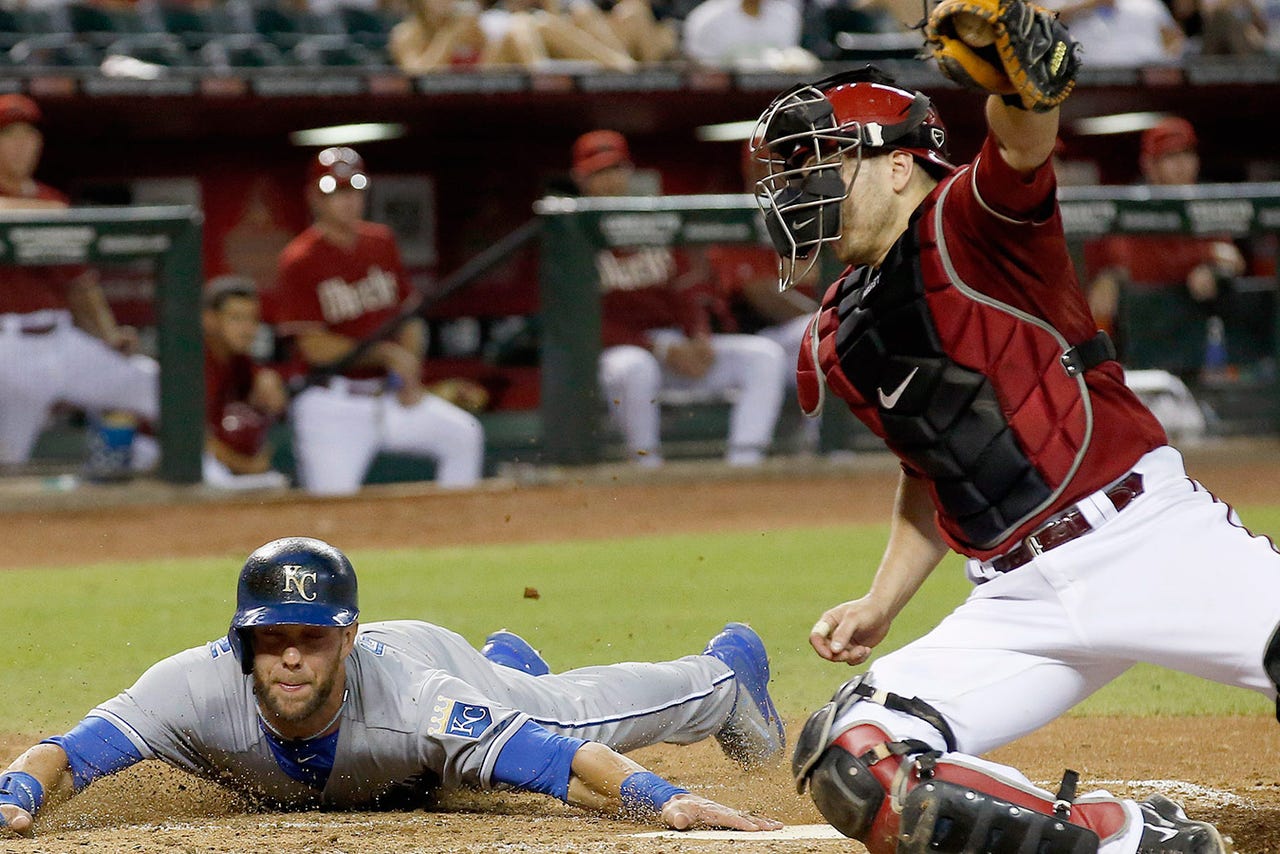 Yep, if the season ended today, your Royals would be in the playoffs.
OK, it's early August and it might be a little too early to get overly excited. But the Royals completed a stirring 5-1 road trip by sweeping three games from Arizona, culminating with a 6-2 victory Thursday night.
The victory was the Royals' 12th in 15 tries, and moved them into the second wild-card spot thanks to Toronto's 2-1 loss to Baltimore.
And also thanks to the Yankees' 1-0 win over Detroit, the Royals crept to within 2 1/2 games of the lead in the Central.
The winning formula Thursday was a familiar one on this road trip: Great starting pitching and just enough offense.
Right-hander Jeremy Guthrie fittingly got the win. He started the road trip with a brilliant six-inning shutout effort in a 1-0 win over Oakland. On Thursday, he finished off the road trip with another super outing.
After getting nicked for a couple runs early, Guthrie was in complete command. He went the whole way, firing his first complete game since last September. He retired the final 19 hitters he faced, while walking none and striking out four.  
3 UP
-- Gordo with the early bomb. The Royals homered in all three games in Arizona, and all pretty early in games. In the second inning, after Billy Butler doubled, Alex Gordon jumped on the first pitch he saw and crushed it over the right-field fence to give the Royals a 2-1 lead. That was Gordon's first homer since June 21, which was 136 plate appearances and 33 games ago.
Watch the Royals Live pregame and postgame shows before and after every Kansas City Royals game on FOX Sports Kansas City.
-- Big Sal provides some breathing room. After Nori Aoki and Omar Infante singled to lead off the third, they took off on a double steal (nice call by manager Ned Yost). That set up Sal Perez, who pulled a two-run single down the left-field line. That pushed the Royals' lead to 4-1 and seemed to allow Guthrie to relax.
-- Don't forget the defense. The Royals also made several solid defensive plays. Shortstop Alcides Escobar made one of his patented plays up the middle, snaring a grounder, spinning 180 and firing a strike to first for an out. Third baseman Mike Moustakas also made a tough catch on a pop-up over his shoulder while drifting well into left field. Moose also leaned into the stands to snare a foul pop. Well done.
3 DOWN
-- Rex's prediction. Our buddy Rex Hudler made a couple of bold predictions early in the game. The first was that the Royals would hit three home runs. The FOX Sports Kansas City announcer said this just moments before Gordon whacked his two-run homer. And yes, Rex looked like he had a crystal ball. Alas, the crystal ball must have been broken. That was the only homer the Royals hit. Rex also predicted Escobar would hit his first homer since May 11. That didn't happen, either. But hey, keep being bold, Rexy. Maybe that three-homer game comes this weekend.
-- Soft runs. We like soft runs only when they belong to the Royals. The D-backs got one in the first on a bloop single, an infield single and two fly balls. Then in the third, the D-backs got another when, with two outs, Mark Trumbo hit a swinging bunt down the third-base line for a hit. A ground-ball seeing-eye single and a blooper to left plated Arizona's second run.
-- Offense shuts down. The Royals seemed like they were on their way to a big offensive night -- like they had Tuesday -- when they scored a season-high 12 runs. They got five off Vidal Nuno through four innings. But unfortunately, D-backs manager Kirk Gibson pulled Nuno after four, and that was it for the Royals' offense.
You can follow Jeffrey Flanagan on Twitter at @jflanagankc or email him at jeffreyflanagan6@gmail.com.
---