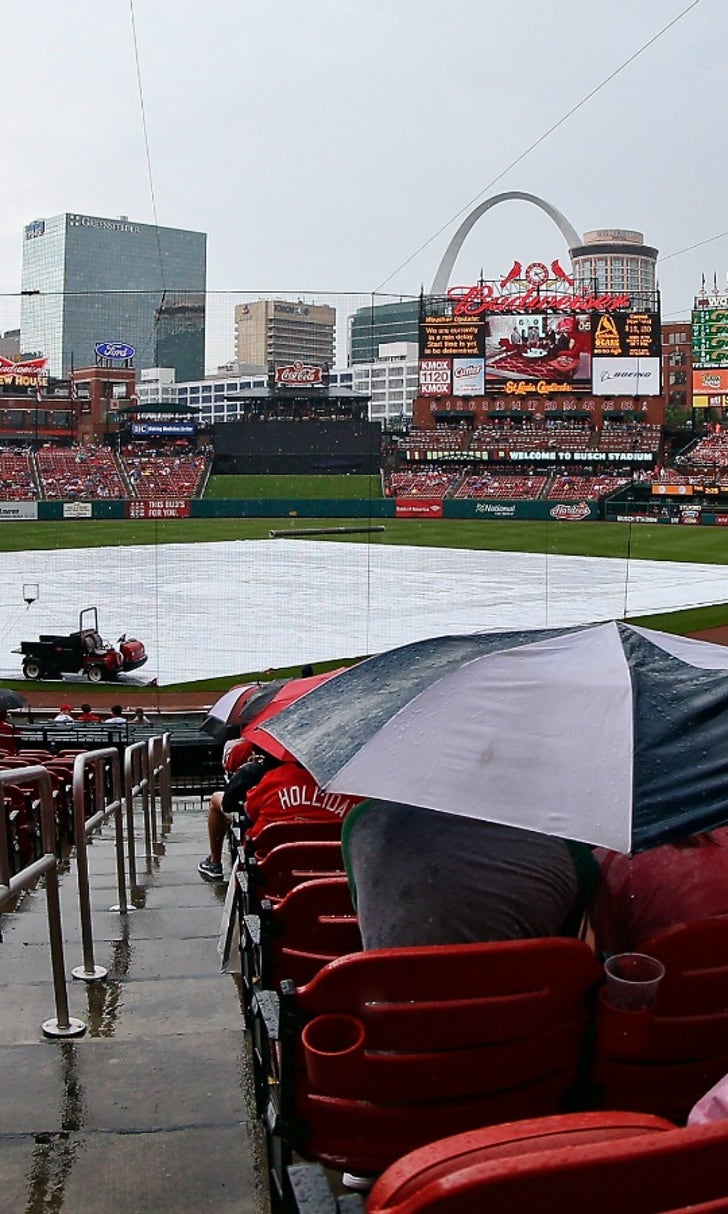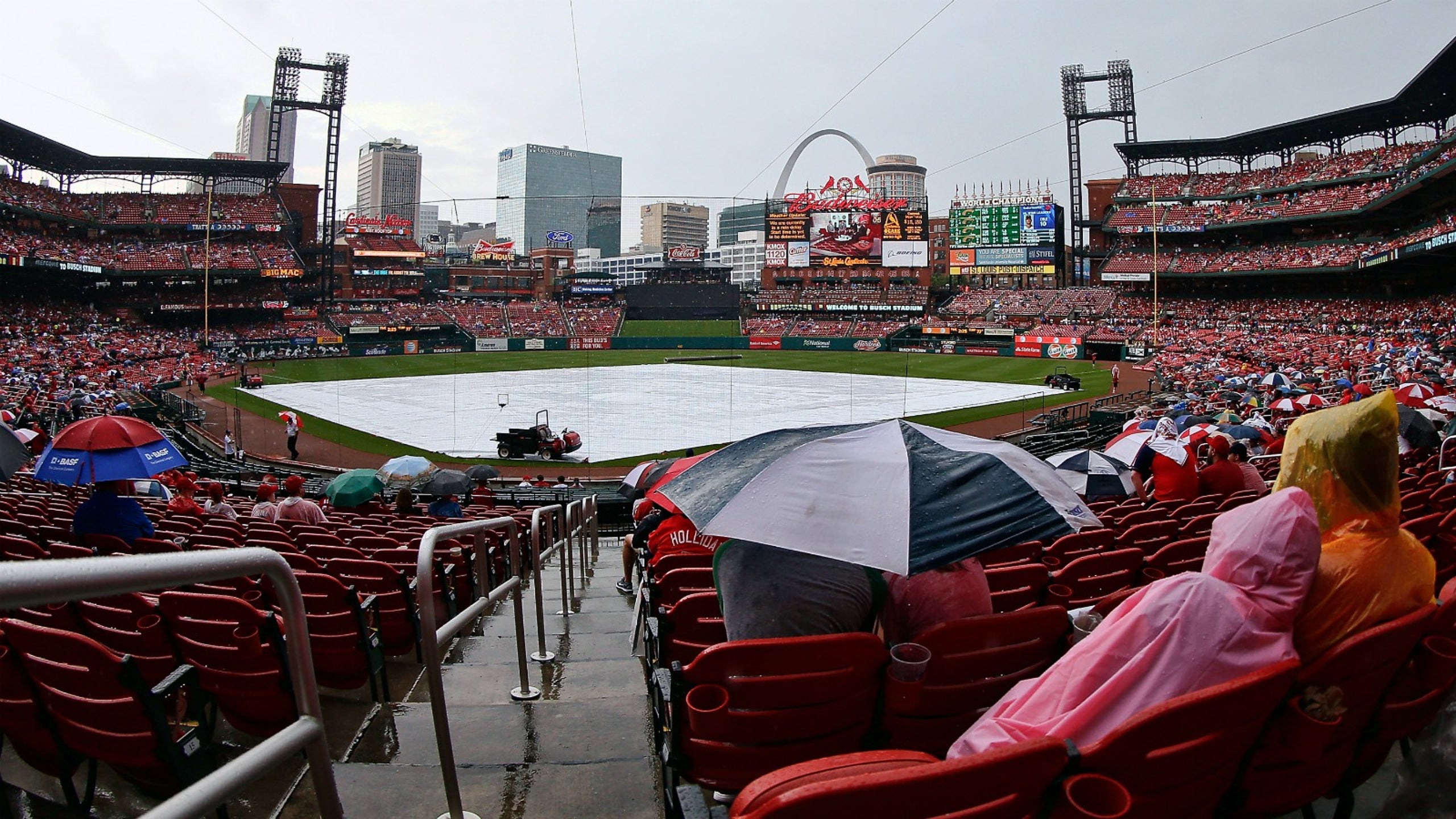 Royals-Cardinals series finale postponed
BY foxsports • June 14, 2015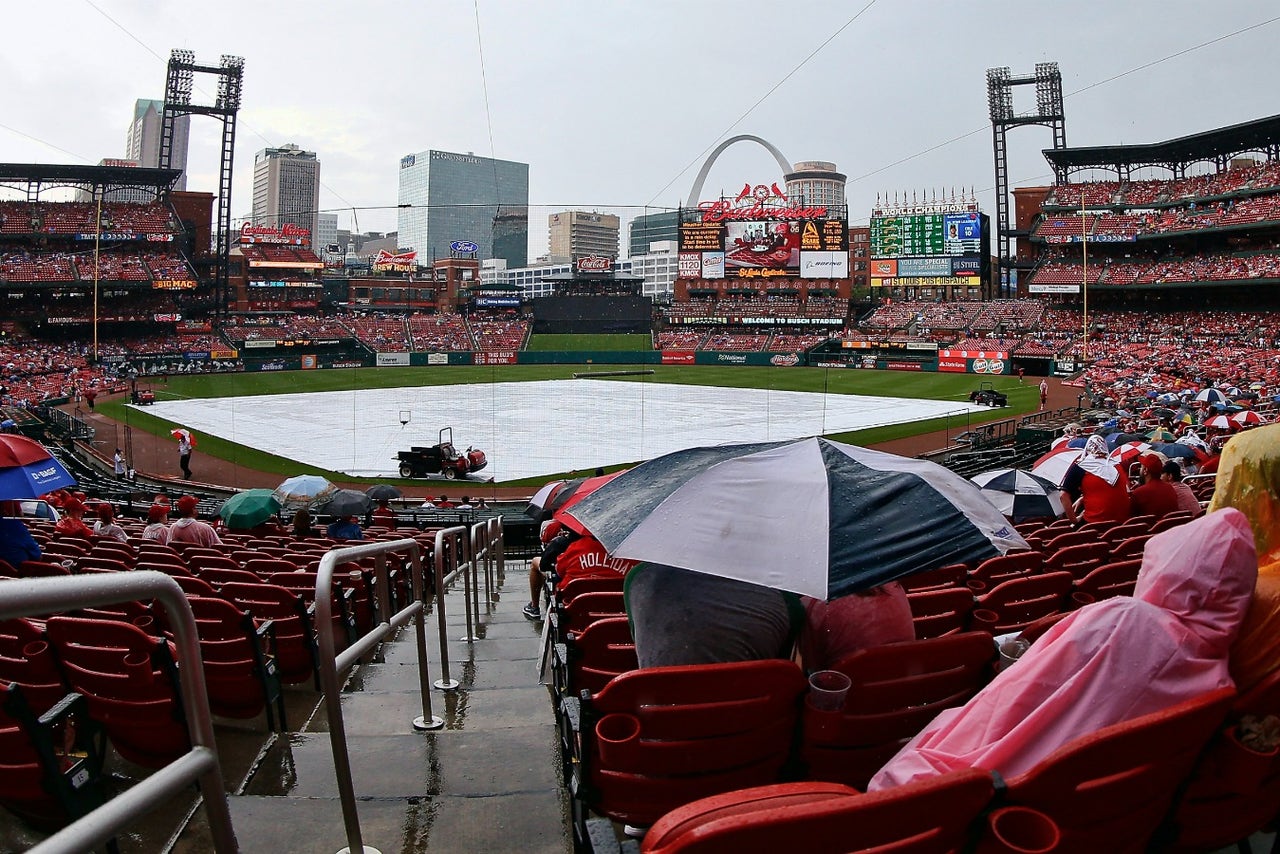 ST. LOUIS -- Mike Matheny stared at a weather map that seemed to recycle unfavorable conditions every half hour or so, signed some items and made sure no one fell for the inevitable rumors that the game would be rained out.
"There's always a jokester walks around who says, 'They banged it and it's over' and nobody knows what's truth. So I have to kind of make sure we monitor that," Matheny said after Sunday's game against the Kansas City Royals was postponed after a delay of 2 hours, 31 minutes.
"Mark Reynolds wrote that on the board the other day and it wasn't even raining," he said. "You get stuck in these dungeons, sometimes you don't know what's going on outside."
During the delay, Matheny also firmed up the rotation. Call-up Tyler Lyons will get at least one more shot, on Friday at Philadelphia, after making a solid showing and earning the victory on Saturday.
The manager could have moved the rest of the starters up. Instead, he looked at the big picture.
"Over the long haul, anytime we can go out there and compete with one of our starters and not continually put the work load on just a few, I think it'll pay off for us down the road," Matheny said.
No makeup date has been determined for the final game of the season series. The teams have two mutual open dates, July 23 and Aug. 4.
"I was willing to wait as long as we could," Royals manager Ned Yost said. "Those off days are precious and we're here and I liked the matchup."
The Cardinals decided it had already been long enough.
Matheny said the forecast was "just kind of repeating itself" with cells coming into St. Louis.
"I think Lackey got ready six times," Matheny said. "Keeping the fans around here all night around a lot of uncertainty, it looked like something we weren't going to be able to get around."
The Cardinals lead the season series 3-2 and outscored the Royals 7-2 the first two games of this three-game set.
St. Louis will stick with John Lackey, the scheduled starter Sunday, on Monday against Minnesota. Lackey said he didn't do much more than play catch.
"I would have had to get in a game for it to be a big deal," Lackey said. "I don't anticipate any problems."
The Royals will alter their rotation for a two-game series in Milwaukee with Edinson Volquez starting Monday and Chris Young, the scheduled starter Sunday, moving to Tuesday.
"It gives him a day to get his homework done and prepare himself to pitch against Milwaukee, and then stay on regular rotation after that," Yost said.
Like Lackey, Young was not frustrated.
"Look, it's life," he said. "It's part of the job and what we do. It's not the first time it's happened and I hope it's not the last."
The Tuesday starting spot had been undetermined with Joe Blanton the probable pitcher. Blanton is now the fallback in case Yordano Ventura, who left Friday's start after three innings with right hand weakness, has an issue on Wednesday.
The rainout sent home a third straight sellout crowd for the series matching teams with the best record in the National and American leagues.
The postponement is the first at Busch Stadium since May 14, 2014, against the Cubs.
The Cardinals are 41-21 overall and 24-7 at home, both major league bests. They've won three in a row and 14 of 19, with pitchers posting a 2.13 ERA, entering a four-game home and home series with the Minnesota Twins starting Monday night in St. Louis.
Yost was true to his word and had resisted shaking up the lineup even though his team has scored two or fewer runs in 12 of the last 17 games.
The Royals were 0 for 11 with runners in scoring position the first two games and are 5 for 33 the first five games of a trip that ends in Milwaukee.
---